Photographed by Jack Bennett // Filmed by Jay Grant // Words by Christopher Kevin Au
When it comes to dance music, we can't think of anyone with more personality or charisma than Dillon Francis.
Having earned his stripes with releases on tastemaker labels including Mad Decent and OWSLA, things haven't stopped for Dillon since the release of his debut album Money Sucks, Friends Rule back in 2014. Having flirted with everything from moombahton to festival-flavoured house, he's an eclectic producer as well as a social media genius of sorts – just check out his Instagram page for the evidence. Oh yeah, he also once collaborated with pivotal Australian pioneers The Presets. Huge!
On his latest Australian visit, Dillon honoured another local legend with the We Are All Lee Lin Chin tour, and we were lucky enough to shoot the entire tour. We packed our bags for some sweaty, sold-out shows everywhere from Newcastle to Perth – see how it all went down below. There's lots of bass, even more banter and a countless number of shoeys. Get stuck in: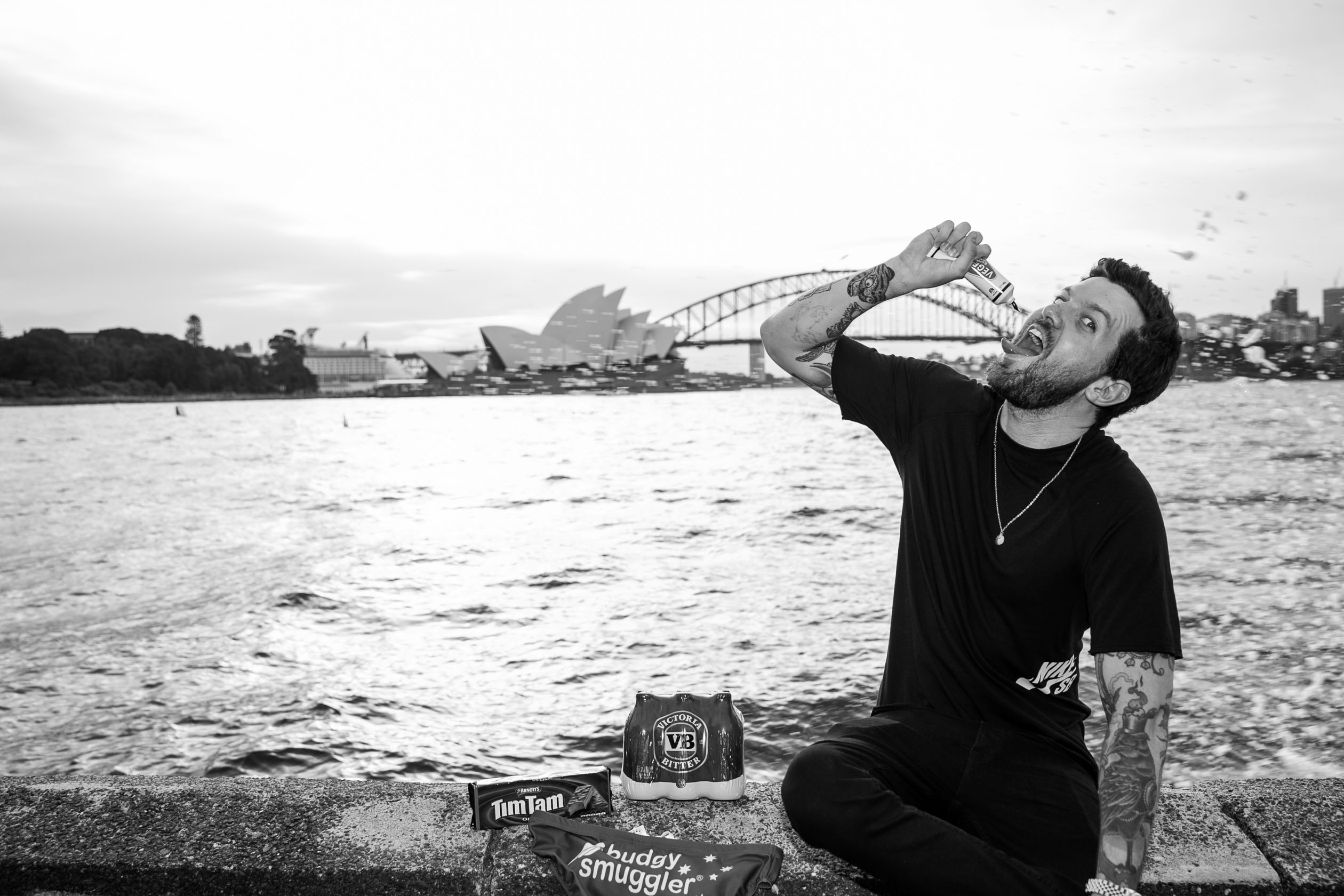 We meet up with Dillon as he flys into Sydney from New Zealand. He's welcomed with a congratulatory basket consisting of budgie smugglers – Tony Abbott, eat you're heart out – as well as Tim Tams, Vegemite and VB throwies. This might be the most Occa photo ever taken. Everytime you see the Harbour Bridge glistening in Sydney Harbour, squirt some Vegemite into your beer unless you're some kind of un-Australian shitcunt.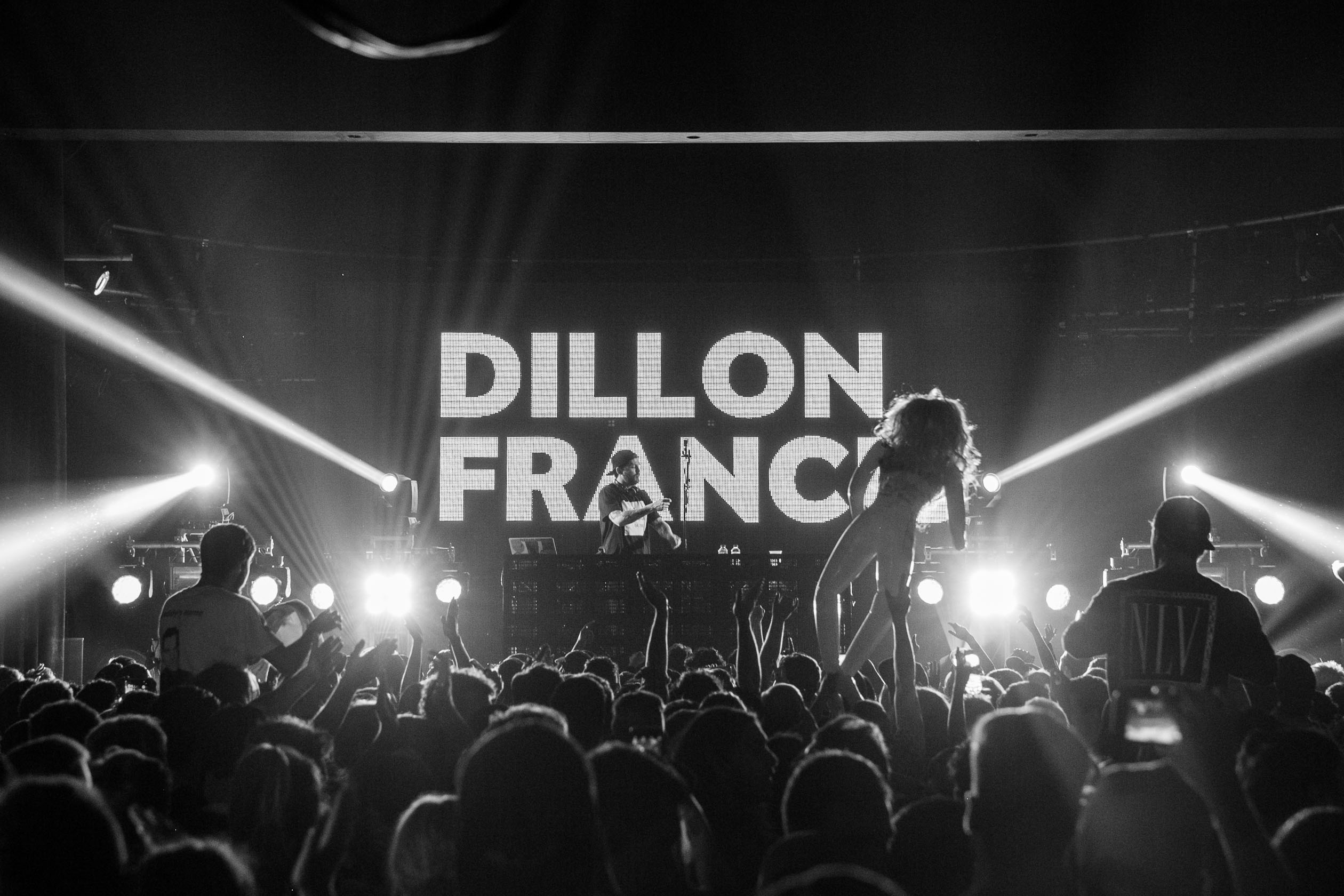 We head to Dillon's sold out show that night as Max Watt's, walking into the venue as the heavenly sounds of Soulja Boy's 'Crank That' blare over the speakers. The crowd is super turnt – I have some serious catching up to do, and should've spent my afternoon drinking goon cocktails rather than eating ramen and biscuits. The show is filled with blow-up dolls, shoeys and Mike Baird disses – it's a really nice time.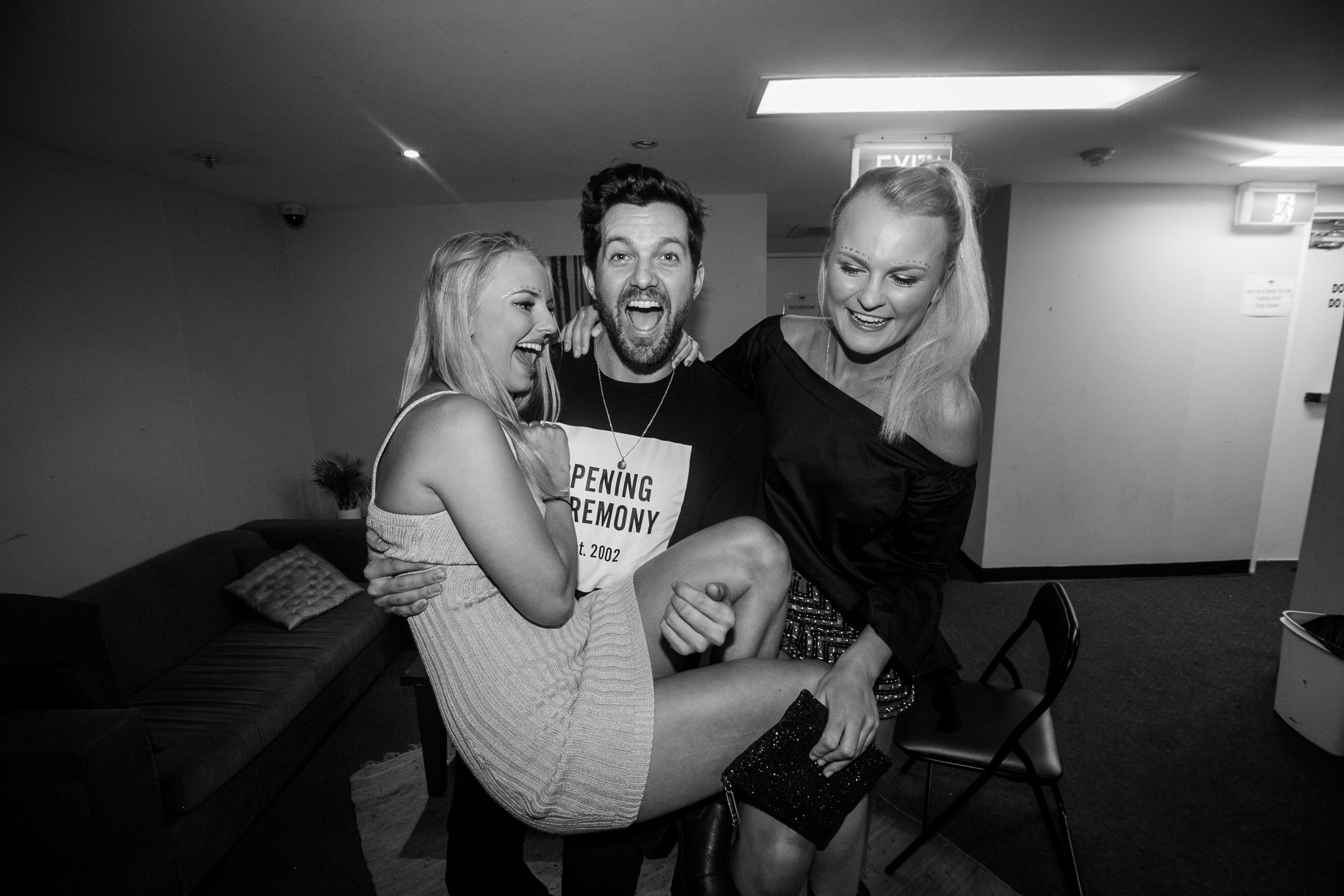 Dillon living the dream of carrying two ladies in a heroic pose while wearing an expensive Opening Ceremony shirt.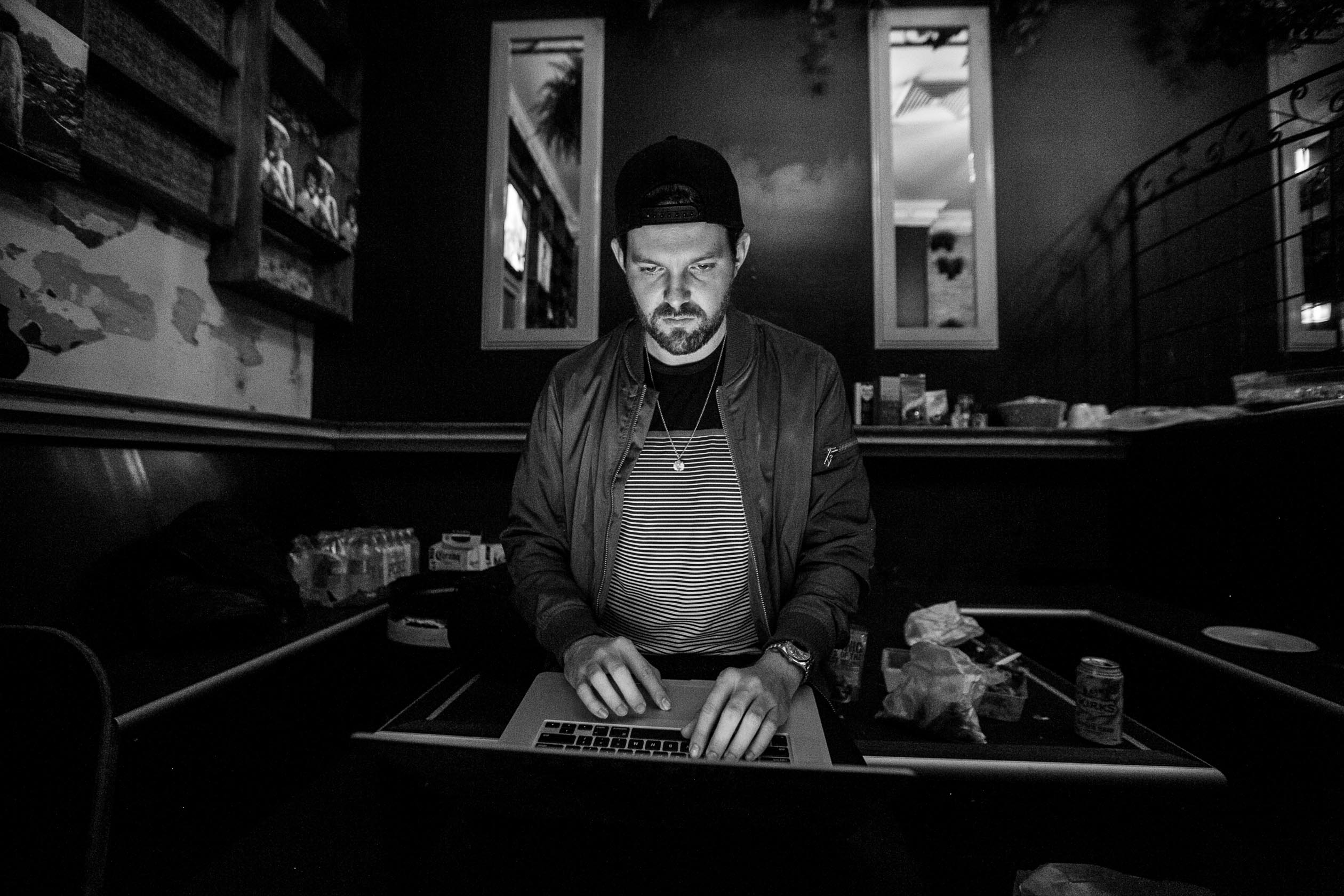 After the backstage antics, there's little time to rest as we drive north for the biggest show of the entire tour: Newcastle. This is the magical city that bred undisputed legends like Andrew Johns, Daniel Johns and half of the guys who work at Life Without Andy! How good were Silverchair? About as good as Joey Johns at halfback.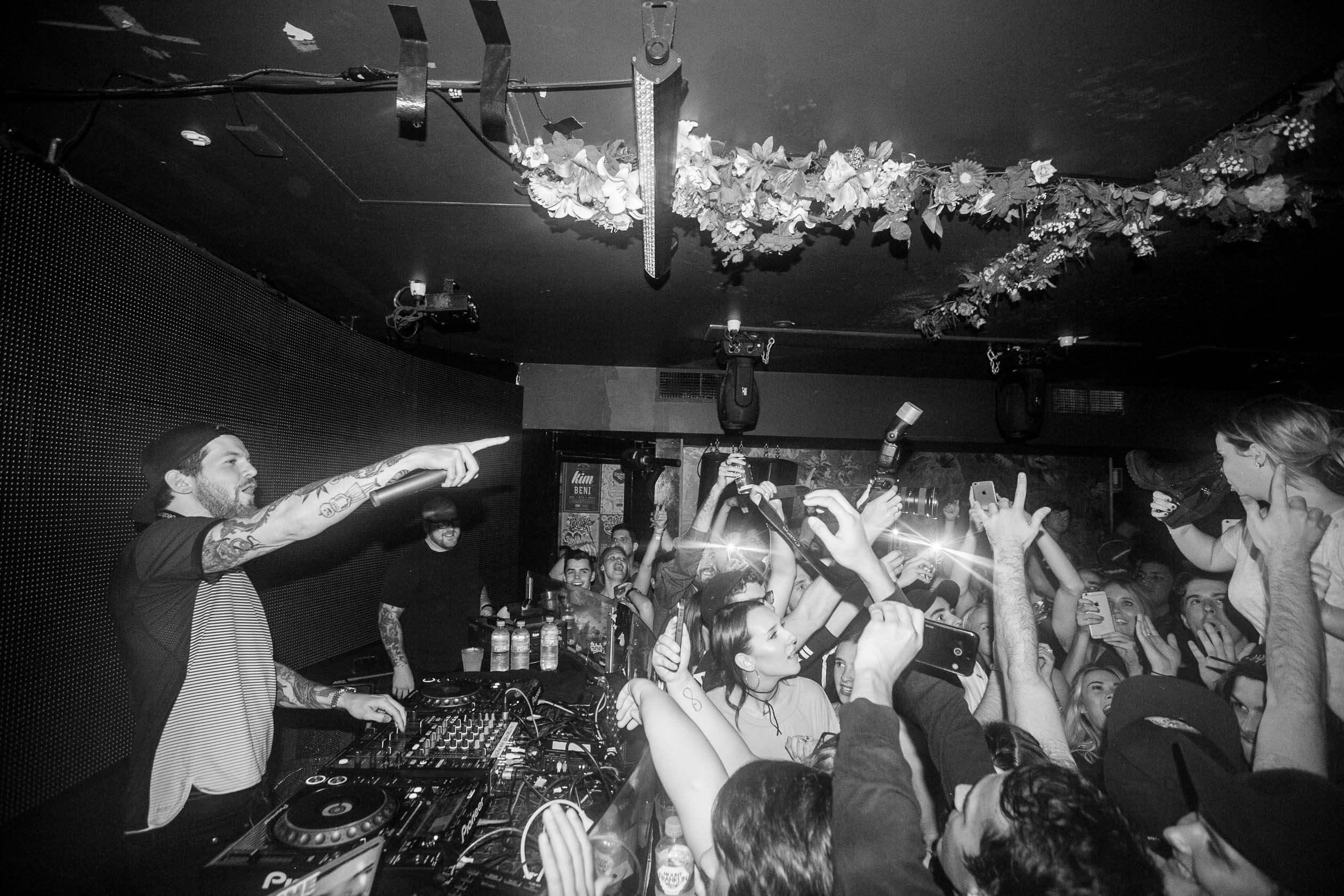 The night's show takes place in a cozy room at The Argyle House, the venue formerly known as Fanny's. We can only imagine some of the rambunctious activities that have gone down at Fanny's. Apparently Tigerlily played here once, so shouts to her. Props to this lady who's drinking a beer out of a suede boot while sitting on someone's shoulders on a Sunday night at Fanny's, ticking all the boxes of being a deadset hero.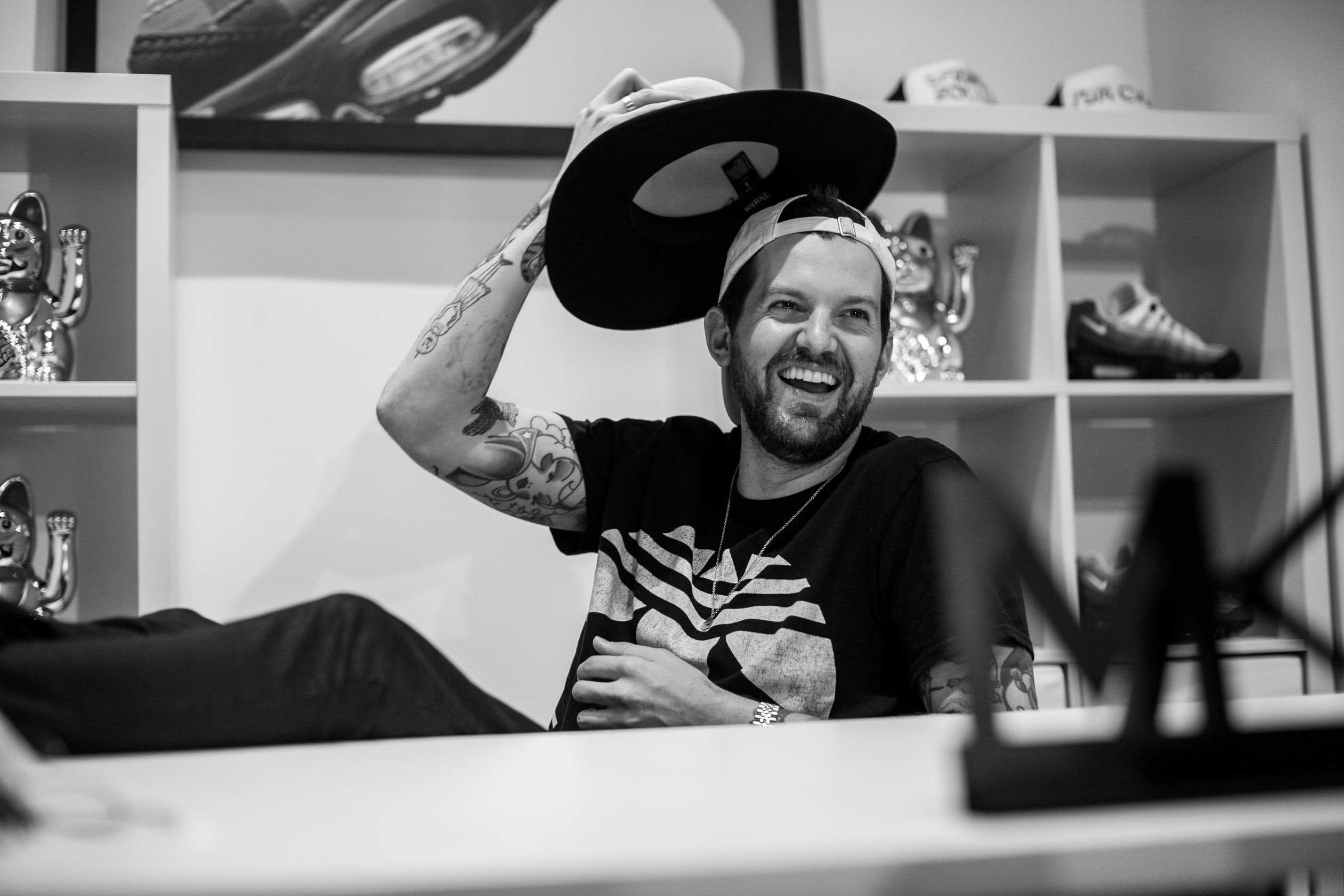 Back in Sydney, Dillon pays us a visit at LWA office to talk about punk rock, being a white male and how good Soulja Boy is. He does so while wearing a Bondi hat, sitting behind a My Kitchen Rules cookbook stand and surrounded by fortune cats. The feng shui is on point here.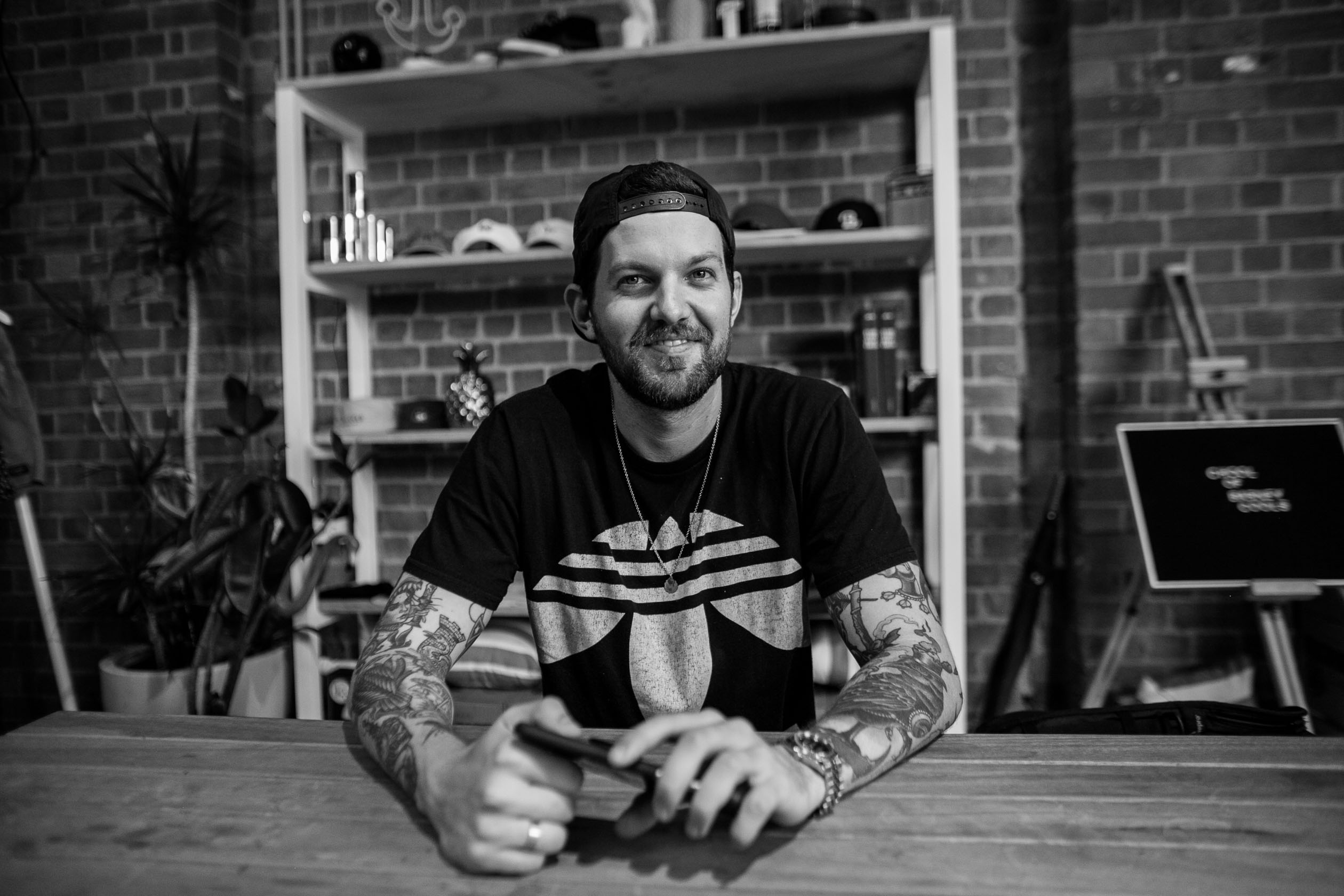 We take a short drive to visit our mates at Zanerobe and Barney Cools headquarters, where Dillon revitalises his swag levels with some unreleased threads. They also have a very lush dog named Bastian which we pat for about 7 minutes.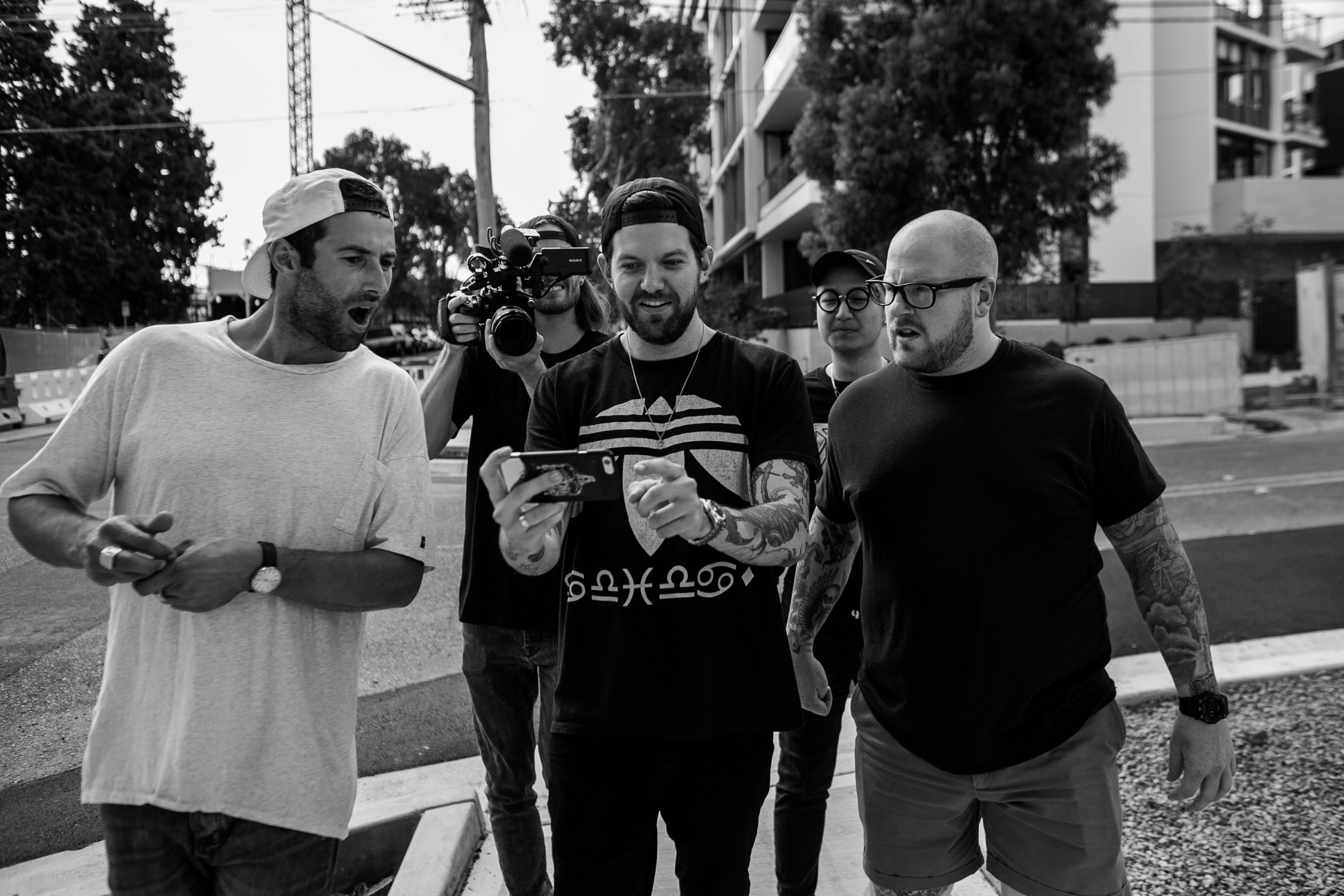 The lads reacting to the best YouTube video of all time which you can watch right here. I have absolutely no clue why we're watching a video about the ant spiral of death in the first place, but I'm glad it's happening.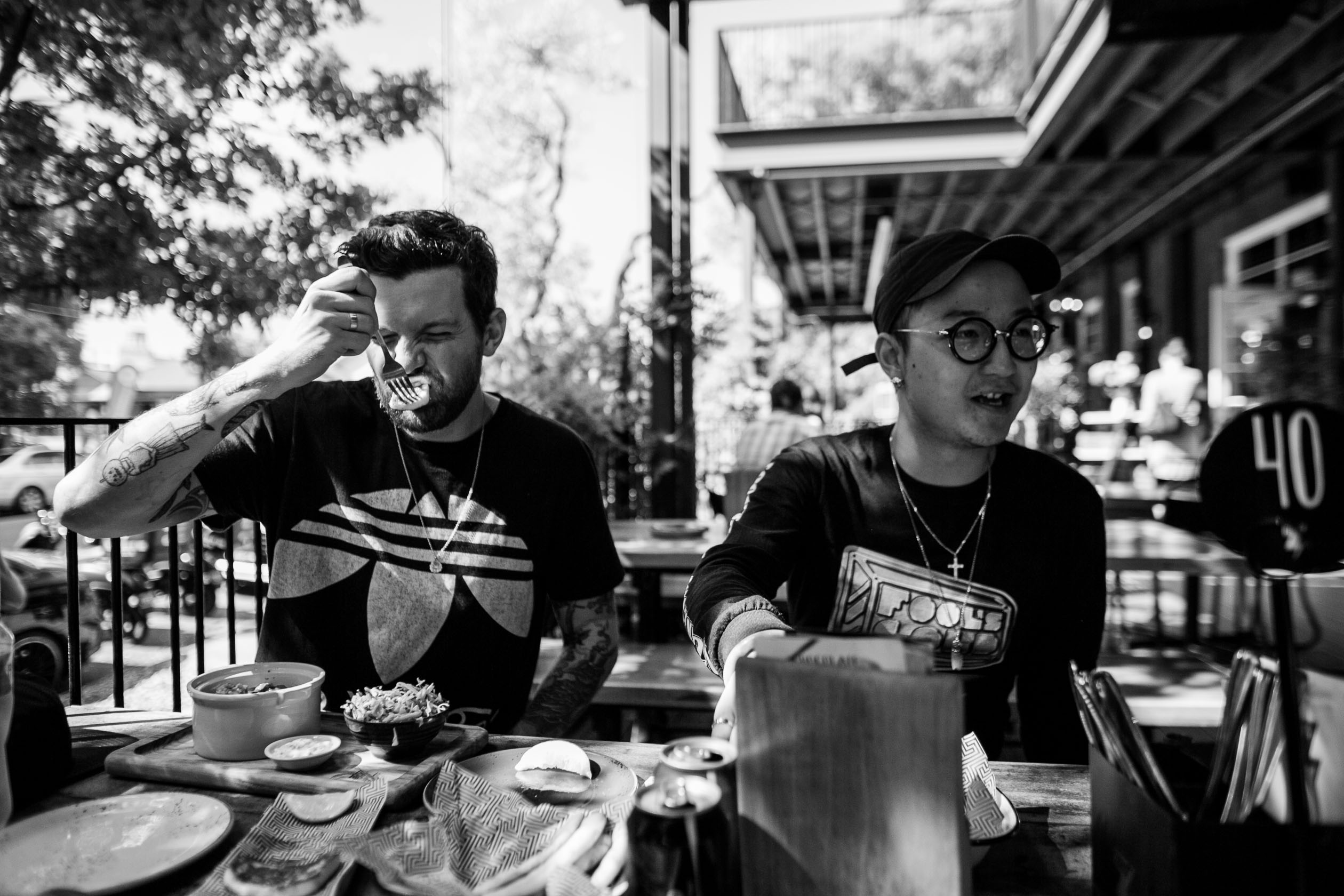 We take a quick stop at Zeus Street Greek to eat some slow-cooked meats and pita bread. The next time I decide to have a bath I am definitely doing so in a giant jacuzzi filled with tzatziki and beetrot hommus.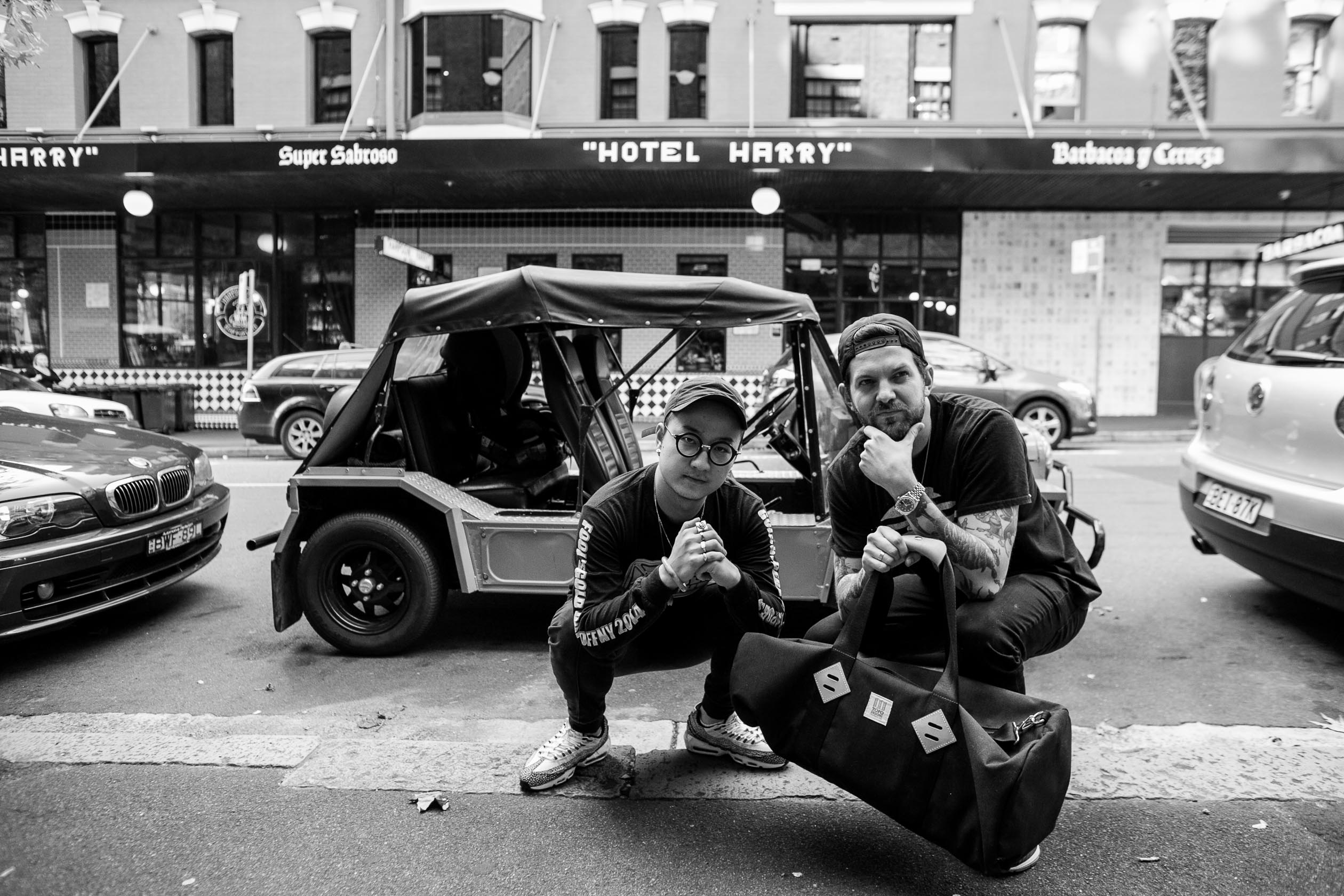 After lunch we walk it off with some steady retail therapy in Surry Hills. Dillon buys some more swag and holds it in a duffel bag before performing a flat-foot oriental squat in front of an open-air orange car. Dreams do come true. #DUFFELBAGBOYS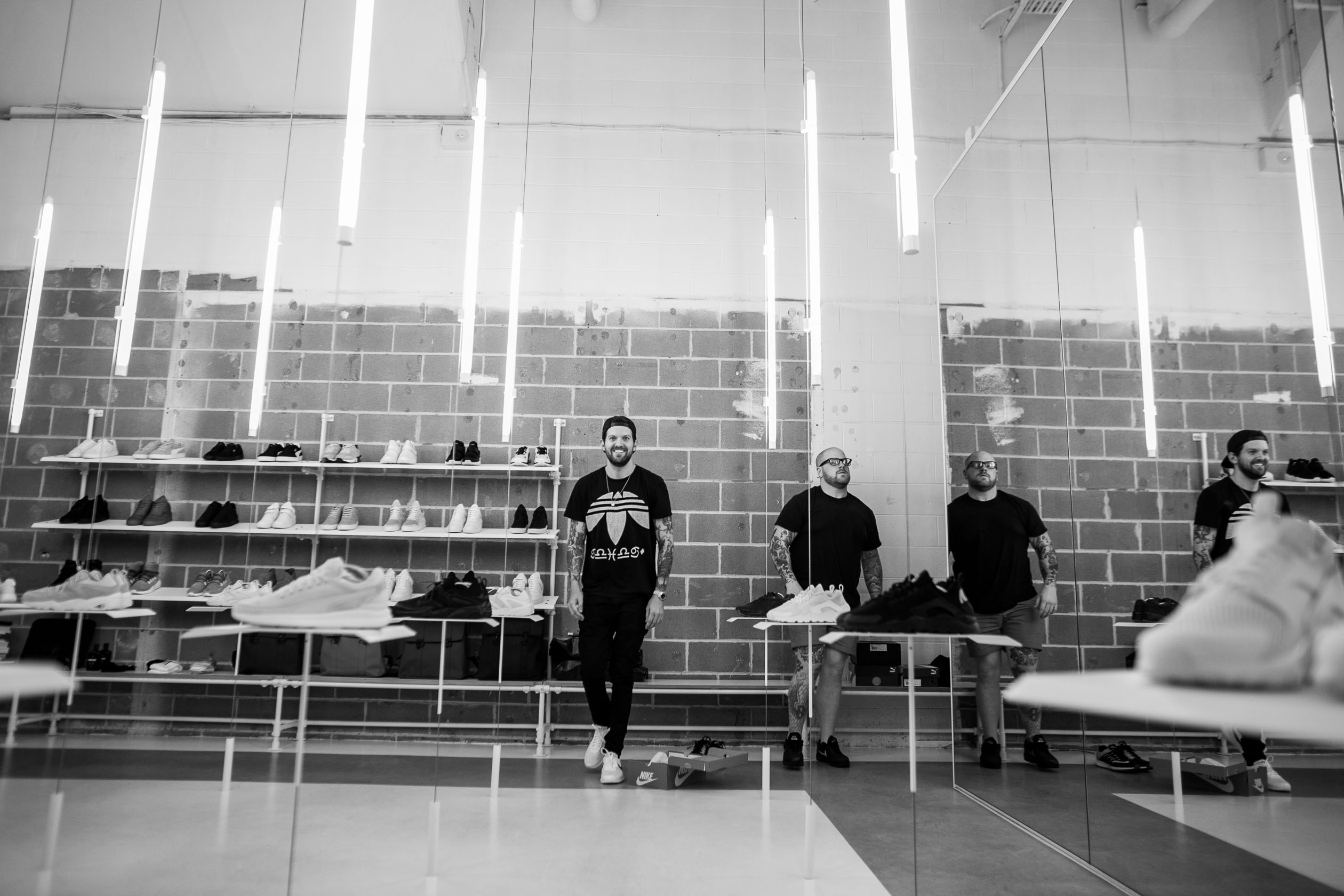 All that squatting has us begging for some new wheels – we make a stop at Subtype Store to test out some Nikes. Go and give Subtype a visit if you enjoy contemporary retail spaces, sleek interior design and fancy lighting. Maybe buy some shoes if you have some spare lunch monnies.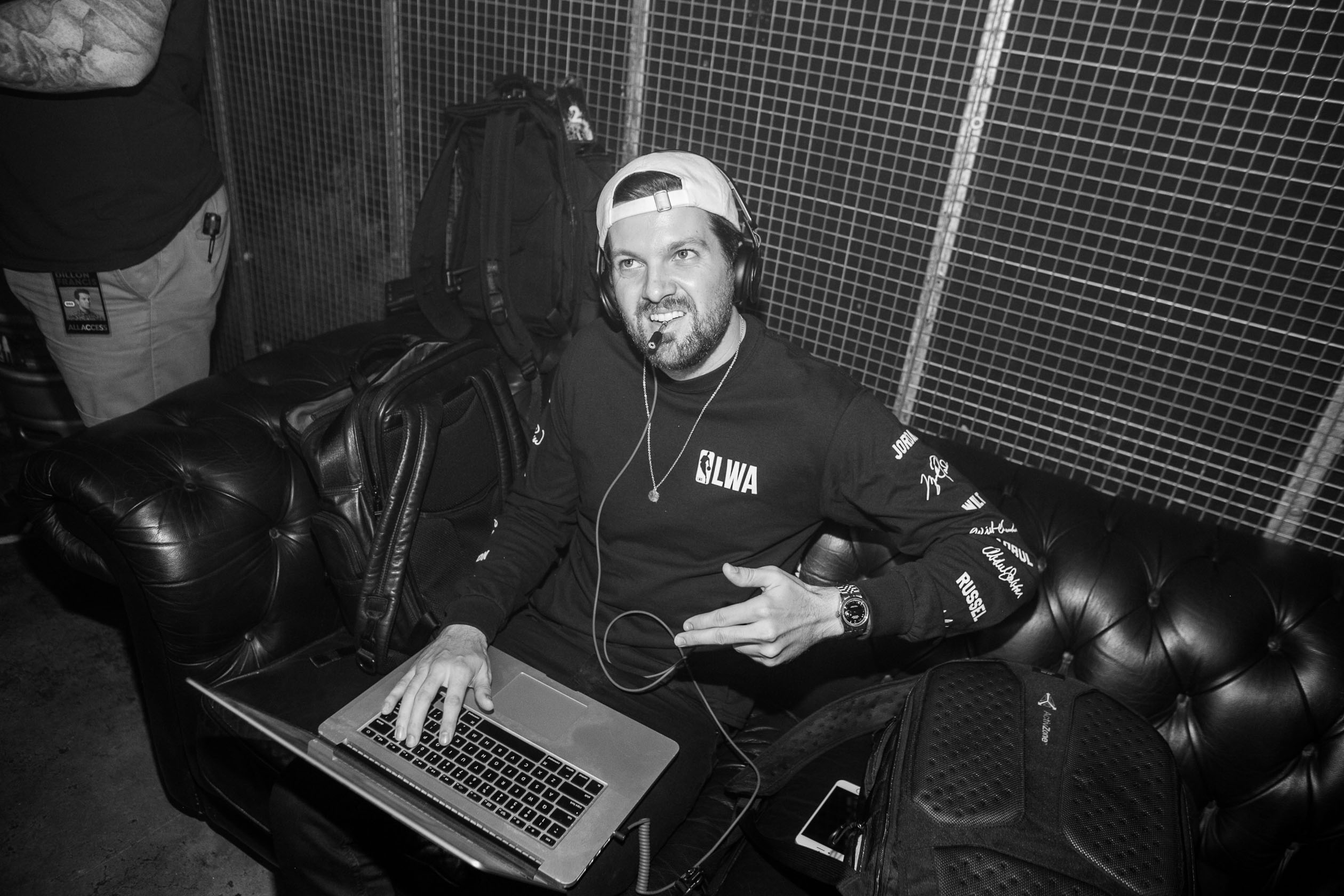 Dillon being a certified male model for the new LWA longsleeve tees. Do you want to be as cool as Dillon? Buy yourself one right here and keep funding us to take photos and talk shit on the Internet.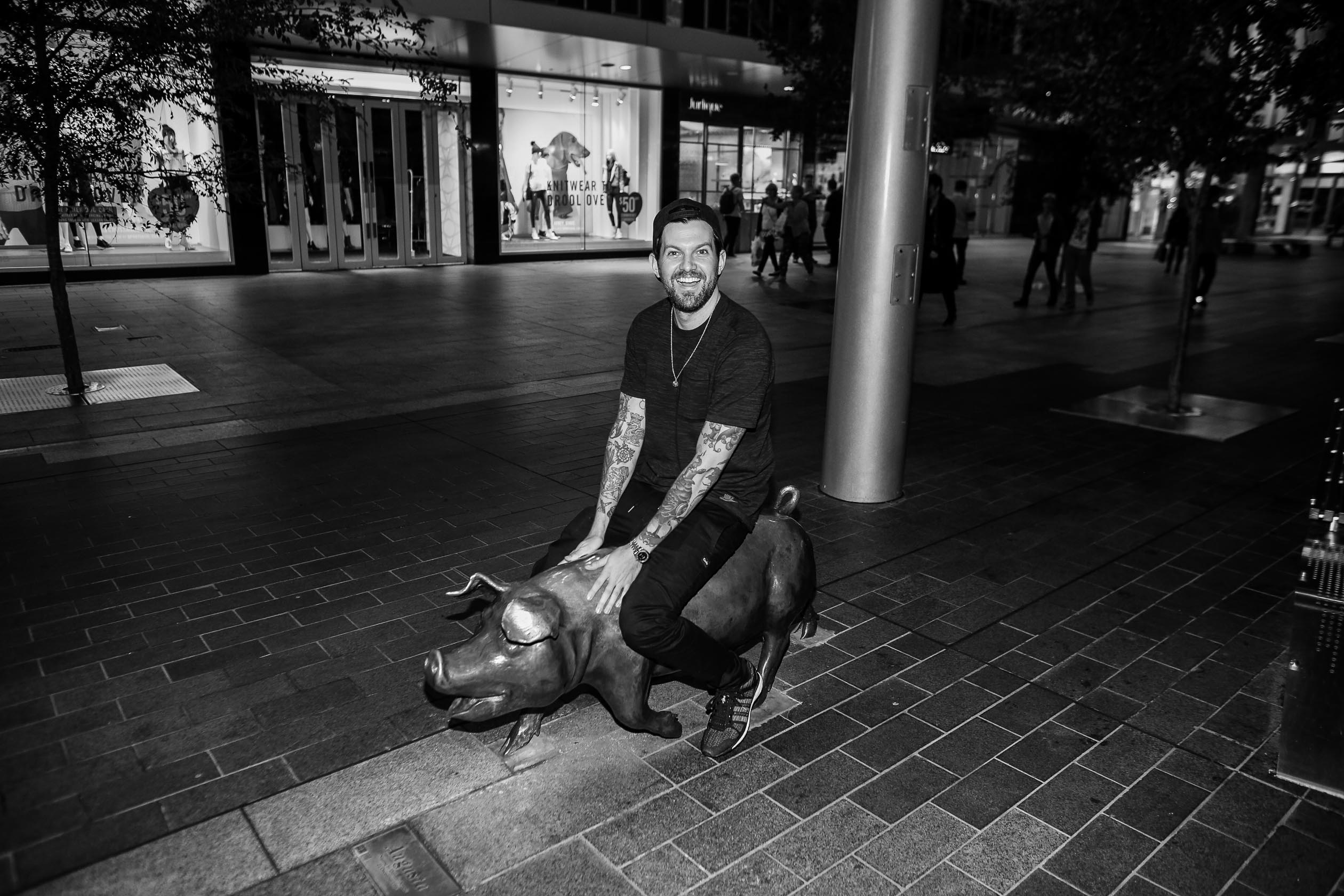 After Sydney, it's time to head to Australia's most underrated city, Adelaide! Shouts to the South Australian capital for giving us Tkay Maidza, Jimmy Barnes and our future national anthem, 'Nosebleed Section'! Here's a photo of Dillon riding a steel pig statue in Rundle St Mall.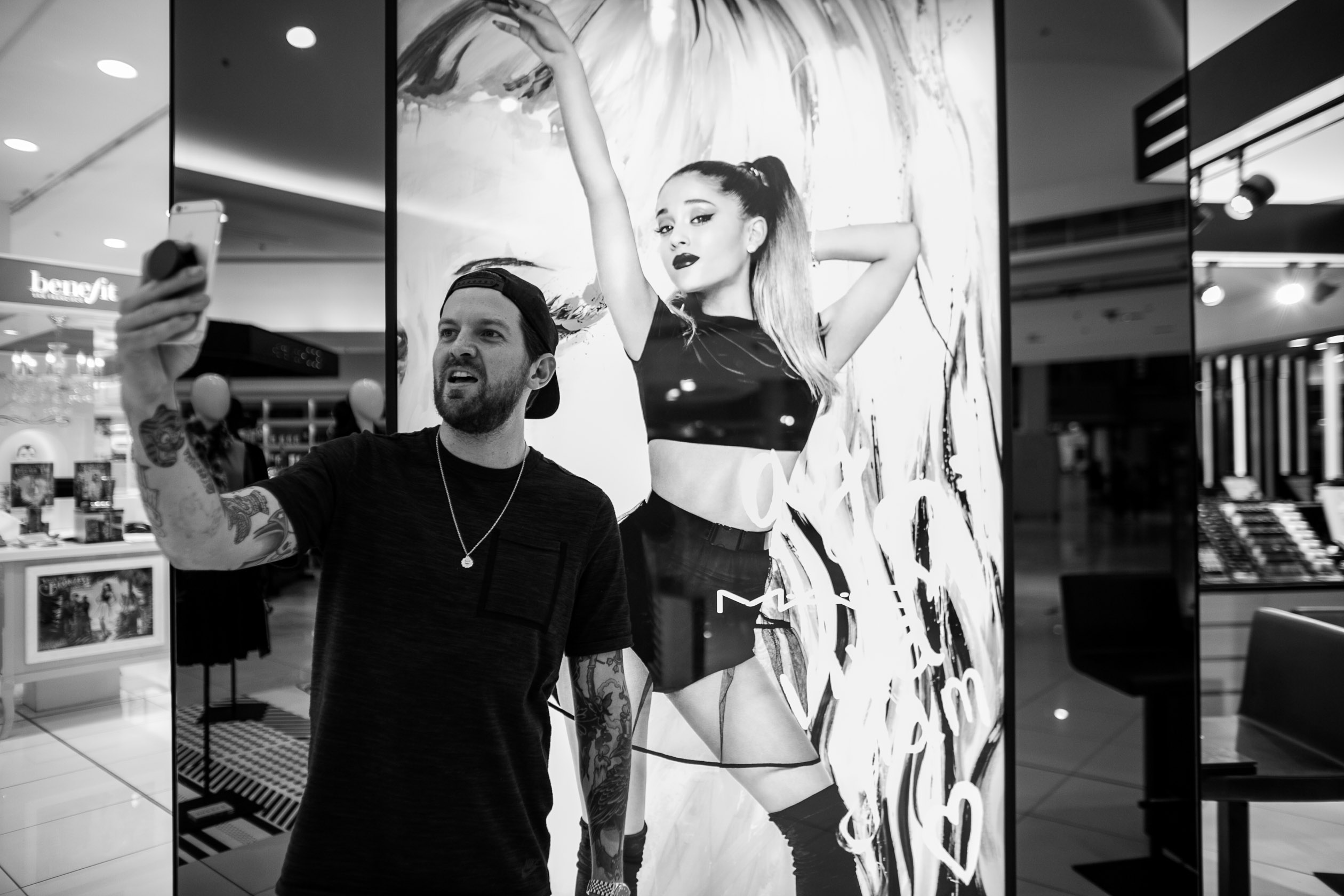 When you walk past a poster of Ariana Grande, you're obliged to face-swap with it and sing 'Love Me Harder' for at least 45 seconds.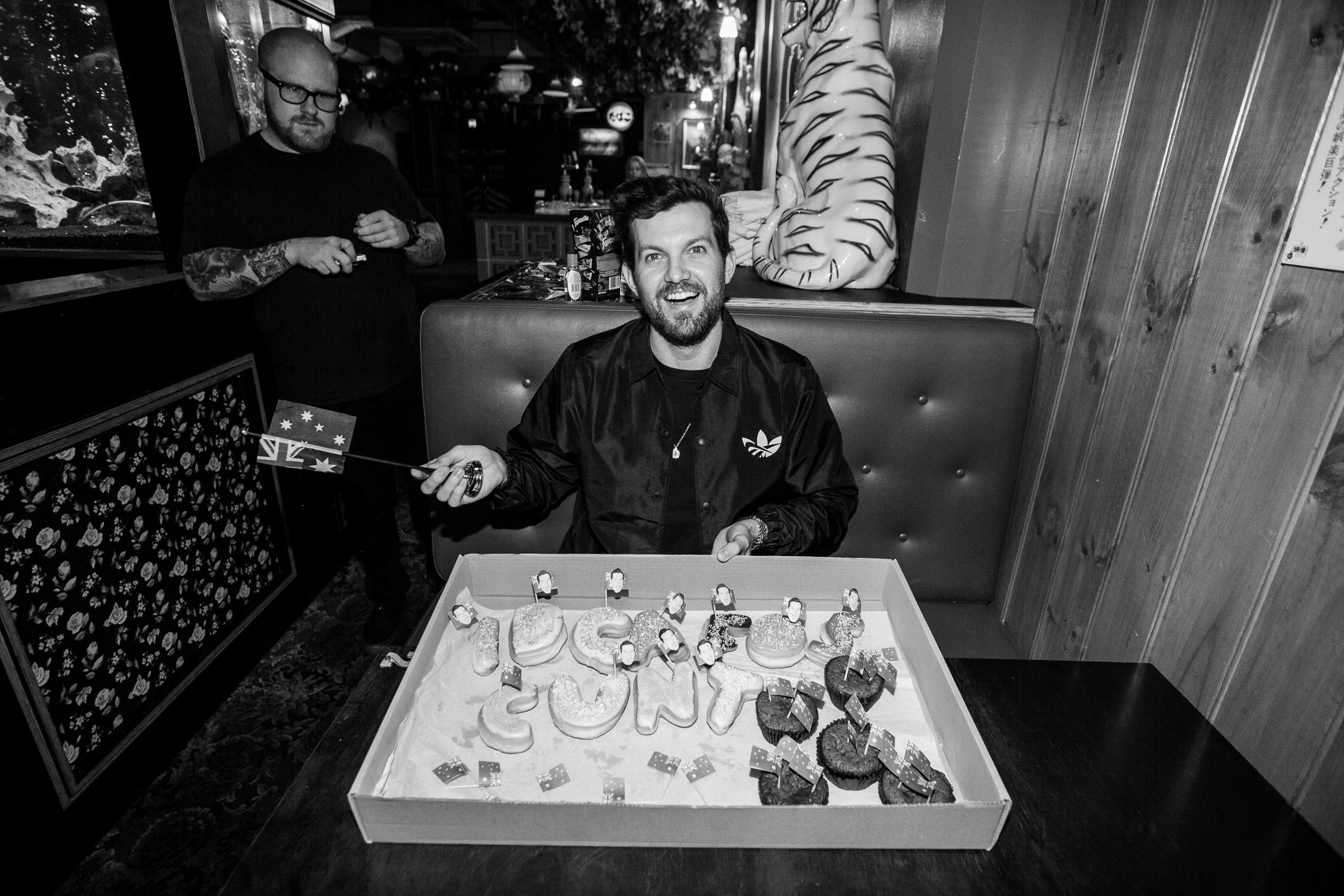 There's nothing to welcome you to a city like a batch of vegan donuts which spell out 'I Don't Give A Fuck Or Shit Cunt'. Extra points for all the miniature Australian flags. Socially conscious pastries with swear words are our favourite thing on Earth right now, right next to beetroot hommus.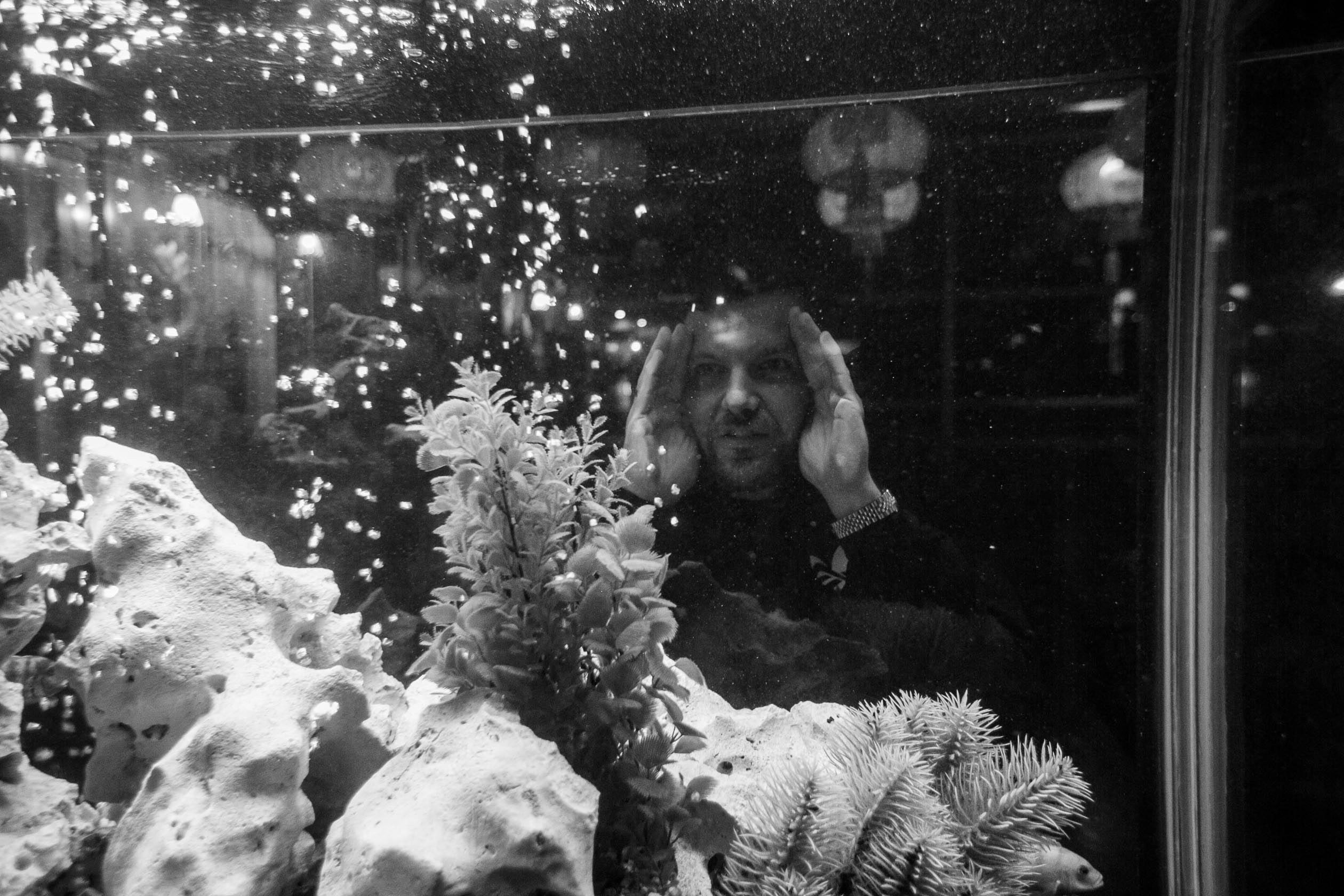 Dillon Francis aka Leonardo DiCaprio in his award-winning portrayal of Romeo Montague in Baz Luhrmann's 1996 film adaption of Romeo & Juliet.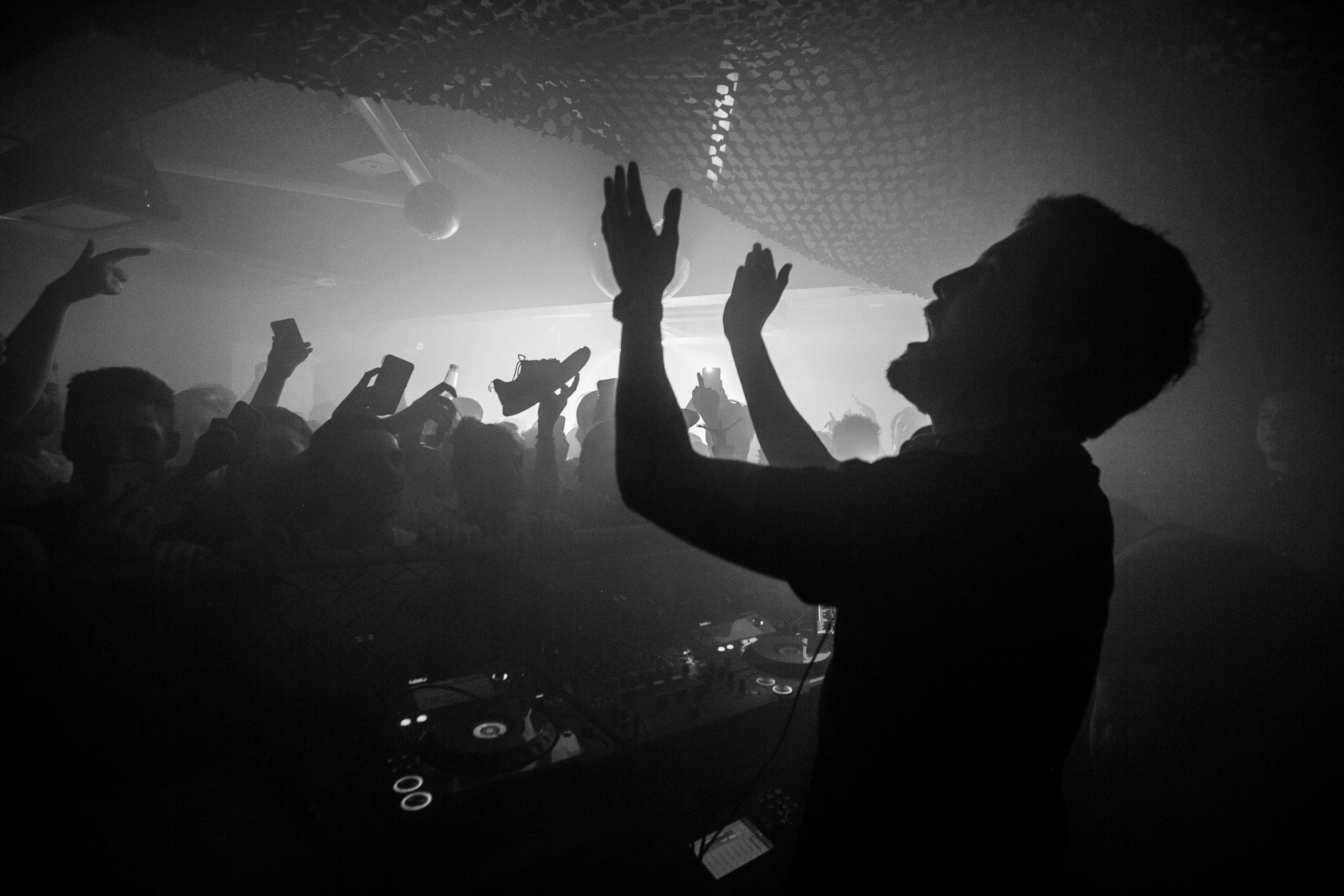 Adelaide's show is big. You can see the unmistakable silhouette of a shoe in the front row, which is just begging to be filled with a cheap beer. A new report shows that shoeys have skyrocketed by 763% since Dillon Francis arrived in the country. Cheers Adelaide!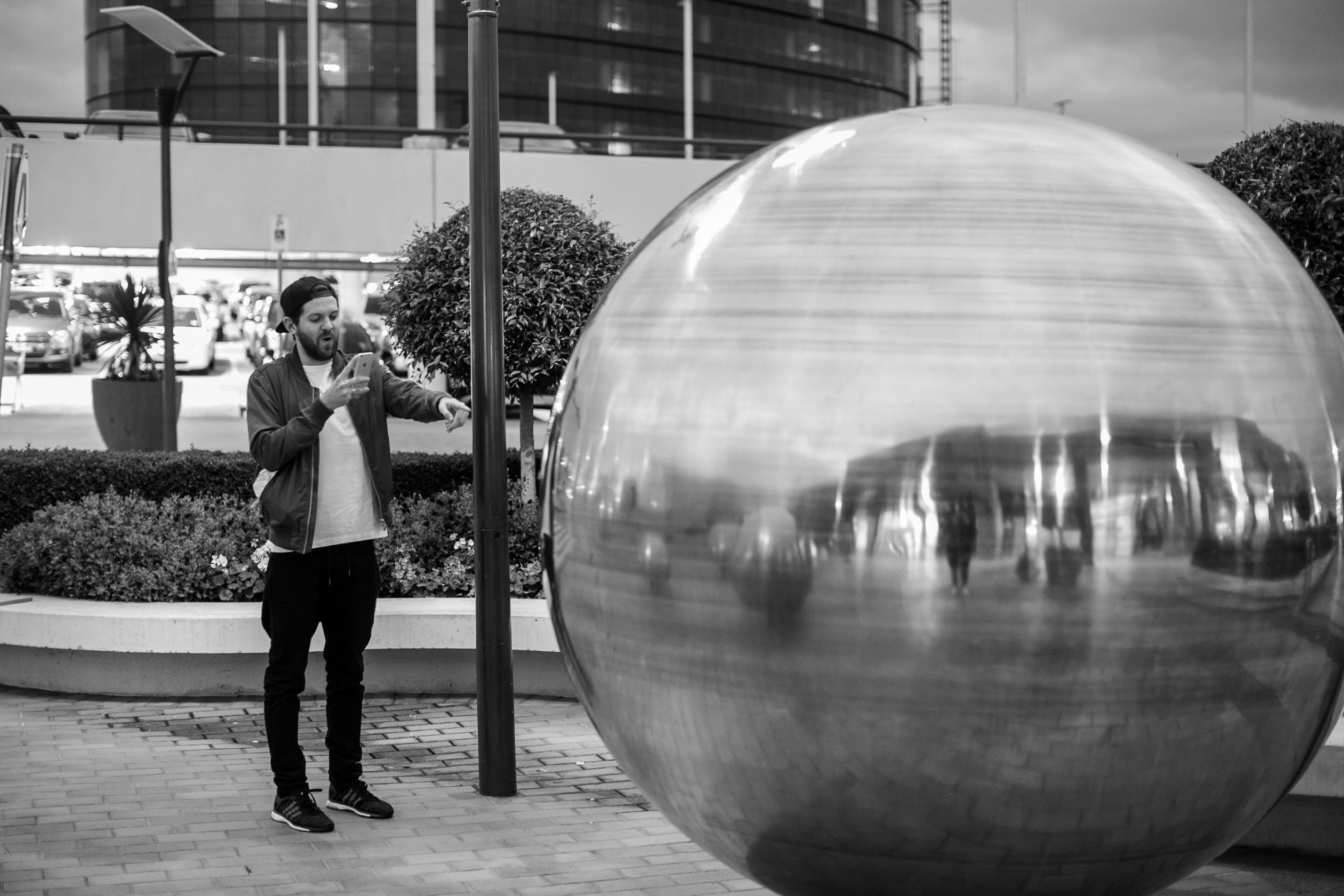 Now it's time for Melbourne – here's a photo of Dillon taking a photo of a giant metal sphere.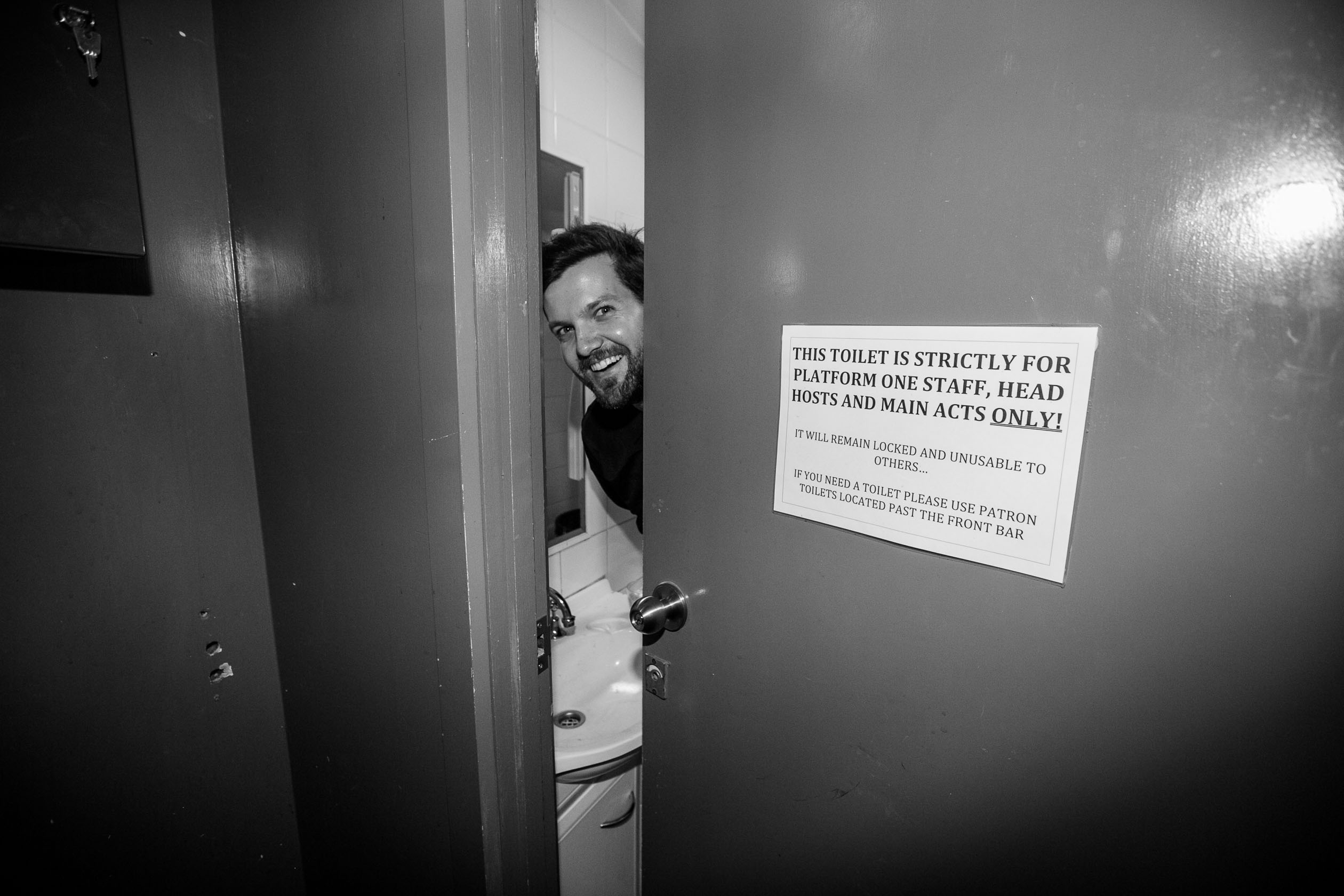 Being suss in the VVVIP backstage bathroom. If you're not a Platform One staff member, head host or main act, please show yourself out you absolute peasant.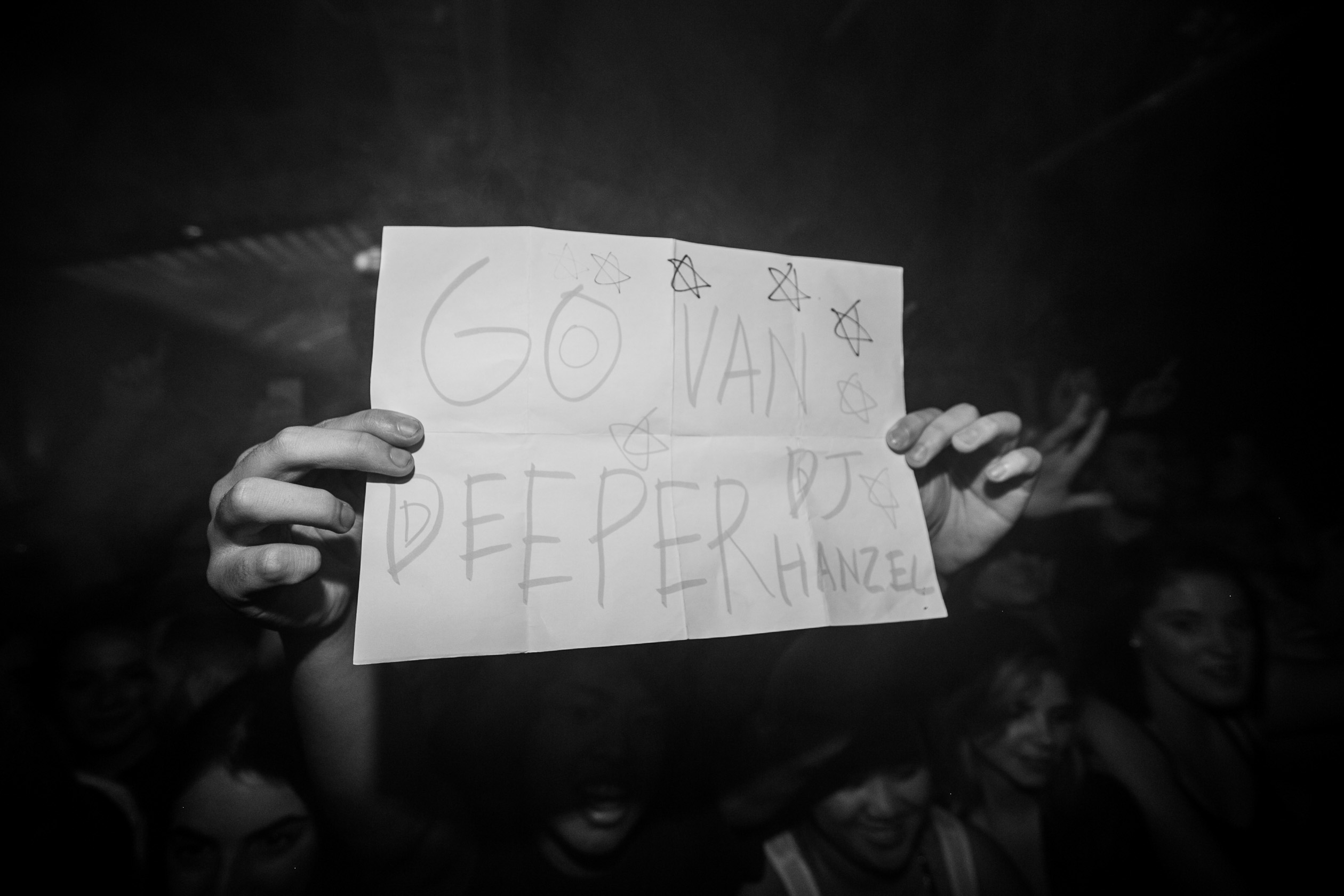 Dillon who? We want DJ Hanzel!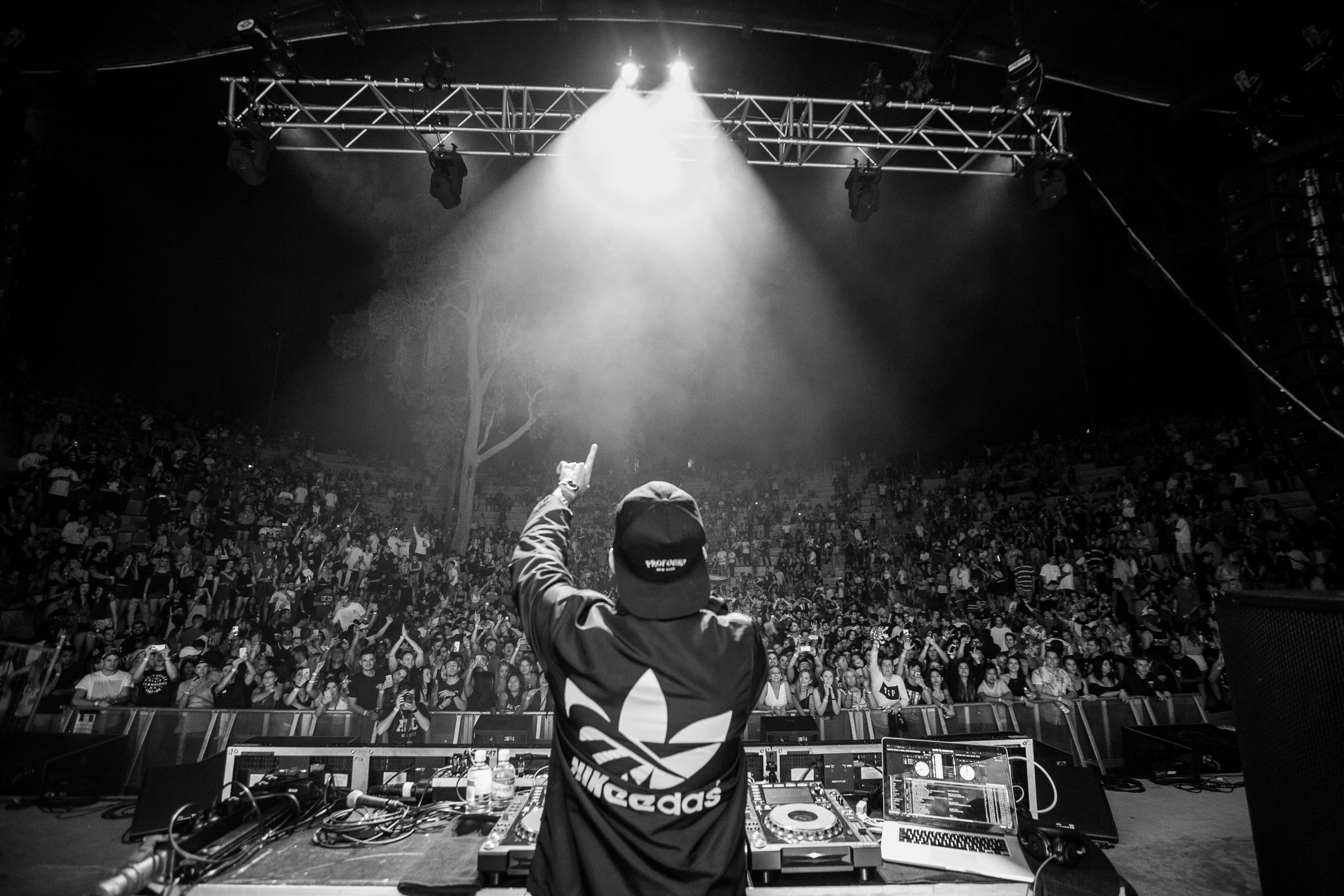 Now it's time for a show amongst Mother Nature at the beautiful Bellvoir Ampitheatre in Perth. We see a lot of people asking about this jacket on Dillon's Instagram page, if you want to cop one of these offensively ignorant 'Nikeedas' jackets, they're up for pre-order right now via Halfsleeve, don't sleep! #BOOTLEGSWAG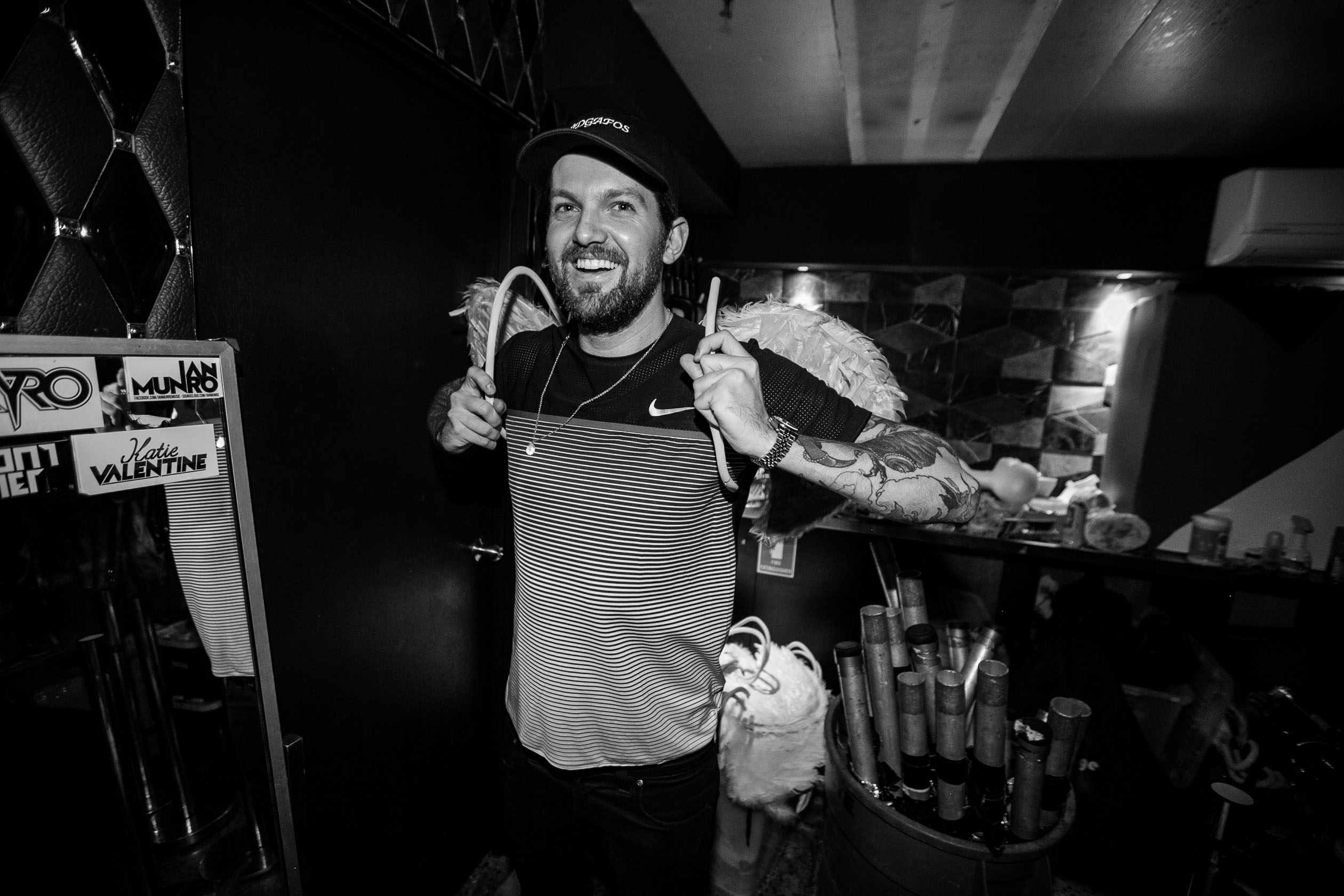 After Perth, we fly back to the East Coast with angel wings on. It's time for the tour's closing show, and it's only fitting that it takes place in Brisvegas. Queenslanders know how to get it done.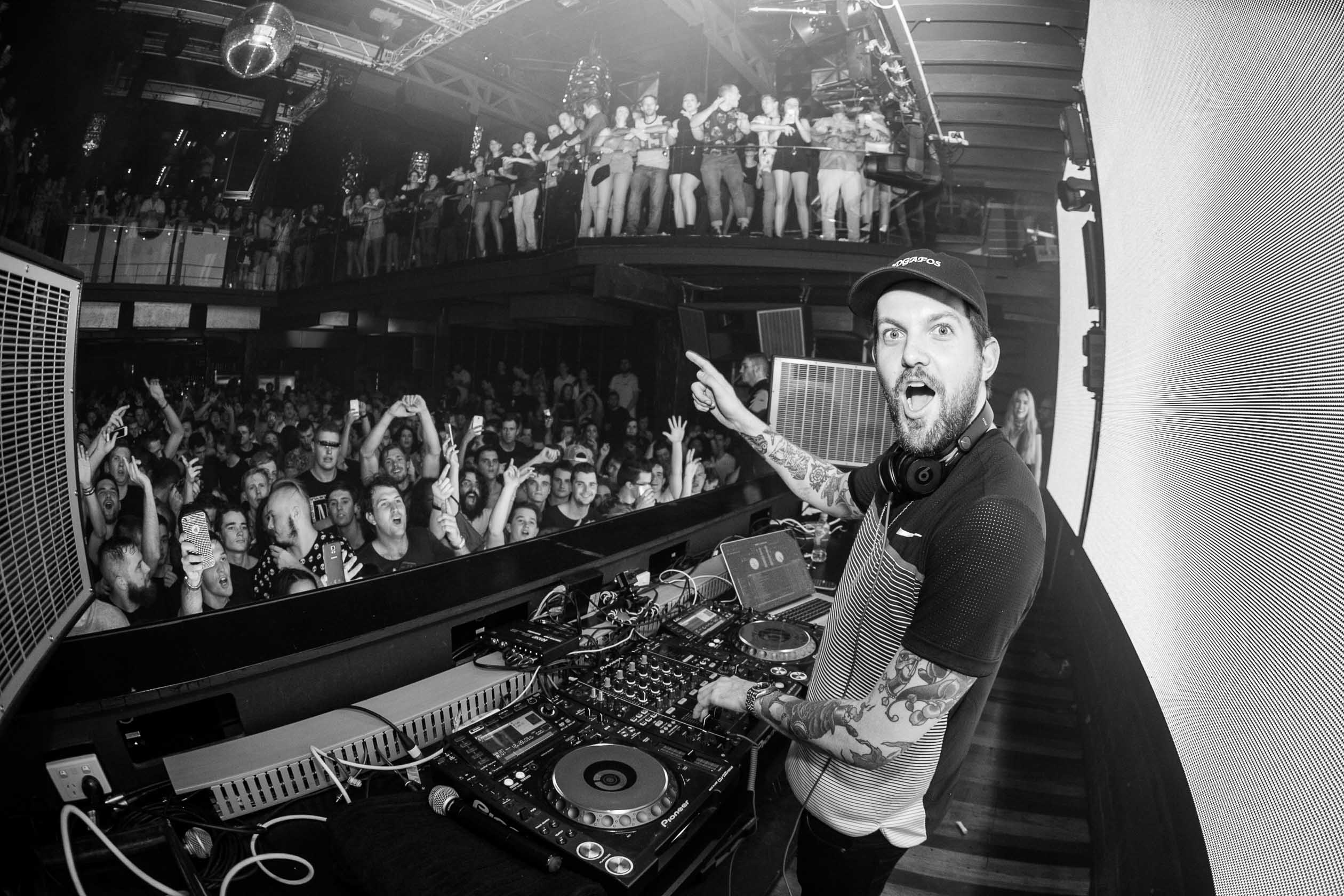 Thanks to Dillon for putting up with us for an entire national tour – hopefully we see him Down Under in the near future so that we can pat more dogs and eat more Greek food. Bruk Bruk!