Words by Christopher Kevin Au // Images by Mikki Gomez
Anyone who attended Falls Festival or Field Day will tell you that AlunaGeorge were one of the highlight acts that performed Down Under over the New Year break, presenting their sophomore effort I Remember in captivating live fashion.
Soulful, sultry and made for the dancefloor – AlunaGeorge tick all the boxes and more with a sound thats rooted in electronica, but one that also touches on R&B, dancehall and pop with sassy confidence. The voice of the group, Aluna Francis, joined us on the tail end of her Australian visit to talk about Puff Daddy, puppies and collaborating with Flume on their latest full-length. Read it all below:
You've been here playing Falls Festival, Field Day and some headline shows too – how have those been?
It's kind of strangely like doing the home shows. I think there is some sort of similarity between the British public and Australian public. It feels so comfortable, and our profile has upped in Australia in the last year, so a lot of people knew words to songs – there was one point where they sang over me. You couldn't hear me, and that was just like, 'Wow, that's amazing'.
What were you doing when the clocks truck midnight and we welcomed 2017?
You're gonna hate me when I say this, but we had to get a 4:00am flight so we were packing and getting ready to leave. Half-sleeping, listening to fireworks and packing.
https://www.youtube.com/watch?v=NbtEy1Wdqj0
One of the guests on the album is Flume. From a UK perspective, how do you think he changed the way people look at Australian dance, and what drew you to collaborate on his album as well as yours?
We were at the same festivals so often that we kept bumping into each other, and after a while, of course the conversation went down to 'Are you getting into the studio soon? We should spend some time in the studio.' We did that and really learned about how different our ways of working are and found some happy medium where we could both get on the same level.
One of the things that's interesting, when I played 'I Remember' in my set, I was finding that was a really down-tempo song… Flume was more like, 'Oh, I feel like that's the uptempo song'. It's weird, him having popularised the downtempo vibe where people could still turn up to it, and I really enjoy that because that's a really nice combination to be relaxed and dreamy but also turnt, instead of one or the other.
https://www.youtube.com/watch?v=rCSpXp8s2Qo
Another single from the album is 'I'm In Control'. Having filmed the video in the Dominican Republic, what are some elements to Caribbean culture that really shone through, especially with so much focus on dancehall music at the moment?
There was a real naturalness to everybody in that video, and what I really loved about the director Emol Nava was that he sees the beauty and abundance of real life that is vibrant and colourful in people's natural behaviour. With that music video, we didn't ask anyone to do choreography, we didn't ask anyone to do anything that they wouldn't normally do – we just asked them to be themselves and asked to permission to witness this incredible community of people.
I think that the infectious thing about dancehall is the way that it helps you to lean back into your own body and really feel the rhythm, and you're letting that music warm your body, warm your soul and warm your heart. It's a very loving beat. It really brings people together in a very humane way.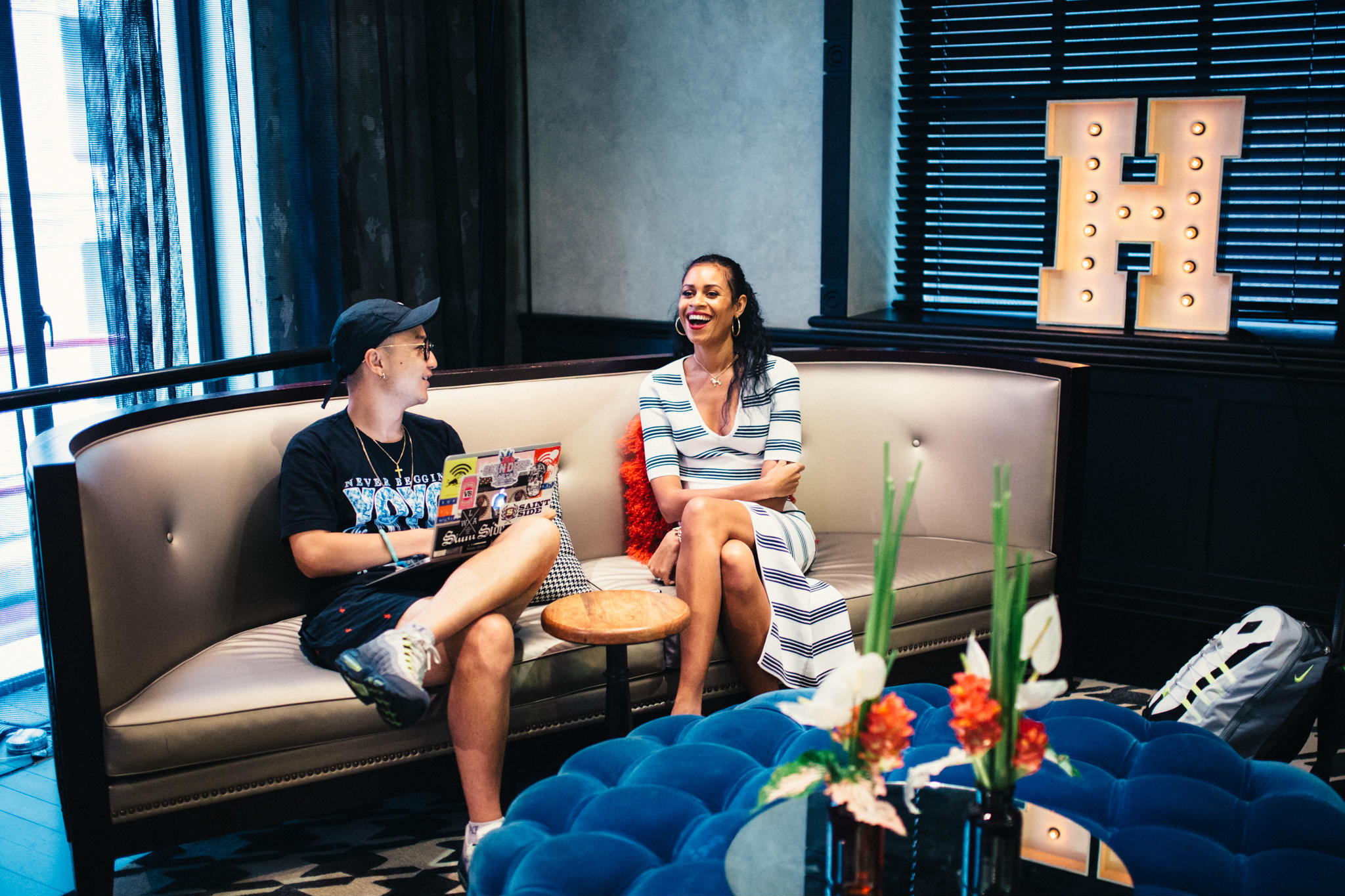 You're also known for your sense of style. One piece of clothing I noticed on your Facebook is a vintage Puff Daddy shirt – tell us about your favourite quintessential Puffy moments?
P. Diddy! I went to one of his parties in LA and it was up this massive hill. In the end, we had to stop our van and walk the rest of the way because it was stuck. When we got there it was pretty chill, but he had this room that apparently – after I left – turned into an orgy. I missed that.
You were recently on the road with Sia, and there was also a tour dog on the road. Tell us about the tour dog!
Oh my goodness, he was so funny, that dog. He would be sitting in this room by himself, his head would pop up and he was guarding the room. As soon as you stepped in he would start shouting at you.
Sia actually had this rescue dog thing set up for each of the shows. The local rescue dog people would come and bring the dogs, and they would get new homes with people who came to see the show. That's one step further than loving dogs – finding homes for dogs.
https://www.youtube.com/watch?v=NSdcG1e9APE
What's on the cards for AlunaGeorge for the rest of 2017?
2017, I really want to release as much music as humanly possible. I feel like there's a really different perspective that our fans have of us, to what we think of us as, because we've heard all of the music that we've written. I just want that gap to be smaller, because I feel like we are slightly misunderstood as a band at this point, just because we've been limited in how much music we've actually been able to put out there.
We wanna change that this year, maybe something crazy like 12 songs a year. You've got to aim high, I'd love it if we got to the end of the year and were able to release a song every month. For me, that would be an achievement.