FRIDAY, APRIL 21
LIFE WITHOUT ANDY X HUFFER: SHITS & GIGGLES @ EL TOPO BASEMENT
WHO: HIAGROUND, BALKO, LWA DJS, WLVS, DAN DE CAIRES, MATTY SAV
COST: FREE BEFORE 10:00PM, MORE INFO HERE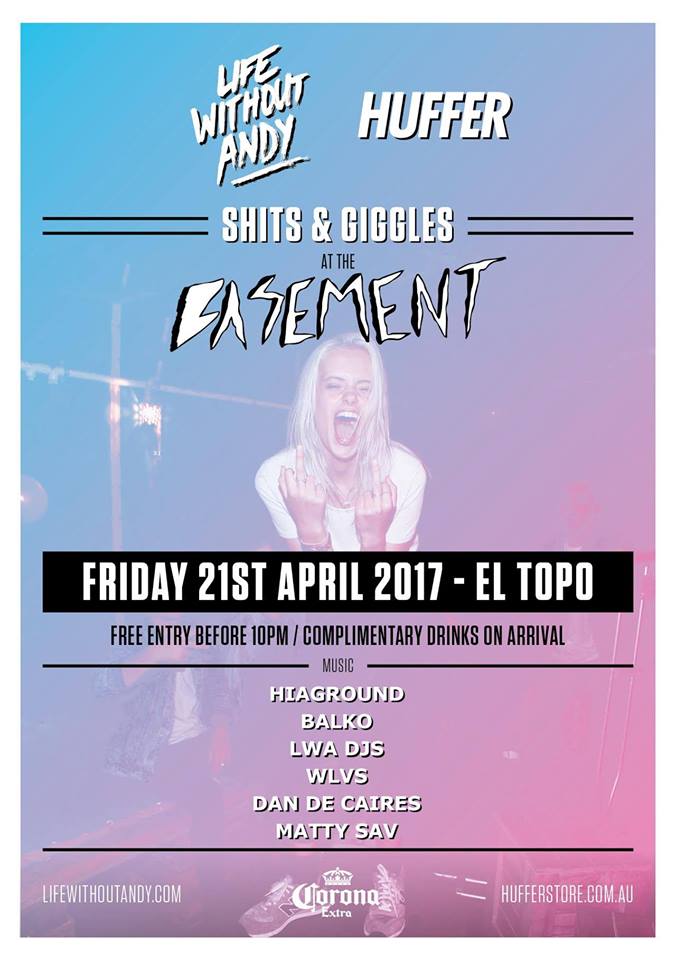 We're throwing a party with our mates from Huffer, taking over the dancefloor at El Topo Basement in the heart of Bondi Junction! There'll be a live set from Hiaground, and a slew of DJs to keep vibes on an all time high, including the highly-anticipated debut of LWA DJs. Free entry before 10:00pm, come through and say hello.
SETTINGS˚ @ FREDA'S
WHO: JORDVN, TOMMY, ESAR, ELLA MAXIMILLION, TENNESSEE, NIKORA
COST: FREE // MORE INFO HERE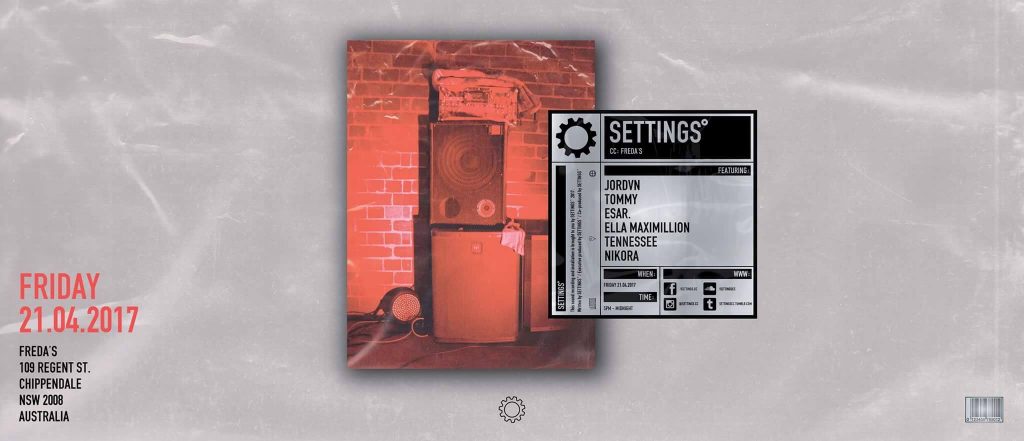 The SETTINGS˚ crew will be returning to deliver another party for their cult-like, fashionable fanbase – delivering contemporary rap, R&B and electronica with in-house boys Jordvn, Tommy and Tennessee on the decks. There'll also be some guests from the Strxnger crew. Kicks off at 5:00pm, so get down early and have a bev.
BEASTSIDE 'CHARGED UP' SINGLE LAUNCH @ CAPTAIN COOK HOTEL
WHO: BEASTSIDE, IVY MICS, HINHOP & MEARE
COST: FREE // MORE INFO HERE

Fresh off signing to local hip-hop imprint Big Village, East Sydney crew Beastside will be launching their new single 'Charged Up' at Captain Cook Hotel. With the entire clique in tact, expect an animated performance which will see multiple emcees go in over rap and grime instrumentals.
PRINCE: A TRIBUTE BY LATE NITE TUFF GUY @ THE METRO THEATRE
WHO: LATE NITE TUFF GUY
COST: $61.60 RIGHT HERE // MORE INFO HERE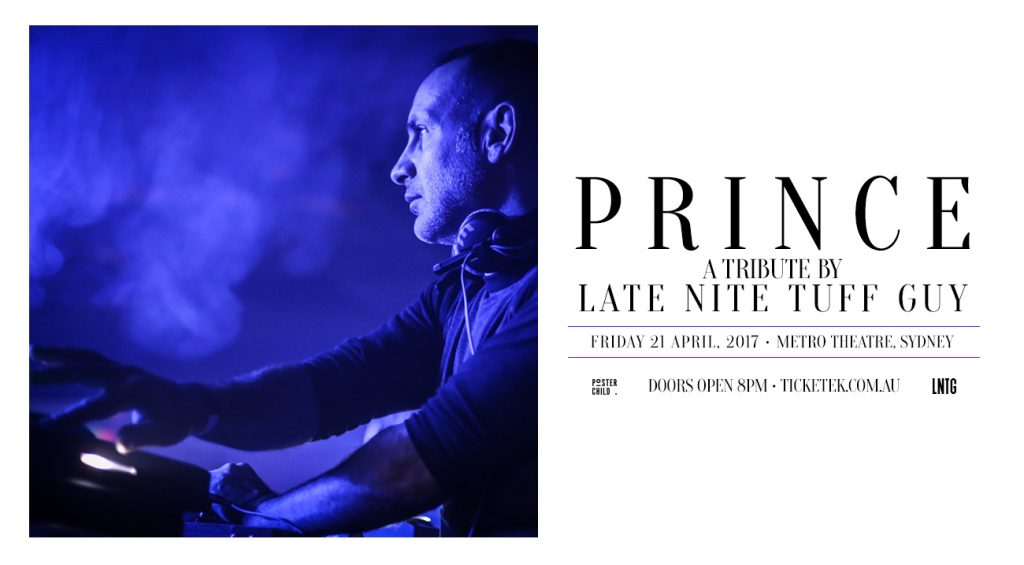 On the first anniversary of Prince's death, The Metro Theatre will be hosting a tribute to the late legend with an all-night party spearheaded by Sydney selector Late Nite Tuff Guy. Given his experience behind the decks, expect a journey through Prince's illustrious catalogue – and yes, everybody is encouraged to wear as much purple as possible.
SATURDAY, APRIL 22
FREQUENCIES [4] @ CLUB 77
WHO: MATKA, PATHFINDER, JADE LE FLAY, TOMMY, ZEFGIRLCLUB, BUCKNITE & MORE
COST: FREE // MORE INFO HERE

Monthly party Frequencies is back for its fourth edition before it takes a well-deserved break in May, so this is a chance for an extra turn-up at 77. The genre-free night will host Sydney club favourites like Matka, Jade Le Flay, ZefGirlClub and more, and it's free all night long.
MONDAY, APRIL 24
MEANWHILE @ GOODBAR
WHO: LINDA MARIGLIANO, HOROWITZ, CHARLIE CHIX, ELIJHAH SCADDEN & MORE
COST: $20 ON THE DOOR // MORE INFO HERE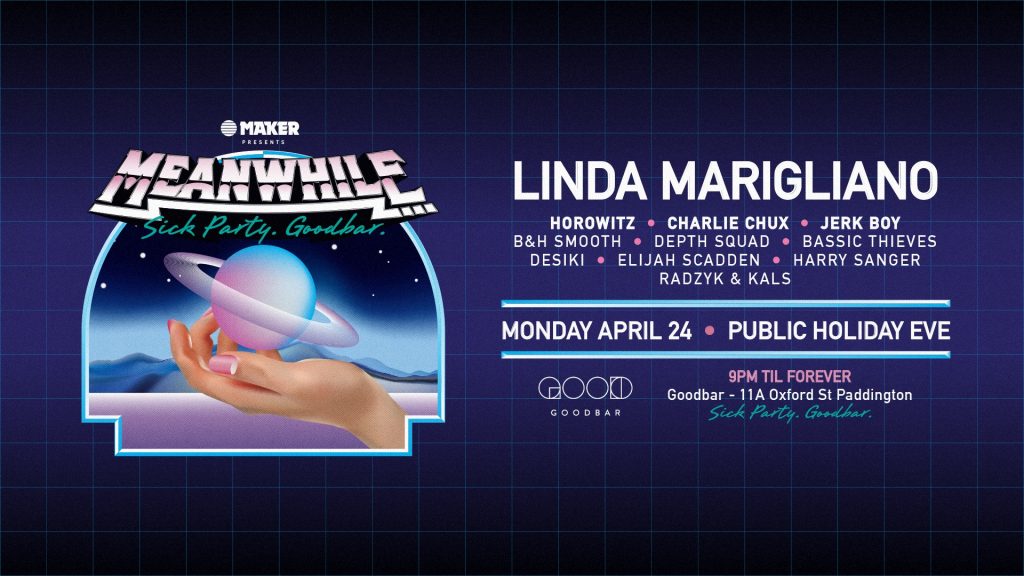 Sydney's beloved dance party meanwhile is returning, branching out of its Inner-West roots and into the freshly-revamped Goodbar. It's lockout free and has one of the city's more favourable sound systems, so expect the house and techno to hit hard with artists including Linda Marigliano, Charlie Chux and Life Without Andy's own Elijah Scadden.
SPENDA C RELEASE TOUR @ CIVIC UNDERGROUND
WHO: SPENDA C, CULT SHOTTA, OH BOY, EBONY BOADU
COST: $13.53 RIGHT HERE // MORE INFO HERE

Having recently collaborated on their summertime anthem 'Release,' Spenda C and Cult Shotta will be playing a joint headline show at Civic Underground on this public holiday eve. If you've seen Cult Shotta live before, you know that this is going to be pretty mental. Oh Boy and Ebony Boadu (IZMZ) on support.
TSUKI @ THE WORLD BAR
WHO: TSUKI, WUXI, LOSLO
COST: MORE INFO HERE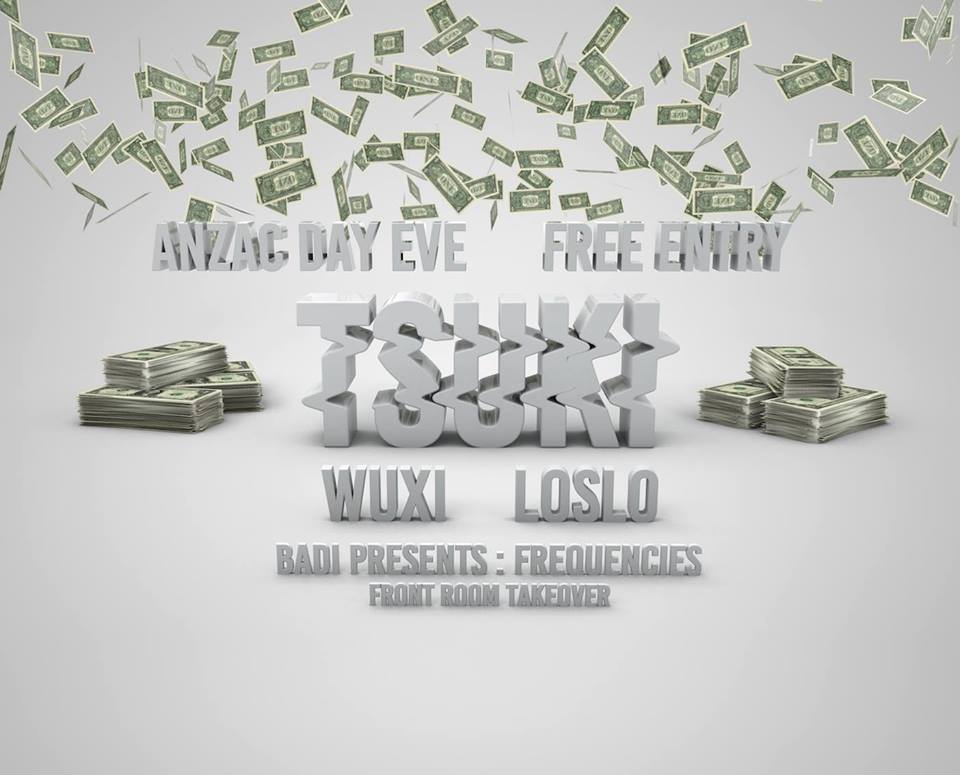 Flying money on the flyer? We're sold.