22 artists, 14 events, 3 cities and exactly 0 dollars: 'Southern Sounds' is making its debut across Australia this month.
An event series hosted by Southern Comfort, Southern Sounds looks to capture the atmosphere of New Orleans through live music, shared experiences, and some tasty whiskey cocktails thrown in for good measure. Kicking off tonight and running all the way through January, Southern Sounds will be hosting gigs in Sydney, Melbourne and Brisbane featuring some of Australia's most beloved acts.
Included in the roster is the ever-electric REMI, who will be expanding from a duo into a full live band for their show, while Joyride, Oscar Key Sung, Silentjay, The Goods and more will also be bringing their eclectic flavours to the table. On DJ duties, we have everyone from veteran selector Mike Who to the queen of content, FlexMami spinning on various nights – so expect to have the whole sonic spectrum covered.
See the full lineups below, and for more info on all of the events, click right here:
SOUTHERN COMFORT PRESENTS: SOUTHERN SOUNDS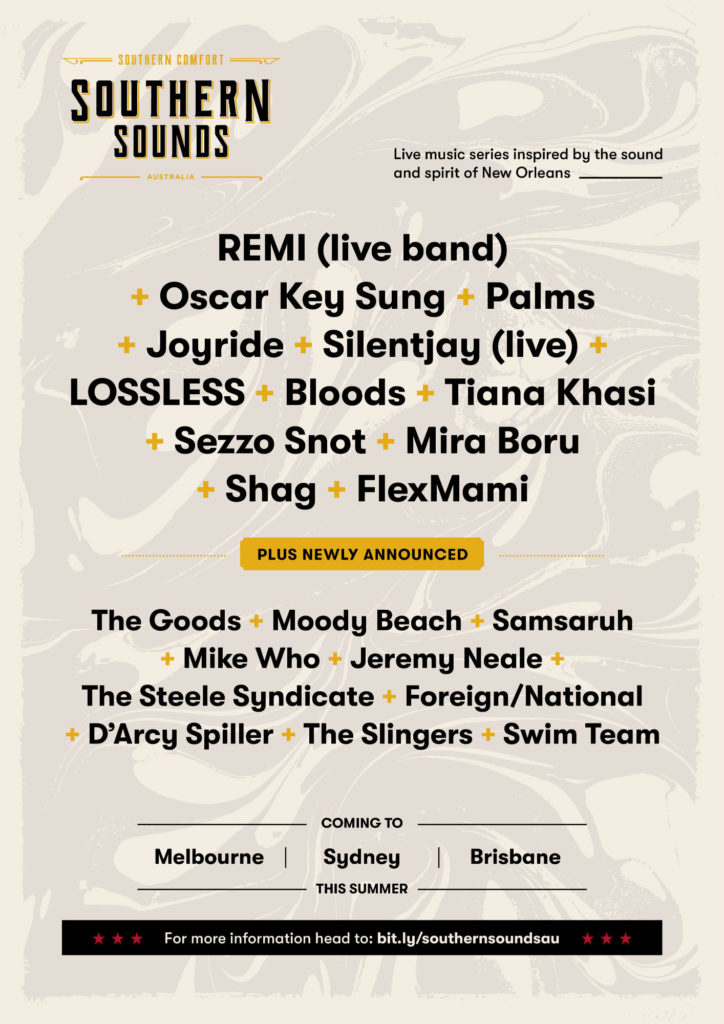 MAIN EVENTS
THURSDAY JANUARY 11, 2018
NORTHCOTE SOCIAL CLUB, MELBOURNE
REMI
LOSSLESS
SEZZO SNOT
THURSDAY JANUARY 18, 2018
THE NIGHT CAT, MELBOURNE
OSCAR KEY SUNG
SILENTJAY (LIVE)
MIRA BORU
FRIDAY JANUARY 26, 2018
BOTANY VIEW HOTEL, SYDNEY
PALMS
BLOODS
SHAG
THURSDAY FEBRUARY 1, 2018
THE FOUNDRY, BRISBANE
JOYRIDE
TIANA KHASI
FLEXMAMI
**JUST ADDED**
SYDNEY
THURSDAY JANUARY 11, 2018
THE CHIPPO HOTEL, CHIPPENDALE
THE GOODS
THURSDAY JANUARY 18, 2018
THE FORRESTERS, SURRY HILLS
MIKE WHO
WEDNESDAY JANUARY 31, 2018
THE LADY HAMPSHIRE, CAMPERDOWN
MOODY BEACH
MELBOURNE
THURSDAY JANUARY 18, 2018
THE B.EAST, BRUNSWICK EAST
SAMSARUH
THURSDAY JANUARY 18, 2018
THE GRACE DARLING HOTEL, COLLINGWOOD
THE SLINGERS
THURSDAY JANUARY 18, 2018
THE SPOTTED MALLARD, BRUNSWICK
D'ARCY SPILLER
WEDNESDAY JANUARY 24, 2018
THE CURTIN, CARLTON
SWIM TEAM
WEDNESDAY JANUARY 31, 2018
CROXTON BANDROOM, MELBOURNE
FOREIGN/NATIONAL
BRISBANE
SATURDAY JANUARY 13, 2018
THE TRIFFID, NEWSTEAD
JEREMY NEALE
THURSDAY JANUARY 18, 2018
THE FLYING COCK, BRISBANE
THE STEELE SYNDICATE
https://www.youtube.com/watch?v=Gwfm9wuIj40
https://www.youtube.com/watch?v=ZvlSg5TjhW4