Cynthia and Rafaela bring fairytales to life in this week's
Tuesday Without.
Shot totally on film, this week's Tuesday is almost mythical. Between sunlit snaps of ocean and sand, Cynthia Taylu floats into focus with the ease of a mermaid; a seaborne apparition who tussles her windblown hair and treads turquoise waters. As a true enchantress, Cynthia even plays telephone with the ocean, hearing it's salty calls through the open-end of a pearly conch shell. The otherworldly magic of this shoot comes just as much from behind the lens, where photographer Rafaela Maia has cast her spell simply with some crispy film and a classified location. 
It seems this photography magician never reveals her secrets: "They were all shot on Portra 400 film at my 'secret spot' near Snapper Rocks," Rafaela says. 
See a mermaid in the flesh in the gallery above, and scroll down for the credits.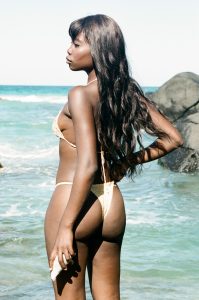 Tuesday Without: 

Cynthia Taylu


Photographer: 

Rafaela Maia


Location: Snapper Rocks
Label: Seafolly