Some Sydneysiders were tucked into bed by 10:00pm on NYE, choosing to spend the first hours of 2017 in sleep city and waking up fresh for Field Day come January 1.
For us, it's the busiest time of the year at the peak of festival season, and we were awarded no such luxuries. Jumping off the plane from Beyond The Valley, we trekked straight from the airport and into The Domain to continue the bender along with 28,000 happy eggs who chose to start their year with the world's leading best in electronica and hip-hop.
With the dissolution of Stereosonic, Future Music Festival, Big Day Out and the ilk, Field Day now stands as one of the biggest single-day music events on the Australian calendar – and this year's lineup confirmed the event's premier status with a highly-praised line-up.
Early in the afternoon, AlunaGeorge brought their sultry R&B heaters like DJ Snake collaboration 'You Know You Like It', while 'One Touch' with Bauuer and Rae Sremmurd was sadly missing. Still, Aluna's vocals and endearing British banter made for an easy start to the day. Tkay Maidza's set was bolstered by live drums from Commeandeur, and spanned from early singles like 'U-Huh' to the more recent 'Simulation', reaching its height with the Martin Solveig assisted 'Do It Right' – a song that practically screams for an inclusion at every festival this summer.
From there, the Centre Stage delivered two of Australia's biggest dance exports in What So Not and Alison Wonderland. Eventually, the muggy weather gave way to rainfall, though the moist conditions did nothing to deter the sea of ponchos watching Emoh drop bass-filled bangers onstage while dressed in a powerful orange outfit, including his ever-popular 'Innerbloom' remix. Alison took a similar route with her set with anthemic jams like 'U Don't Know' and 'I Want U', marking a successful return to Australia with additional sets at Falls Festival.
From there, it was back to the live elements with the highly-anticipated set from Chance The Rapper. The Chicago emcee was backed by a full band who electrified his set from the soulful elements from (arguably) this year's best single in 'Ultralight Beam' – which teamed Chance with fellow Chicago native Kanye West – to the infectious pop bounce of 'No Problem'. All in all, a nice way to welcome new beginnings of 2017 – see all the action from Field Day above: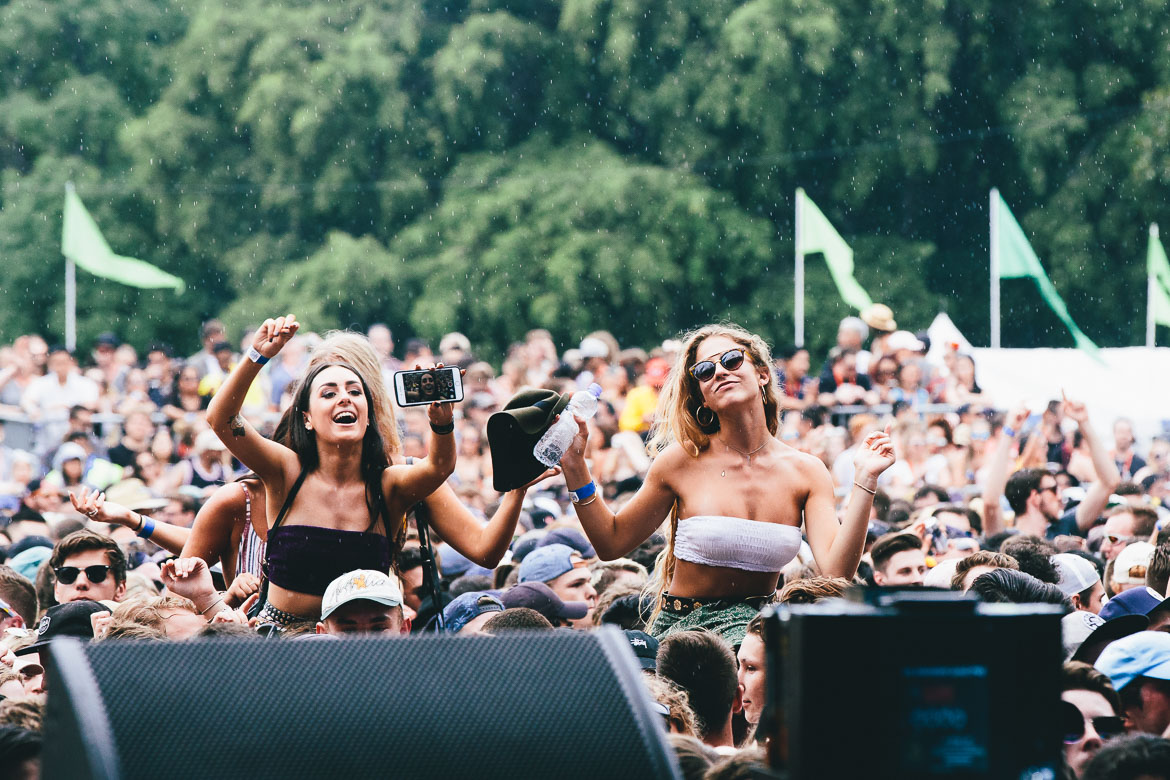 Event – Field Day @ The Domain
Photographer – Brayden Smith
Date – 01/01/17