With his reputation for a live show that hits like a semi-trailer, anticipation for RL Grime's headline show in Sydney is overwhelming, especially with rambunctious reports of his Splendour In The Grass set trickling down from Byron Bay.
Back in 2012, RL Grime was one of the producers championing dance music's wide-armed embrace of trap, armed with a crushing, rave-infused remix of Kanye West's 'Mercy.' From there, he ventured into his debut album Void, which features both Big Sean and Boys Noize in a brooding exploration of electronica's hard-hitting corners. His Halloween mixes have earned a cult following that grows every time October rolls around, a sonic staple that sits amicably next to carved pumpkins and candy bags. All of this, brought to life in demonic fashion by RL Grime's live show – a nocturnal celebration spearheaded by all things bass.
Unsurprisingly, RL Grime's biggest Australian headline show sells out weeks in advance, and his Hordern Pavilion performance has to be supplemented by an after party at Home Bar. The main event sees thousands flock to Moore Park, dressed in sleeveless shirts and denim shorts despite the freezing weather, but appropriately for the sweat den that's about to ensue inside. While her preference for punchy pop hits lighter notes than RL Grime's catalogue, Tkay Maidza's live set warms the crowd effectively, with infectious singles like 'Tennies' and 'Simulation' arriving alongside a manic Migos/Kendrick Lamar mash-up, elevated by live percussion and killer onstage dance moves from the star herself.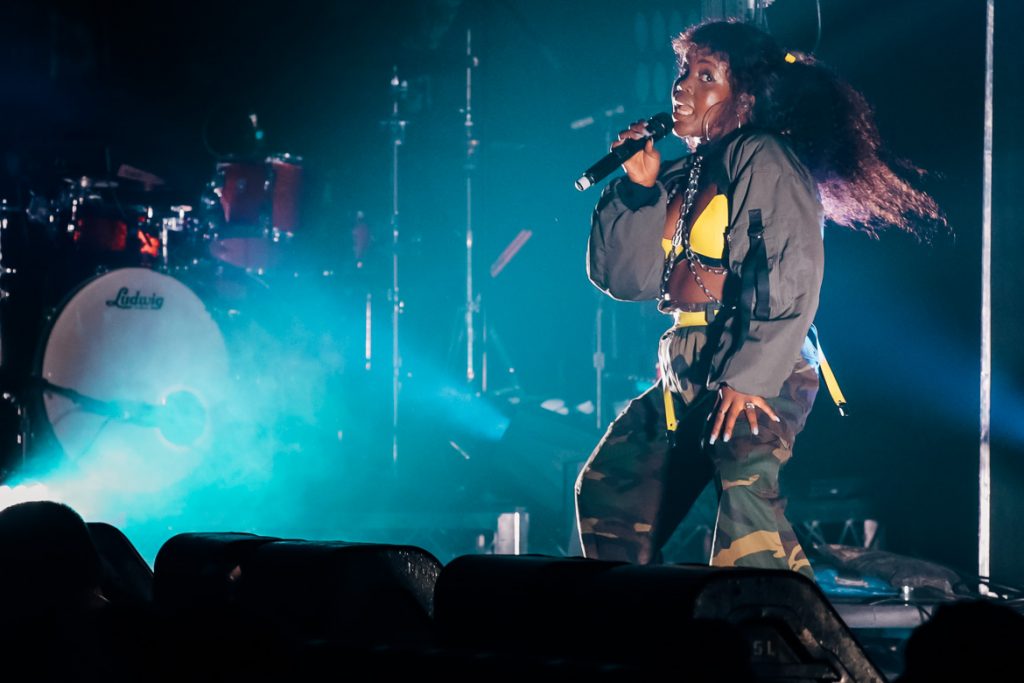 After a short intermission, RL Grime takes to the stage atop an ambitious digital wall that houses his decks. With his aforementioned remix of 'Mercy' acting as a catalyst for much of his success, RL Grime's preference for Yeezy is notable: Throughout his set, he takes vocal snippets from 'Ultralight Beam,' 'FML' and 'Bound 2' and mashes them with relentless, robotic instrumentals, where crowd sing-a-longs morph accordingly into push and shove. The Kanye West appreciation also rears its head with 'All of the Lights' fused with Skrillex's crossover jam 'Wild for the Night,' while current rap heaters from French Montana and Lil Uzi Vert are also welcome.
RL Grime's own anthems including 'Kingpin' and 'Tell Me' earn warm receptions, while dropping 'Circle of Life' from The Lion King serves as a dramatic introduction to his signature hyperactive anthem, 'Core.' Appropriately released on the brink of his Australian tour, RL Grime's hybrid of his spacey single 'Aurora' and Flume's 'Never Be Like You' closes the show in grandiose fashion, before he returns with 'Stay For It' as an encore.
After a heaving 90 minute set, RL Grime walks offstage. Before we even leave the venue, chatter amongst the crowd is rife with talk about the best way to get to Home Bar for the after party, which is still in its early stages. That says plenty about RL Grime's dedicated fans in Australia, and we're sure that most are counting down the days until his return.
Event – RL Grime @ Hordern Pavilion
Photographer – James Pellegrino
Date – 28/07/17