These Sydney ones we'd been looking forward to the entire time coz it was the Enmore Theatre two nights in a row!! So cool!! How do we get to do this hahaha. Saturday night was so amazing, all our family came up and heaps of crew from mine and Tobes from Skegss hometown came up too. The Ra took over Sydney. I Deliveroo'd heaps of food by accident and turned into a mukbang YouTuber for a sec in the green room, and then I did heaps of little mouth spew and swallows on stage when we played coz I ate too much.
Sunday night went similarly with a big crew up there and everyone organised a big birthday sing along and cake on stage for me coz I was turning 25 the next day. I cried and said "that was fucked" afterwards into the mic so I sounded like an ungrateful bitch but really I was just too taken aback with love and glee that I told everyone to fuck off instead hehe. Got real buzzed off like 3 Prosecco bottles coz we all just wanted to keep poppin em all night. On the way home my mum, me, Cus, our manager Sween (hog) and infamous influenza Kyle Squires stopped at maccas and a servo and Squiz got a quarter pounder and a meat pie and put the pie onthe burger and subsequently became the devil in my eyes. What a way to end two nights at the Enmore and start my 25th birthday!!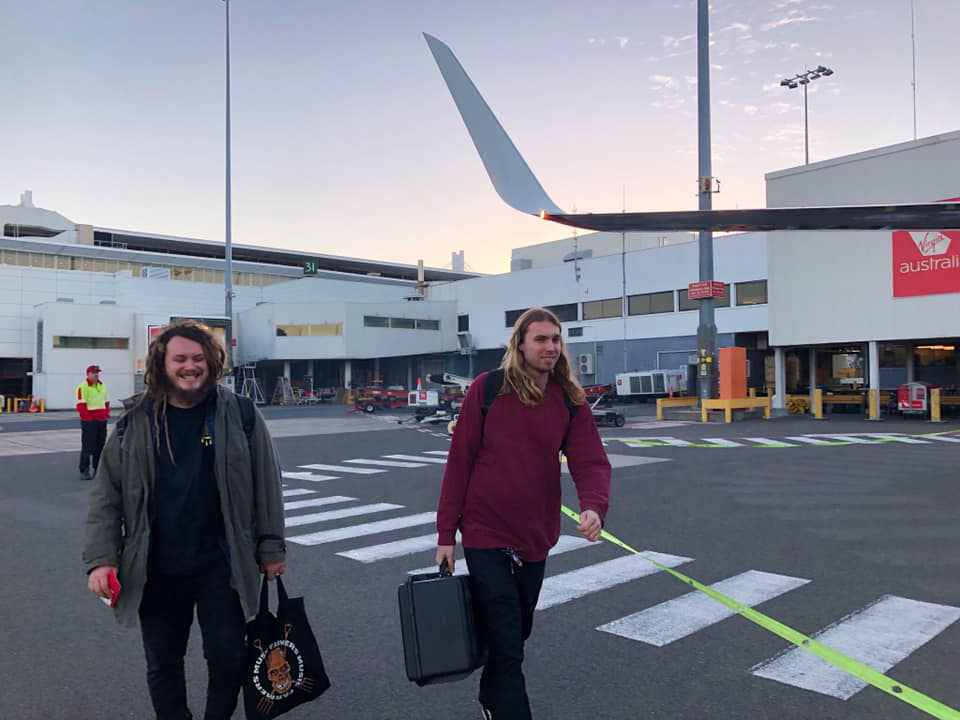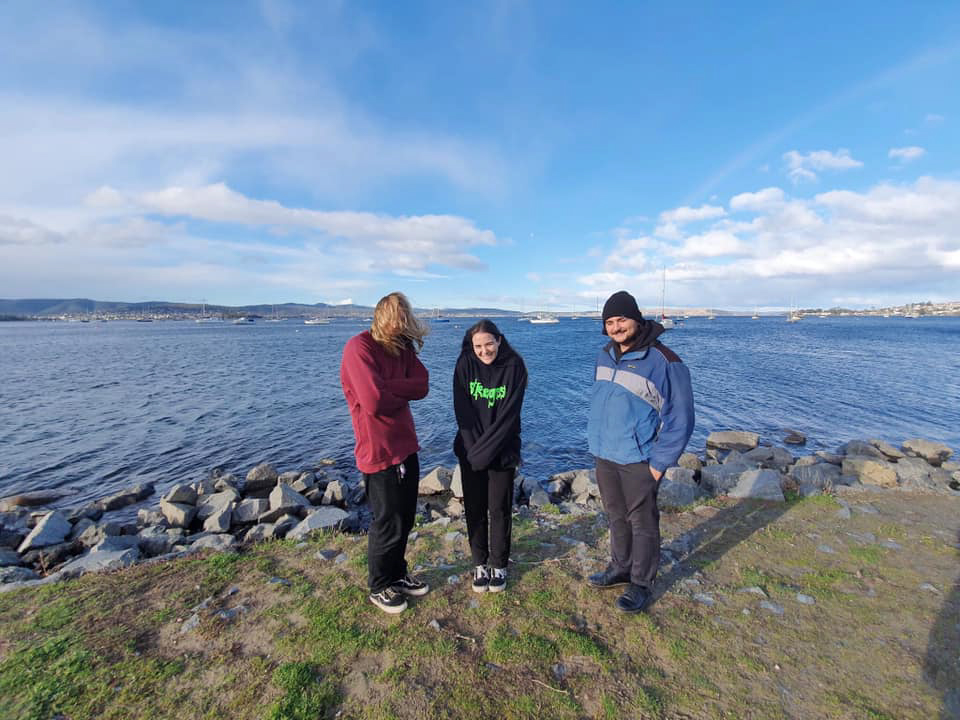 Hobart
Tassie was insanely beautiful!! There was snow on the distant mountains and it was the coldest I've felt in ages. The show was the Unibar and it felt so typical of a uni venue, sticky floors, and sweating walls. There was early 2000 style posters all over the walls of bands that had played there before including my idols Kisschasy so I knew we were walking among legends. During the day we went toall the different bays and scenic spots and took heaps of pics, the boys obliging real well. We'd never seen down that part of Tasmania so it was so awesome to be able to spend the day exploring. We went into a mall somewhere in town and walked past a tobacconist that had actual glass bongs on display in the window??? Real weird flex.
Went out to dinner before the concert and spent way too much money on fancy Tasmanian gourmet meals. The show was heaps of fun but the greenroom set up was the highlight. It was like a dungeon with heaps of snacks and stuff. And I showed off my new guitar the entire night to the point where I reckon people wanted to tell me to shut up but couldn't coz the whole crew are literally all way too nice. Went back to the hotel after the show and made two minute noodles but then didn't eat em coz I felt sick, Max ate em and then spewed upheaps loud during the night hehe. We were flying straight to Melbourne the next morning and when we checked out the reception had a fireplace cranking which was the nicest send off ever. Goodstuff!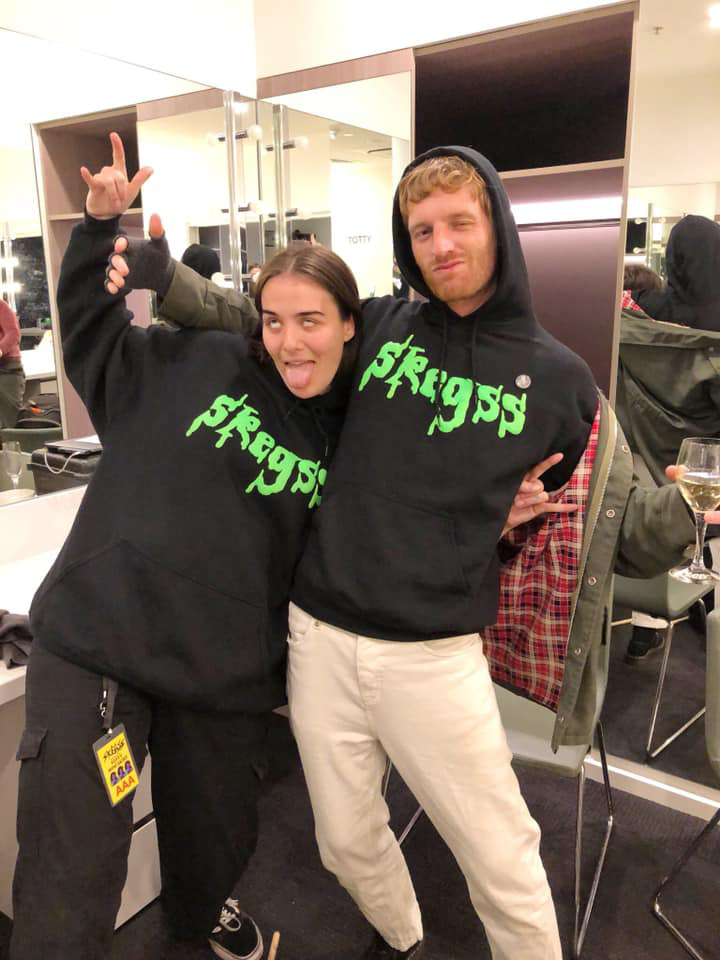 Melbourne
Three shows at the Forum ahead of us. In the morning we all went to this bagel shop down the road from where we were staying and wow, what a way to start ya morning. There was like a matinee under age show in the day time too. The lines for every single show went up around the block and wrapped back around to the start of the line like that snake game on old Nokia phones.
My mum and a few of our mates made the drivedown to Melbs to do the weekend with us which was so sick. Made it such a good family crew. I was loosing my voice coz I'm a shit singer and don't know how to maintain and protect my vocal chords but so keen to play the shows. The underage one was crazy and the kids were so mental, having the best time of their lives I reckon.
Gocsy made bootleg Skegss merch with their flame logo but then a pic of Hockey Dad underneath on like Kmart iron on paper. Some of them were backwards, some sideways, some only half printed on, they looked so amazing. All the Melbourne shows ruled and The Forum is the most beautiful venue I've ever been in. We kept saying goodbye to everyone after the last show down there coz it felt like the end, we all had to go back to our day jobs and between then and the Brisbane show which sucked. Made a few smoothies on these past couple weeks off from tour. Could not wait to get to Brisbane.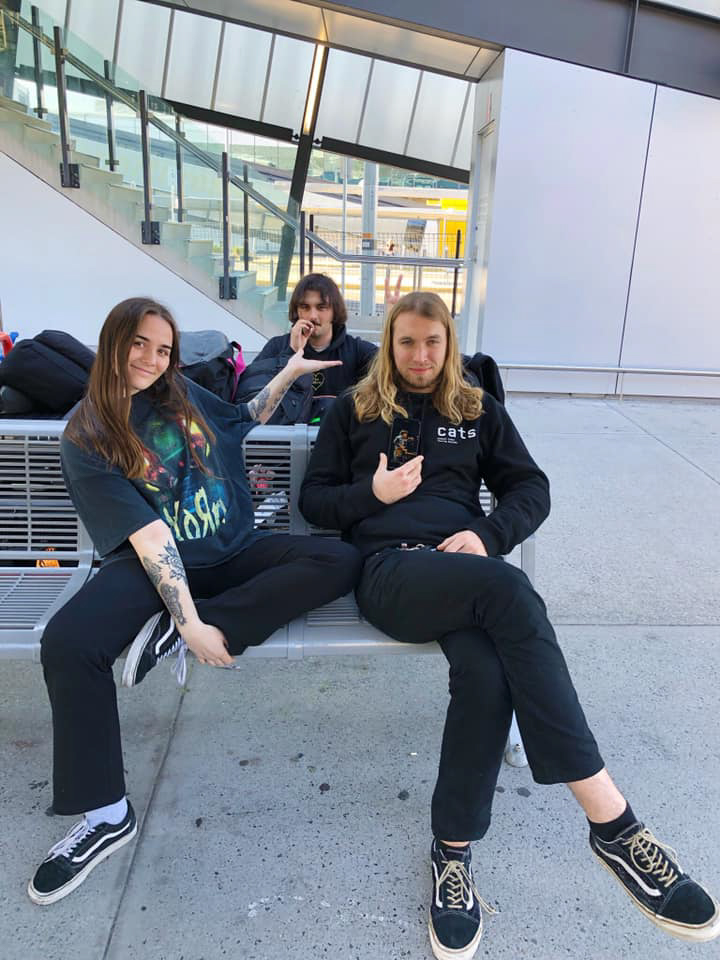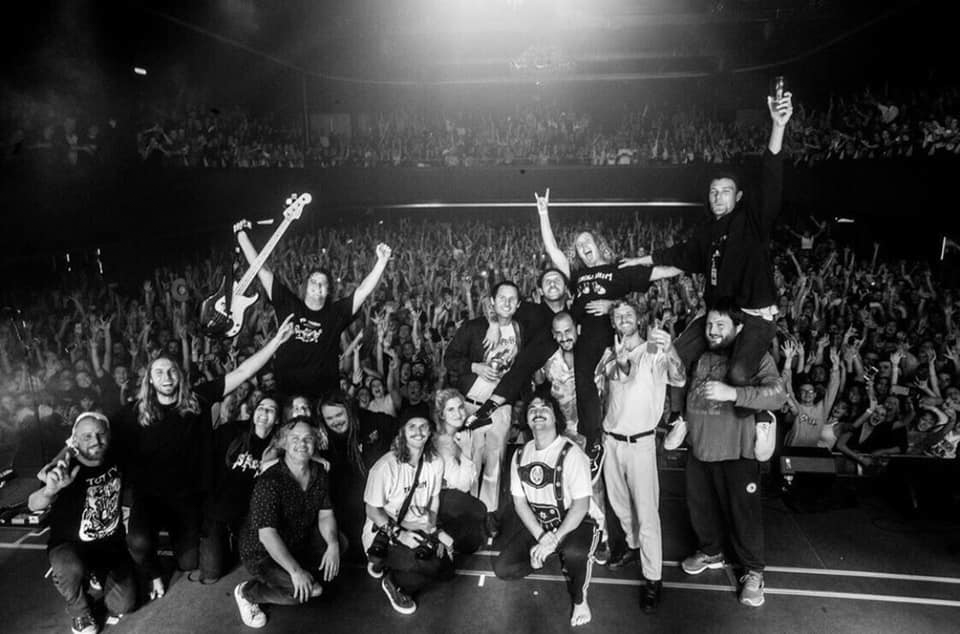 Image by Will Johnson //
Brisbane
We flew in super early on Saturday morning as usual, coz they're always the cheapest flights. Essential for broke supports hehe. Hooked into the lounge zone upon arrival in Brissy briefly andthen made our way to get our gear and get our hire car. Obviously another Kia Carnival. Rock dog tour machine them things. We drove over to Michael's house and he was still up from a big night at the opening of the venue we were playing that night. Lucky enough to be on the second show ever in that place, so cool.
The venue was amazing, the show was amazing, everything about the night was amazing. It all felt really emotional when it was coming to an end, we did a big presentation and got certificates and Skegssys shirts and did big arm tunnels for everyone to cruise through chanting names and just giving out heaps of support and love. We took an extra day to lurk in Brisbane so we weren't flying back till Monday. Sunday we spent the day doing the bi-annual Coorparoo Crawl and what a day for it! Beautiful spot on the green, and then probably 36 beers later we were back in the valley at Crowbar with margaritas and no idea who we were. Great way to top it all off!!
Flew backearly on Monday morning with heaps of love in our hearts. What a tour. The crew on this tour have been the most supportive, caring, understanding and inspiring people we've been lucky enough to work with and spend time with. All the Skegss boys, the Miniskirt boys, Gocsy, tour mum Zazi, Bunnyman, Billy & Celia, Cello, AK, Lee, everyone around us we are so thankful to know and to have supporting everything we do. We wouldn't be where we are without those people backing us. It means the world. It was the biggest tour we've done so far and the rooms we played were unbelievable. Thanks if ya sang along or bought a shirt or even just stood there and didn't walk out the door while we played. We love ya!! Signing off, back to the day jobs for now. Love from Tot