Words by Christopher Kevin Au //
When it comes to footwear, it doesn't get much more iconic or coveted than Nike's Air Max line.
With an army of insatiable swoosh fiends and footwear geeks dissecting every bubbly release that Nike drops, the role of Creative Director at Air Max isn't one to be taken lightly. Dylan Raasch is currently the man steering the Air Max ship through uncharted and exciting waters. He's spent close to a decade working under Nike, with a crucial hand in some of their most popular models, including the omnipresent and lightweight Roshe. Now, he's turned his attention to Air Max, with the recently-released Air Max 270 being his latest monumental project.
With the Air Max renaissance in full swing, and classic models finding their way into style circles once more, we chat with Dylan about all things Nike – his recent 270 project, his creative process, and just what Nike has in store for us in 2018 and beyond: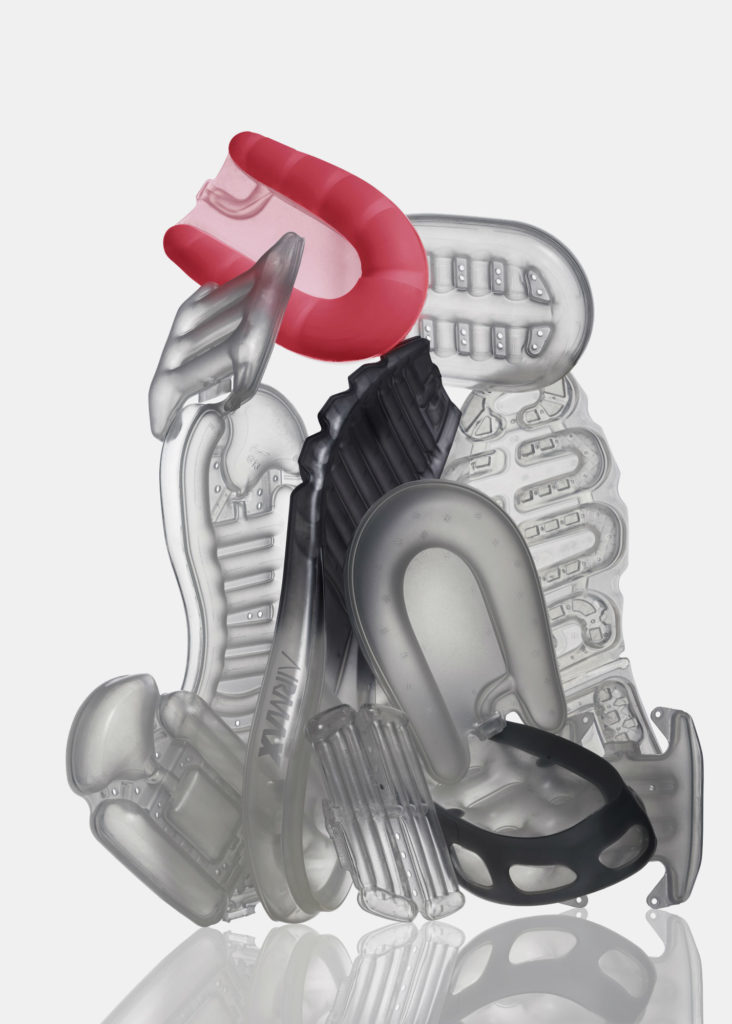 You are obviously a man who lives and breathes footwear. Can you pinpoint the time in your life when you realised that shoes weren't just things to cover your feet, but so much more?
At a young age, I was interested in design, and art in general. When it came to pursuing a higher education, I chose to focus on industrial design and see my art come to life. Ultimately though, it was my love for skateboarding which drove me into footwear design. My first job was working for DC Shoes where I had the ability to combine the two things I loved. That's where I realised I could design functional products that people had a deeper connection with.
Nike Sportswear has just unveiled the Air Max 270. How did you guys manage to balance the sleek, thin upper with a towering 32mm bubble?
When the Air Max 270 project started, the initial focus was to create a modern take on the air bag in the Air Max 93 and the upper of the Air Max 180. As the project evolved we felt it was necessary to push the shoe to a new space. We still used the Air Max 180 and Air Max 93 as inspiration, but we wanted to make sure we were creating something that was
solving a problem and had its own identity.
We chose an Air Unit at 32mm, because this application in the heel was the perfect height to allow air volume displacement without compromising performance, comfort or durability. In the end, the upper and the bubble worked together seamlessly.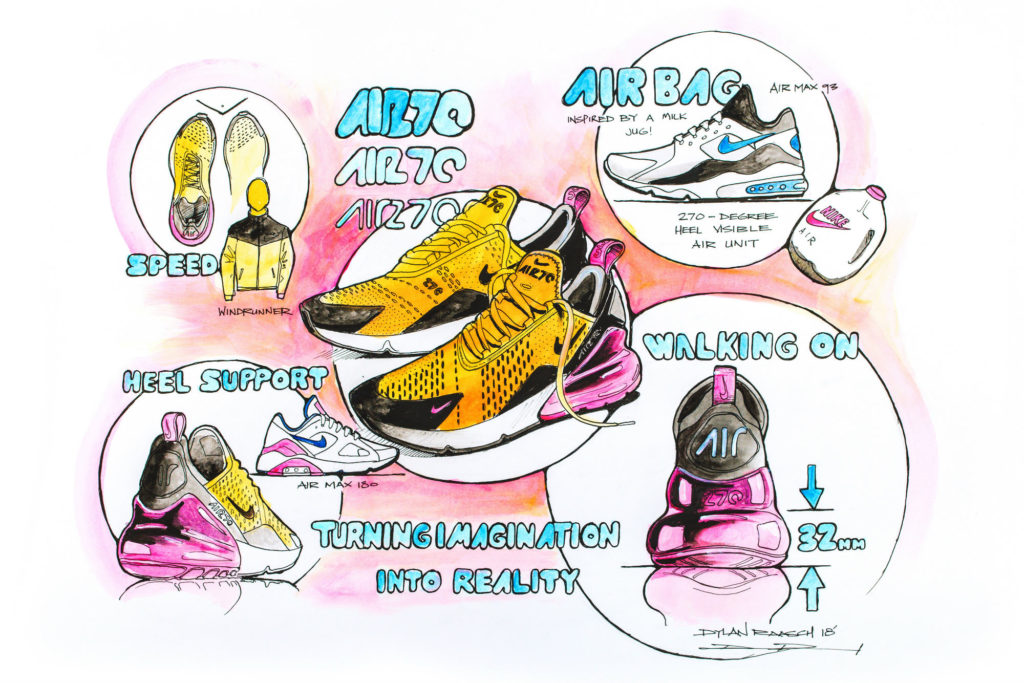 Both the Vapormax and 270 are big developments for the concept of visible air infootwear. How else do you think this idea can be reinvented or rethought?
The size of the Air Max fan base continues to grow, as well as the appetite for new models. We have a never-ending job of coming up with new ways to approach air and we will continue pushing the limits of both performance and comfort. Our biggest limitation right now is a matter of technology evolving at the same pace as our imagination.
Lots of classic Air Max trainers undergo modifications, like the Air Max 95 SneakerBoot that you worked on. How do you evolve silhouettes while still catering to the shoe's core fan base, who can be quite fiercely attached to the OG version?
We have two jobs in Air Max, one is to maintain the past in its purity, and the other is to continuously push forward with new ideas. The OG sneaker lover may or may not like a new take on an OG, but they understand that it's part of the game. In the end, it's the evolution of our history that led to completely new models.
This year, we have seen plenty of Air Max 98s roll out for the shoe's 20th anniversary. However, the 20th anniversary of the Air Max Plus has been a little quieter, besides the Vapormax Plus hybrid. What have you guys got in store for the TN in 2018?
We put a lot of work into creating something new with the Vapormax Plus and the energy has been explosive since its launch. People aren't afraid of us pushing the boundaries of such an iconic model, the TN. We are working on some new ideas as well playing with colors and materials to keep the energy going. I can't go into specific details yet, but we have some exciting things coming.
Later in 2018, Nike will also be bringing back the Air Max Deluxe. Are there any other favourites, like the TN3 or Tailwind 4 that will be getting a resurrection?
Unfortunately, I can't mention our future model offerings but I can say the TN and Tailwind family will be getting some love.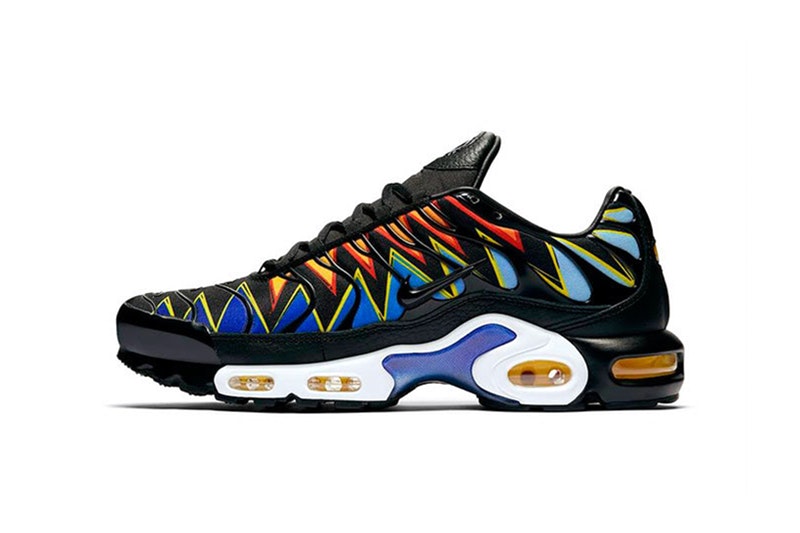 When a shoe is revealed to the public, take us through your thought process in the first 24 hours. Do you ever get concerned if a shoe is too polarising, or are you affected by negative feedback? How do you deal with it – especially with the knowledge that some Nike sneakers have existed for decades before being embraced by the mainstream?
Someone once said to me, the worst thing that can happen is if no one says anything. If people love or hate something, it's creating an emotional response which means it's connecting with people on some level. When you spend years on a model and there is no response, that's hard to deal with.
Over the years however, I've learned to stay unattached to the results of a shoe because like you mentioned before, you never know. Two decades later the shoe could resonate and become a classic. I know that if we stay focused on our insights and storytelling, the footwear we work on will always have that potential. 
You've said that your designs are very much inspired by nature. How do you go about channeling the aesthetic of nature into something that's man-made and mass-produced, and still retain that organic energy?
When I spend time in nature, I try and see things on different levels and find ways to take in more than a literal interpretation. Functionally, almost everything in nature serves a purpose –  it's part of a bigger ecosystem that supports itself. I think it's important to make sure the products we design are not just cool to look at, but that they actually do something for you in a beneficial way. We are also working to get everything into a sustainable place so it shares that characteristic as well.
Currently, the louder and wackier Air Max designs from the mid to late 90s are very much on trend. Are you surprised at how much sportswear and runners have influenced high fashion in recent seasons?
As the trend of clean minimalist styles has waned over the past few years, I started seeing interest in the louder 90s models. I am surprised by how quickly the boundaries between streetwear and fashion dissolved. It will be interesting to see how fashion brands in the future adapt to new trends that aren't aesthetically based, but technology based.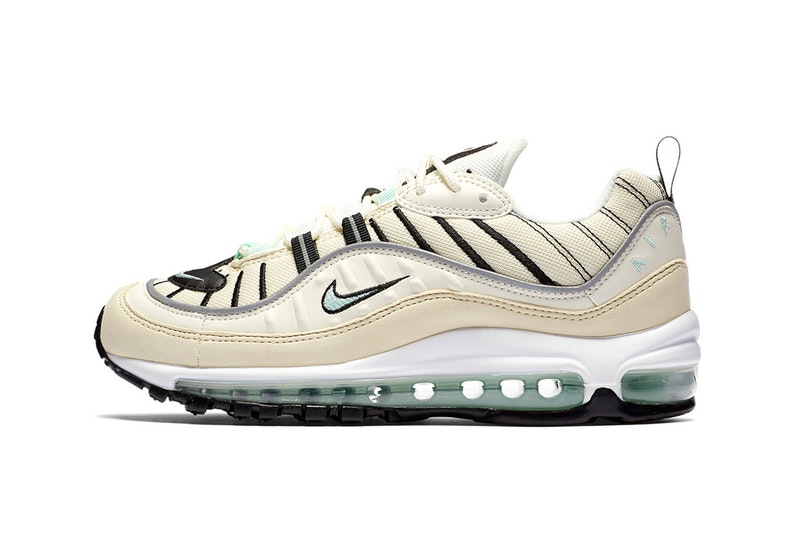 Where do you see footwear trends heading next? 
When we think about footwear in the future, we always start with the emotional and functional connection to people because we innovate around these insights. Naturally, this gives the product a more timeless quality and hopefully the ability to transcend trends.
I see things becoming much more thoughtful than they are now. Aesthetically-based fashion will have its place, but I don't think it will be able to hold up to extremely functional product in the future. Just as with cars, no one is satisfied with a car that looks good but can't drive well.
Next year, you will be celebrating a decade with Nike. Looking back, what have been your most cherished milestones, and what would you like to achieve with the swoosh in the next 10 years?
I can't believe it has almost been 10 years! When I think back, the Roshe was my first big milestone. Working on the Roshe provided a completely new perspective on design, my process, and how to create a successful shoe. After that, I had the opportunity to work as the Design Director for Women's and Core Sportswear where I was able to take those learnings, apply Women's and Core insights, and create successful models with the Air Max Thea and Kaishi (now evolved into the Tanjun).
Working on the Air Max team is a huge milestone because it's one of Nike's most iconic brands and I feel honored to help bear the responsibility of moving it forward. The Air Max 270 was a huge success and it's just the beginning of what we have slated. As for the next 10 years, I have always tried to focus solely on the present and just do what needs to be done. Being creative and helping others is my passion and it seems to have worked out pretty good so far.