Words by Christopher Kevin Au
In case you've been living under a sizable, soundproof rock with no Wi-Fi for the past 24 hours, then you've probably heard the news: Drake is bringing his 'Boy Meets World' tour to Australia in November.
When it comes to hip-hop tours in Australia, they don't get much bigger than this. Bow Wow played at Wollongong Uni Bar last night, and while that comes close, Drake's shows will probably have a handful more people in attendance. The anticipation is high for everybody's favourite Canadian crooner to come Down Under and wow us all once more, delivering a flurry of pantry-dropping R&B ballads and radio-friendly rap singles for middle-class kids who think that they started from the bottom.
But it was back in 2015 that the OVO head-honcho graced our shores for the first time, performing at Future Music Festival and his own stadium shows across the country. With news of the 'Boy Meets World' tour now sinking in, we decided to shimmy down memory lane and reminisce on Drake's first headline show in Sydney, presenting this succinct recap of all the wonderful and weird things that went down: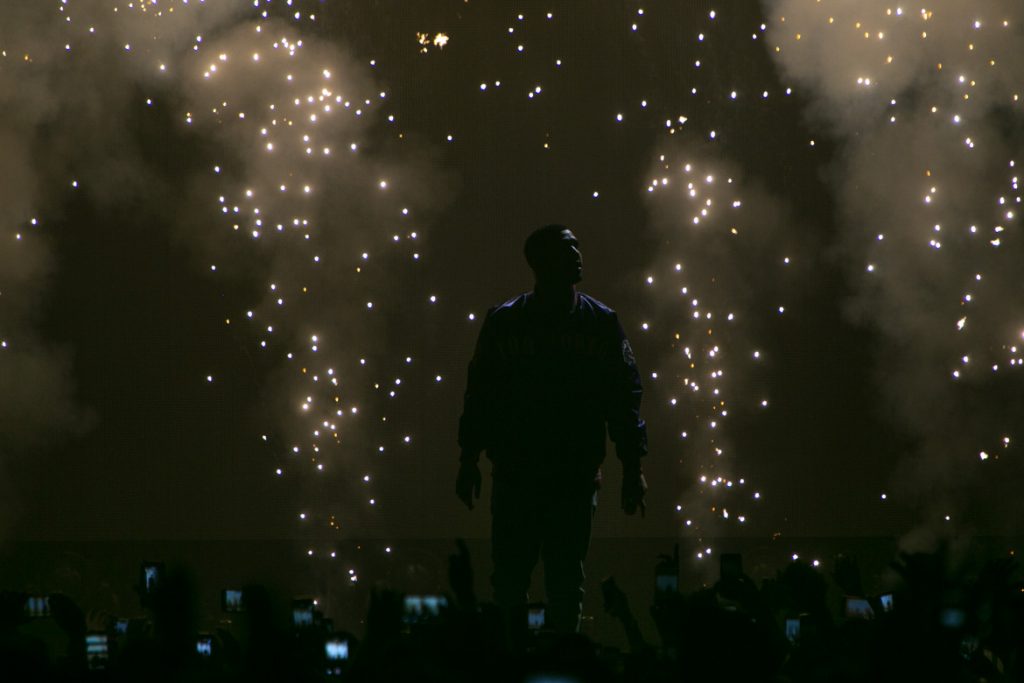 DRAKE RODE A BLOODY TRAPEZE
Drake is no regular rapper. Standing on the stage is for plebs and C-Grade celebrities at best, which is why he mounted and rode a bloody trapeze over the audience in Sydney, gliding gracefully like a Canadian guardian angel over the commoners in the General Admission section. From there, Drake gave mid-air shout-outs to "the girl in the black and white Stussy shirt," which described about 90% of the audience. Yes, middle-rung monochrome streetwear was definitely the uniform for the night, as well as paisley shirts worn by guys who have Instagram names like '@YUNGASAPGERALD.'
After the trapeze slowly descended back to Planet Earth, Drake then landed on a second makeshift stage in the middle of the audience, providing a 360 degree platform from which he could penetrate the audience from all angles. Still, from that moment on, the show was no longer headlined by Drake. It was Drake's trapeze which emerged as the real hero of the evening, winning our hearts forever. Please enjoy this additonal trapeze commentary, live-Tweeted from the event by DJ Levins & Nacho Pop:
DRAKE WORE A WALLABIES JERSEY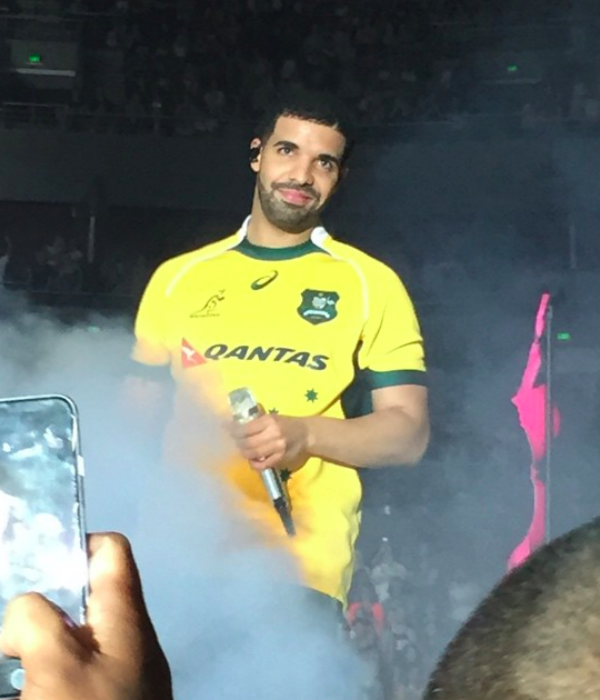 Going to any rap show in Sydney, there's a 83% chance that you're going to see at least one Filipino guy wearing a Larry Bird, Kobe Bryant or Michael Jordan jersey, probably with a matching snapback and rosary beads. Extra points if he is also dabbing in a dance circle. While the NBA, NFL and other American sports organisations have managed to infiltrate global fashion circles, the same really can't be said for our Australian counterparts.
However, it seems that nobody told Drake, because he proudly wore a Wallabies jersey onstage in Sydney. Power move. Despite Drake's bold fashion choices in 2015, it hasn't become socially acceptable to wear Matt Dunnings' rugby union jersey and headgear to the club, but it's only a matter of time – we're willing to put money on it. A few days later at Future Music Festival, Drake wore Nike TNs onstage, so it's clear that he's trying to connect with the 'Southern Cross tattoo' demographic with his outfit choices.
A VERY, VERY EXTENSIVE SET LIST
https://www.youtube.com/watch?v=CccnAvfLPvE
Drake was onstage for a really long time with zero hype men and zero weed carriers, which is a testament to his seasoned skills as a live performer. Opening with back-to-back bangers 'Trophies' and 'We Made It' set a celebratory tone for the night, with his set encompassing Take Care favourites like 'HYFR' and silky smooth gems like 'Hold On, We're Going Home,' the latter of which probably inspired some tasteful fingerbanging in Row 73. Romance was in the air. And since the tour took place just weeks after the release of If You're Reading This It's Too Late, we were also treated to thumping anthems like 'Energy' and 'Know Yourself.'
Let's also take a short paragraph to remember that Drake also performed his definitive piece, 'Marvin's Room.' The guy standing next to us cried when this song came on. You guys think that Xxxtentacion's new album is emotionally dense? Listen to 'Marvin's Room' on repeat for seven hours and try not to drink yourself into oblivion while pondering the fragility of love and life itself.
PLUS, A STACK OF HIS BEST GUEST VERSES
In 2017, you can't listen to anything without hearing another fucking guest verse from Quavo. We definitely aren't complaining, because with the amount of zesty ad-libs they've injected into everyday dialect, Migos deserve a gold medal for their contributions to the English language. At one point, Drake was like Quavo with his omnipresence on hip-hop's biggest tracks, and he performed a couple of his more notable guest verses in Sydney.
'I'm On One' by DJ Khaled and 'Fucking Problems' by ASAP Rocky were two of the biggest anthems of the night, while his show-stealing verse on French Montana's butt-jiggling single 'Pop That' was equally huge. Drake also brought out OB OBrien for a remix of '2 On' by Tinashe, and while 'Stay Schemin' would have been the icing on the cake, it was enough to prove Drake's dominance as a guest rapper. Oh yeah, 'Tuesday' also went off even though it wasn't a Tuesday.
ONE DAY SHARING A DRESSING ROOM WITH DRAKE'S BARBER & DRAKE HAVING ABSOLUTELY NO IDEA WHO THEY WERE
Sydney hip-hop collective One Day have been throwing some of the city's biggest parties for a couple of years now, so it makes sense that they were given the sizeable task of warming up for Drake on his Australian tour. On the road, they were treated to ample catering and even shared a dressing room with Drake's touring barber, J-Mac. Yes, Drake has his own barber fly around the world with him, because science has proven that your performance abilities increase tenfold when you've had a fresh fade just before showtime.
And while the One Dayers might be instantly recognisable in Sydney's Inner-West, Drake had absolutely no fucking idea who his openers were. In fact, he only met them by accident when he wandered into their shared dressing room with J-Mac, frantically looking for hair gel. Please read the entire story right here as told by One Day's own Nick Lupi, thank Jesus for hair gel.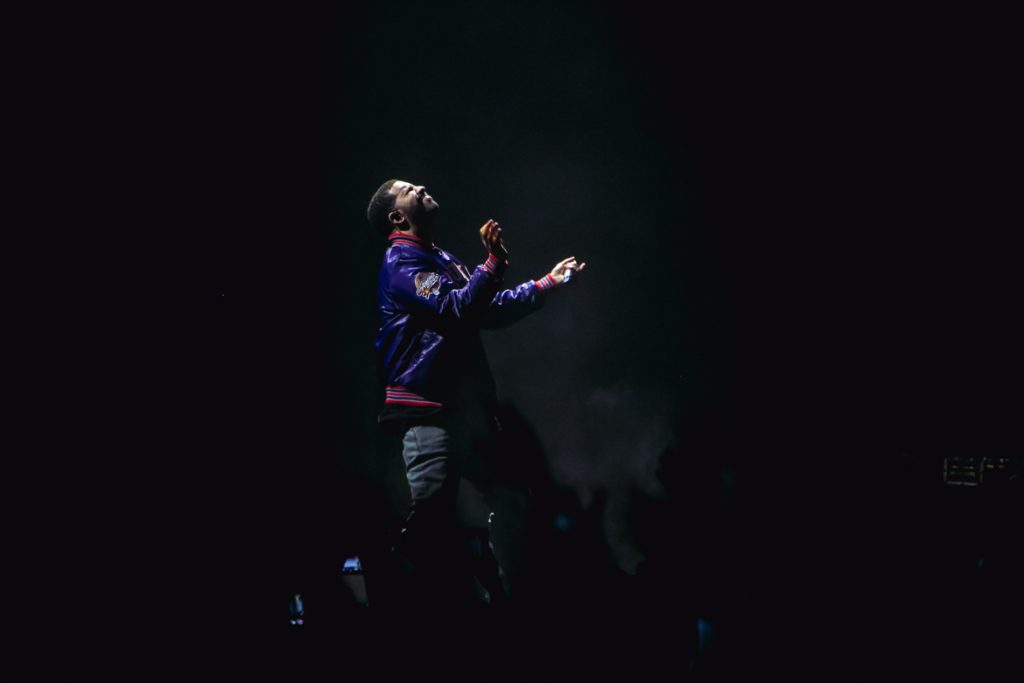 Since his colossal tour in 2015, Drake has done a lot. He got a BBK tattoo, started saying 'ting' way more, and beefed with and successfully buried Meek Mill. He also dropped What A Time To Be Alive, More Life, Views and most importantly, a song called 'Passionfruit.' If Drake's upcoming tour is anything like the last, then we're in for a memorable night.