Image by Complex //
After dropping one of last year's biggest hits in 'Bodak Yellow,' it looks like the ever-eccentric Cardi B is making her down under debut very soon.
As reported by Whatslively, the @OzTourLeaks Twitter page reported back in late January that Cardi B would be performing a headline show at Sydney's Hordern Pavilion on May 26th. After further tagging MTV Australia & The Edge 96.1, the latter replied to the announcement with not one, not two, but three smirking face emojis – which we can only take as some sort of indirect confirmation: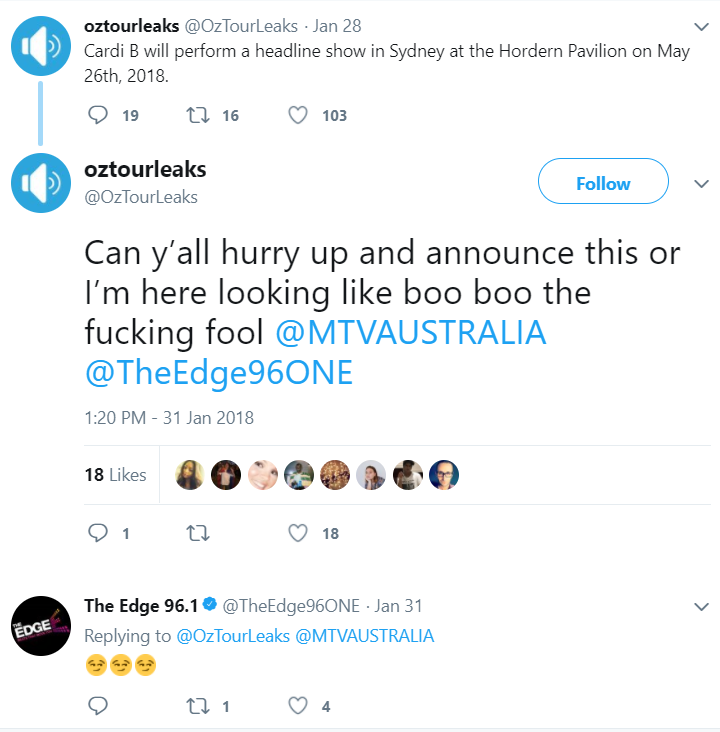 Whatslively also go on to state that they've seen posters for the upcoming tour plastered around Sydney, but also speculate that since Cardi B just announced her album would be dropping in April (after winning Best New Artist at yesterday's iHeartRadio Music Awards) that the whole tour may be delayed. "My album will be coming in April! Yes, sir, April. Stay tuned, motherfuckers," she said.
It's been awhile since the above Tweets were sent out, and May 26th is creeping up pretty quickly – so if this tour does happen, we would imagine that it's going to be announced before this month ends. Stay tuned to see if Cardi B makes it onto our shores this May.
https://www.youtube.com/watch?v=PEGccV-NOm8