Crystal Castles' Australian tour is kicking off in just under a fortnight.
Having already earned a fierce reputation in the live arena, Crystal Castles will be bringing their punchy, brooding electronica to nocturnal raves across the country – marking their first visit to Australia since 2013. Moreover, this will be their first trip Down Under with new vocalist Edith Francis, who appears on their latest full-length Amnesty (I).
The mysterious duo usually let their music do the talking – but we managed to grab a quick and cryptic interview with Francis ahead of the tour. She gives us a slight insight into the motivations behind the album, and what we can expect at Crystal Castles' Australian shows. Crystal Castles will be joined on all dates by local outfit Crooked Colours, and there's an elusive excitement about what's going to go down when they hit the stage.
See our interview with Francis below, and get tickets to Crystal Castles' upcoming tour right here: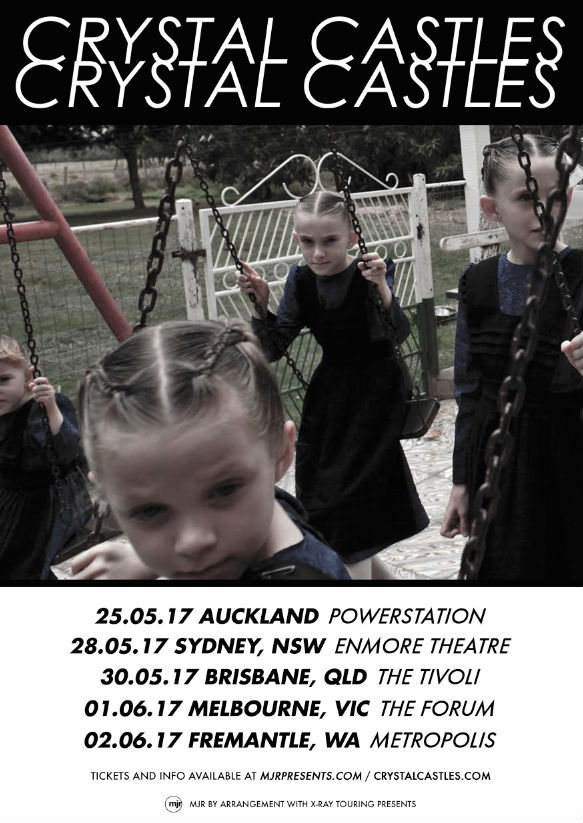 Edith, you've said that Amnesty (I) was heavily influenced by human rights. Being based in America, do you think that the album has taken on new meanings since President Trump's election?
The concept is malleable and applicable to whatever change is happening currently. As long as there are violations of people's rights, there will be new meanings.
There is obviously a lot of frustration in the United States at the moment. There seems to be more protest art coming to the forefront. How would you say that the music scene is responding to the current political landscape in the US?
I'm happy to see that people are speaking up in mass numbers. It has snowballed given the current events, even more so in the timeline from the release of Amnesty (I) until now.
What can Australian fans expect on the upcoming tour? Will you only be performing songs from Amnesty (I)?
We've rehearsed songs from all four albums and songs from a future release.
What's on the cards for Crystal Castles for the rest of 2017?
Old Maid, Bridge. Maybe even Crazy Eights.