With the legendary Talking Heads frontman having just announced the Australian legs of his American Utopia tour, we thought we'd take a look at a few times the eccentric artist left us flabbergasted
That's right, David Byrne is hitting our shores this November for a run of shows off the back of his record American Utopia, which came out in March this year. He will be joined by his 12-piece, mobile backing band that will perform choreographed dance routines to the tracks of the new album and Talking Heads classics.
Tickets to the shows which Byrne himself has described as "the most ambitious show I've done since the shows that were filmed for [1984 concert film] Stop Making Sense," go on sale next Monday so we thought we'd take a look at some of our favourite David Byrne moments from his 40-plus years of weirdness/genius to get you in the mood for the American Utopia tour – info here.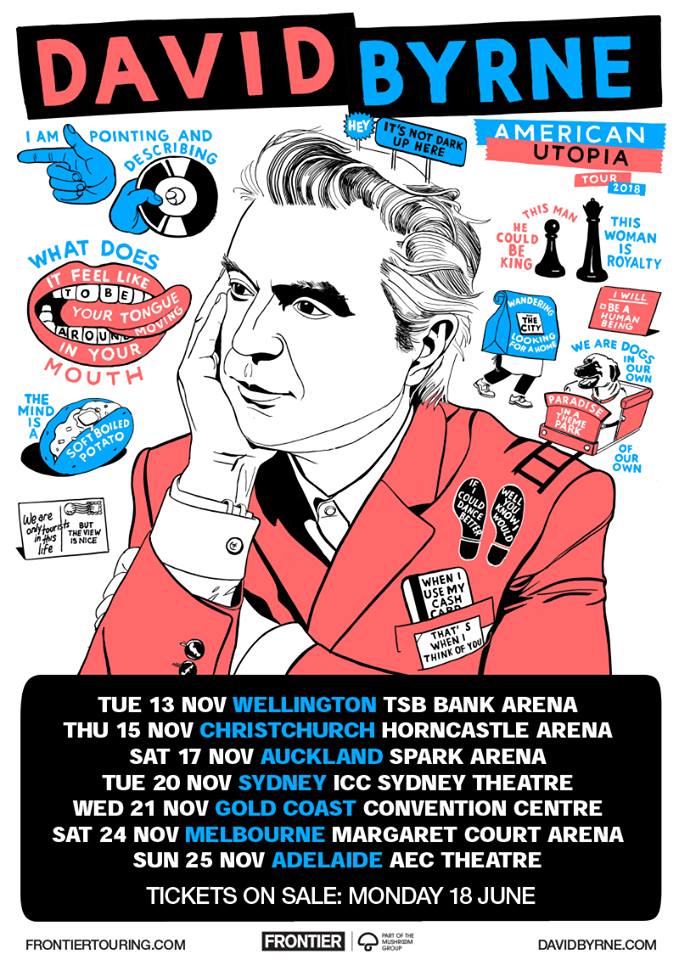 His uncomfortable interview with Space Ghost
With his interview style that is a little like Zach Galfanakis' Between Two Ferns schtick, Space Ghost puts Byrne to task with probing questions but quickly loses interest in the "retro-punk with pale white skin and black clothing."
https://www.youtube.com/watch?v=c3qOZUksxUU
His March performance on Colbert's the Steven Colbert Show
This is the lineup we can expect to see hitting our shores in November, a shoeless and blurry mass of grey suits playing funky indie jams whilst dancing in coordination on stage. Are you keen yet or what?
https://www.youtube.com/watch?v=07G4xhSefuI
This version 'Psycho Killer' in a flesh suit
Not only is this a very dark rendition of the song, but in this 1998 performance Byrne wears some sort of inside-out human skin onesie as he struts around the stage like some sort of mummy, truly embodying the role of the psycho killer.
https://www.youtube.com/watch?v=N5fT7k4jvSg
A very peculiar Patton Oswalt collab
Patton Oswalt makes weird faces, David Byrne plays guitar in a storage shed. There's nothing else to this video and no reason at all to watch it – yet for some reason we had to watch it to the very end. What is art?
https://www.youtube.com/watch?v=cVNCm8lhB80
Byrne covers William Onyeabor on Fallon
When David Byrne wants to play songs by underground 70's Nigerian electro artist and pioneers, David Byrne does exactly that. Just sit back and enjoy as a great artist pays his tribute to a great artist.