Taking to Twitter, Eminem has delivered the announcement fans have been waiting for.
After a teasing us with a phony ad campaign for prescription medication called Revival complete with a website, Slims team have announced the new record of the same name will be out December 15th – just in time to run out and buy a few copies to leave scattered around the trailer park Christmas tree.
Always partial to bit of humour, the rapper who has gifted us hits like 'Stan,' 'Lose Yourself' and 'Guilty Conscience' has posted a video with an actor pretending to be a representative for the pharmaceutical company that offers a cure for 'Atrox Rithimus.' Of course, Revival is the cure and Slim is the man who is handing it over, as endorsed by executive producer Dr Dre who may or may not be actual doctor.

Slim and Beyonce teamed up for the first taste from Revival with the track 'Walk On Water' and despite the mixed reactions, it has fans pumped for the latest offering from the one-time 'Rap God' who's sold 172 million records worldwide. After a quiet spell since 2013's The Marshall Mathers EP 2, we haven't heard much musically from Slim except for his recent anti-Trump freestyle and a cameo on a Pink song.
Maybe Revival is an attempt to do just that – to revive the good ol' days of the late 90's/early 2000's when Eminem reigned supreme. Maybe the rags to riches, trailer to mansion, offender in general former great will return and blow us all away with Revival, who knows?
Mic dropped.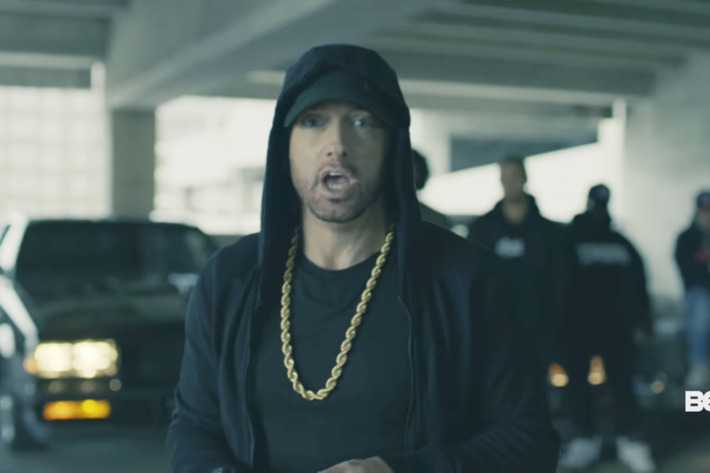 Image via BETNetworks, cover image via gazettereview.com