A few weeks ago, Chicago duo Flosstradamus announced that they would no longer be operating as a duo – with founding member Josh Young departing to pursue a solo career, and Curt Cameruci continuing the project alone.
The news only served to heighten the anticipation for their Australian tour, where they would be performing three headline sets at FOMO festival. When FOMO landed in Sydney last Sunday, it would serve as Young's final ever performance as a member of Flosstradamus. With the stage adequately warmed up by the likes of Metro Boomin, Desiigner, JME and more, Flosstradamus stepped onstage for one last hurrah and 60 minutes of power in their original form.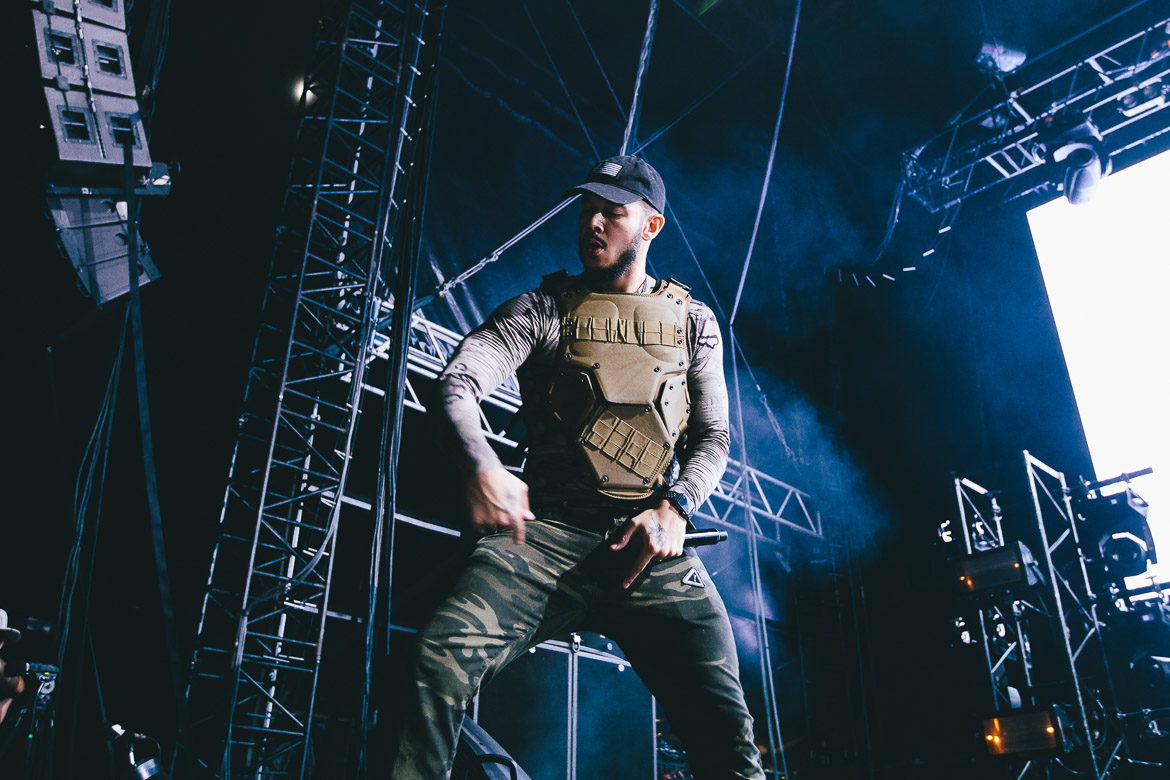 With their HI-DEF YOUTH Bunker supplemented by military-inspired visuals and outfits, it's clear why Flosstradamus are so popular: They've offered a cohesive vision, a punchy aesthetic and a penchant for blending the best from hip-hop and dance, resulting in an addictive cocktail that'll keep you raging and raving for days. Hell, they've even established their own unofficial country – HDYNATION – which has unified fans across the globe.
At FOMO, punters presented their passports and were transported to HDYNATION with the opening calls of signature single 'Mosh Pit'. It's the first of many times that the track is dropped throughout the set, coupled with the duo's ongoing calls for the crowd to 'open up the pit' – and for a minute, this feels like a Hatebreed show except with way better production value and way more cooked cunts.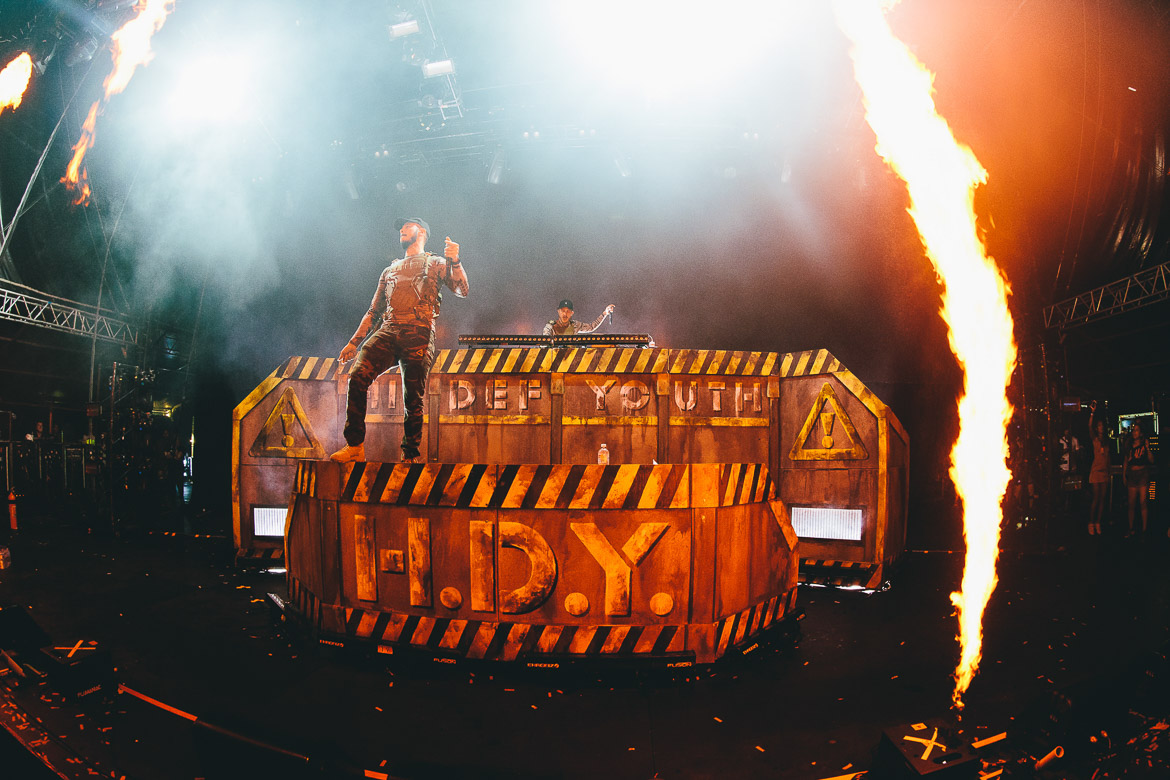 From there, it's Flosstradamus' typically hyperactive live show that doesn't let up: Like-minded bass addicts like Baauer and RL Grime feature heavily in a set that also turns back the clock to dubstep's resurrection at the turn of the decade, featuring Flux Pavilion's 'I Can't Stop' and other tracks that please the shirtless bros bashing each other mercilessly on the dancefloor. Rave anthems of yesteryear including Alice Deejay's 'Better Off Alone' and Darude's 'Sandstorm' also ensure that the speed dealers are put to good use.
Honouring the Australian crowd, Flosstradamus drop bits of Flume's 'Say It' and lush take on Disclosure's 'You & Me', as well as a jarring remix of Alison Wonderland's 'U Don't Know'. Then, there's the colossal roar of the crowd when they spin A-Trak's club classic 'Heads Will Roll' – mashed eloquently with vocals from Rihanna's 'Work'. Flosstradamus' own Troyboi collaboration 'Soundclash' gets the floor moving, while their game-changing 'Original Don' remix will forever have a place in dance music's adoption of trap music, and brings plenty of bounce to Parramatta Park.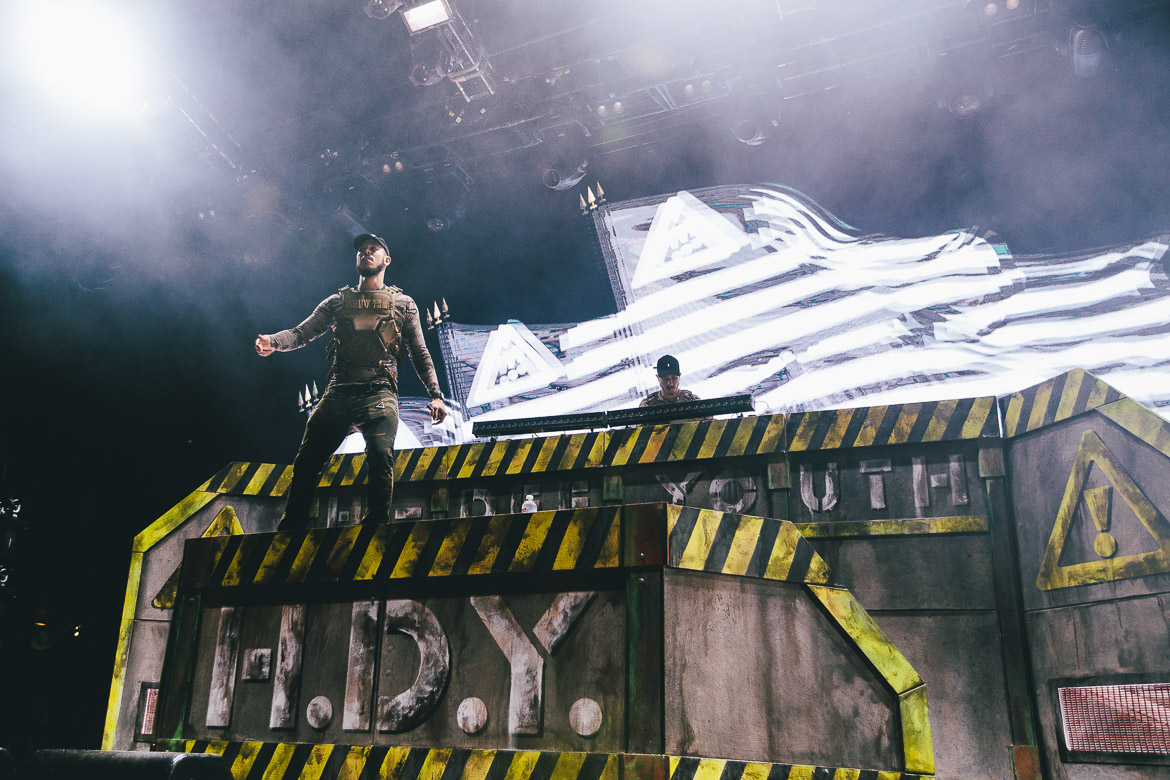 The set ends with a contemporary spin on Drowning Pool's 'Let The Bodies Hit The Floor', which has us hopeful that nu-metal is making a comeback so we can wear wallet chains and gel our hair without public persecution. As the music dies down and the audience cheers, Young grabs the microphone for an emotional goodbye, outlining Flosstradamus' journey from Chinese Laundry to The Metro Theatre to The Enmore Theatre, and culminating with this FOMO headline set.
With an additional shoutout to Blacktown, Young farewells the crowd and the feeling is bittersweet. As one chapter of Flosstradamus' history closes, another opens – and we're itching to see where Cameruci takes it next.