Image by Finding Figaro
Grassroots Victorian festival The Hills Are Alive is celebrating double digits this year, and their birthday party is looking to be one of Australia's most picturesque camping experiences.
Hitting The Farm at South Gippsland from Friday, March 23 to Sunday, March 25, the festival has earned a knack for hosting the most exciting emerging acts from around the country, with their crystal ball bookings often nabbing artists before they burst into stardom. For their 10th anniversary, they've covered all bases with everyone from Ali Barter to Dear Seattle to Ziggy Ramo, as well as established festival faves like Remi (with a full live band) on the bill.
https://www.youtube.com/watch?v=Ar2TLB61M1Q
"We'd spend the whole year going to out to 3-4 gigs a week, arriving early, watching all the supports and then inviting the bands we loved to come and play on the Hill. For us it didn't matter if there were five people or five-hundred people there. If we loved the music and the show and thought the Hills community would love it, we'd invite them to play," says festival co-producer Aidan McLaren.
With the lush green surrounds, the festival also stops everyday to gather on the hill and watch the unbeatable sunset. See The Hills Are Alive lineup below, and grab your tickets right here: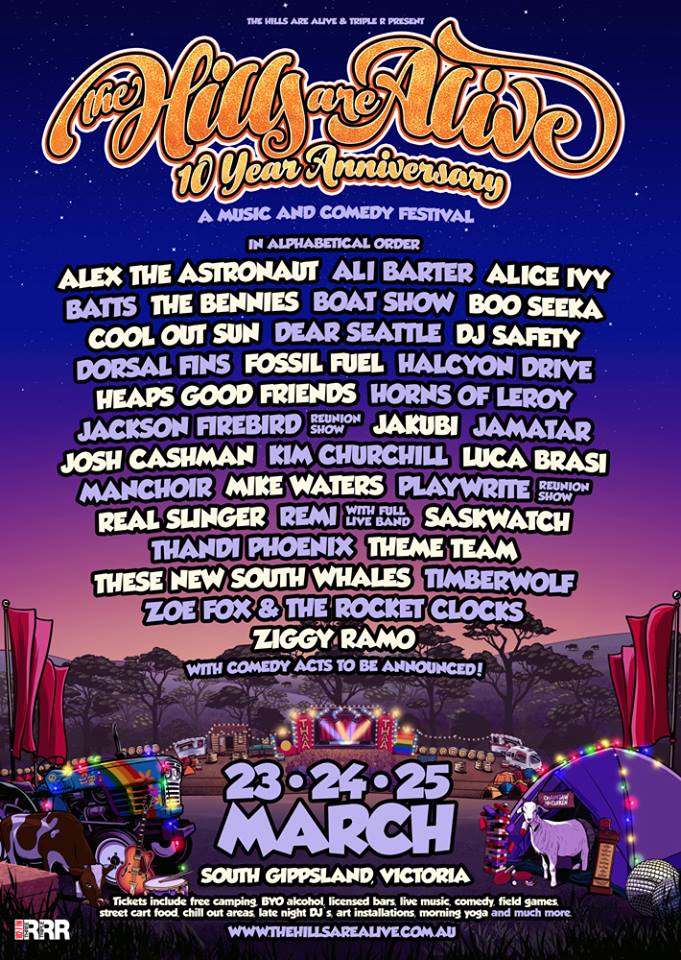 https://www.youtube.com/watch?v=UrW7GNFwPsM
https://www.youtube.com/watch?v=JXOWzT1BR2M
https://www.youtube.com/watch?v=7dp5cx243-A