Stepping out of the spotlight and into an endless stream of studio sessions with his move to LA in 2017, Australian singer, songwriter and rap aficionado Allday today returns with his third studio album Starry Night Over The Phone.
It's an easy listen with catchy melodies and bouncy production along with a mixture of reflective and tongue in cheek bars. Hit singles 'Wonder Drug', 'Lungs', 'Protection' and 'Restless' (featuring legendary Aussie band The Veronicas) all appear on the record as well as a recently released collaboration with indie-electronic producer Japanese Wallpaper, 'Don't Wanna Push You Away Anymore'. That reunion acted as the ultimate teaser earlier this week with the pair's previous collaboration 'In Motion' a long-standing fan favourite. Inviting but distant and hazy but cohesive, Starry Night Over The Phone demonstrates Allday's personal and artistic growth in his new surroundings. Ahead of its release we caught up with Chubby Boy himself to chat about new music, his extracurricular activities and cooking shows. Check out the full conversation below:
Congrats are in order. Your third album Starry Night Over The Phone is done and by the time this article runs, it will be out there. Tell us a bit about the project.
Well, it's 11 songs and I did most of them after moving to America. I got it co-produced by Simon Lam who is half of the duo Kllo and yeah, that's what it is.
How did you land on that title?
I was looking at Van Gogh's painting Starry Night Over The Rhone, and I thought, "That's interesting, Rhone sounds like phone."
And what does that mean to you, or how is that significant to what you wanted to do with this album?
I think living in a different country and only being able to reach a lot of people over the phone, and with the time difference it's always night time when I'm speaking to people at home; but it's also that we all live in our phones a lot.
Do you write songs in the notes section of your phone?
You know what? I've always done it on a computer because I like to be able to backspace or cut and paste. I find it much quicker. It drives me crazy doing it on paper. Although there is something nice about physically writing it down, it's just not fast enough.
I think people were weird about that for a while. Like if you weren't an 'Eminem in 8 Mile, notebook on the bus' type of rapper you could get written off but it's cool now that so much of the creative process is mobile. How different is that to when you started making music or were emerging as an artist?
I would agree. There's definitely still camps that prioritise lyricism or camps that prioritise, I don't know, like energy or melodies, or just going in the booth and experimenting and seeing what happens. I was definitely influenced and came up in the scene of "lyrics, lyrics, lyrics". You know, my friends used to say, "GZA from Wu-Tang used to spend a month on four lines or one verse." It's funny how things like that really influenced me as a kid, but now I kind of try to take influence from everywhere, anything that sounds good to me.
Is that the kind of hip hop were you listening to as well?
It was definitely that super lyrical, East Coast vibe. Like Mobb Deep, Nas, Wu-Tang Clan, AZ or DITC.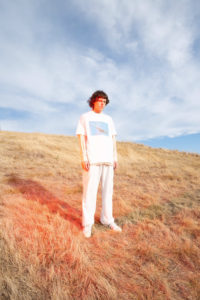 One of the big things you delve into on the album is your move to the States. You've had a couple of big moves though, first from Adelaide to Melbourne and obviously then from Melbourne to LA. Why were those moves important for you?
I did them both at times when I need a little change for myself and a little bit of a kick up the arse. I think they both served as kicks up the arse and I feel I'm much more confident in what I do now, having gone there and gone through the whole learning process of LA sessions and all that stuff, so it's been really cool for me to get out of my comfort zone.
And what's life like for you now in the States?
It's pretty good actually! I go to the studio most days and we've got a nice house with two Aussie musicians including Mallrat who I'm going on tour with soon. Plus we live on a hill that's kind of above all the pollution. Yeah, it's nice.
Going back to the album, you've got some cool features on there too, especially with cult Aussie icons The Veronicas. How did that collaboration happen?
It just stems from us being mates. We always said we'd do a song and then they asked me to be on their album and I asked them to be on mine. So, 15 year old me would have definitely never foreseen a collaboration with The Veronicas but it was really natural. I actually had 'Restless' sitting around for ages and the chorus wasn't quite right with my voice singing it. I was looking to maybe put female vocals on there and yeah, it just ended up being perfect timing.
It's crazy to think that The Veronicas' breakthrough was 13 years ago. When I think of 2006, I pretty much think of Lupe Fiasco and Tim Cahill and that's about it. Do you remember what were you doing in 2006?
I think I was learning to smoke weed and shoplift. I was 13 or 14 and just listening to rap music and being a teenager.
You also teamed up with The Veronicas again on your recent 'Like a Version' cover of Joni Mitchell's 'Big Yellow Taxi'. You're obviously picking up what Joni put down in terms of your subject matter. Hip hop doesn't really have too many environmentalists – Mos Def maybe stands out in my mind, or maybe even Lil Dicky with that recent 'Earth' video — 
That song is arse. I don't usually publicly disparage artists but that shit is trash.
— Do you have a message for any members of the Australian hip hop community who maybe aren't as invested in climate change as they could be?
I don't blame people for not being invested in this stuff because a lot of my life I haven't been. There's so much wrong with the world that it's kind of easy to be apathetic because we all have our own day to day problems and people are just trying to get through, pay their bills, deal with relationships, call their parents and shit. But we're also kind of in a crucial time that we have to start thinking about this and put big pressure on governments and corporations to make sure that we can keep living on this planet.
https://www.youtube.com/watch?v=WxoeEKGhRtw
You link up with Japanese Wallpaper again on the album, too and I think that electronic infusion kind of typifies the way that you diversify your brand of hip hop. How different is the type of music you're making now to what you started cooking up?
Yeah it changes all the time. I think I'll probably go back through phases where I sing less or rap more and go through lots of different genre phases. Right now I've been in a phase where I'm making whatever song on whatever day, not really sticking to a genre or anything necessarily.
Do you ever think about rolling it back and just doing a genre based or concept album? Maybe a boom bap album like Nas, Mobb Deep or any of the guys you talked about just before?
I think so. I've actually been thinking about that recently. It just has to be with the right producer at the right time.
Have you dropped the Chubby Boy moniker on the music side? What's happened to Chubby Boy?
It's still there! I just haven't been saying it on songs as much.
You've got one of the most diverse portfolios in the rap game and in saying that you'll always hold the mantle as Australia's first rapper with a cooking show. What inspired the Chubby Chronicles? 
So with Chubby Chronicles I knew that some rappers were doing day to day things and thought maybe I should try to be on Youtube more. Honestly, the house I was living in just had one of those kitchens and my friend Clancy who does a lot of filming, said, "This looks just like a Huey's Cooking Adventures kitchen," and that's the whole reason we did it. Just because the kitchen looked like it could have a cooking show in it.
Which was the best episode, food-wise?
Okay so the problem with the show now is that from cooking so much, I've actually got kind of good at it. I think it was funny at first because I was so shit at cooking and now one of the more recent episodes, cinnamon rolls, I actually did a tremendous job. So yeah I've gained a skill but the show is kind of fucked now.
https://www.youtube.com/watch?v=Qdt8hPfUeiQ
In your mind, who's the goat celebrity chef? 
I really like Gordon Ramsay. I think the concept of an English person – a really dry English person – dealing with Americans is always a good basis for television. So like, Louis Theroux going to America and interviewing people or Gordon Ramsay going to America and doing cooking stuff is a formula that always works.
I agree. You used to do stand-up as well, right? Do you think you'll ever circle back to comedy or is it all music from here? What's next for Allday?
Honestly I'm really just focused on doing one thing well. I feel like I still have a long way to go and I want to look back on my albums and be able to be proud of a lot of songs. If I stopped right now, I would be devastated that I haven't done everything that I could. But yeah, I mean with comedy I also don't think it's a thing you can come in and out of. You have to be doing it every night. So that ship might have sailed.
I'll be touring a lot [for the rest of the year]. We're doing a tour in North America and that's cool. I'm just trying to – you know, after my last couple of albums I felt exhausted, but then with this album I didn't. I felt energised and I kept going. I've been in the studio and I didn't stop going so I'm hoping to just keep the music rolling now that I'm in a good place and I've got a few different ideas for projects on the way.