Amidst his busy Laneway tour schedule, we managed to squeeze in a chat with Cole Basta, AKA Col3trane.
It's only been a minute since our last chat with the rising London r&b star, having caught up midway through last year to hear all about his third extended play Heroine. Since then, Col3trane's done a whole lot of touring, recording, and managed to fire off a few singles as well. In between his lively Sydney Laneway performance and shutting down his sideshow at the Oxford Art Factory, supported by very special guests Genesis Owusu and his gang of goons, we rendezvoused to hear about Col3trane's 2020 album ambitions, the most underrated rapper of all time and more. Check it out below:
The last time that we spoke, Heroine had just dropped so I guess the natural place to start is to hear what you've been up to since then. What's been going on?
Man, I've been writing bare songs. Yeah I've been sorting some stuff out, writing some songs, and sort of gearing up for this year. And then we're ready to go. 
You teased this on social media in the back end of 2019 but you're going to be releasing an album this year. It's probably early doors but I'm wondering what, if anything, you can tell us about the project?
I hope so. Well I'm definitely going to put out a lot of music this year. That's for sure. I'm definitely going to make an album this year, I hope but don't know if it's going to come out this year. I really don't want to be one of those guys who promises and then doesn't [drop something]. I don't know if you remember or care at all but when Schoolboy Q was going to drop Oxymoron, and then he delayed it like five times, I was bare waiting for it to come out and I don't want to be that guy. So I'm not going to do that but I can definitely say that I'm going to put out lots of music this year. And that it's going to be music that I love. 
I'm very calculated but I'm also prone to like, overthink things, and so I do sit on songs for a very long time until I figure out what I want to do with them. But I've got a plan now. [laughs] That sounds like some secretive, fucking CIA shit.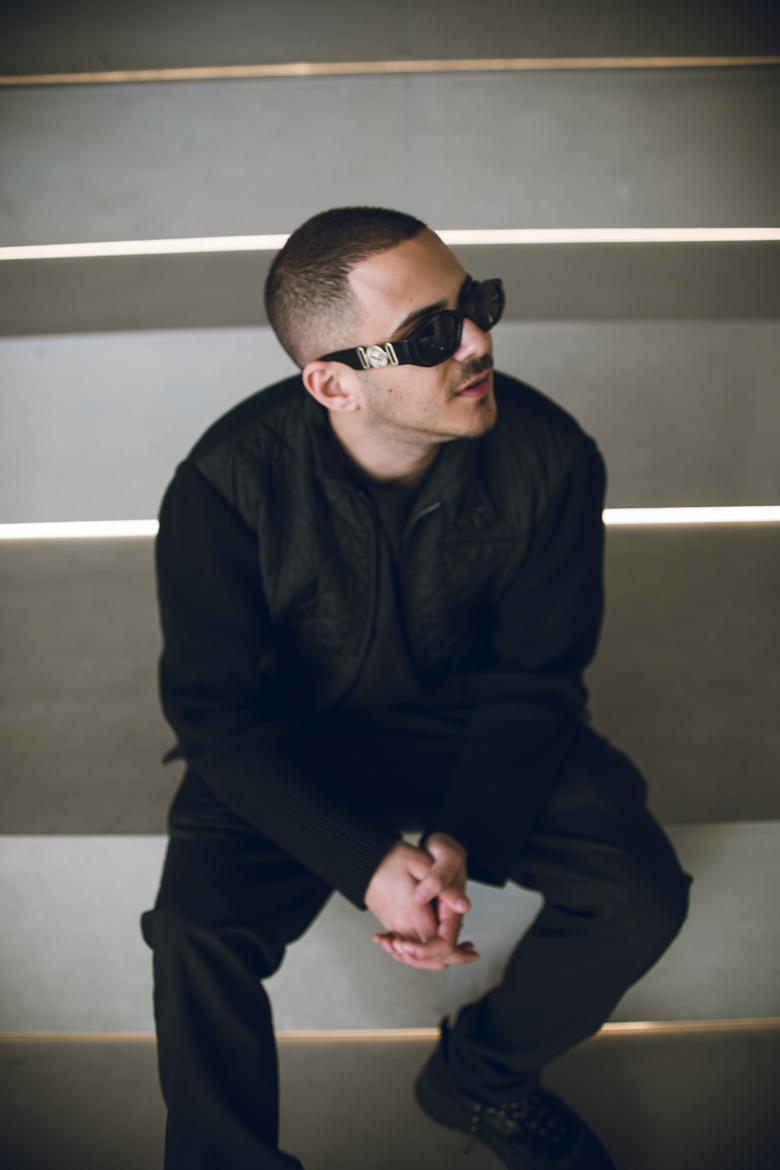 Is there ever a danger in holding on to things for too long?
There's songs that I held on to for such a long time and I should have just put out, but they'll never come out now. They're just stale. 
Is that a sense detachment from the emotion of the song or do you feel like you just missed the perfect moment? What about it feels stale? 
A bit of both. In some cases, it's that I don't really feel the same way that I felt when I was writing the song. In other cases it's just me getting sick of the song. The same way that you'll add something to a playlist and rinse it, listen to it for three weeks straight and then on the fourth week you don't really want to listen to it anymore. It's the same way. 
On the reverse side of that, it's kind of a good thing if it means we only get the music you can really sit with. 
Exactly. You only get the shit that I've been sitting with for fucking ages and I still love and can still listen to on repeat. 
Are you sitting on anything at the moment or is everything that's yet to come, post-Heroine? 
I think a lot comes from around the time that Heroine came out. I started quite a few of these like just before and after. 
Right. In that moment in between just finishing one thing and starting something new and there's kind of that renewed inspiration or freedom.
Yeah for sure. I remember the day after we turned in BOOT. It was a fucking very long process finishing that. It's a long story. I'd actually just come back from Kazakhstan. Shoutout Kazakhstan. I'd just got back to LA, and basically the plan was, for me and J Moon [my producer], to get to LA, get an Airbnb, buy loads of studio shit, put it in the yard, mix the record in the yard, and then it would be done. We could just turn it in. But that didn't go to plan because when we got to the airport in Kazakhstan, the Airbnb cancelled so we basically got to LA, bought all of this studio equipment and were moving from place to place. We were in eight Airbnbs in fucking seven days or something. We were moving a van full of shit every time we left. So that was long. And really, really, really stressful. But once we finished that we wrote 'Divine Intervention' which is probably one of my favourite songs that I've made. So yeah, out of the stress and constraints of like, 'you've got to finish this, and this', once it's done, there's this really nice freedom. 
Your most recent single, 'Rendezvous' has great visuals to go alongside it. Obviously the film noir influence and all those shadowed silhouettes, but also the narrative which I thought complemented the feel of the song while introducing this totally different storyline. What was the inspiration behind the clip?
That's a great question. When we realised, OK we're going to do the shadow thing, I came up with this whole narrative and then Jamie Whitby, an amazing director, was like, "you have to concede that we can't tell a crazy narrative in this because it's going to be hard enough to tell anything in shadow. You have to simplify this, like tenfold". What we really wanted to do was tell a really classic, very French storyline, and I feel like the narrative in the video, no matter how vague, had that classic French feel. Like the Bonnie and Clyde thing, I don't really know why, feels really French to me. But we had to keep it really really simple and we wanted to tell something that made sense to me and Miz [Miraa May]. So the whole bank robbery thing was cool and it meant that we could really tell that familiar emotional story in shadow. 
95% of the shit in that video is real. Like it's actually there. Like the helicopters weren't real but most of it is real shadows. It was crazy man. Just as an experience, making that video was really fucking intense and really rewarding. I really, really love that video. It's the only one I've made, finished and thought, 'we did that'. I'm really proud of it. 
I also love the production on 'Rendezvous'. And I love Elevated's tag especially because it's not the same one he always uses.
Oh for real? That's the only one I've heard. I thought that's the one he always uses. It's hard. 
I'm not like a superfan or anything but I'm pretty sure he pulled it off a track he did with Octavian. He's got that joint with JAY1 and a couple others with Octavian where he's running different tags though. Who do you think has the best producer tag in rap music right now. 
I really like Elevated's tag, that one with Octo on it. I told him to keep using that one. He was trying to tell me that he's got to keep switching it up and I was like, "nah that tag is so hard," which is probably why he's running with and sending me that Elevated always get it right, all the time on beats. Lido's tag is amazing. It's not really a tag, he just always plays this one progression in the background of the mix, that only he would be able to notice. He's actually got it tattooed on his arm. So that's fucking cool and I try to find it on every track. But no, Elevated's tag is sick. I'm locking it in. 
I saved this tweet of yours from a little while ago. 
Oh no. 
I promise it's not bad.
I've actually got two questions about this. I kind of agree with you, but also think The Game being the most underrated of all time might be quite an unpopular opinion. Obviously by definition if everyone rated that opinion, he wouldn't be underrated, but can you expand on why you think he's the most underrated of all time? And then I'm curious about whether you have any other underrated tips or unpopular opinions.
Yeah I stand by that. I was probably drunk but it's still true. It's either the game or Royce da 5'9. People don't put respect on The Game's name. People talk about 50 Cent and they put so much respect on 50 Cent but no one talks about The Game like that. Don't get me wrong, Get Rich Or Die Tryin' and The Massacre are dope albums but people put so much love on 50 Cent and they don't when it comes to The Game. The Documentary is a classic album. The one after that, Doctor's Advocate, is a fucking crazy record. He even put out an album recently that has really weird cover art – like when you look at it, you would think it's going to be trash – but it's fucking amazing. He's got bars, man. He does some different shit. I'm sticking by it. Royce da 5'9 is also super underrated as an artist. As a barrer, he's crazy. 
So far as unpopular opinions, I think breakfast is overrated. That's one. Although breakfast in Australia is fire. I'm gon' think of some more underrated and overrated artists. [laughs] Not overrated. That's fucked. I'm not just going to fucking drag someone's name through the mud. 
[Laughs] Let's just leave it there.
So many young G's are underrated. My guy peace, Master Peace. He's sick. Jim Legxacy. Sick. Miz, [Miraa May]. Sick. There's so much bubbling just below in the UK at the moment. 
I'll definitely keep an eye and an ear out. Obviously you're here at the moment with Laneway Festival. You're a couple of shows down, with a couple to go, how is the tour going so far?
It's been good man. Really, really good. It's been fun and cool playing these shows and meeting people down here. 
We haven't had much rain lately but it bucketed at Laneway Sydney. Did you manage to stay relatively dry and see everyone you wanted to see? 
Oh my days. Do you know what? I was trying to catch Ruel. Ruel is sick. I saw him before the show and we were talking about it. He was saying how it was his homecoming and a big deal – a big moment for him. I saw him just before he went on stage, like, "go man, go kill it." I was really excited to see it but he runs on stage, does a little intro and people are going crazy, but then his tour manager kicked everyone off the side of the stage. So of course, literally right at that moment it started to rain – but like bucketing down. So me and my manager had to run through the festival to go catch Mahalia's set. And while it was pouring down we got to see her. She was sick. Probably worth getting soaked for. She's such a sick performer. 
She sounds exactly how she does on the record. 
Trust, man. Trust. 
This isn't so much a question but I wanted it to go in the article. You've pledged to donate 100% of proceeds from merch sales from the tour to the Australian Red Cross Bush Fire Relief. Which is sick, and big ups to you. As a fan base we really appreciate the efforts of our artists and especially, or even more so, international artists.
For sure. 
You've been here a couple of times now. What do you like most about Australia?
Everyone is always bare nice. I feel like I'm always telling people that. That's the main thing. Everyone is just cool and doing their thing. And the weather is banging.
Most of the time.
[laughs] Yeah most of the time. But people are just very nice. I hope that I get to do [more], because when I do this, you don't really get to do that much because you're just busy. But I hope one day I can come here and actually be able to see some shit. 
For sure. What's the most Australian thing you've experienced so far?
The sun [laughs]. I've met some very Australian dons. This is what happened, I was at the airport, right? And I was walking past a long baggage line. I was just fed up, and a bit grumpy, and just bare loud I yelled out, "I fucking hate airports." Then I clocked there was this family like right next to me with a little kid. I immediately turned to them like, "I'm so sorry," but I looked up and the mum was laughing her ass off. She said, "don't worry he'll be fine". Only in Australia, man. 
Facts. I saw that you hit the studio with BLESSED recently. What was that like?
He's sick man. That was really, really dope. I met BLESSED last time I was here through Manu [Crooks], who I knew through a friend of ours in London. We've just been talking on the internet since then. His music is sick and what we did last night was really cool. Not that I didn't know he was sick, but I just didn't know the session was going to go that way.
I know you believe in manifesting and that you like to put these big ideas out there – like that 90210 postcode. What are you manifesting in 2020? 
An album. I really want to make an album; I want to collaborate with my favourite artists; I want to tour the world, and play bigger venues, and play venues that I grew up going to. There's more shit, but I can't give away too much. I'll keep my cards close to my chest for now.
Col3trane released a new single, 'Someone To Watch Over Me', on Friday alongside a live performance of the song recorded in London recently. Check it out below: