A vital creative cog in J.Cole's Dreamville machine, Bas has been putting in the work for a long minute.
His third studio album Milkyway dropped to critical acclaim this time last year, featuring summer anthems 'Tribe' with J.Cole and 'Boca Raton' with A$AP Ferg, before taking that project on a tour of the US either side of the now infamous 10 day Revenge Of The Dreamers III camp. Following the success of that label release early in July, Bas is currently in the process of drip-feeding his latest project Spilled Milk. The first instalment, or 'milk crate', dropped just under a fortnight ago and seems to pick up roughly where ROTD3 left off, featuring four collaborative tracks with Dreamville label-mates JID, Ari Lennox and more.
Ahead of his return to Australian shores for his first ever headline shows here this October, we caught up with the rapper to hear about the Revenge camp, the Milwaukee Bucks' role in recording 'Costa Rica', new music and more.
You've been on a crazy roll of late. It was around this time last year that Milky Way dropped and obviously now congratulations are in order for Revenge of the Dreamers III. Is that your first number one album?
Thank you. Yeah it is. It is for the vast majority of us that are on that album. It's our first number one which has been a cool thing to share and experience that celebration with everybody. You know I still run into a lot of guys that were part of the album. I run into them here and there, or I see them at festivals, or I'll stop by their studio sessions if we're in the same city, and it's like a shared celebration that we've all got right now. 
A huge moment for all of you guys involved, and obviously the label, but it feels like a huge moment for hip hop as well, because those 10 days have kind of already been written into rap folklore. What was it like working in that environment?
It was incredible. It was just like, boundless creativity, ego-free collaborations, incredible artists and producers. Many of whom I had never worked with before and who I now consider friends and collaborators. It was just like a wonderland, man. Every room you went into was another vibe going, another inspiring moment. I don't know if I've ever been so continuously inspired for 10 days straight. It was just a wealth of inspiration and contributors that made the process so easy and enjoyable. 
The documentary is crazy and it really captures that energy. The impression I get is that it was basically right place, right time, and if you weren't in the room, you weren't on the track. Is that a fair takeaway?
Yeah. Definitely. 
https://www.youtube.com/watch?v=9-9mZLh5XU8
How do you think that competitive aspect impacted creativity. Did you feel like you could leave to eat or sleep or was everything happening in-house for those 10 days?
I feel like you wandered around and tried to stumble into vibes but other times you'd try and start them in your own room. I think one of the good things about it was that I've always had a pretty open process when it comes to creating music and used to having a bunch of musicians in the studio. I'm used to hearing peoples ideas and going back and forth and doing revisions on songs, but I know that's not the case with everyone. It probably served them even better because it pushes you out of your comfort zone which is crucial because that helps you grow as an artist and as a songwriter. You have to be able to work in different environments and in front of different people. It could be 25 people in a room and you gotta lay your verse or whatever you've gotta do. Like I said, I've always been pretty comfortable in those circumstances but I know that's not the norm. I think it was cool to see people come out of their shells and see people just come into their confidence and make contributions.
You can kind of tell how comfortable you were in there because there's a couple tracks that you really went off on. Do you have a favourite verse on the album?
Probably 'Down Bad'. I also really like 'Self Love' a lot. Honestly, I'm happy with all four of my verses on the album. 'Don't Hit Me Right Now' and 'Costa Rica' are obviously shorter, they're only eight bars, but I honestly love them all. But probably 'Down Bad'. Yeah. 
You really showed out on that verse.
Yeah I had to come on after JID. There's a lot of spitters on that track, you can't come in there half-hearted.
You wrote this tweet about the 'Costa Rica' session. Tell us about the making of that song. 
Yeah man, it was just Pyrex, he's a really dope producer out of Baltimore, and Reese LAFLARE had pulled up one of his beats and he was just like, "We should fuck with this one". So he played it and I was just like, "Yeah let's get to it." Reese did his first eight, I followed him. That was actually the night the Milwaukee Bucks came to the studio and they catered a dinner for all of us. They bounced around a bunch of sessions. So we had the last session of the night going and we were just in that room, it might have been like five in the morning. They were actually supposed to go on their team chartered flight and like, four or five them came back and they were just like "Yo, we're gonna fly commercial tomorrow. We don't wanna leave." So they ended up being in the session with us and yeah we just did the whole song. I've only ever recorded one take of my verse. We had the mic in the control room, it wasn't even in the booth so there's some times where you can hear people talking in the background. We recorded it and then we sat there and played it maybe 30 times, just going crazy, wylin' out and performing the song. We're really just fans of the record. You know there's that one line, "goin' on a date with an AK," at the end of Ski Mask's verse? We would rap it so loud in the studio that after like the 30th time, my engineer, his name is KQuick, decided to just record everybody doing that which is why it sounds the way it sounds at the end of his verse with everyone just yelling that line out. Purely because we had done it so many times performing it that we felt it could actually sound cool on the record.
I love that. And obviously there were some liquids involved.
Yeah a whole lot of Jameson, a whole lot of Don Julio, a whole lot of weed, good kush. You know at that point, a few days in, we had gone like four days without leaving the studio. They had showers in there. It was weird man. It was like going on a trip. It was just in those walls, in the confines of that studio compound and just bouncing off the walls. It was weird. Like we were in Atlanta but we could have been anywhere on this planet and not known. We were really just in this one little – well it wasn't little, it was a pretty big place – but it was cool to just get lost in there.
I imagine that in producing the best album possible and making the record as cohesive as possible there must be some gems that were left off. How many songs do you think fall into that category?
Well, we left the session with over 120 or something songs and only 18 made it out. We're working on a deluxe version. That should be coming pretty soon. But yeah there's some gems for sure. I have a few that I'm a part of. I think two of them will be on the deluxe. Actually I just released Spilled Milk Volume 1 which is an EP of collaborations I've been doing. The first track on there is called 'Jollof Rice' featuring EARTHGANG and that song came together at the session. It was just me and WowGr8 from EARTHGANG and it was kind of the same idea; it was just the two of us at like six in the morning, we're like half asleep, half delirious and just sitting down on this chair right in front of the mic and just pressing record, doing like four bars, switching seats, pressing record, doing four bars and yeah, just going back and forth. Then we woke up the next day like, "damn, this is fire". But yeah, there's a bunch. I have another record with Guapdad [4000], Buddy and Dreezy that I really like a lot, that's coming out too.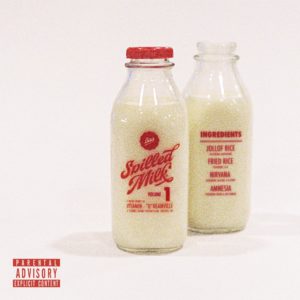 Man, Buddy was everywhere in that documentary. Everybody seems to love him. 
Buddy is one of my favourite people ever. He's just raw energy. His energy is unmatched, his vibes and everything. He's just a great dude. He's positive as hell. He's gonna liven up any room which is great in a studio environment especially, because it can drag if you're just sitting there doing these marathon sessions and then Buddy runs in the room with a blunt like, "Who's trying to rap?" You know, it just sparks some energy.
We've got four songs from Spilled Milk's first 'crate' so far and we know there's more on the way. Do you have a release date for the rest of the crates, or do you know when we'll have the full project? 
Yeah so it should be mid to late September for Volume 2. We're trying to keep it pretty concise, probably pretty much one a month.
Well we're really excited to hear it when it drops. We're also really excited to be welcoming you back to Australia in October. You've been over here before with Cole, what was your impression of Australia from that tour?
Loved it. It was madness. It was energy that you can't really get in the States and that's one of my favourite things about touring overseas. And then on top of that, there's no language barrier which sometimes you run into in overseas markets, where even though the energy is top notch theres still a bit of a communication factor. Australia was like the best of both worlds. Everyone understood us and they gave you that international crowd energy. It's less jaded and a little more happy to see you in their neck of the woods. 
As well as your first Australian headline show at Manning Bar in Sydney, you're also headlining a block party down in Melbourne as a part of Red Bull Music Festival. What are your key ingredients for a live block party?
Oooohh. Good weather is clutch. We're at the mercy of mother nature but good weather is clutch. Some good drinks and some fine ladies.
If you haven't already, get your tickets to Bas' first headline Australian shows via the link. We're calling it early, but here's hoping they get busy with the Fiends merch and bootleg our current retro inspired Matildas/Socceroos jersey for the tour.