Image By Hannah Bronte //
We caught up with singer Emily Wurramara to chat about her debut record and the role of music in preserving indigenous heritage.
Hailing from originally from Groote Eylandt, an island off the coast of the Northern Territory, Brisbane-based singer songwriter Emily Wurramara has had a whirlwind couple of years since the release of her 2016 debut Black Smoke. Gaining the attention of Triple J, thousands of YouTube views and a million Spotify listens are just some of the boxes she's ticked in the past 24 months.
Her much anticipated debut Milyakburra, which sees her sing in the Groote Eylandt indigenous dialect, Anindilyakwa, as well as English, is something of a love-letter to the smaller island Milyakburra where she would visit her grandparents as a child and hear dreaming stories about her ancestral history.
Gliding between blissful indie-folk tracks and R & B groovers, Milyakburra is bound together by Wurramara's uplifting voice which resides somewhere between smooth and salty in a way that impresses upon the listener and sticks with you for days. Production wise, the record has pop leanings but the soulfulness of the tracks is a delightfully raw and emotive experience.
Emily Wurramara will be hitting the road with Alice Skye for a run of shows in QLD, NSW, VIC and NT over June and July (info here), and check out our interview with the talent below: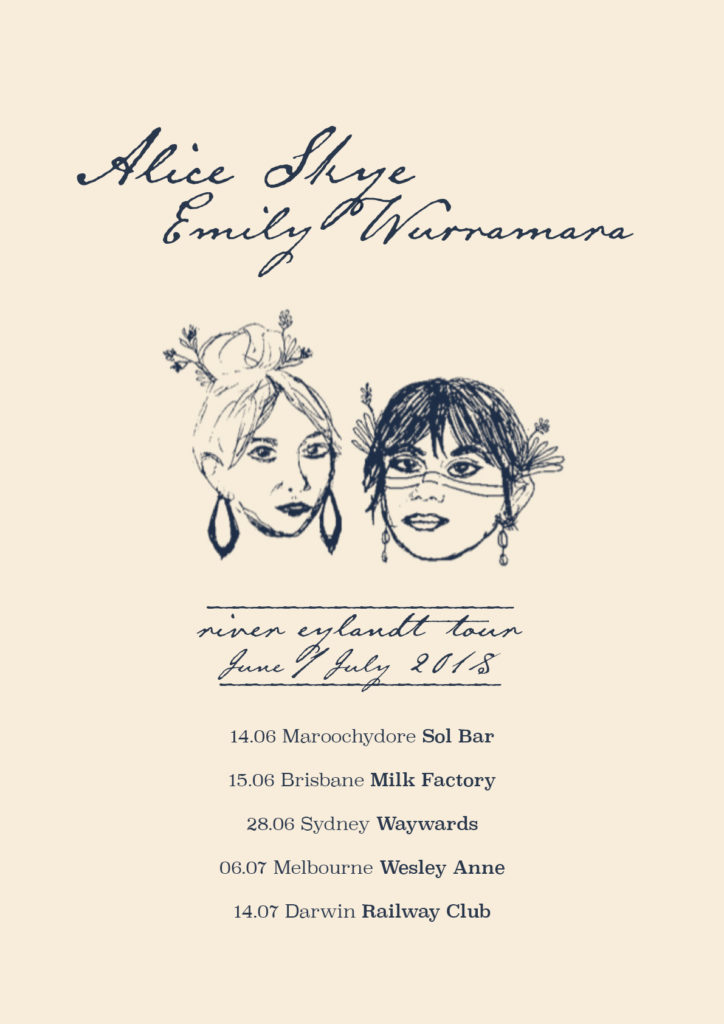 On Milyakburra, you sing in both English and Anindilyakwa. Why is it important to you to express yourself in both languages?
I grew up with both English and Anindilyakwa. My language is a part of my identity and my songs express my identity and who I am.
Recently there's been a lot of talk about preserving indigenous dialects and language, what role do you think music has in protecting them?
Music is a universal language, it's a tool for education that I feel needs to be utilised more. It's an amazing way to learn something new and once you get the melody stuck in your head so the chain reaction follows.
Tell us how your time visiting the Milyakburra community as a child influenced your music.
Milyakburra is a very sacred and mystical Island. I always felt like I was in another realm where anything is possible, I remember going fishing and camping and helping my grandmother with her garden.
Home and belonging are two themes that run through Milyakburra. How is your life in Brisbane different to life growing up in Groote Eylandt?
My life on Groote was filled with family, camping, island hopping and being surrounded by culture. My life in Brisbane is the same, the difference is the city is so busy and it feels like you're always rushing to get stuff done. Groote life was more relaxed and really cruisy.
Your Great Grandmother 'Gayangwa Lalara' features on your track 'Carry Me Home,' what was it like recording with her?
It was special!! I think it's so important to sit down with our elders and listen, that's literally all I did with her was just sit and listen, listen to her stories of her life and growing up and also what she experienced being an indigenous woman. That was tough. To have her voice archived in a song, it's so so special.
The album has many different flavours on it, from upbeat ukulele-pop, to piano ballads and smooth vocal-heavy R & B tracks. Was covering a wide range of musical moods something you were conscious of when writing the album?
At first no, it was just like a big jam! We just wanted to have fun and I really wanted to express myself as a songwriter and as a composer then all of a sudden when I heard everything I was like wow, this is pretty deadly. David Bridie let me go crazy on the improv haha.
You've amassed millions of spotify listens, played shows around the country and the US. How do you balance your life as a parent and being an in-demand, budding artist?
They say it takes a village to raise a family, well literally it does. I have a huge support from my mum and my in-laws. My daughter is such a chill bubba, I take her along with me to my gigs and she absolutely loves it!
How has the response from the people of the Milyakburra towards the album been? Has there been much of a reaction to people hearing non-traditional styled songs in their language?
It's been so gracious and so kind. Being my first album it's kind of a big deal and I'm so proud of it and everyone involved, it really was a working progress. It's different but I like different.
What are you looking forward to on your upcoming tour with Alice Skye?
Omg Just everything! This tour is going to be amazing, it's just a big family and baby is joining us too. Alice is like a sister to me so I'm so grateful to be sharing this experience with not only an incredible amazing singer but one of my bestest friends.
What can we expect to hear/see from you for the rest of 2018?
A pretty interesting live performance on tour! The harmonies are coming out loud! More experimenting with genres, I have a whole lot of music I can't wait to compose, collaborate and share, it's just gonna be amazing!!