We caught up with Andrew Exten and Pat McCarthy to chat influences and tunes, and to find out whether or not it's true they are named after a brothel.
Seemingly coming out of nowhere a couple of months back, sporting a cleancut indie image and delivering music that is anything but, post-punk outfit City Rose have been on our radar for a little while now. Based in the Inner-West, the four-piece have evidently been working at getting everything perfect in a musical sense before unveiling themselves to the world, and it's definitely paid off.
Their debut single 'The Contortionist' is an exercise in tension and anticipation that is reminiscent of Slint or Shellac. The track exhibits a captivating vocal performance from singer Andrew Exten, followed by an epically noisey crescendo, before the song fades away into nowhere – it's the perfect introduction to the City Rose world.
The following single taken from their self-titled EP, 'Crackling Amber,' picks up where its predecessor left off, but this time with a little more pace and some sharp guitar lines that cut through like the good old days of 80's post punk. It proves the group are more than capable of getting you moving, as well as bringing you right down with brooding, vehement tunes.
Fancy getting your haircut blow off this weekend? You can catch City Rose playing with Manor Ants tomorrow at Vic On The Park in Marrickville (info here), and check out our interview with Andrew and Pat below: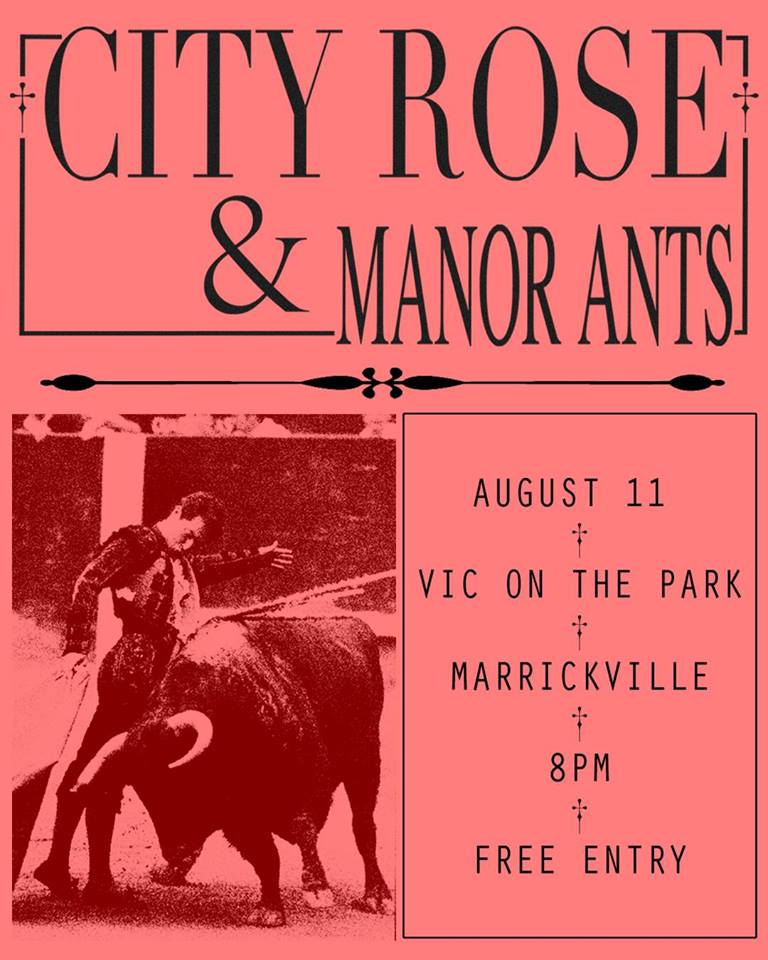 What's the story behind the name C R?
Andrew: "Pat and I were having drinks one night around the very early stages of the band trying to think of names, and after a few yay/nay's I suggested 'City Rose'. The name came from a brothel located in a suburb near where I live, and we both thought it was quite fitting for the music the band wanted to create."
Tell us about how the band came together?
A: "Pat and I met on the night of Halloween for a gig he was playing with an old band he'd intended on leaving for a while. A conversation was sparked after he overheard me talking to a friend about the new 'Marching Church' release. That same conversation continued into the very early hours of the morning bonding over similar artistic interests, and from that moment we knew we'd create something together."
"After a few weeks of talking about it, Pat strongly suggested Lucy Howroyd from a prior band, and I asked a good friend of mine Hunter Auzins if he'd be interested. Collectively we all bonded over similar musical, literary and creative interests. Lucy had very obviously played in bands in the past, she really brought her own element to City Rose that was exactly what we were after. Hunter was looking for something different, (and even deliberated at first) now he's among our most jarring elements. The rest is history."
How has the response to shows/tunes been so far?
Pat: "We've been fairly lucky, most acts start by playing to empty rooms. Luck might have little to do with it, it seems our reception has been quite faithful. We're proud of our response so far, people are talking about us. That feels good enough in itself, to know that people care. We didn't expect to have such a positive reception, quite the opposite actually."
What sort of music are you listening to that influences the tunes you make with C R? And what sort music do you listen to that doesn't sound anything like C R?
P: "It varies. We were heavily influenced by the Scandinavian punk scene when we first got together. There has been a lot of incredible music coming out of Copenhagen for the last decade and with that, pretty much anything on the Posh Isolation record label. But there's a lot of music from NY as well that's made an impact. Whether it was from Scandinavia or NY, from 1970 or 2018, it varied so much. From industrial to techno, post punk to black metal. We realised no matter what it was the feeling it gave us was generally the same, so sonically we focused on creating a feeling more than anything else."
"I think a lot of what we listen to doesn't sound like City Rose, but I believe we take more inspiration from the music that sounds the least like us. On one spectrum we're purists, and on another spectrum we only want to hear music that unsettled and unnerves us."
We've heard your two pretty hard-hitting singles 'Contortionist' and 'Crackling Amber' what else can we expect to hear on the EP?
P: "The rest of the EP isn't as fast as crackling amber, but it is much more abrasive and jarring in parts. We were much more conscious of structure when we were writing the rest of it, keep in mind these are still the first songs we ever wrote as a collective. At first a goal in mind, was to create a comfortable atmosphere for the audience. We thought if we made them comfortable, it would be that much more unsettling for them when we pulled them out of it. After that particular song, we didn't focus on making people comfortable. Andrews vocals are really visually and conceptually strong, so quite often we create the structure around his narrative."
What is 'Crackling Amber' about?
A: "I wanted to write something on the topic of addiction, its many forms, and the cognitive dissonance that sometimes comes with it."
What can we expect from the show the live show this weekend?
P: "They can expect to hear what will be on the EP, but importantly more. We've wanted to get the EP out of the way for a while now so we can focus on our next release. We aren't really at the stage where most people know what's new and what isn't, but our live set is full of new songs we started writing before we started recording the EP and in a way we feel much more connected to our newer songs, I think that shows in our live set. It's also my brother Kienan's birthday, so we'll be trying our best to have an early night much to his dismay."