This Saturday Hot Dub Time Machine and Candian Club are bringing the party.
We've all got an ugly sweater hidden in a closet somewhere, whether we care to admit it or not, and it's time to dust off the worst of the worst and prepare yourself for Canadian Club's annual Bad Sweater party. It's the annual event where terrible clothes and excellent music come together on the dancefloor, and this year they've enlisted the one and only Hot Dub Time Machine to play party host.
We recently caught up with the Australian DJ whose trademark chronological ordering of bangers has seen him take the stage at the biggest festivals around the world. Check out this interview below to see how he's coping with life in lockdown and don't forget to RSVP to the Bad Sweater Facebook event – you won't want to miss it!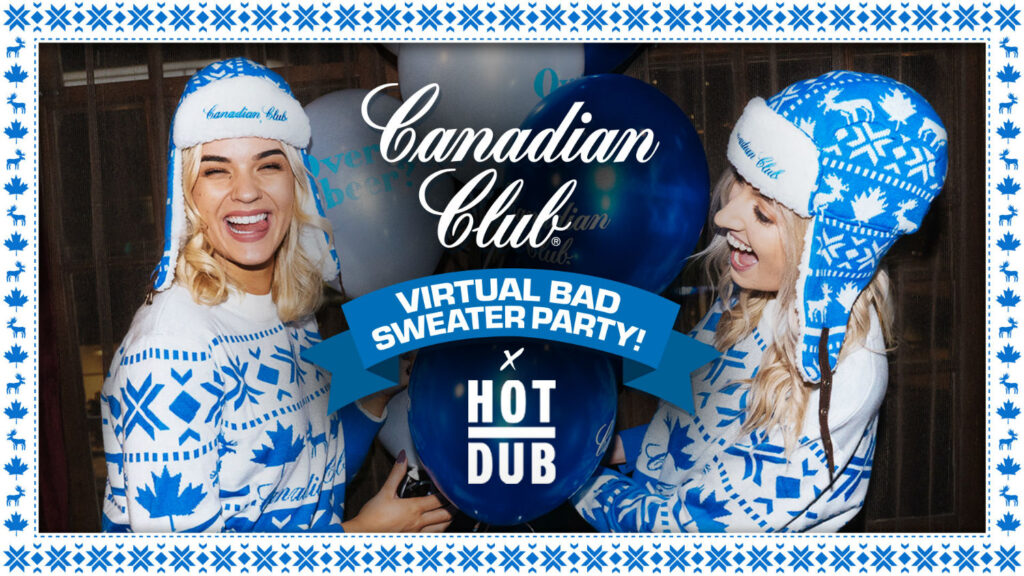 How have you been coping with iso in general?
Very up and down. I have a young family and much of the time it's quite nice being at home with my kids, but there are also times when it feels like an eternity until my next gig and it gets quite depressing. It's a pretty massive change from the constantly touring life I've had over past few years.
Have you picked up any skills?
I've gotten back into piano a lot! I set myself the challenge of learning the theme to Amelie and a few others, it's very enjoyable. I'm also getting very good at Sea of Thieves on Xbox.
Have you learned anything about yourself?
Hmmm. I have to keep on being productive and making things to be happy. If I'm stagnant, I'm depressed. That's why after a few weeks of gloominess I started the Decades Podcast and Hot Dub At Home, both of which have been very successful at keeping me busy and my fans engaged.
What was your most regrettable fashion choice, sweater or otherwise?
Ummmm. When I was about 20 I think I wore Bonds T-shirts and boat shoes to nightclubs. I thought I looked pretty hot, but I remember one girl being very unimpressed. To complete the picture, my hair was quite curly and I was obsessed with putting very wet looking gel in it. The late 90s. What a time.
What's been the hardest part about lockdown as musicians?
Not earning any money! Also, I think I was and am addicted to the constant excitement of travel, the endorphins that come from a good gig, the wave of positivity of creating a great party. I miss all my mates in the crew and other artists. The banter, the camaraderie.
Has there been any silver linings from this time?
I'm very proud of Hot Dub at Home. We had well of 10,000 viewing the first few on twitch and that has fallen away as restrictions are lifting, but it's still one of the biggest DJ livestreams I've seen anywhere in the world. It's allowed me to let my audience into my home, introduce them to my family, open up a little, and in return people have been incredibly appreciative and nice. It's been a great experience.
If you could go back into a pre-iso time machine, what would you tell yourself?
You don't need to buy that.
What's the first track that's gonna be warming us up at the Bad Sweater party?
Great question! My favourite bad sweater moment is this amazing James Brown 'I Feel Good' video from 1965. He and his band turn up to a very white ski lodge and proceed to absolutely smash a gig wearing some amazing Christmas jumpers. Check it out:
https://www.youtube.com/watch?v=5oR3AHkl9EI
How are you going to celebrate the end of isolation?
By touring around Australia with my mates, smashing gigs and meeting all the people who've been on the other side of the camera at my live streams. Pre-covid, I would normally try to hug the entire front row after each gig, I hope those days come back again soon. But I'd settle for a fist bump.