Eastside Johnny hits the East Coast of Australia.
Coming off the back of his critically acclaimed album Redemption and, more recently, a Grammy win for Best Rap Performance with 'King's Dead', Jay Rock is bringing the celebrations down under (finally) with his debut Australian tour.
Jay Rock's had a seat at the TDE table since the beginning but after years of flying just below the mainstream radar, surfacing occasionally with an underground classic or a Kendrick collaboration, wider audiences are finally seeing Jay Rock deliver on his potential as one of the most exciting voices in hip hop. With Redemption, Jay Rock pulls away from street survival with the ambition and clarity of an artist seeking absolution through music. Check out our conversation with the TDE rapper below.
So I heard you literally just stepped off the plane. Firstly, thank you for taking some time to speak with me. How was your flight?
Oh, man, it was the quickest flight I've ever been on. My homie was telling me it was gonna take 12 hours, wait no, 16 hours. Like, "What you gonna do to stay up?" And look man, I closed my eyes and the next thing you know I opened them and we were already here. That was the quickest flight I've ever been on.
Perfect. And it's your first time performing in Australia, are you excited to finally check us off your to-do list?
Yeah I've been trying to get over here forever. Actually, one of my family members used to be in the Navy and stuff, so he was always based over here. And when he used to come back and just tell me how beautiful and how dope Australia was, he made me want to come. So, I'm just happy to be here, man, and I'm just looking forward to playing my shows and seeing some things, you know?
Yeah and we're obviously very happy to have you here. I think a lot of Jay Rock fans are in a bit of a spin at the moment though because for such a long time, it felt like you were one of, if not the most underrated rappers in hip hop, but with Redemption and now the Grammy win that's completely gone out the window. It seems like you're finally getting that recognition and without really changing your style or your lyrical content. What has changed to foster that success?
Ah, man. What has changed? I'm over here in Australia! You get what I'm saying? You know, ain't nothing really changed, man, I'm still Jay Rock. I'm always trying to work on my craft and be better at what I do musically. So, I'd say that's the part that's changed, just the growth in my music.
Going back to the Grammy win. Tell us about the emotional ride of that experience.
Man, I'm still speechless. When I got up there and accepted my award, I didn't know what to say. I didn't think I was gonna win. But shout out to all my fans that have been rooting for me and have been down with me since day one, man. This one's for them. It's still surreal to me. I still can't believe it.
'King's Dead', originally came out on Black Panther: The Album. Was your process in writing for that type of track and project different to how you normally work?
It was kind of the same, how I approached it. I just told myself, like, "Man, I just gotta do something outside the box. Let me do something kind of catchy you know?" And that's how it came out. You get what I'm saying? And when I heard Future's verse, I was just like, "Ah, this is a hit, man. This is outta here."
https://www.youtube.com/watch?v=VwAnsAUYnw4
That track also doubled as the lead single for Redemption. Tell us about the concept for that album.
The concept of Redemption is basically just me. I kind of feel like God gave me a second chance to do music. And for those who don't know, I was in a cold little bike accident. You know, I just went through a major setback. It was in the midst of dropping my album, 90059. I was supposed to go on tour, I had a lot of things lined up. I was supposed to be at the Grammy's that day. It was just a whole lot of things going on and I just went through a cold set back. I did a lot of thinking while I was hurt, and once I healed up, my whole mindset was, "I wanna do something. I gotta come back for the fans that have been waiting, that are waiting on me, to see me, that are waiting to hear my music," and I gave them this. This is my redemption. And it's just crazy. I was supposed to be at the Grammy's and three years later, I won a Grammy. That's crazy.
You've been adding to that album as well, with tracks like 'The Other Side', which I think is really interesting. Was that a creative choice or are there other forces at play there?
Actually, when I did those records, it was kind of like a process as far as clearances and things of that nature go. Yeah, so that's pretty much why I couldn't get the songs on the album in time. I mean, if you know the music industry, then you know how clearances go, especially with other artists, too. So, once the album's up and then once you got the clearances and everything done, that's why we added the songs on there. You know what I'm saying?
So Redemption is finished? They're all out now?
Oh yeah. No more tracks. That's a wrap.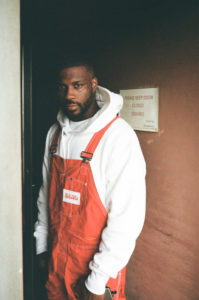 On the label side of things, Redemption is another win on TDE's hot streak. You guys can't really miss at the moment. What's it like working in that environment?
We're a family, man. We been doing it together for years. It's nothing but good vibes, good energy. It's comfortable together, creating. So it's all good energy.
Speaking of TDE, it's been a minute since Black Hippy dropped anything. Is that a project that you want to revisit?
Oh, man, you know Black Hippy? Man, I gotta tell people all the time, "Y'all want some Black Hippy? You gotta get Top [Dawg Entertainment] on the phone," and when I say that, people think that I'm joking. But I'm really serious. If people take the time out to hit Top and get Top on the phone and tell them, hit the page and say, "Man, we want a Black Hippy album," It might happen. Nobody making no noise. You gotta make the noise.
This is the noise right here. Top Dawg, tee up that Black Hippy album. Moving on, you recently played a very intimate show at Size? Carnaby Street. If you were to collaborate on a shoe, which footwear brand would you work with and what would that shoe look like?
Oh, if I was getting a shoe collaboration? Hey, man, for sure it's gotta be Nike, man. Who don't like Nike? And for sure, for sure, it's gotta be some Jordans. Tell Michael Jordan, "What's up man. I got a cold idea for the East Side Johnny shoes." You know what I'm saying?
You've also had your music in a few other interesting places. When the GTA V trailer came out your song 'Hood Gone Love It' was the backing track for Franklin's character, you also had 'WIN' on the NBA 2K playlist, and we've already talked about Black Panther. Where else would you like to see a Jay Rock song?
Ah, man, you know, some of them critically acclaimed movies or something. Some high-scoring, award-winning movies like a Denzel movie or something. You get what I'm saying? But yeah, man, wherever the opportunity leads, where my music can touch people. I'm all for it. I'm not picky or, "I gotta have this or I've gotta have that," you know, if it's right, let's do it. Like I say, there's all those platform and I appreciate them playing my music. There's love.
Finally, your tour kicks off this weekend. Being your first time in Australia, I don't think too many people in your audience will have seen Jay Rock live before. What can fans look forward to at those shows?
Just lots of energy. Like I tell everybody, man, I came out to have a good time so I just hope the people wanna do the same. I'm looking forward to it. This is my first time here, so you know, I'm just looking forward to having a good time and tearing the place down. That's it.
The Big Redemption Tour is kicking off in Brisbane tonight with Sydney and Melbourne performances over the coming days and, as an added bonus, local favourite B Wise will be in support of all three shows. Limited tickets are still available via the link. Get em while they're hot.