Catching our eye with a string of single releases throughout 2019, Perth-based rapper T$oko returns today with his debut EP
TIME
.
Dedicated to his late cousin Tino "Trigga" Gaka, TIME is a reflective body of work that delves into T$oko's experiences of loss, pain, promise and appreciation. "He was a brother, a best friend, an advisor, sponsor and everything to me. He lived his life to the fullest and was one of my biggest inspirations." Touching on that mix of emotions, as well his own personal ambitions, the project is in stark contrast to what we've heard so far from the Zimbabwe-born artist. Usually known for playfully riding over beats that bounce and kick (you may recall his come up track/ ode to Ben Simmons), T$oko laces his raps across the 7-track project with the weight of reality. TIME is precious, finite and limited. We caught up with T$oko to get the lowdown on the release, read on for the full interview:
So you're from Zimbabwe originally and now based in Perth? Tell us a bit about your story. 
I grew up in Zimbabwe, I was born there and then moved to WA about 12 or 13 years ago. My parents thought Australia was a better place for my future because I was looking at going to uni and making something out of my life. They thought that Australia had better opportunities for the degree I wanted to do. So I got an offer to go to uni and that was it. Western Australia is definitely home to me now. 
How do you think being on the West Coast and in Perth has influenced your artistry?
It definitely played a big part. My music is influenced so heavily by my pit stops around the world and through the people I've met. When I came to Australia initially, I lived in Fremantle for a long time. That's where I went to uni. As soon as I was exposed to all the different live music and the types of artists coming out of Perth, like Tame Impala and Taku, I was so inspired. Just growing up to African music and all the types of music we talked about before the interview and then having those influences right there, was everything. Mixing in where I've come from and my surroundings is what separates me from anyone else. 
I'm really keen to chat about your EP on the way. Can you start by giving us an introduction to the TIME?
So I had just been releasing singles but I really wanted to work on my debut EP. As I was going through that process I lost someone incredibly close to me. My cousin who lived in Brisbane. Every show I used to go to interstate or outside of the country, it was me and him. He would be there. For every new song that I made, I would send it to him and hear his thoughts. He even used to help me with my social media and everything like that as well. I lost him and that really ended up shaping the EP. It made me realise that time is a really precious commodity. Each and every song that I wrote on that was based on an acronym of what I was feeling at a particular moment in time. So for example, with 'HOPE', the acronym for TIME was things I must endure. I actually say that in the song and in each song you'll find me spelling out an acronym for TIME. It was just my interpretation of time, you know what I'm saying? I really honed in on that concept of moments and emotions.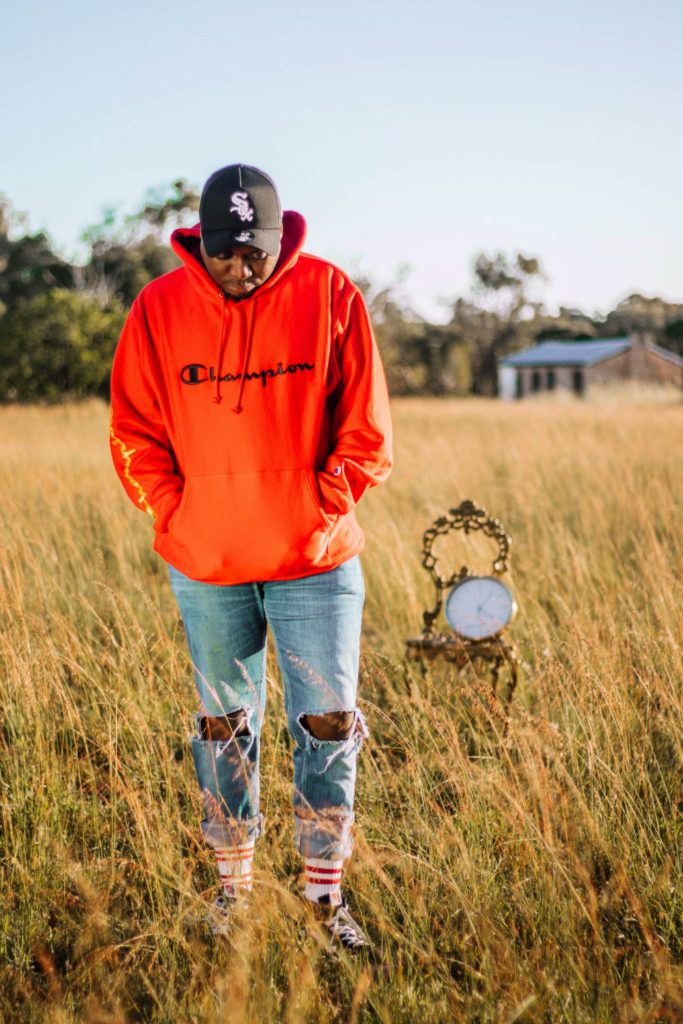 There's definitely a contrast there between the concept of the album and the type of music your fans might be familiar with or expecting from you. Your previous releases have always had this light, energetic feel to them. How did you find the process of approaching heavier content?
It wasn't hard for me. I was just being an artist and saying how I felt at that moment. It's different when you make a record and you just want to show your skills. I used to drop mixtapes and all of those were based on feelings and emotions so after what happened, it was actually easier for me to sit down and delve into my thoughts and make music than to make a record for radio or something. It's always been important to me to maintain the integrity of my music. With this I really wanted to connect with audiences and for them to know who I really am as a person and what I was going through. 
There's also a double meaning to the EP's lead single 'S.O.S'. It can be read as 'Summer On Smash' or 'Save Our Souls'. Can you tell us a bit about the thought that went into that?
This is actually one of the lighter tracks. I really wanted to give people something that was easy to listen to as well. Approaching Summer I wanted them to have something they can relate to and that's part of the narrative as well. Just having a side to me that feels sad, happy, that wants to party or go hard. 
The acronym for that track is things I may enjoy. Saying yeah, I may like to party but that can be good and bad. My cousin and I used to party… a lot. Maybe too much! We used to party a lot and maybe that's something that might have contributed to the fact that he's not here any more. TIME waits for no one and that's where the double meaning comes in. There's going to be good times and hard times. We might need saving if we party too much but at the same time, we still need to enjoy our lives while we're here.
https://www.youtube.com/watch?v=ySCRZD6gSHY
I thought the EP trailer was a really nice touch and it kind of brings a cinematic element to the release. What kinds of things are you hoping to achieve from a visual sense? 
We're just trying to connect with the audience and show them a different side. That trailer is a collection of memories and things that happened over time that have got me to this point. Like old videos and pictures with some of my peers in the industry. This was about showing what TIME means to me and I managed to fire off all the acronyms in that spoken word verse. From a visual standpoint we've got a lot on the way and that's something we're excited to share next year. 
https://youtube.com/watch?v=od4l59UhPuo
Let's chat about your recent Soulection collaboration with IAMNOBODI. It's a huge nod from a crew that have been making the right moves for a long time. How did you manage to tee that up?
Basically I've been a big fan of Soulection for a while and I also recently in the studio with J.Robb. My management connected with IAMNOBODI and he sent through some stuff to work on that we could drop over summer. So I just rocked over that beat and he thought it was dope. That's how everything came to fruition. Jarreau Vandal actually did my beat for Bars of Steel as well. I'd love to keep working with Soulection producers for sure. The next project will have more of that type of sound. 
I've also gotta ask about the Ben Simmons joint. What's the story behind that track?
I was just chatting to this American producer named Juice Bangers and he sent through a pack of beats. I was like, "damn, this is fun, this is fun, this is energetic, this is happy," and I was feeling at that point in time that I was in that zone. I'm already a big fan of Ben Simmons and as I was writing it, the hook just came to me. Obviously Ben Simmons being from Australia and being over there in the NBA as a role model for any Aussies wanting to take things to an international level. I think it was his first season back from his injury. "Last year I was chilling, chilling chilling. This year I'm winning, winning, winning. Next year I'ma kill em, kill em, kill em." It's just a reference to him as a part of the culture and as an Australian doing great out there. 
Do you follow the NBA? I remember in one of your other videos, I think it's the Bas remix, where you hop in the booth wearing a Liverpool shirt.
Oh man. That's my team for life. I eat, sleep, breathe Liverpool FC. I don't miss a game. I actually have a song on the way called 'YNWA'. That's a huge part of my life. 
On that note, the next question is a bit sticky so sit with it for a minute if you need to: If you were making a 5 a side team from Australia's rap scene, who makes the cut? 
[Laughs] Am I in there? I'm not going to say myself. But definitely my team, my collective, Tone Youth are coming off the bench. My five a side team is Midas Gold, Carmouflage Rose, Just a Gent & Rando (Salvos Beats), and Jamilla. That is such a hard question but they're all people who inspire me for one reason or another. 
A little earlier we talked about Perth. What's happening on the music side over there right now and who have you got your eye on? 
With Perth, there's a lot going on. There's a scene here and there's all kinds of hip-hop coming through. We've got heaps of talent and heaps of young kids coming up. Shout out to all of them. But the thing is that it's always harder for us to make noise from the other side of the country. But that gets done step by step and bit by bit. We've got guys like Arno Faraji and MALi JO$E but we've also got Aussie hip-hop guys and a whole underground scene. We're always going to keep pushing each other and hoping that the other side takes note. We've had amazing acts come out of Perth over the years. It's a really beautiful space and a great place to get creative in but the biggest challenge is getting shows and going on tour. Because it's not easy. We're not close. We miss out on opportunities because of the distance but it just means we have to work even harder. We're just doing our thing and making sure people hear it. I'm happy and proud to be here. I love WA. That's my home and that's my state. 
It sounds like you're using that underdog mentality to your advantage. What's next for T$oko?
I've got a few shows locked in for Perth as well as some festival slots. I'm looking at doing a tour over in the East but that's something my team and I are looking into to see if we can make it happen. For TIME we're definitely doing five shows in Perth and regional WA and just getting it out in our backyard and maybe a few months into the year we can look at doing a couple of shows on the other side. After that it's back to the grind and more music.