"You'll hear more music from us this next year than you've heard in the past couple of years combined." They may be enthusiastic advocates for Euro dance music experiences, but as far as that laid-back Euro lifestyle goes, the siestas and sunbaking will have to wait – as Set Mo dive into their hugest year as artists yet.
Words: Dani Marsland
Cover Image: Dean Hammer
In a time when house music's well and truly broken into the mainstream; when house legends like Derrick Carter have spoken out about the commodification of house – that what's 'sold, shuffled, and packaged' as house these days is eons removed from its cultural roots – retaining a sense of the underground is a very tall order for any artist who knows how to make music that more than a handful of people like. However, Sydney producer/DJ duo Nick Drabble and Stu Turner –  Set Mo (or 'Set Mo Operators', depending on how far back you wanna go) are making a smooth ascension upwards in the music world thanks to their ability to perfectly occupy this intersection: exciting charts, clubs and chin-strokers all at once.
They release evocative dance music with warmth and soul; music that's commercially viable (one of their biggest listening audiences is Germany) but that retains a huge appeal in indie circles. They deliver impeccable club DJ sets to thousands – most recently at festivals Lost Paradise and Let's Go Fest. Then they'll turn around and sell out consecutive self-concepted dance events (The 'Stamina Sessions', a standalone project originating from Set Mo's pure creative vision) that feel more aligned to what's traditionally underground than ever. And throughout it all, they retain a sense of playfulness: doing things like using their coveted Splendour in the Grass set time to surprise everyone with a throwback set of pre-2000s classic house hits, or bust out daggy dance moves in the streets of the inner-west for a video clip.
Yep, Set Mo just keep getting it right.
When we speak with Nick and Stu, it's just ahead of the sophomore instalment of the aforementioned 'Stamina Session', an event of their own making, designed to emphasise the beauty of a long DJ set done well.  Saturday's Oxford Art Factory show follows its sweaty, sold-out debut in November at the Civic. This time, the venue's doubled in size. And it's also already sold out. The Stamina Sessions will witness Set Mo go in on the decks for four, non-stop hours (the European standard, but a marathon in compared to Australian gig set durations). The show's been carefully put together by Set Mo and their team; who've put attention to detail into the sound and light design to create a special, intimate club experience for those present.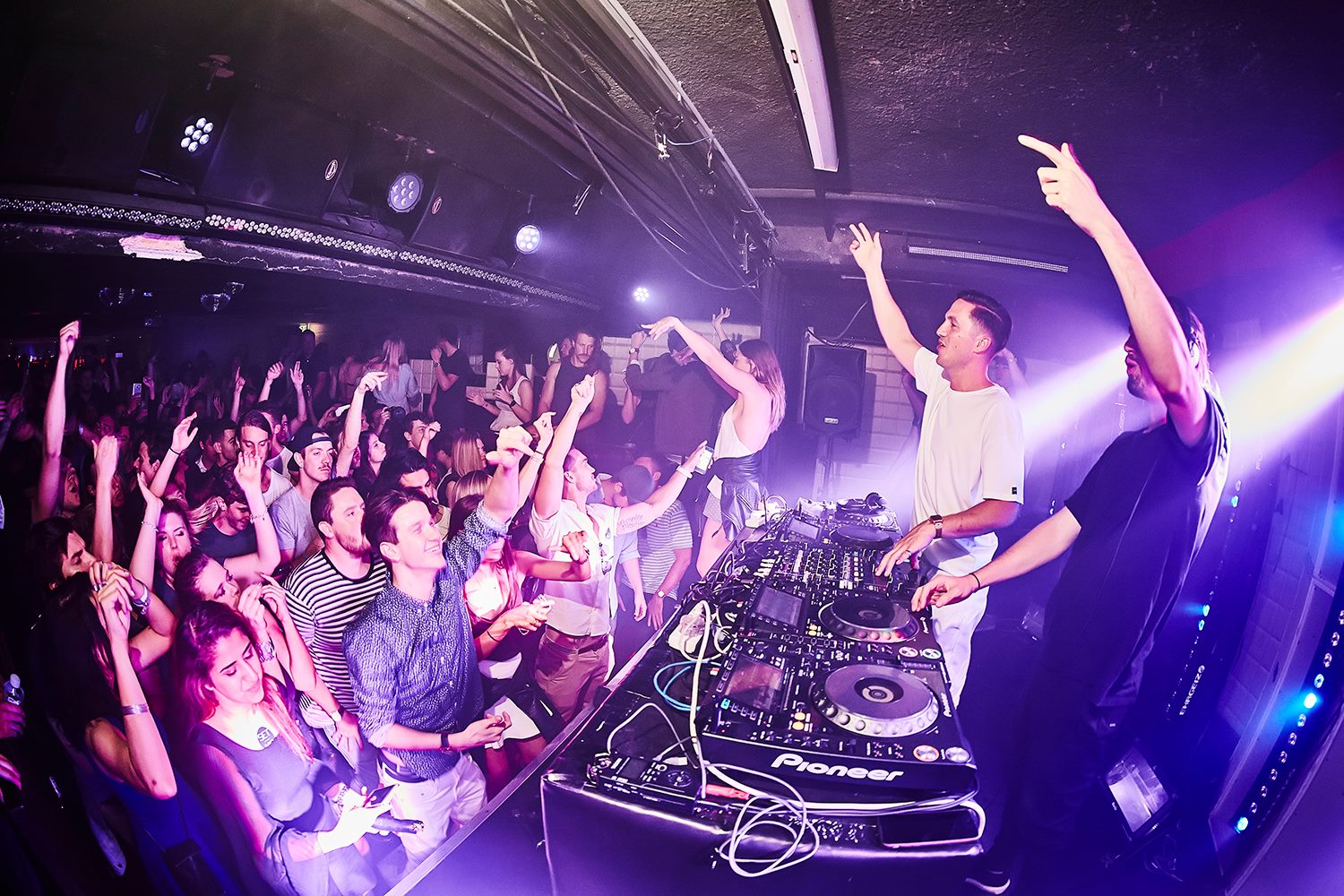 Above: 2016 Stamina Session
It's a prescient approach driven by their own love of playing an extended set and needing the perfect way to do it in order that it make the ultimate impact. In a larger context, it sees Set Mo join a growing legion of Sydney music artists and promoters who are increasingly moving towards creating more DIY, one-of-a-kind style parties and events to compensate for recent lock-out law losses. "There's so many pockets of music collectives in Sydney right now," comments Set Mo's Stu, "There's house crews, trap, bass, techno… in general theSydney scene is so strong right now, which is amazing. The talk centres on lock-outs, and they've certainly hit the clubs hard, but a positive that's come out of it is that everyone's banded together; everyone's doing their own pop-up parties, thinking up their own party formats. We're all picking up our game, getting DIY, and working together as a community. It's kicked Sydney up the bum!"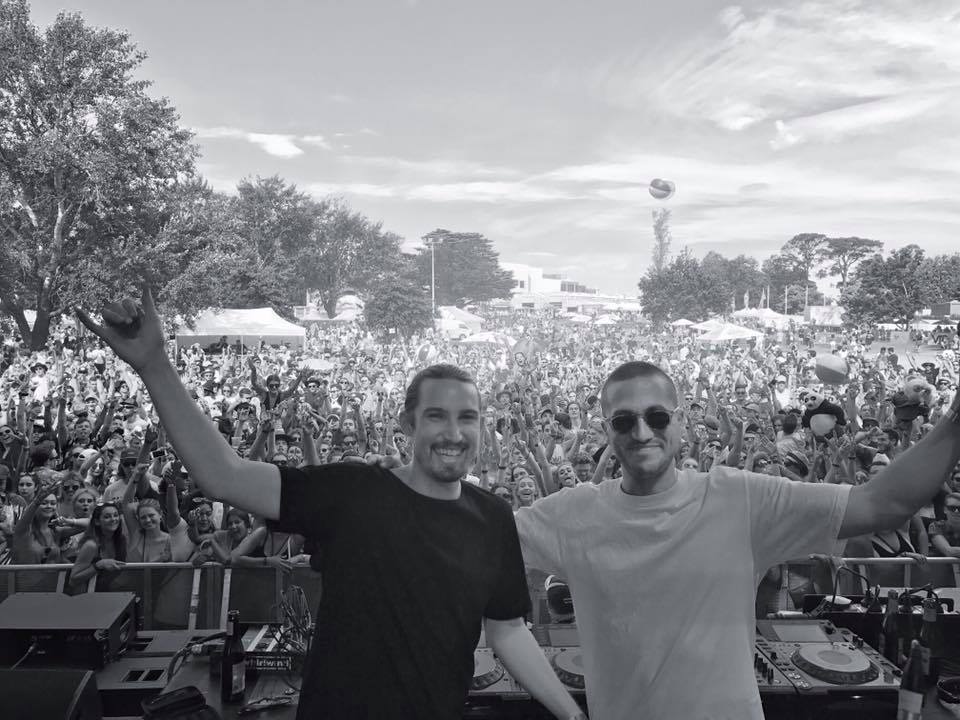 Above: Set Mo at Let's Go Fest last week
Set Mo bring a punters' perspective to the work they've put into Stamina Sessions – between Nick and Stu, they have a decades' worth of experience as clubgoers, inhabiting dancefloors from downtown Sydney to Berlin to Ibiza, and it's their insight as fans that drives their desire to create the best experience possible for those in attendance at their shows. When Nick and Stu see a show with impeccable production values; they're taking mental notes, always working out how to better their own shows. As was the case with their idols Booka Shade, who just last month Set Mo had the opportunity to support at their Metro Theatre show in Sydney – after having attended a Booka Shade gig as punters in the exact same venue ten years earlier. "When we were thinking about how we were going to do the Stamina Sessions, we referenced Booka Shade a lot… the lighting for a set we saw them do  – not at the Metro – but at Harbourlife, was really effective. It was amazingly pared-back, just silhouettes and backlighting, but it taught us that you don't have to go for broke with crazy big lights to create an impact." Nick and Stu have been working closely with Australian lighting designers Colourblind Lighting (who've worked on illuminating RUFUS, and Alison Wonderland, among others) to execute the Stamina Sessions in a way that will make the most of every one of the four hours.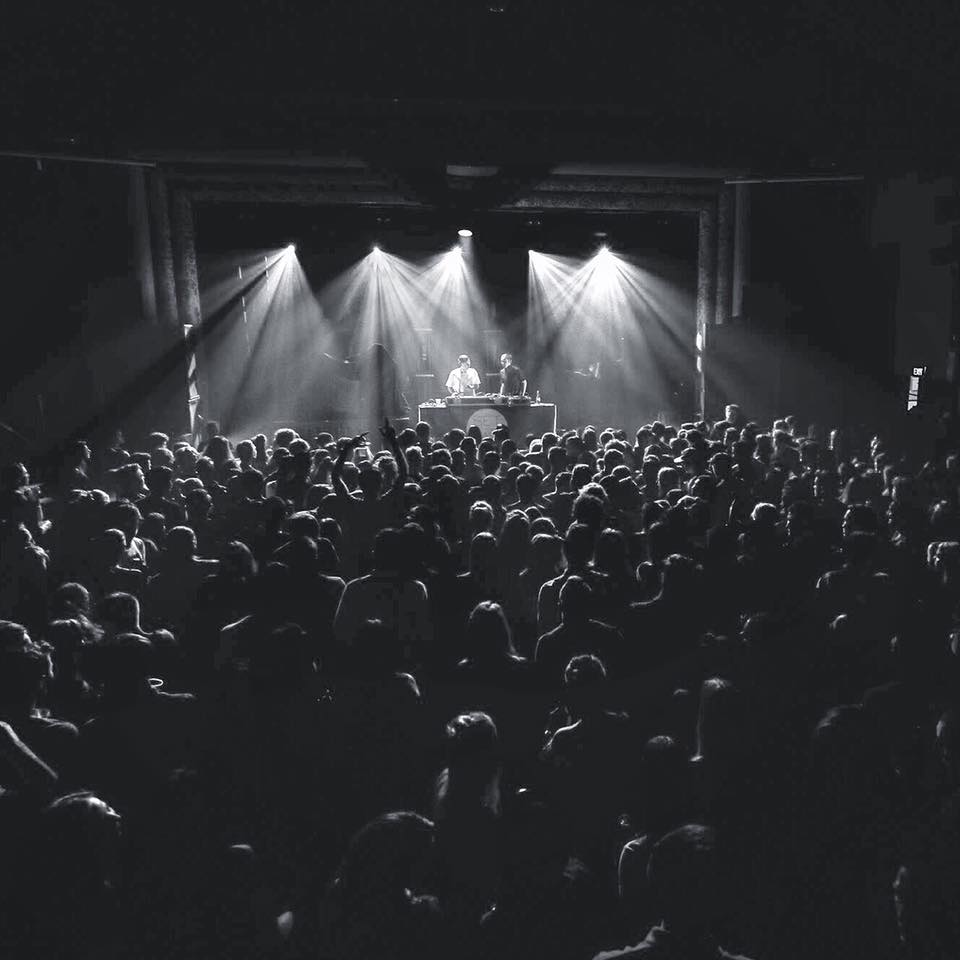 To be able to design the delivery of their own show in their own city is a pinnacle of sorts for the guys, who've both been DJing the mean streets and backbars of Sydney individually for about nine years, before joining forces four or so years ago. Stu recalls the start of Set Mo's story: "We tended to be programmed to play sets after each other at the same events a lot… one time were at a party on a Wednesday night at Fringe bar called Friends, and that was when we hung out properly for the first time – we lined up a mix session together at Nick's house, and the DJing together and production dabbling, and travelling together, started from there. Over the years "chilling at Nick's" turned into actually becoming an artist duo, completing full songs, and now we've substituted Nick's for an actual studio [located in Chinatown]. It's all been a really natural progression; it hasn't ever felt like work – it's just what we've always done." Stu adds that it's their mutual love of just about everything ("music, sneakers, burgers, coffee") that's kept their partnership strong across the years, as has time spent travelling through Europe and taking in different clubbing experiences – including eight days deep in Ibiza, where they soaked up the European summer and relished the varied influences on offer, reflects Nick: "The best thing about Ibiza is how diverse it is – like Paris Hilton has a residence but so does Sven Vath. There's cheesy aspects to Ibiza, same as any destination –  once someone realises there's a market they swoop in and commercialise some aspect of it, but what made it a destination in the first place – the people doing secret parties on beaches, the crazy party concepts – still exist. We're definitely going to Europe at the end of this year and we'd be crazy not to pop into Ibiza again!"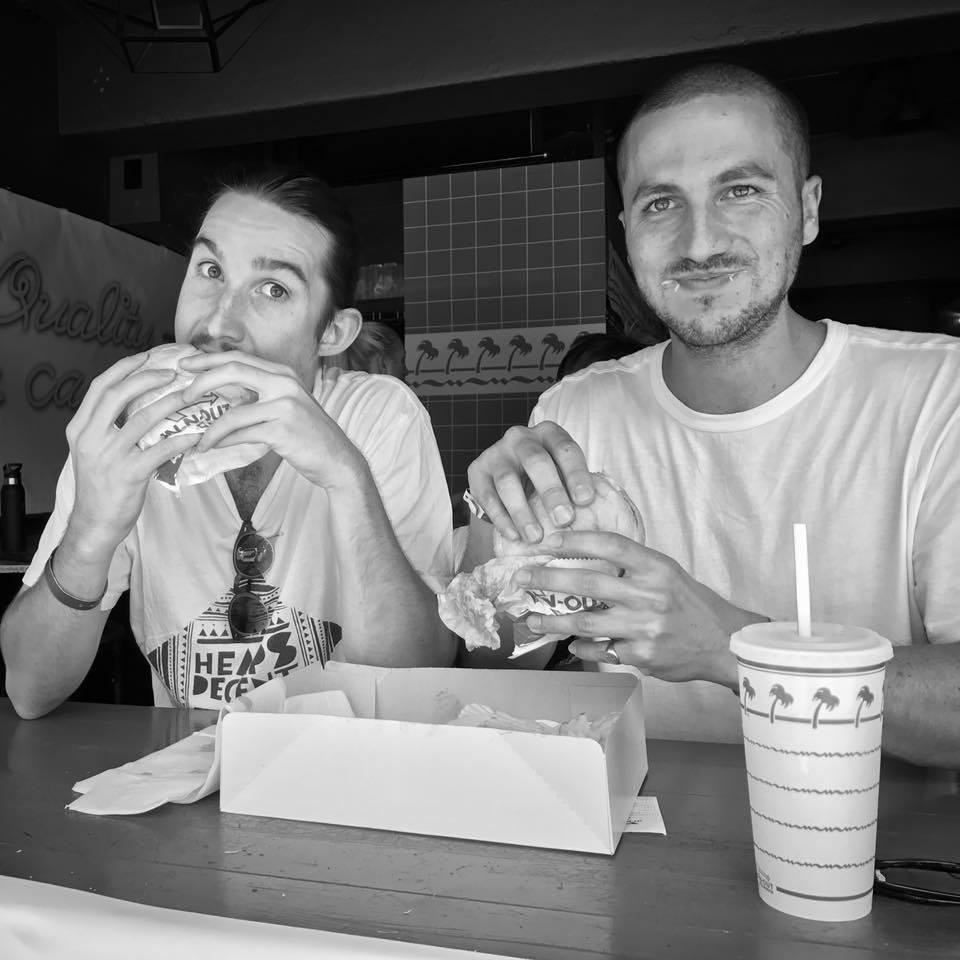 Above: Sharing a love for burgers, ahead of Booka Shade support last month
It was a combination of Set Mo's holiday in Ibiza in 2014, and then subsequent time spent soaking up the inspiration as they worked from London's infamous Tileyard studios (where Mark Ronson, Basement Jaxx, and the Prodigy were their next door neighbours), that let to the duo creating their strongest output ("We did five tracks in five days and every single one was the best we'd ever written,"), and the backbone for what would become their breakout hit – White Dress (feat. Deutsch Duke) . Though they're certainly not lacking in the ability to make any number of impeccable club tunes, they attribute the success of White Dress to the specific intention that they had going into it – to make a versatile song. Those who love the track know White Dress isn't hard-headed – it's not house with no smiles. It's so danceable, but it's also replete with a warmth and sexiness that makes it perfect to cruise to in the car, or put on Bluetooth speakers while relaxing at the beach. It's these qualities that mean its been embraced by a far wider audience (its currently sitting at four million online plays and has had spins on radio stations worldwide) than the short-lived thrills to be gotten from a banger.
"The thing we realised when we were writing White Dress," reflects Stu, "is that we'd never considered making tracks that wouldn't work in the club – up until that point we were always thinking "will this bang in a club? will this get people dancing?" but with White Dress we wanted to make something that had a song aspect, that worked on heaps of levels – people love listening to it in a lot of different contexts." Not long ago it was placed in a very different context, as a group of artists – including members of Boo Seeka and SAFIA – performed an acoustic cover of it for their agent's wedding (watch below): "It was so funny when that went up," says Nick, "So many girls were tagging their boyfriends like "this is what I want at my wedding!".
We can't tell you how many more weddings they'll get covered at, but we can tell you that you can definitely expect more primo songs to come out of the Set Mo camp this year: "You'll hear more music from us this next year than you've heard in the past couple of years combined!" promises Nick. The boys' very next output, however, has the club firmly in mind – excitingly, they reveal that we can expect a two-track Set Mo EP, to be released on label etcetc, in mid March – and they're a couple of white-hot club tracks that DJs will be itching to slide into their sets! Including Set Mo themselves – Stu laughingly admits that it isn't always the easiest to slide some of their own original material into their club sets "See Right Through Me is 115BPM so if we're coming in at 120BPM, it can be tricky! One of the songs on the two-tracker is actually one we've been playing in our sets for over a year now, audiences who've hit our shows will recognise it. It always gets an epic response."

Above: The video clip for See Right Through Me
Also on the immediate cards for Set Mo are a string of shows across Australia this summer, including a set at Secret Garden Festival, where they plan to perform a two-hour version of the 'Set Mo Classic House Set', a half-hour of vintage house power that sent the Mix Up Tent at Splendour insane (and that they decided to try out at their first year playing Splendour, no less). Says Nick of the Classic House set idea: "We had two thirty minute sets to play in the Mix-Up Tent, so we thought 'let's make the first one as much of our own stuff as possible, and then the second one…let's have a point of difference', and that's how the concept arrived. We'd been DJing for a long time, we spend heaps of time listening to vinyl – classic house records – so we made a pact to play nothing from the last decade." The dress up party aspect of Secret Garden should add an extra layer of fun to proceedings this time around: "We haven't exactly figured out what we're wearing but it will be good. Maybe some 90s high-top sneakers."
It feels like Set Mo have very much sussed how to stay crucial as artists as they navigate the waters of the national and international music scene. As the tide of success (inevitably) rises around them as this year unravels, Set Mo will sail strong: chiefly because they know (and have proved) that to stand-out, is to do more than just push the right button.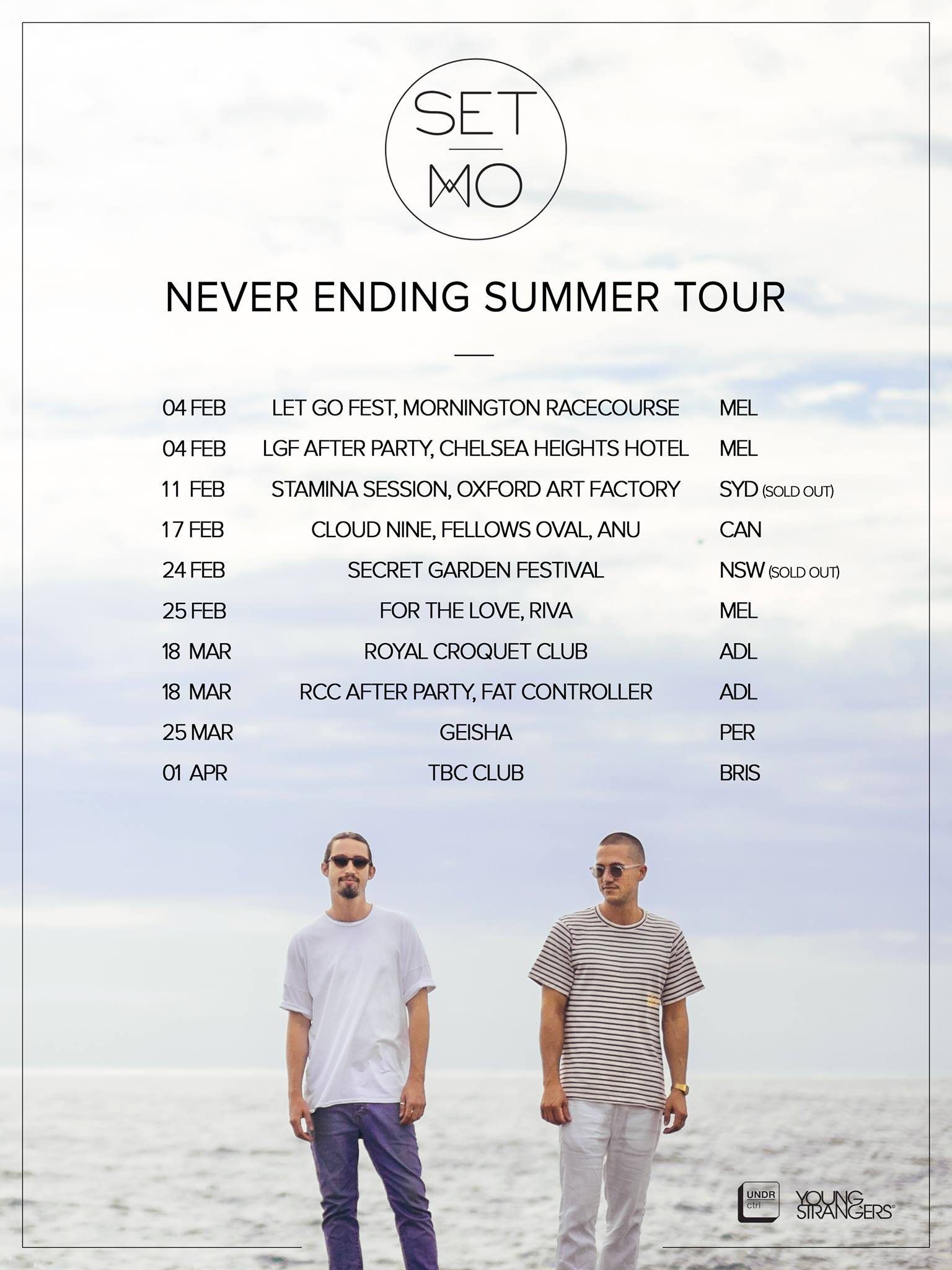 Follow Set Mo's journey on Facebook here.