Words by Maria Wang // Image by Zain Ayub
In the short year since their formation, we've seen Strxnger become a staple in fostering and exhibiting the music and art of Sydney's underground.
The mysterious collective has drawn a loyal following of creatives and partiers alike, enticed by Strxnger's diverse offering of immersive events which span from thumping late-night parties to refined curations of fashion and design.
Now, to celebrate their hugely anticipated first birthday in true Strxnger style, the crew are throwing a huge one at Marrickville's Portugal Madeira Club this Sunday. Strxnger V will be a conglomerated display of everything the collective has achieved in the past year, and a mark of their future potential.
Sunday will see an impressive line-up of Sydney all-stars – think Jade Le Flay, Ebony Boadu and Shantan Wantan Ichiban – join forces with fresh faces and of course our much-loved Strxnger veterans like Esar., BUSY and Jhassic, offering a diverse palate of sounds across two stages. Expect dancehall grooves, expect live MCs, expect lo-fi house, expect soulful trap, and expect experimental, forward-thinking sounds not defined by the limits of genre.
To prep ourselves for this momentous event, we had a chat with the Strxnger cohort to get a better idea of their first year. Read below and get tickets to Sunday's soiree here:

Coming up to your first birthday, what do you think are some of the milestone events and biggest achievements that have gotten you guys to where you are today?
Our biggest milestones are without a doubt the humbling successes of our events Strxnger I, II, III & IV. Other than that, our achievements are small but many, just simply banding together to push art in all forms and learning by doing! The continual support we've received from everyone, ranging from the crowd, friends and to those getting involved with us creatively, has been a major reason we've gotten so far, and we certainly hope that support continues.
Strxnger V is your first event of 2017, and it's set to be HUGE. What fresh offerings can we expect at your latest installation that you haven't explored before? And what OG Strxnger traditions will you be upholding and expanding on?
Expect our carefully curated line up of all genres, expect our cypher session to be back in full effect, expect some of Sydney's local creatives and artists coming together to exhibit their best work again too, and of course, our usual atmosphere of acceptance and non-judgment.
But this time to add to these layers, expect two stages to pick from depending on your mood and taste, expect some live art, expect some crazy visuals and a beautiful new venue that is perfect for hosting an incredible Sunday party. We've gone all out in organising sound for this party; really trying to create a festival-like atmosphere with the equipment, courtesy of DJ Warehouse and Portugal Madeira Club. It's definitely going to be a revolutionary aspect for us but also for the crowd.
You guys have managed to foster such a dedicated following for your events, despite the challenges posed by the current Sydney environment. How would you say you've achieved this? And what makes Strxnger different from other collectives?
Keep it organic. Work hard at your art. Stay humble.
There is a huge need for Sydney to put on more events that showcase art in all forms, we are merely taking advantage of this situation and we also attract people who resonate with this, which fortunately are plenty. Throughout all the Strxnger events in the past we've greatly appreciated the support of an encouraging, local Sydney crowd. None of our events perpetuate any agenda and we are always welcome to anyone who partakes. Ultimately, we gather inspiration from our support systems, from one another in Strxnger and all the other creatives and Sydney collectives that exhibit their imagination and ideas.
So many flourishing collectives exist within Sydney right now, and we feel that just like us, a lot of these collectives and the individuals within them are finding out more about themselves regarding what they want and where they intend to end up in the future with their endeavours. This is so important because it really shouldn't be about being comfortable, but always trying to constantly develop.
Our strong emphasis on music and its presentation, curation and centrality to the event is unique, and this brings collaborators out of the woodwork who want to mirror this standard with other art forms, like photography for example.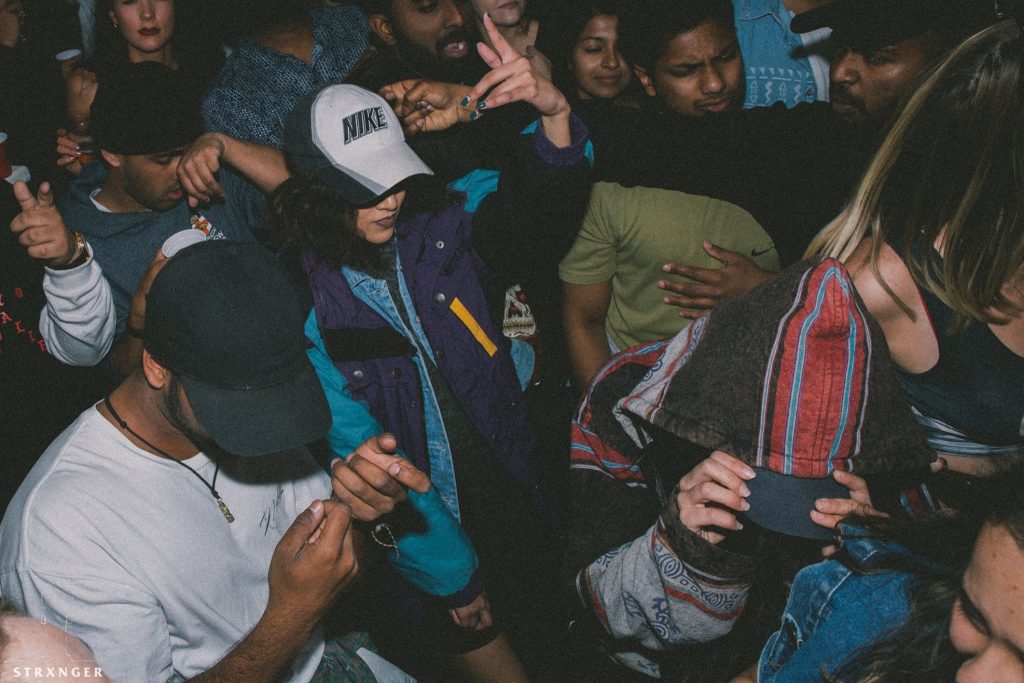 Lastly, what's next for Strxnger? What can we continue to look forward to for the rest of 2017?
To continue to throw events throughout the years to come in a variety of contexts, situations and events. To continue with this momentum, to include and discover other souls who feel the need for this too, and to not only empower ourselves through self-discovery but everyone on the same journey to. To keep Sydney open and to contribute to this ever so thriving culture.