Looking for some smoother, more soulful sounds to occupy your playlist? Homegrown talent Kymie will be right up your alley.
A member of West Sydney's Bodega Collective, Kymie is definitely more down-tempo than her hyperactive colleagues like Kwame & Raj Mahal. Still, Kymie has already proven that she can sing confidently over a range of styles and BPMs, from the slow-burning 'Suffering From You' to summer bop 'With You' alongside Phil Fresh. Next, she'll take things down a more trap-infused route with her next single, 'Needs.'
The new track will be launching with a listening party at Goodspace Gallery in Chippendale on October 19, where Kymie will perform alongside LKGD and Bodega Collective on the decks, and a few other goodies littered throughout the evening. Ahead of the 'Needs' launch, we chat with Kymie about her background in music, church anthems and what to expect next Friday night: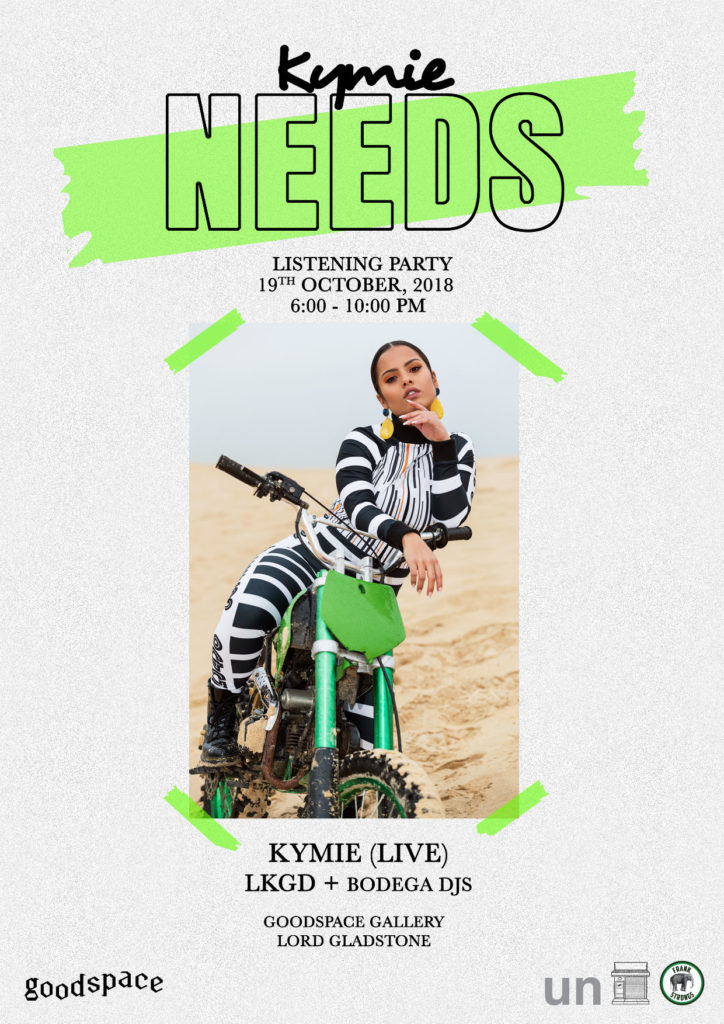 For anybody who hasn't heard Kymie before, describe who you are and your mission in music?
Hi, I'm Kymie from Sydney. I'm an R&B artist and songwriter. My mission in music is to write songs people can relate to and have a positive influence.
You've said that you're influenced by the records that your parents played when you were a child. What were they spinning at the time, and what would you cite as your main influences today?
Yeah, my parents were always playing music through out the house, usually on the lines of Earth, Wind and Fire, Michael Jackson and Anita Baker. My main influences today change on the daily, but right now I'm listening to Summer Walker and Soulection.
You also grew up singing in church with your Mum. What is the best church banger of all time, and why is it 'Behold The Lamb of God'?
I didn't go to a traditional church so to speak, but I grew up singing gospel songs in the worship team. My personal favourite hymn is 'Amazing Grace' and 'Behold The Lamb of God' has to be my Grandma's favourite!
You also did backing vocals on B Wise's recent 'Like A Version' performance. Any ideas on what song you'll cover when you step in the Triple J studios for your own 'Like A Version'?
This is such a good question… I feel I would want to definitely keep it old school and since I'm such a 90s R&B head, I'd want to do "At Your Best You Are Love" by Aaliyah.
https://www.youtube.com/watch?v=TYqjI_3_vPo
Let's talk about your upcoming single 'Needs' – you'll be launching it at The Lord Gladstone on October 19th. What can we expect on the night?
It's going to be amazing and filled with good vibrations! It's basically a launch of my artistry as well as 'Needs'. On the exhibition side, some images that The Uncast took will be on display, along with some crazy projections provided by Risers Media. There'll be music by DJ LKGD and I'll actually be performing three unreleased tracks as well, so it's an exciting introduction to my world.
The evening will also be presented by Bodega Collective and The Uncast. How have these two teams contributed to 'Needs' and the creative process?
Both teams have been incredible to work with. Bodega have been there from the beginning of 'Needs', they've helped shaped the vision while giving me direction for this launch to be incredible. The Uncast have helped me produce the creative content for the launch and helped me brand 'Needs' itself. I've also been working very closely with Nadia aka @Thugxurious, she styled the photoshoots and style directed the music video, and she also helped me curate this event.
Without their help, 'Needs' would not be what it is today! I'm very thankful to have worked with both teams.
The song has also been described as a "trap inspired R&B track" – who produced it?
Kwame produced 'Needs', it actually came really organically, it was a super spontaneous track. We just had fun with it and wrote it quite quickly, so I'm really happy we can finally begin to present some of the work we have done together.
If you could say there was a perfect location to listen to 'Needs', where would it be and what would be happening?
Needs is a really empowering track, the perfect location would be either be before a night out, or in the car after a long day to boost you up, just like a shot of coffee or tequila – depends on your preference.
As an upcoming artist in Australia, what other emerging talents should we be listening to/aware of?
Honestly the talent right now is amazing! I'd say you should be listening to; Lauren (BCLauren), Kwame, Kaiit, B Wise, Milan Ring, Mike Akox and Phil Fresh.
What's on the cards for Kymie for the rest of 2018 and into 2019?
You'll be seeing a dope music Video for 'Needs' and then I'll be writing and recording, ready to release more tracks early next year.