Reload & Extra Spicy are teaming up for a grime extravaganza this Friday evening in Sydney.
For the first time ever, legendary UK grime DJ Spooky will performing down under, with a stellar resume that includes work with Roll Deep and D Double E plus radio tours on BBC 1xtra and Rinse FM. He's become a go-to man for grime, and will be joined by a cast of Australian selectors like Juzlo and Atro of Slim Set. Microphone duties will be handled by an all-star cast of local grime emcees, and it's fair to say that Civic Underground's formidable sound system is gonna get a workout.
Another DJ spinning on the night will be Mincy. Having worked her way across Sydney clubs with her love of all sounds from the UK, she's also been one of the organisational brains behind the night as Extra Spicy's leading lady. Here, Mincy names five tracks that will send the crowd mental – see her picks below, and get your tickets to the event right here: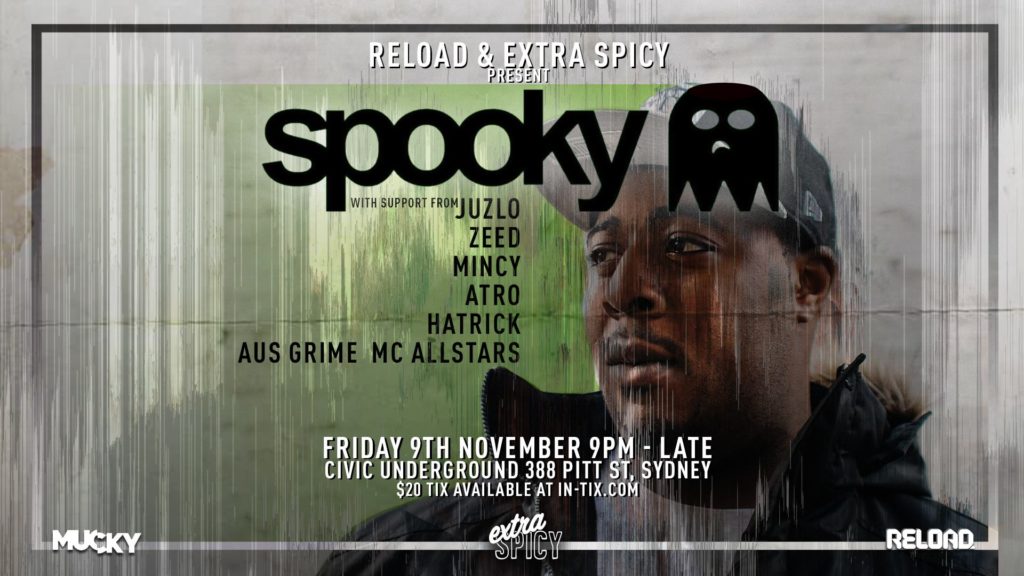 HAZRD – #Response
https://www.youtube.com/watch?v=dB_5pjfMMms
HAZRD jumped on my set at our last grime show we did with Big Zuu and Eyez. He spat this and crowd went wild, stage was honestly nearly rushed it was mental. Big Zuu tweeted about HAZRD next day, mentioning him as Australia's best – easy to see why.
Juzlo x Mavado – Money A Di Right Ting
Juzlo is Aussie grime royalty – has been known to spit a few bars but his biggest talent is his production of big relentless grime instrumentals. He's about to bring our an EP with Spooky called Goblins, recently mixed the Aussie Grime mixtape, and has a solid history of working with Aussie MCs on tracks. He's back in Australia for first time in a few years after taking over London grime scene, so buzzing that he's playing. This track is a recent one of his which he teamed up with Mavado for, its some grime dancehall fusion ting and it bangs.
Mitchos Da Menace – GVNG GVNG
https://www.youtube.com/watch?v=eVeKtUx8GEI
Another who was at our last event – Mitchos can hold a crowd like no one, got a big die hard following thanks to wicked bars over some heavy sounds. A recent one from him that's a percy of mine and another that went off at our last event.
Atro – All of his unreleased/unnamed tracks
My other favourite Sydney grime producer and heavyweight DJ, Atro has so so many exclusive tunes that he runs when he DJs. If you want to preview some of this madness chuck on his guest mix he did for Strictface on Radar Radio. He's also one half of Slim Set which is in my opinion Western Sydney's greatest export.
Mr. Wrighty – Yeah Yeah 64
https://www.youtube.com/watch?v=V5sJ4RMXlUo
Huge bars over a Swifta Beata production is bound to get a wheel up every time. Wrighty consistently brings out big tunes but this one is one of the hardest in my opinion and bound to get a big reaction on Friday.