Skegss are doing it for the kids!
Our fave rock trio are about to perform and drink beers all over Europe before coming back to Australia for their national Holiday Food tour in June, with most dates already sold out. However, in the face of demands from their younger fan base, Skegss have now added multiple Under 18s shows to their national tour.
"There isn't enough shows put on for kids and all the fucking grown-ups make it hard to put on gigs for em, so bands are probs just like 'Nah fuck it' … We have put in a bit of extra work and made sure we can play to everyone that wants to listen and have a good time … If I hadn't gone to the All Ages shows that my fav bands were putting on when I was a teenager I wouldn't be in the band now, so it seems important to play these shows on the tour," bassist Toby Cregan said.
Perhaps most excitingly, the dates include a new event called Spaghetti Fest in Sydney, housed at Oxford Art Factory. It will see Skegss headline a mini-festival of sorts alongside fellow riff enthusiasts like Baxter, Pist Idiots and current sensation Ruby Fields. You can see the full Spaghetti Fest lineup below.
How many stage dives will take place on the Skegss tour? Will Spaghetti Fest actually involve any al dente spaghetti? Will Aaron Gocs make a cameo after his appearance in the 'Got On My Skateboard' video? How many autographs will Aaron Girgis sign? So many questions, and there's only one way to find out the answer. See Skegss this June:
https://www.youtube.com/watch?v=7kPD5COQumk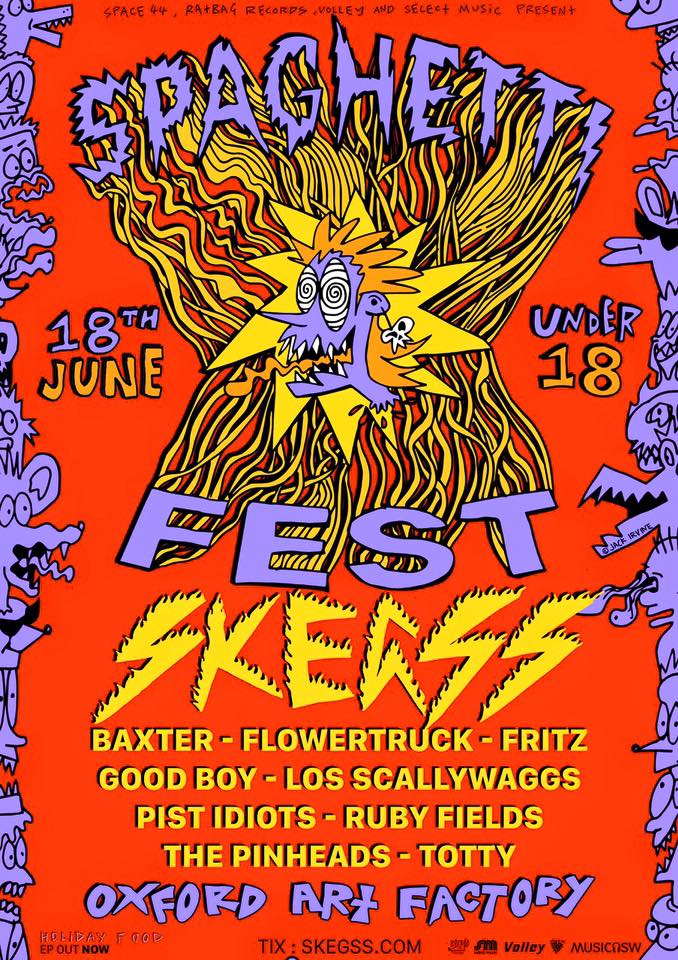 https://www.youtube.com/watch?v=4N535Fl93Vg
SKEGSS 'HOLIDAY FOOD' EP UNDER 18s TOUR DATES
Friday 9th June – Wrangler, Melbourne
With Pist Idiots – Tickets available now
Saturday 10th June – Jive, Adelaide
With Pist Idiots + Good Boy – Tickets available now
Thursday 15th June – Oxford Art Factory, Sydney for Spaghetti Fest
With Baxter, Flowertruck, Fritz, Good Boy, Los Scallywags, Pist Idiots, Ruby Fields, The Pinheads & Totty – Tickets available now
Friday 23rd June – The Zoo, Brisbane
With Pist Idiots – Tickets available now
Saturday 1st July – HQ, Leederville
With Verge Collection + Good Doogs – Tickets available now