Introduction by Christopher Kevin Au // Words by Jimmy Nice & Nick Lupi // Head image by Averie Cole // Below image by Matsu Photography

While hip-hop was born in the Bronx, it has since migrated to countless homes across the globe, including a formidable fort Down Under – complete with its own identity, slang and unapologetic accent.
Australian hip-hop has jumped in and out of the spotlight over the years – notable commercial success and radio airplay has been supplemented by tight-knit circles of emcees, producers, selectors and painters who continue to push the culture into unprecedented spaces. Jimmy Nice & Nick Lupi of Spit Syndicate have been an integral part of that story: Since releasing their debut Towards the Light on the now defunct Obese Records, they've spent the best part of a decade embarking on national tours, earning ARIA nominations and performing Disclosure covers.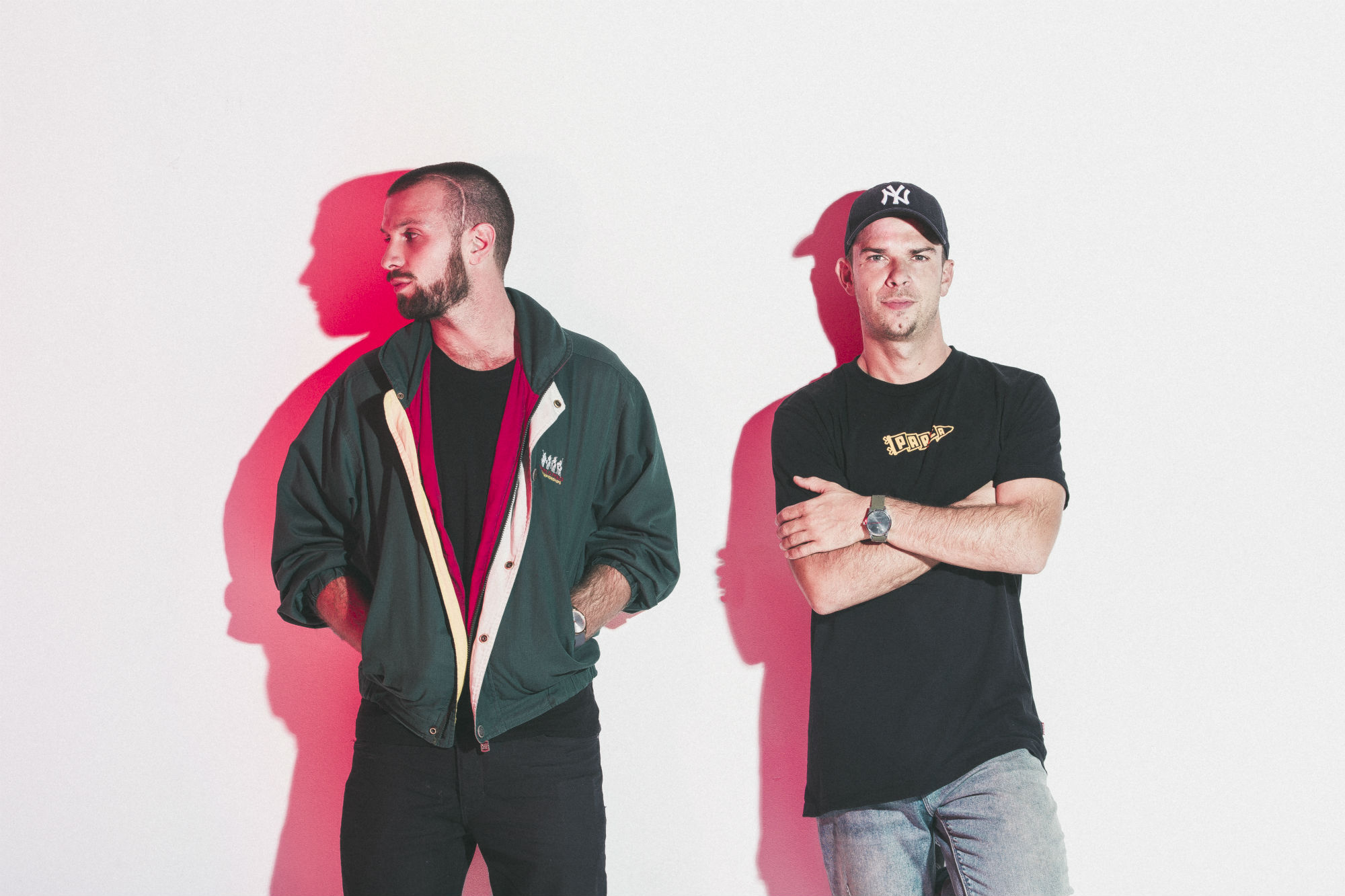 Meanwhile, their extra-curricular activities have also been remarkable. Alongside Horrorshow, Jackie Onassis & Joyride, they're part of Inner-West supergroup One Day, whose profile has been skyrocketing since the release of Mainline back in 2014. Nick Lupi is now acting as the CEO of One Day Entertainment and their monthly One Day Sundays soirees, while Jimmy Nice has been dropping one fiery guest verse after another.
Having just released their spirited new single 'Know Better', Spit Syndicate are now gearing up for another full-length to drop this year. With their in-depth knowledge of local music, we asked Spit Syndicate to name the six best emcees in Australian hip-hop history. Hopefully this list will help you delve into their catalogues and find some new tunes, while it's inspired us to go back and give 'Press Release' another seven listens. See Jimmy & Nick's picks below, while you can catch them on the road this June at the following dates:

We'd like to preface all of this by stressing how difficult it can be to try and write a list such as this one. Despite the obvious fact that it is purely subjective, we are aware that there are numerous artists who fall into the category of 'greats', but we were only given six names so please politely fall back. Here they are, in no particular order:
TREM ONE (LYRICAL COMMISSION)
https://www.youtube.com/watch?v=5ZGPFI1rJfs
Melbourne wordsmith Trem is widely regarded as a true master of the craft; his credentials stretch further than pretty much anyone in the game. Each verse is technically flawless and riddled with cryptic gems that force you to press rewind and attempt to break down. One criteria when considering the GOATs has to be consistency, and since he dropped his first Sheer Talent 12" in '98 to the recent For The Term Of His Natural Life, Trem hasn't dropped a single set, every 16 bar block has been executed with surgical precision.
Not to mention his efforts on The Stage Is Set by Lyrical Commission, an all time classic release by one of Australia's most reputable rap crews. Trem pairs personal experience and street knowledge with vivid story telling; each verse is strategically planned and considered, like a well-organised shelf in an extensive record collection.
URTHBOY (THE HERD)
https://www.youtube.com/watch?v=9gWPyYcD1pc
Urthboy is one of the few pioneers of Australian hip-hop whose most recent work is also his best, a huge accolade for someone who's been a major player since the genre's early days. Aided by consistently groundbreaking production, Urthy is renowned for writing incredibly poignant, personal and important rap songs; he's at his best when writing about the people he loves, the causes he believes in.
His recent solo albums have seen him applying his unrivaled story-telling abilities to others' tales – Urthboy has a gift for taking untold narratives and pivotal historical moments and turning them into beautiful music. This shift towards looking increasingly outward for inspiration has cemented his spot as one of the greats.
DRAPHT
https://www.youtube.com/watch?v=x2L1AUCoXjk
Perth MC Drapht has been widely regarded as one of Australia's best since he burst onto the scene, barely out of his twenties with his debut album Pale Rider. A manic perfectionist, Drapht is a true master of flow; he possesses an incredible elasticity with his words which allows him to make them bend and stretch. He's also an absolute gun with vocal melodies, which gives his verses so much movement, they really can go anywhere – an amazing talent. Lucky for all of us, Drapht is on the cusp of releasing his fourth LP and delivering another masterclass.
DELTA
https://www.youtube.com/watch?v=FuZJuDov2MI
Adelaide's own Delta is a vivid illustrator of hip-hop culture, a pioneer of the scene in Australia, an unbelievable freestyle and battle MC. Like Trem and others of similar stature, there is an unparalleled level of dedication to their craft and to the culture that supports it. Incredible flows, raw imagery, a sense of style that's carried from his early days as a graffiti writer – there's not many that can fuck with Delta's bars. Delta's 2006 release The Lostralian is an undisputed classic album, and his contributions to Culture of Kings – songs like 'For the Kings' and 'One More Dose' – are timeless anthems. Delta is a legend, an OG whose status is recognised in hip-hop circles all over the world.
SOLO (HORRORSHOW/ONE DAY)
https://www.youtube.com/watch?v=k0glYW1q_Qo
While he's the youngest on this list, Horrorshow MC Solo is an inclusion that few would argue with: Intelligent, razor sharp, sincere and equally as formidable with this flow as he is with melody. Those that know Solo personally will attest he's notoriously thorough (read: slow) and his approach to songwriting is nothing short of meticulous. He's a student of the game in the truest sense.
But it's an approach that has worked pretty well for him – there aren't many rappers in Australia that at some point haven't been envious of Solo's abilities or wished they'd written the song that he did. While many have tried, none can write the heartfelt, beautiful/sad love song like Solo, whilst having upper echelon bars that could stand up against any of his top tier contemporaries. His raps connect with people on a different level to most others, which is a big reason why Horrorshow lyrics are the most tattooed lyrics in the genre.
SUFFA (HILLTOP HOODS)
https://www.youtube.com/watch?v=0b_9VQcnQZY
It would be near impossible to include all of Suffa's accolades and accomplishments in a paragraph, but here we are. Suffa is the complete artist; the MC/producer, one half of the legendary Hilltop Hoods who has amassed an unfuckwithable discography that has step-by-step remodeled Australia's perception of hip-hop. Suffa is effortless with it – he has one of the most creative, dynamic, unorthodox flows to date. A true pioneer in melodic rhyming overrun with style and perfect cadence, with no two verses alike.
Suffa enjoys universal praise and love not only because of the monumental influence he's still having, but also because of how he handles the crown, always showing love and supporting the next generation of artists.