What are the responsibilities of an artist? I'm sure if you thought about it hard enough, several things come to mind and with good reason. It's an intentionally loaded question with answers that range from the practical to the pretentiously philosophical.
However, what usually doesn't come to mind is wastage and accountability. The process of creating art is one that is littered with materials that are accumulated, used, and eventually discarded. Whether it be paint tins, scraps of paper or emptied aerosol cans. That's just to name a few. All of these are by-products of creativity that are turfed with most artists having no real sense of where this trash will go and how this effects the environment. Lousy Ink is looking at taking the first steps in changing that.
Lousy Ink is the world's first fully recycled artist ink. It is the brainchild of budding street artists, Mike and Oli aka Mike Eleven and Ruskidd. Two guys who want to introduce sustainability and ethical art-making practices to the creative community. Starting off initially as a "wouldn't it be cool" idea, the two young artist/entrepreneurs put their tenacious attitudes and gritted determination to good use. Within a few short years, they had aligned themselves with recycling specialist Close The Loop and hallmark charity Planet Ark, and made Lousy Ink available in several locations across Australia.
With their trademark all-in attitude, Mike and Oli are looking to put on their biggest event yet: Lousy Show.  Lousy Show is a group exhibition intended to showcase close to 90 of Australia's most talented and diverse artists, each assigned the task of creating whatever they want with the signature ink.
We caught up with co-founder Mike to discuss everything Lousy!

How did you two initially come up with the idea of Lousy Ink? As artists, were you guys always interested in exploring the material/product side of art?
We use to share a house together so, being artists, we would always bounce ideas off of each other and brainstorm projects. It just so happened that one night through good-timing and late-night inspiration, we decided to turn a small bottle of recycled into a fleshed out brand/project where we could share the fun-side to sustainable art-making. We don't know a whole lot about running a business, but the name came to us pretty quickly and the logo pretty much made itself—it's all kind of snowballed from there.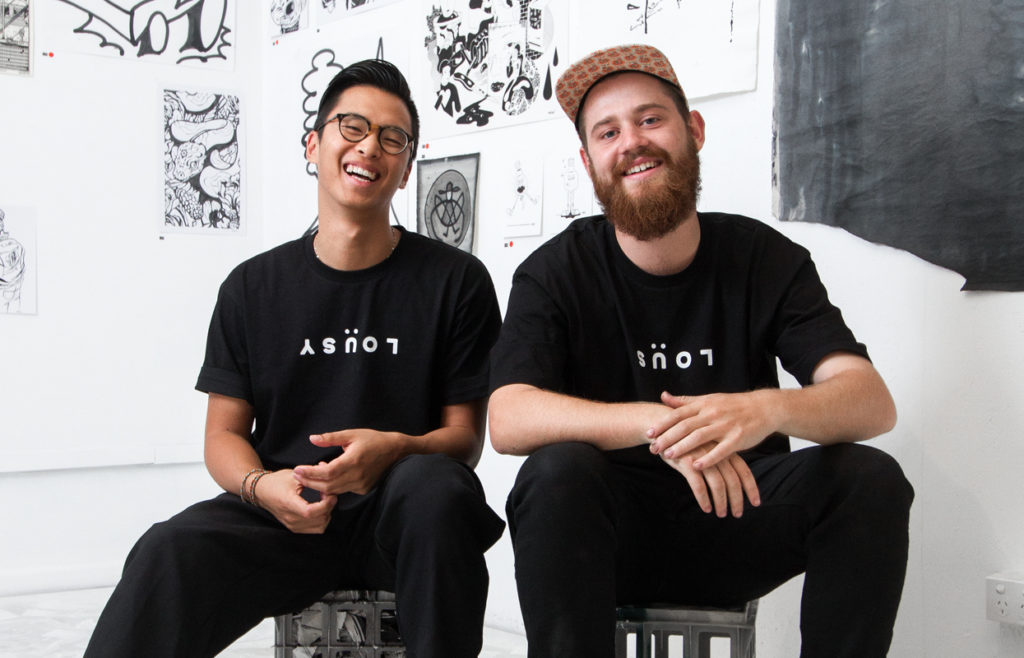 When it comes to stupid ideas, we've thought of plenty, but this was the first one we actually decided to pursue. We're painters at heart, but we love seeing how we can trick a different medium. Coming from graffiti, we were so used to working alongside other artists, that it only made sense we would steer Lousy in a direction that puts priority on championing local artists and creating opportunities for our friends/peers.
Can you briefly describe how the process of recycling and reusing ink works?
So we have partnered with Close The Loop, a recycling company dedicated to reducing waste plastics, and Planet Ark to breathe new life into waste ink. Used inkjet printer cartridges are brought to the factory to be crushed down for their plastic, leaving the run-off ink without a home. Thankfully they've been collected by Close The Loop, otherwise they'd end up as a chemical waste. There's about 80,000L worth of ink (or 16 trillion ants, if that's your unit of measure) that we're trying to repurpose—so it's a pretty big job, but a rewarding one at that.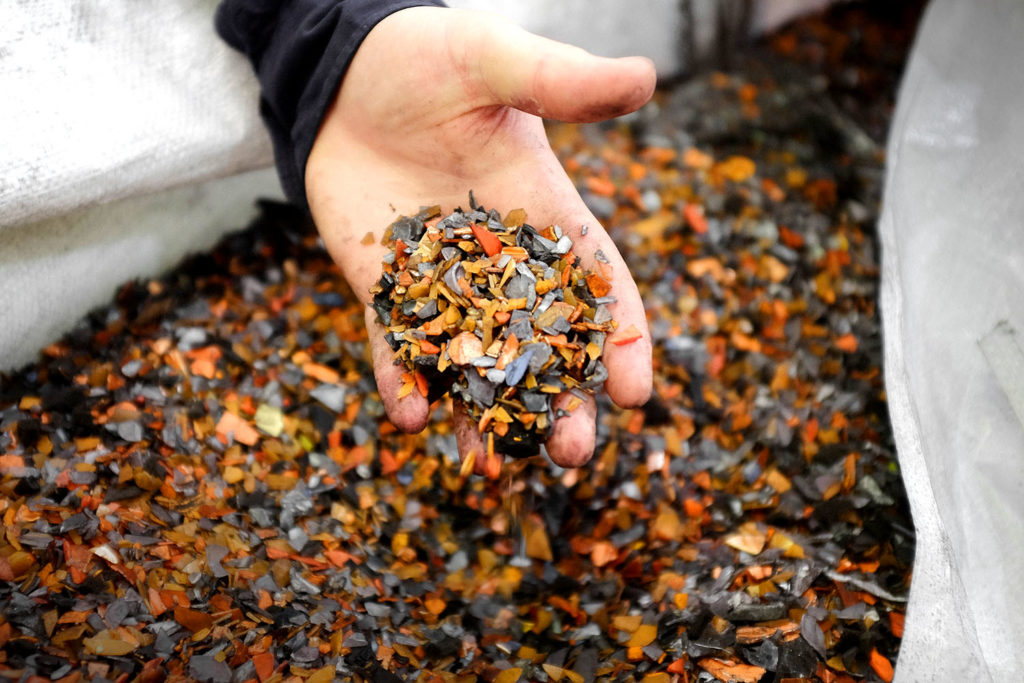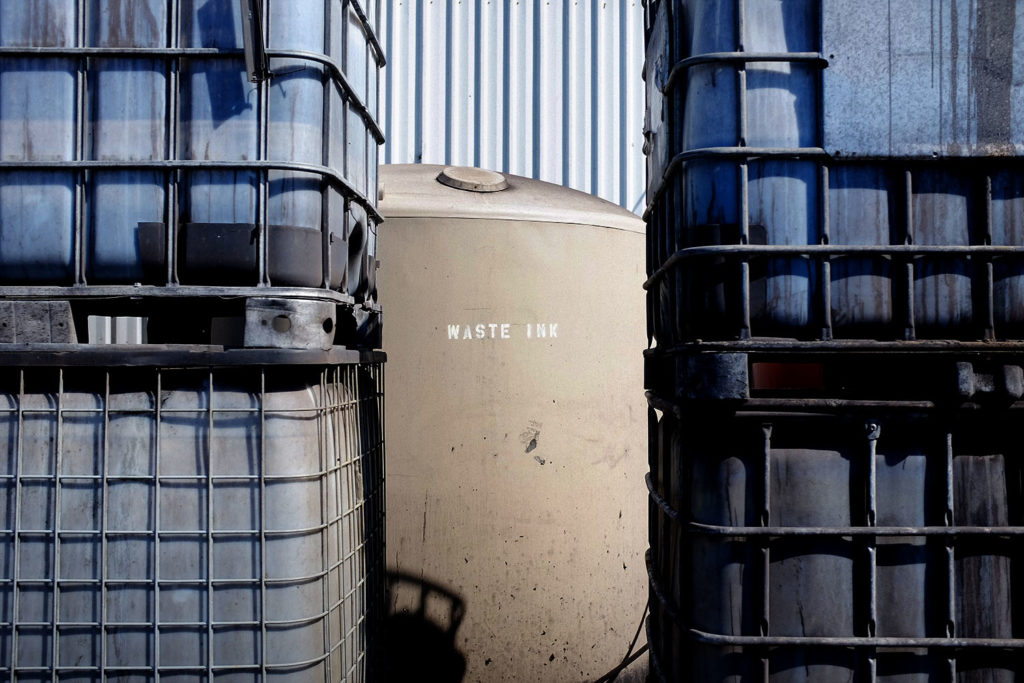 Did learning about ink wastage (and waste in general) make you reassess your perspectives and roles as artists?
We started Lousy just around the time ABC's 'War On Waste' was picking up steam, so there was already a bit of osmosis happening in regards to thinking green. The big thing for us was how most artists within the industry and amongst our community love to preach social/environmental issues through their work and we do this too to an extent, but Lousy did make us stop and think about how sustainable our actual art-making is. It's something we're all guilty of doing without thought, so as Lousy grows, we're also learning about new ways to not only be better artists, but citizens of the Earth too.
Having hosted a number of events in just over a year, why was it important to not just focus on sustainability but create opportunities for artist to exhibit?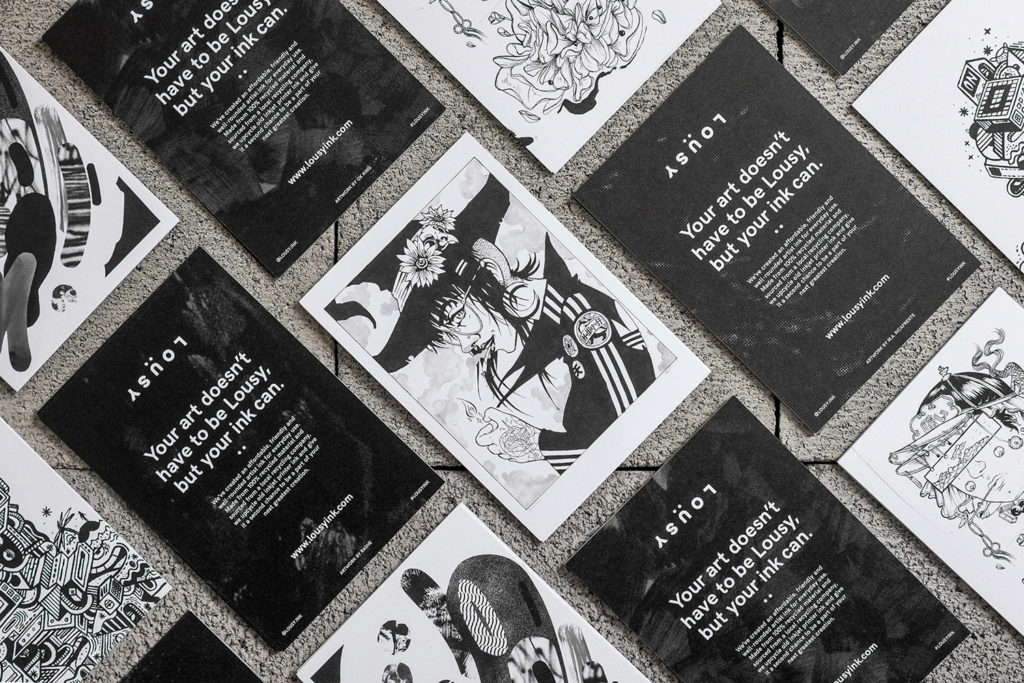 We don't consider ourselves as the typical business-owners, so we like to use Lousy as a medium to explore facets of our creativity that don't often present themselves within our individual practices. Exhibitions and campaigns are a good example of this—where painting is replaced with creative thinking, spatial consideration and large-scale installation. Our first LOUSY SHOW felt like a fever-dream, but we were able to create space for 50+ artists to show their work and reinvent the stairwell of a local gallery—transforming into an ink and paper wormhole. That show really kicked off our obsession with events and working with other artists.
It felt like could create the shows we were always wanting to be a part of—long gone are the days where the galleries dictate what shows are on, we can now do it ourselves and our community.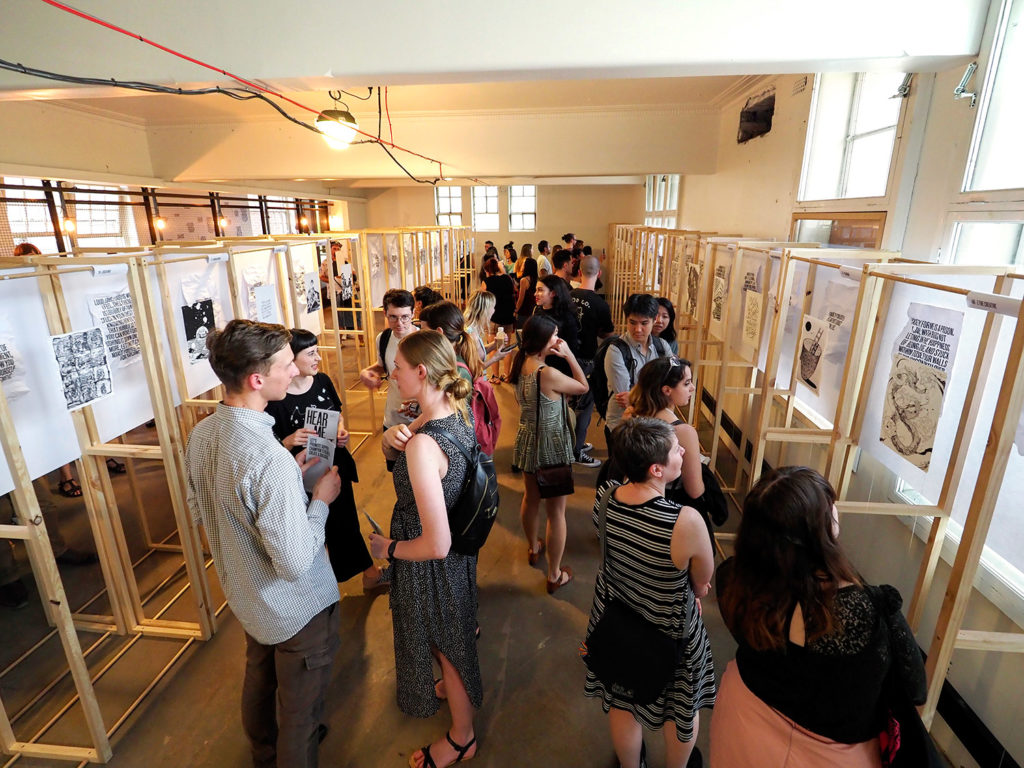 Coming up you guys are holding your second ever 'Lousy Show' at Melbourne's B-SIDE gallery.  Exhibiting a plethora of Australia's most diverse and talented artists. What can people expect from the show?
Our first show had just over 50 artists involved and somehow we've been able to lock down close to 90 artists this year! If our maths is right, there should be over 200 artworks in the show, so it's going to look insane. We've made some great new friends along our Lousy journey and I think the interest in the show is a testament to our involvement in the art community. We have a lot more interstate artists this time around which is great and an artist all the way from Hong Kong! It's one-night-only, which makes it all the more special, but alongside the art it is also the launch of our brand new LOUSY-LINERS.
They're fine-liners that have been made from 100% recycled printer cartridge plastic and they also use our recycled ink. It's honestly one of the coolest things we've done and the artists in the show seem to really like them—so if you're wanting to see how they fly, it's a good excuse to come see the show.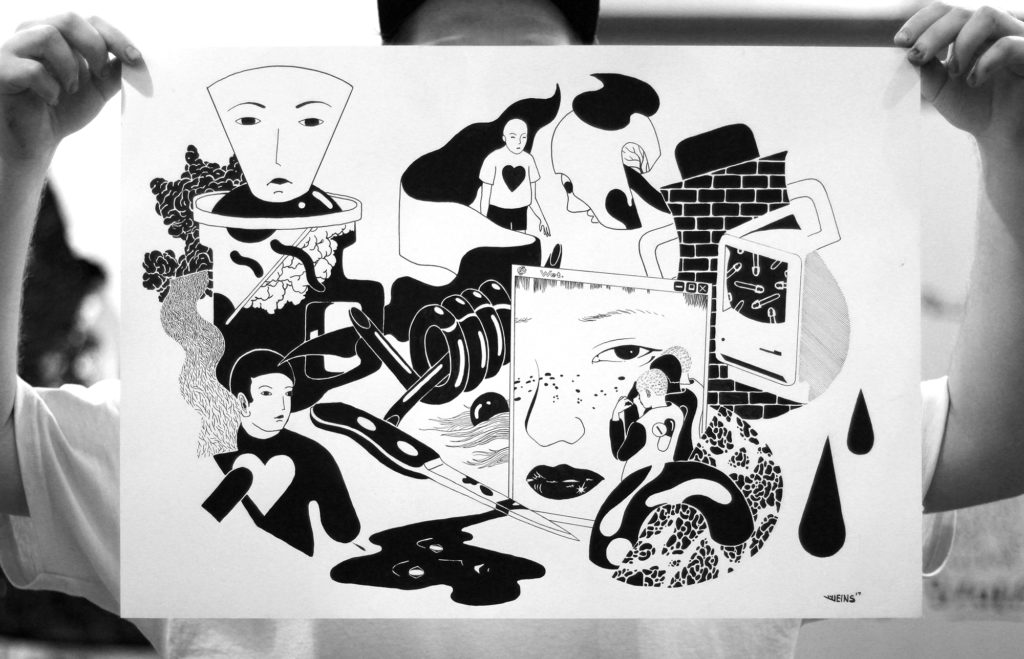 Were the LOUSY-LINERS always in the plans as your first product? What was the process in producing these pens?
When we started we just focused on moving the ink as we both liked to work with brushes. It wasn't until we started noticing a lot of Lousy fans actually did a lot of detailed work, that we thought about bringing the pens onto the product line. We talk a lot about new products and what's possible with the brand, most of which bubble to the surface during car ride banter – the pens are the first of a few ideas we've had.
The old printer cartridges that are collected by Close The Loop are crushed down to sort between metals, plastic and ink. That plastic is then melted down and remolded to use for our pens. Of course, we also use the recycled ink in our pens too so there's a lot of upcycling going on in this pocket-rocket.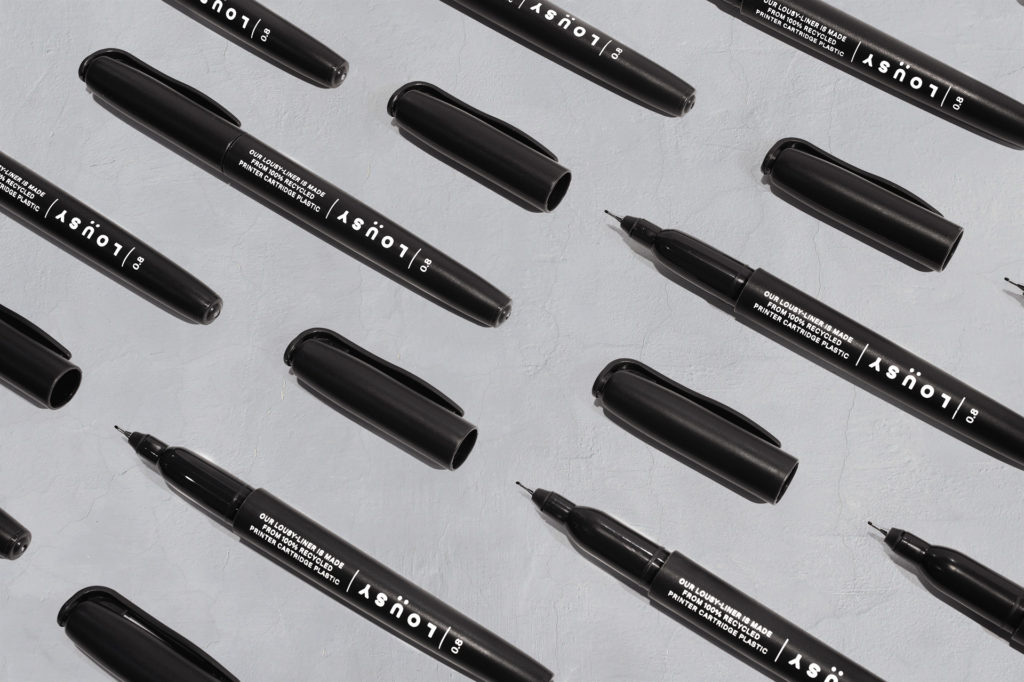 What is the ultimate goal of Lousy Ink? What would you guys need to see happen to have achieved that goal? 
Our main goals are educating the community on more sustainable art-making practices and making the world a better place through art. Ultimately, if we can help reduce the amount of waste ink there is that'd be amazing. We'd like to grow the business more in order to reach further with our product and with that, our projects. At the end of the day this relies on us constantly putting energy into our activations—looking for new ways to inject art and environmental care into avenues outside of our comfort zone is the next step. We've already done this through our collaborative campaign with the Anxiety Recovery Centre of Victoria, where we briefed 50 local artists to visually represent the realities of those suffering from anxiety disorders. The result was a poetic coming together of people from both communities and we were able to raise over $3,500 for the charity. Projects like that excite us and do more for the world than just one bottle of ink, any day.­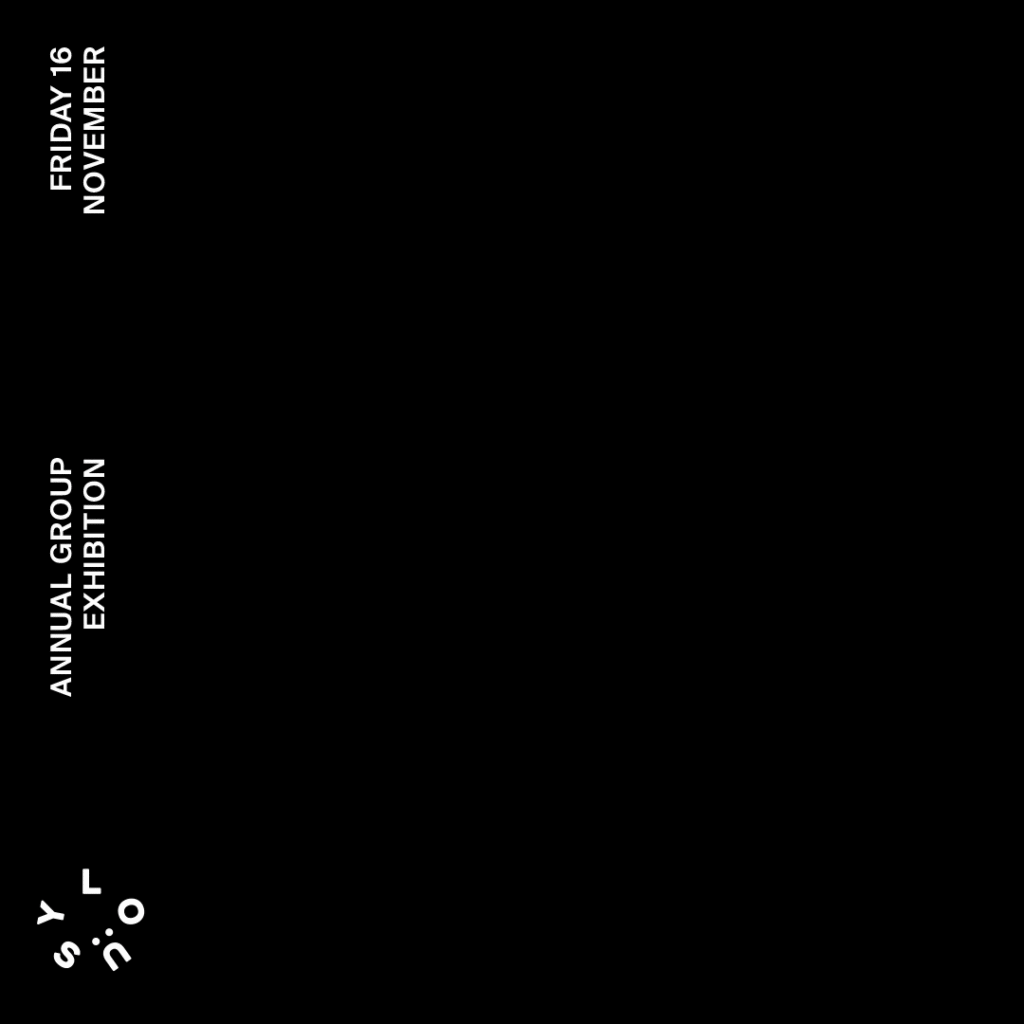 A Lousy Show opens this Friday at BSIDE Gallery, 6-9PM (121 Brunswick St, Fitzroy)
Find more information on Lousy Ink here.
Follow Mike @mikeeleven
Follow Oli @ruskidd