Just over a decade ago, a fresh-out-of-high-school Hiroyasu Tsuri came across from Japan to Australia's art capital of Melbourne with the intention of sowing the seeds for his life as an artist.
Fast forward to now and Tsuri is now known as the notorious Twoone. By indulging in his two loves, graffiti and skateboarding, Twoone has honed his skills and evolved into an artist with sensational and energetic work. Every piece by Twoone possesses a dynamic quality to them. Whether he uses delicately transparent watercolours or broad brushstrokes of thick paint, true-to-life photo-realism or glimpses of surrealism, Twoone has managed to seamlessly blend juxtaposing practices to create works that are unique and refreshingly unbridled with their disregard for artistic conventions.
Video by Naoto Sakamoto
After holding several successful shows that includes his debut solo exhibition, One Thousand Cans, and adorning Melbourne with pieces throughout the city, Twoone has begun a new chapter in Berlin to continue chasing the next steps in his art.
https://www.youtube.com/watch?v=gs12nBpfGLU
Video by Naoto Sakamoto
But for a brief visit, Twoone is in Sydney for a special artist talk at The Japan Foundation, talking about his career, art, and his role as one of the four participating artists in Surface Tension (currently on at The Japan Foundation until 18/01/18):
"TWOONE represents the globally connected generation of Japanese artists working outside the conventional structures of the art scene and disrupting the more conservative or purist image of Japanese art practice. The pace at which Hiro moves between mediums and processes is almost dizzying, but the compulsion to channel personal narratives in images is consistent.
The four artists featured in SURFACE TENSION are working in the vocabulary of fine art practice but have important roots outside this territory. They're all working (or critically connected) internationally and their works raise new ideas about Japanese heritage and identity in graphic painting and drawing. In their practices, identity and influence seem more oblique and flexible – more open to plurality." – Alison Groves, exhibition curator, JPF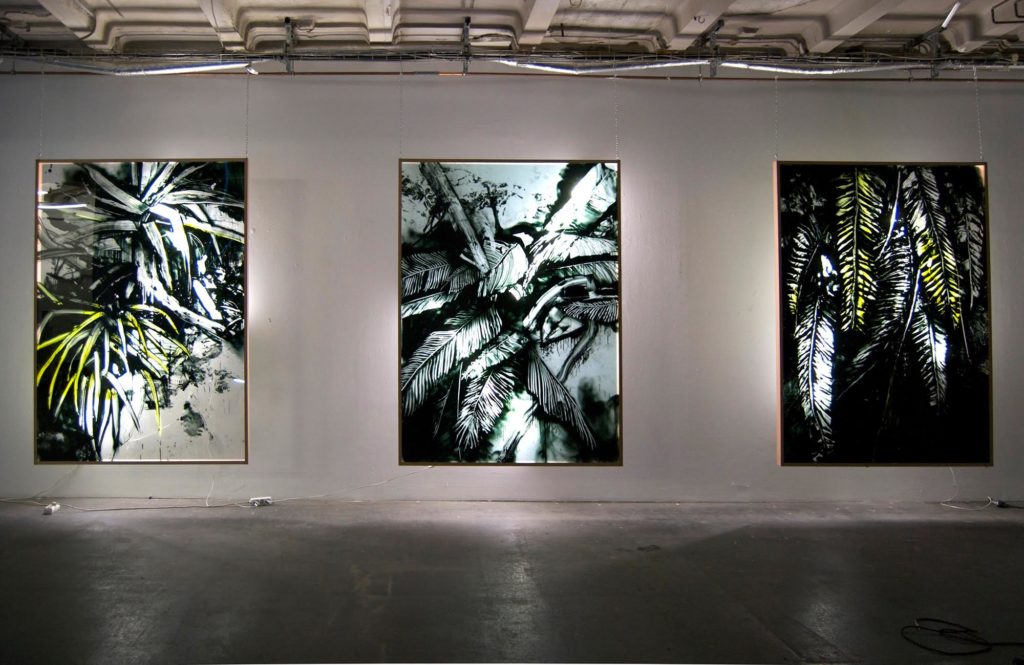 Botanic Self Portrait by Hiroyasu Tsuri / TWOONE (2018). Aerosol on acrylic with fluorescent light
Artist Talk With Hiroyasu Tsuri/ Twoone ,December 19, 2018 (Wednesday)
6:30pm – 8pm (drinks with the artist from 6pm)
Find more event details here.
"Surface Tension" runs until January 18, at The Japan Foundation, 28 Broadway (Central Park, Level 4), Chippendale.
Find more event details here.  
Find more info on Twoone here.
Follow @t_w_o_o_n_e
Find more info on The Japan Foundation here. 
Follow @jpfsydney