Imagine this if you will.
It's open mic night on a Thursday. The crowd is appropriately warmed up after a couple drinks and a few pity chuckles thrown the way of some up-and-coming comedians. What you want – nay, what you need – is someone to take the stage, step up under the bright stage lights and absolutely kill it. You need someone to tell a stream of jokes that tread the fine line between hilarious, offensive and niche. For my money I wouldn't want anyone else behind that curtain than the man himself – Pigeon Boy!
Artist Matthew Lauricella (better known as Pigeon Boy) has been raised on a healthy diet of cartoons, comics and skateboard graphics. With his signature fine liners and a sharp-witted imagination, Pigeon Boy creates potent satirical work that give little insights into the strange contradictions of everyday life. Whether it be crabby business men, beer-drinking skaters, bong-hitting bogans, or a set of giant testicles riding a skateboard (you read that right), nothing is off limits for Lauricella.
We caught up with Pigeon Boy for an interview, but not just any interview… an illustrated one!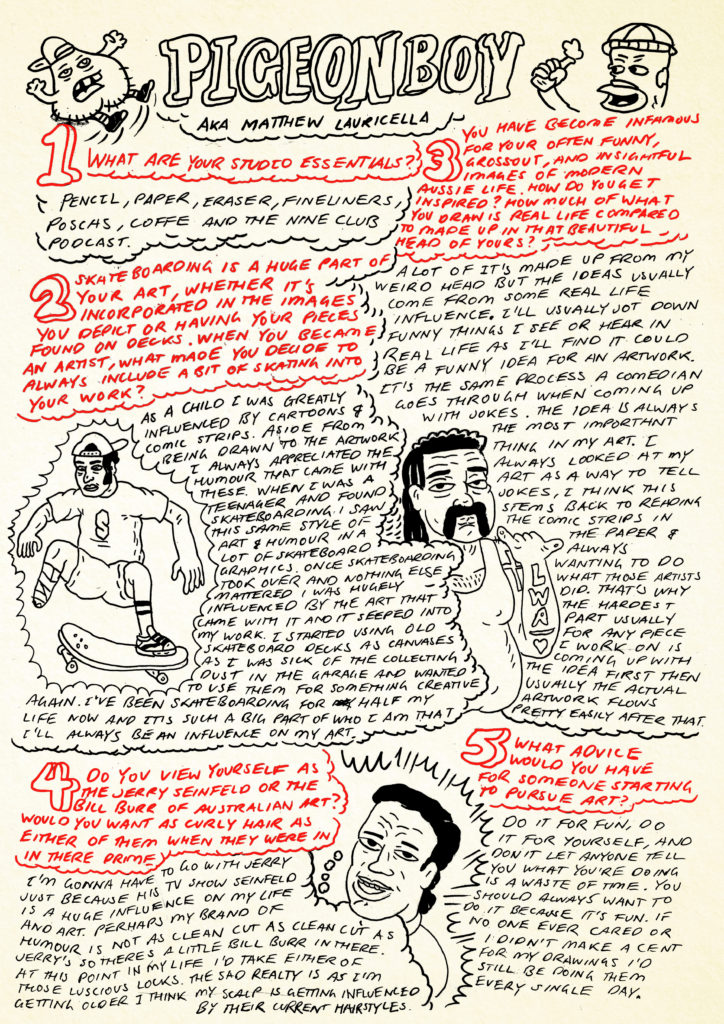 Find more info on Pigeon here. Follow @pigeonboyart