With his signature paints and unfathomably insane work ethic, artist Lukas Kasper is creating work like a man possessed.
Born and raised in sunny Brisbane, Kasper has always been influenced by the DIY culture of skateboarding and street art. He would eventually pursue the latter. After hosting a number of exhibitions, participating in art residencies, and generally painting wherever he could, Kasper had already begun cementing a reputation as one of the most promising and prolific street artists of the Australian scene.
Looking through Kasper's ever expansive and growing body of work, it's easy to see where his success is coming from. With a penchant for the surreal, Kasper's work bursts with vibrant colours, abstracted creatures, and hallucinogenic imagery. Wherever Kasper manages to drape his work, it suddenly becomes a psychedelic landscape – whether it be the wall of an alley in Bali, the face of piano, or the revered Australian street art site, Hosier Lane.
After doing the big move down to Melbourne, Kasper is looking to make even bigger waves in 2019. We caught up with the man himself to talk about his beginnings, his work, and the amazing back story behind meeting "The Man" Becky Lynch.

From a young age you were influenced by the world of skating and street art. Do you remember a specific memory or image that sparked the idea of becoming an artist? 
Not a moment that sparked the idea of becoming an artist but a moment that had me accidentally stumble across the idea of creating art. About 7 years ago my friend and I missed our train back to his house, when we were out night-skating in Brisbane City. On the way, we found a random full spray can sitting on the curb… at this time I was just a skater, graffiti surrounded me everywhere I went but the idea of picking a can up myself didn't pass my mind until that night. It became an obsession from that moment and I haven't put a pen, can, brush or whatever I can get my hands on down since then.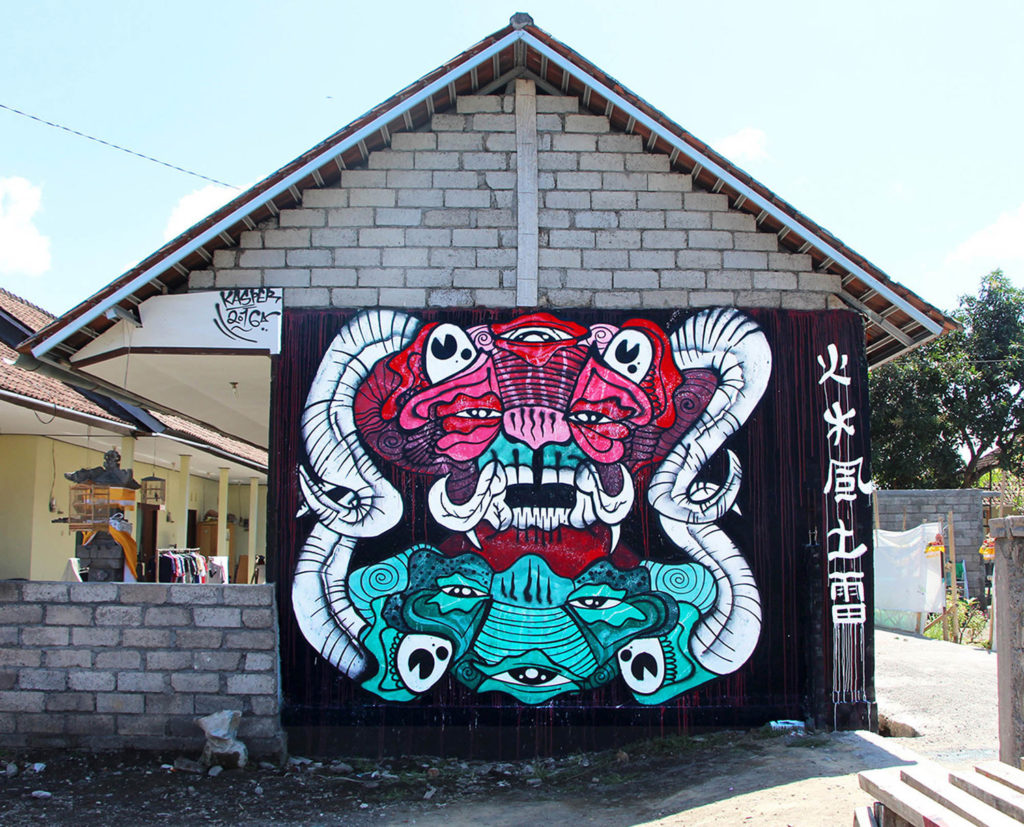 Bringing surreal and abstract creatures to life with an energetic colour palette, your work possesses a vibrancy that illuminates any environment it's in/on. What inspired this artistic aesthetic? 
A few years after writing graffiti I started to get into stickers and paste ups so I wanted to develop my style to incorporate not just letters but imagery. I always drew these little monsters using a similar style of line work from my pieces to create a unique monster type shape and coming from graffiti it only felt right to make it as vibrant as possible. It took me a while to understand why these sparked up in my head and after a few years of self-reflection and practice I realized they're almost a visual representation of my therapy, when I don't let them out I get anxious, itchy, depressed. Painting was that outlet that gave me comfort and meaning and these monsters have always been around it's just now I have a positive/vibrant way to express them.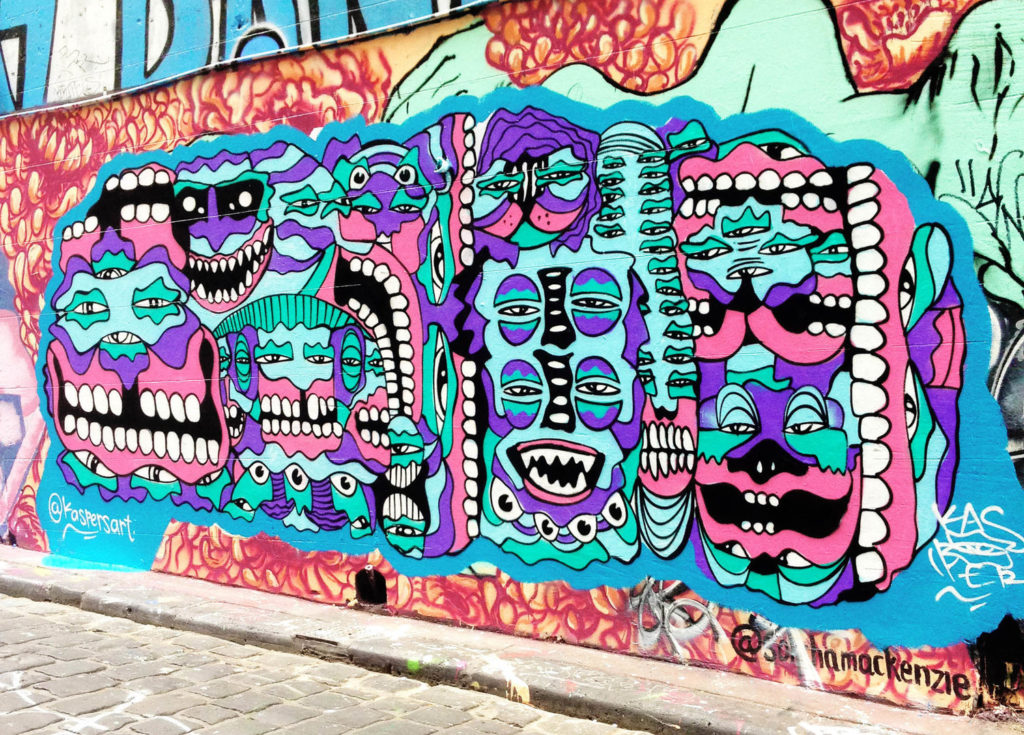 What advantages do you think there is to working on the street? 
Size, the bigger the wall the better the wall. My favourite medium is sprays so the more room you have to comfortably incorporate minor details the better and I've never been very content in working in a studio, I don't mind it in small doses but just like everything else in my life with skating, photography, friends, travels… It's always best to be outside amongst your surroundings.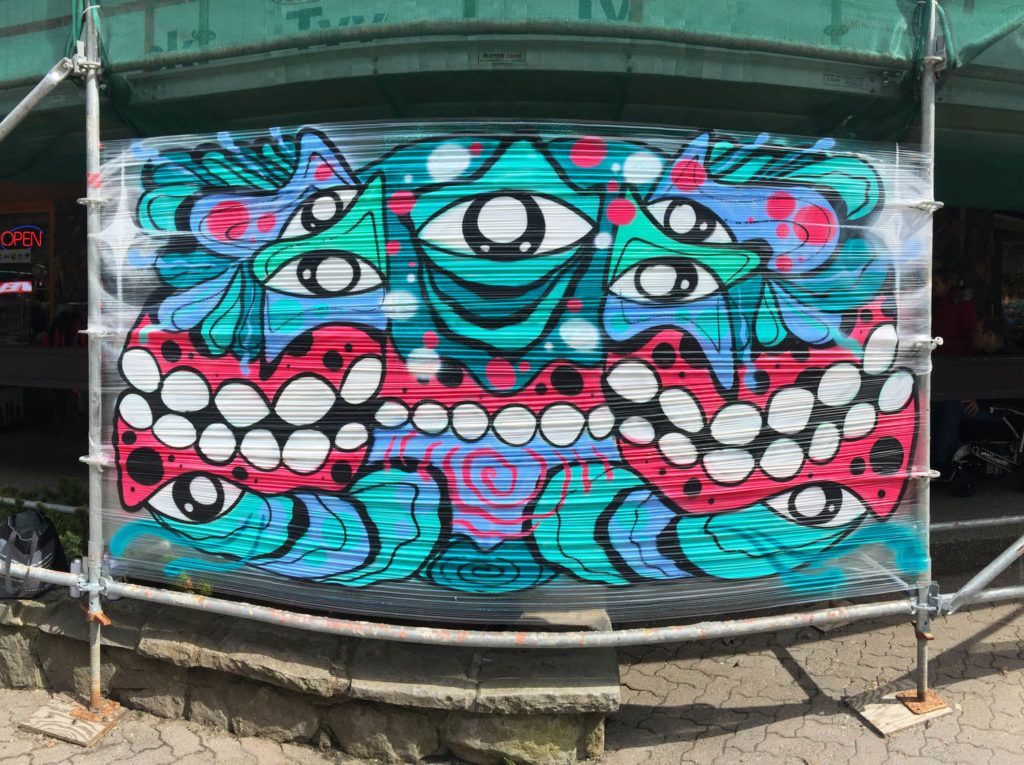 You have detailed in the past how art is visual form of therapy for you, expressing and light and dark of your identity. When did you realize art played this role in your life?
It took a few years as I mentioned, before I found graffiti/street art/mural art or whatever you'd like to call it I was a bit of an outcast kid that needed something positive before I went down the wrong pathway. I've always been an obsessive person and I was just lucky art came into my life before something more destructive did
Was it always a goal of yours to create art abroad? How has this changed/ informed your perspective on art?
I originally went on my travels as being an emerging artist in Brisbane can be rough with lack of opportunity and like-minded people, I was always hosting my own exhibitions and trying to push my art to another level almost feeling alienated for having that state of mind. The first spot I went to when beginning my travels was Bali and 3 months later I found myself doing an artist residency with Cata Odata sponsored by my now second family the All Caps Crew (local graffiti shop). Once I had this experience, It was as if a feeling of relief washed over me, opportunity was out there and the only thing I needed to do to achieve it was consistently doing this thing that I loved while following my gut instinct.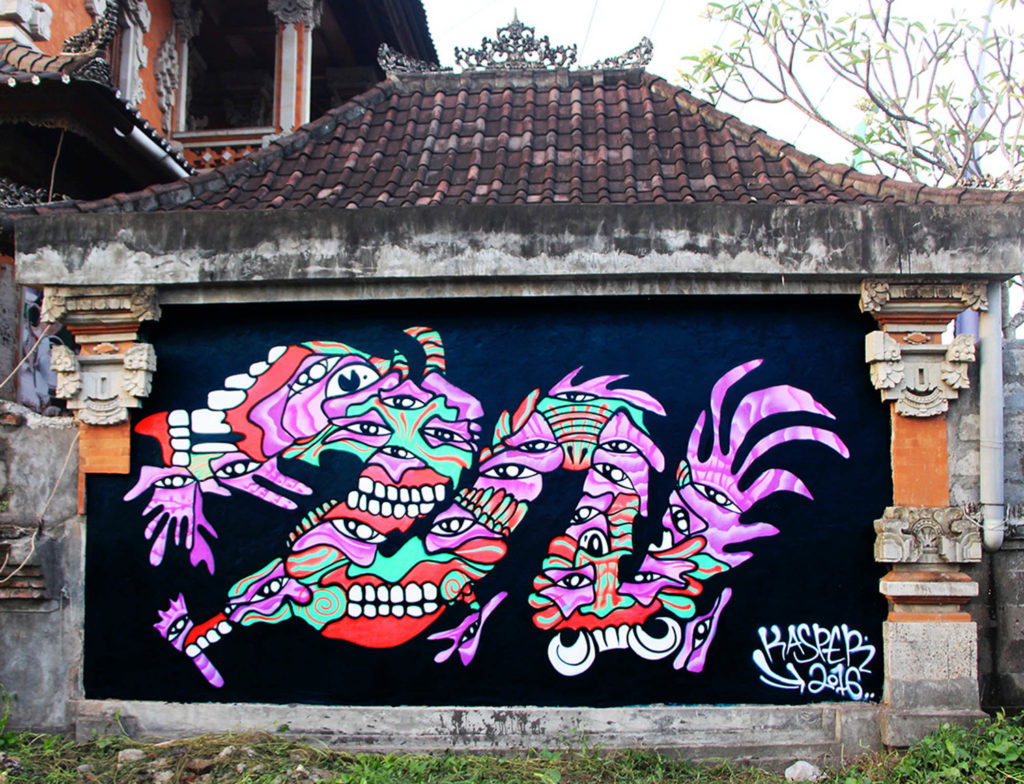 You recently painted a portrait of WWE superstar/ "The Man" Becky Lynch in Hoiser Lane, Melbourne. What was that whole experience like? If you could immortalize any other cultural icons onto a wall, who would it be? 
Beyond anything I could have imagined, I've been a wrestling geek since I was a little chubby awkward kid but I never expected to end up back stage at Australia's largest WWE event in history. After talking to her directly through instagram she sent a security guard up to collect me to thank me personally back stage… 70,000 strong filling the stadium, I had my art grant me the opportunity to interact with the first thing I became obsessed with and have been obsessed with ever since, wrestling. Seeing Kane walk past me with Becky Lynch right beside me expressing her love for the piece was surreal, one of the strangest moments of my life. When we left to find our seats to watch the main event (Undertaker & Kane VS Triple H & Shaun Michaels) It felt like it was almost a made up story and has felt like one every time I've shared it since.
As for immortalizing other icons I have nothing in particular that comes to mind, my works always been pretty sporadic…
What are the rest of your plans for 2019?
Well It's January 15th right now and I just moved to Melbourne yesterday. I road tripped down here with my beautiful girlfriend stopping into Canberra, Sydney & Byron Bay to paint and a quick stop to see my Grandad. As for plans I have a few kicking around but mostly just keep the momentum, paint every day, work on myself and my art. Take today for example, I just got back from the graffiti shop to pick up a few tins (Villain), I was talking to him about possibly working there and little did I know a Writer from Brisbane was beside me picking up paint to, he wanted to meet me outside for a chat. From there he offered me a pretty sweet gig that may just be the launching pad I need in this part of the world. I don't want to speak too soon and spoil anything but let's just say I'm as excited for my future as I have been for my past. I'll be shooting for bigger and better this year just like each year before it.
Find more info on Lukas Kasper here. 
Follow @kasperart