Daniel Octoriver is an artist who has transitioned across all types of mediums. He's finessed beautiful script, inked works onto people's skin and most recently, painted wild images on canvases. There's not a lot the man hasn't done.
Coming from humble beginnings, a young Octriver spent his spent countless hours of his childhood and teenage years obsessed with comics, cartoons, hip hop, basketball, and graffiti. After some supportive advice from his stepdad, Octoriver eventually found his way into the world of tattooing. Fast forward over 9 years and the Melbourne-based artist has found himself renowned for his vintage inspired tattoos. Deep blacks, bold lines, and the iconography of classic Americana cover the bodies of anyone lucky enough to step through the doors of Good Luck Tattoo and get a piece from the notorious artist himself.
After an inspiring trip to Chicago and the a few pointers by the amazing Archibald finalist, Melissa Grisancich, Octodriver has finally dipped his toes into the world of painting with his up and coming solo exhibition Every Harper at Melbourne's RVCA gallery. Octordriver's latest body of work imagines posters for films that exist purely in the wild imagination of this enigmatic artist.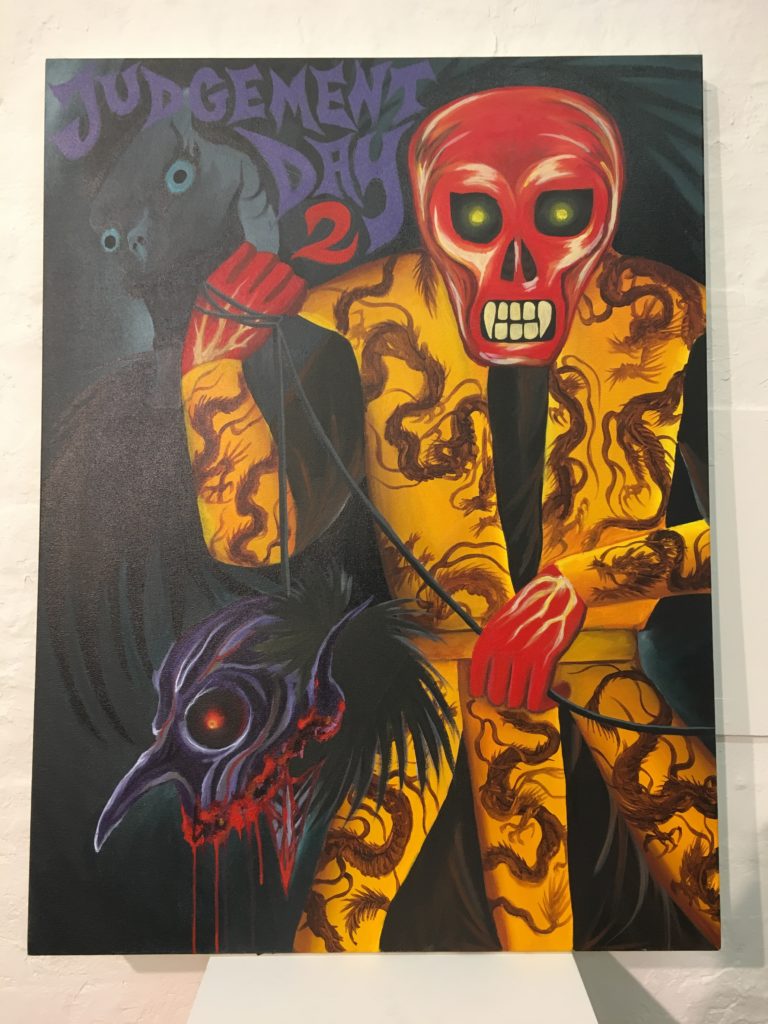 In the past you have described how you drew inspiration from a number of different sources, whether it be your grandmother, comics, cartoons or graffiti. Do you have a specific memory growing up that made you realise you wanted to pursue art as a career?
Yes, I actually do remember this one particular  moment. I was  20 years old. I was already into my tattoo apprenticeship for 2 years by this stage.I was hating it,treating it like a normal 9-5 job. I didn't really care, there was no love in it. I was young and all I wanted to do was to hang out and play Basketball with my friends. I woke up one day and had these moments of realisation, that my dream to play Ball as a career was unrealistic, I hated working for my step dad, I didn't want to  be a gardener or a labourer ( I worked as a gardener before tattooing). From that introspection I said to myself, " I'm gonna actually give tattooing a serious GO! I fell in love with tattooing more and more after that.And  that's  the moment when I really started pursuing art as a career.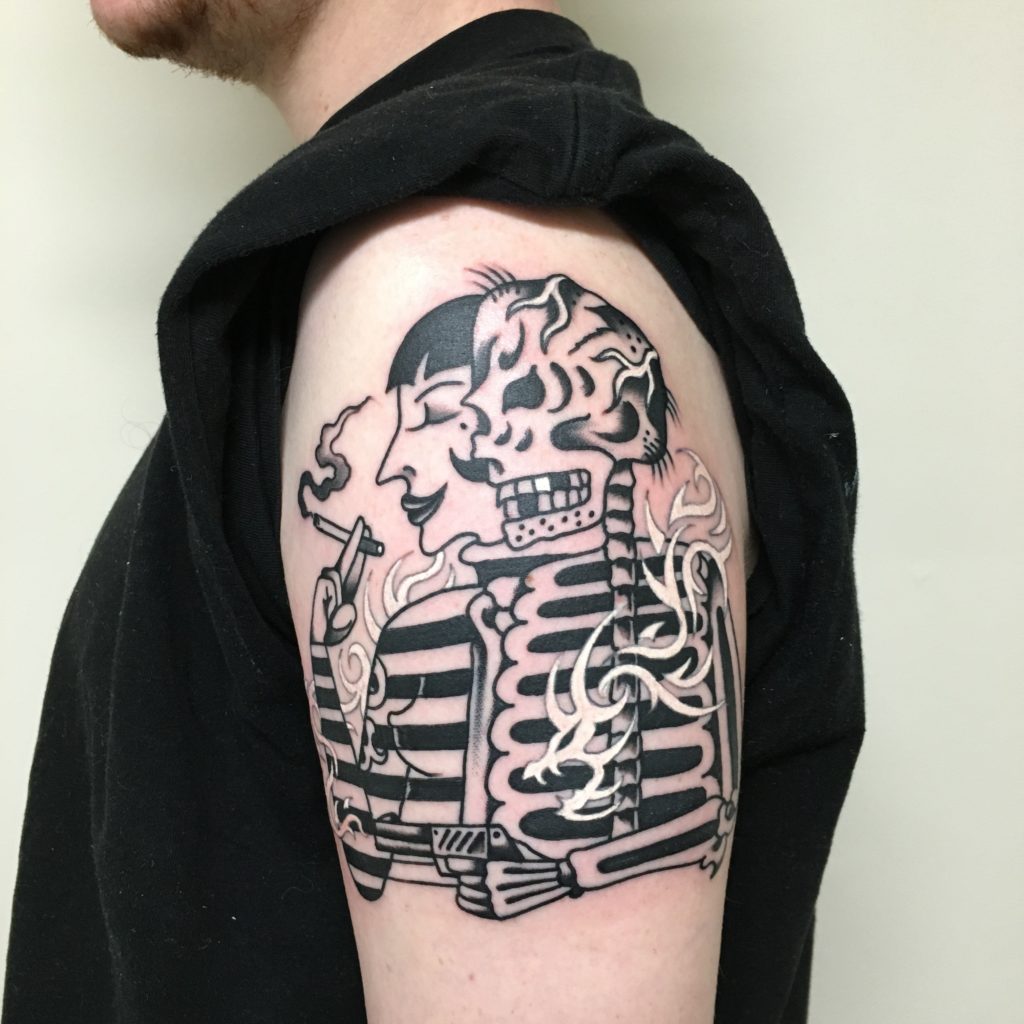 Was there any hesitancy on your behalf or the people around you when you initially decided to tattoo? 
Both my parents are super supportive. Especially my stepdad. It was like his life goal to help me become a tattooer. I'm grateful for it now. I've tattooed my Mum a bunch of times. Even my religious grandparents have come to terms with it now.  Although,There were a few relatives,aunties and uncles, that showed a great concern and hesitancy when I first told them I was tattooing for a living. They were from the academic and educated side of the family.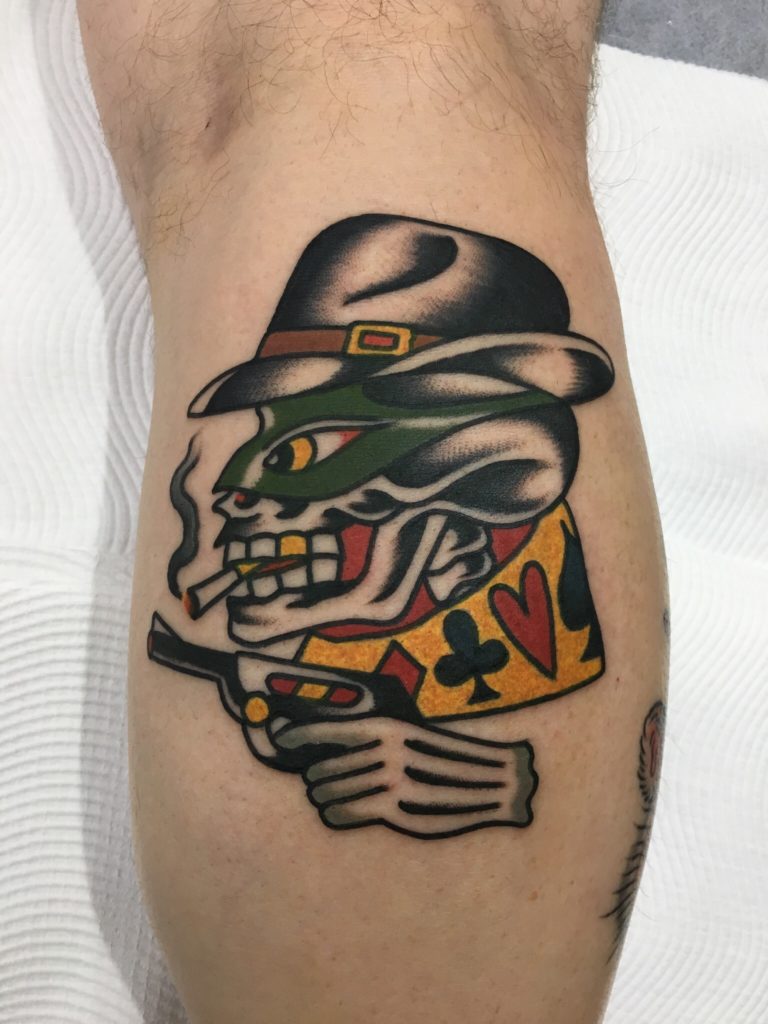 How did you develop your signature bold and vintage inspired style of tattoos? What was it like when you realised people were actively pursuing you to get your work inked on them? 
I think the development stage really  happened when i started working at good luck tattoo. Being surrounded by people who does great traditional tattoos really force you to step out of your comfort  zone. I thought I knew how to do traditional style tattoos. Not until then that I really learnt and developed my style if you can say so.  The hardest thing with  the classic traditional tattoo is finding a way to put your own personal touch into the design without changing its integrity. I still do it now and I have to refrain myself sometimes. It's okay to do the design the way it is. The way it was drawn hundred years ago. They're strong and timeless. I'm super thankful for anyone who wants to get tattooed by me. Melbourne has some of the best traditional  tattooists in the world, so if people want to get traditional tattoos  by me. I am pumped!!!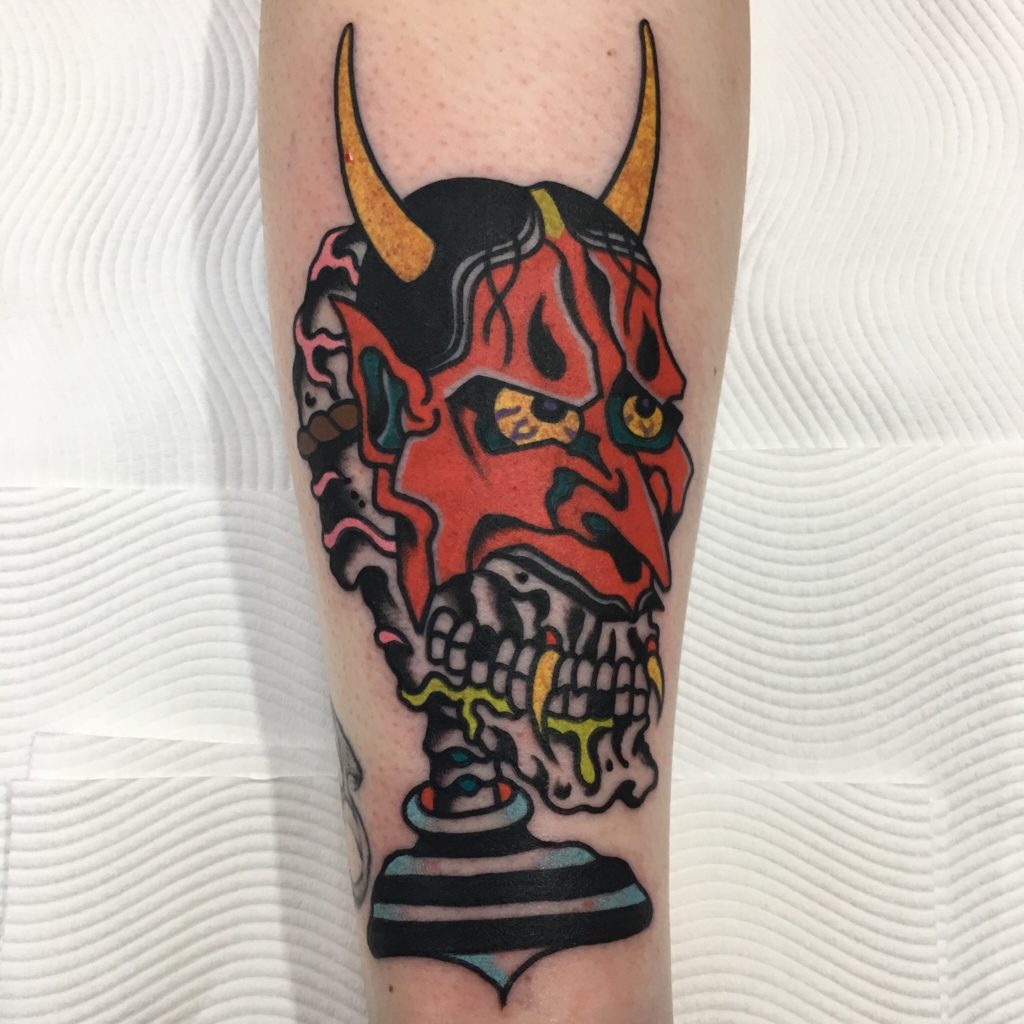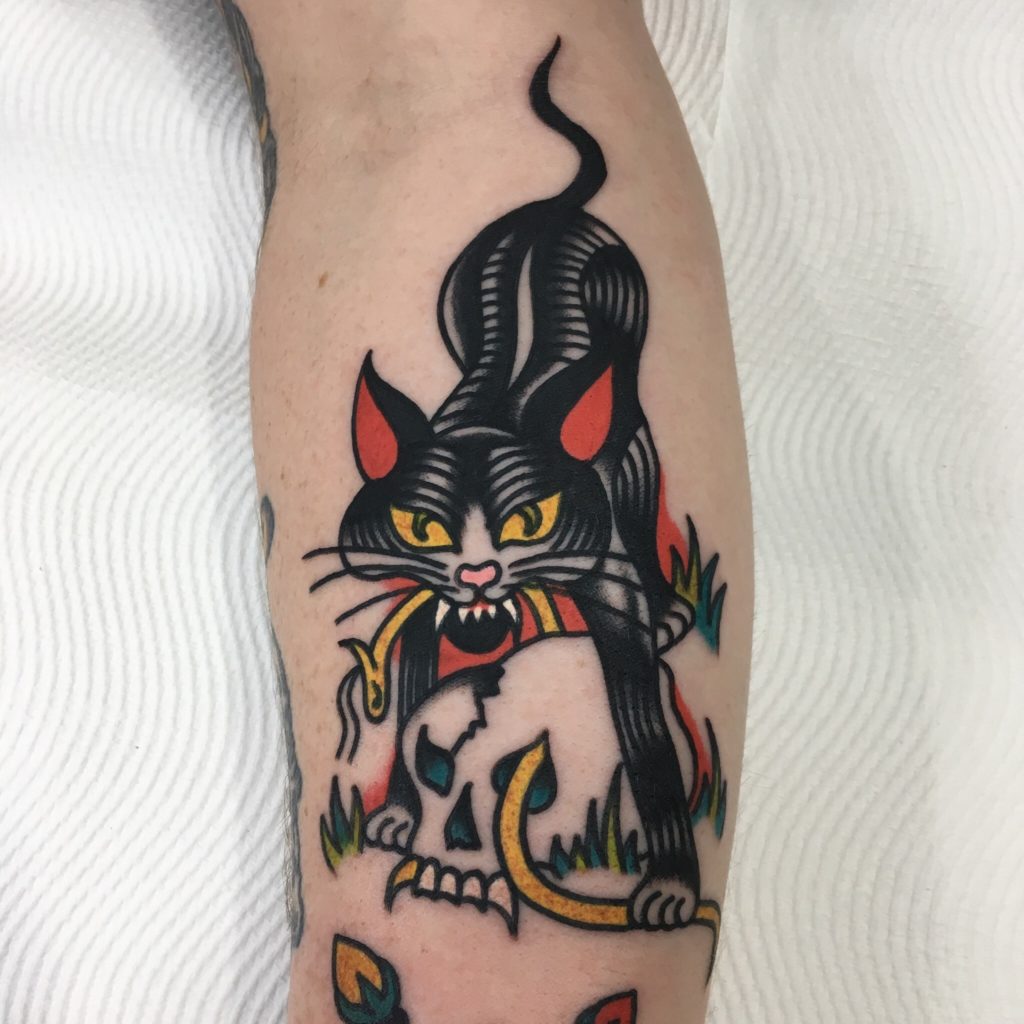 This weekend your upcoming solo exhibition "Evey Harper" opens, showcasing a collection of brand new hand painted works depicting posters for movies that exist in your mind. What inspired you to create such a unique and original body of work?
The  idea sparked up  from my trip to chicago last year. I visited Brian from deadlyprey gallery who was an absolutely amazing guy, well educated and passionate in African artefacts. I had an hour appointment with Brian to view his collection of hand painted movie posters from Ghana. I ended up staying for 3 hours and looked through hundreds of posters and came home with 3 different posters. That trip was highly inspiring for me.  When I got home,I started playing around with Acrylic paint understanding  it's the  step towards oil paint . I attended couple of a  Tutorial classes by my friend Mel Grisancich who is a super talented artist here in Melbourne. And then I began creating these paintings. I wanted to make paintings of movie posters that, if I was to direct a film?!I I would make the Scorpion from the old  Captain Marvel fight the jeepers creepers with the location set in Egypt. It's a whole bunch of  cross-referenced characters and elements  from comic book, games, movies that i liked as a kid. I really wanted to embrace the loosenes of the Ghanaian painter. I think for me ,it's a good timing to do the exhibition now, when the skill is still in its early stages,under developed and raw. I don't want it to be too perfect like some super fine artist did  it. I was going to hire out studio to paint from   but I thought about those guys in Ghana who has very little resources yet they're producing  amazing paintings. So I painted in my small study room, I used house paints, acrylic, brushes from Bunnings and this Oldass easel fom Gumtree ( I had to upgrade the easel because it just couldn't  stand up anymore). It's been so much fun.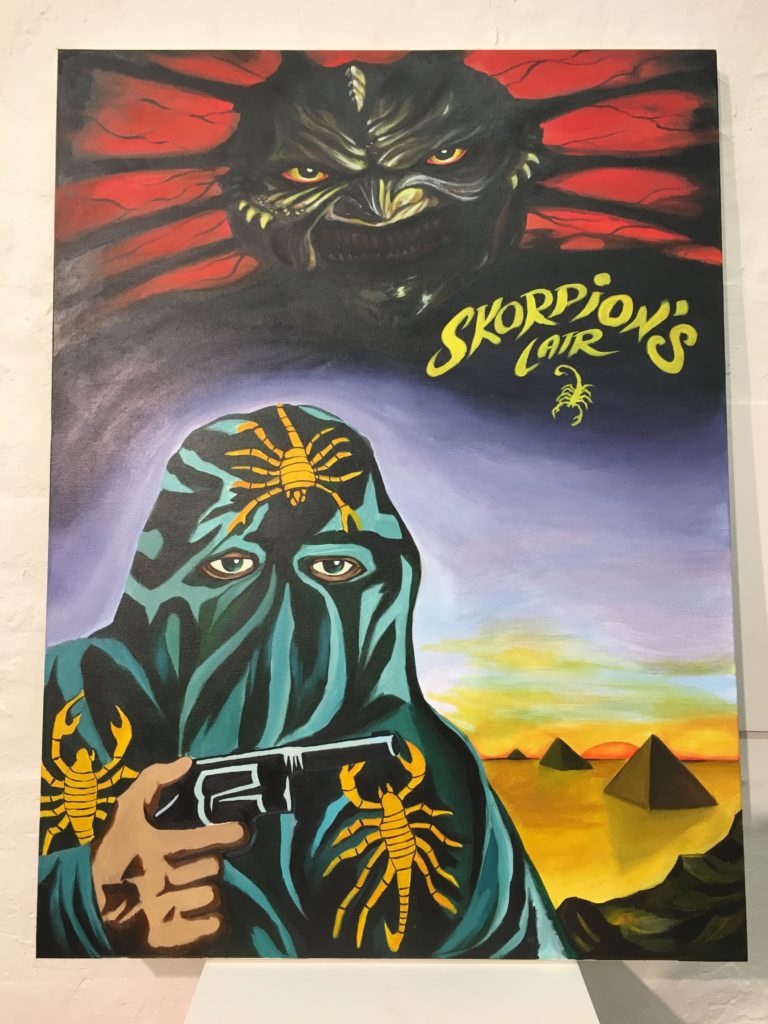 Is it a goal of yours to start creating art more and more outside of the world of tattooing? What other mediums would you like to explore?
oh yes, certainly!!! I would like to get into some oil paintings later on. Me and my friend Dylan who is a furniture maker ,have been talking about possibly playing around with some concrete in the new year. So  May be some sculptore. I'm not sure what the future holds. Id like to try it all.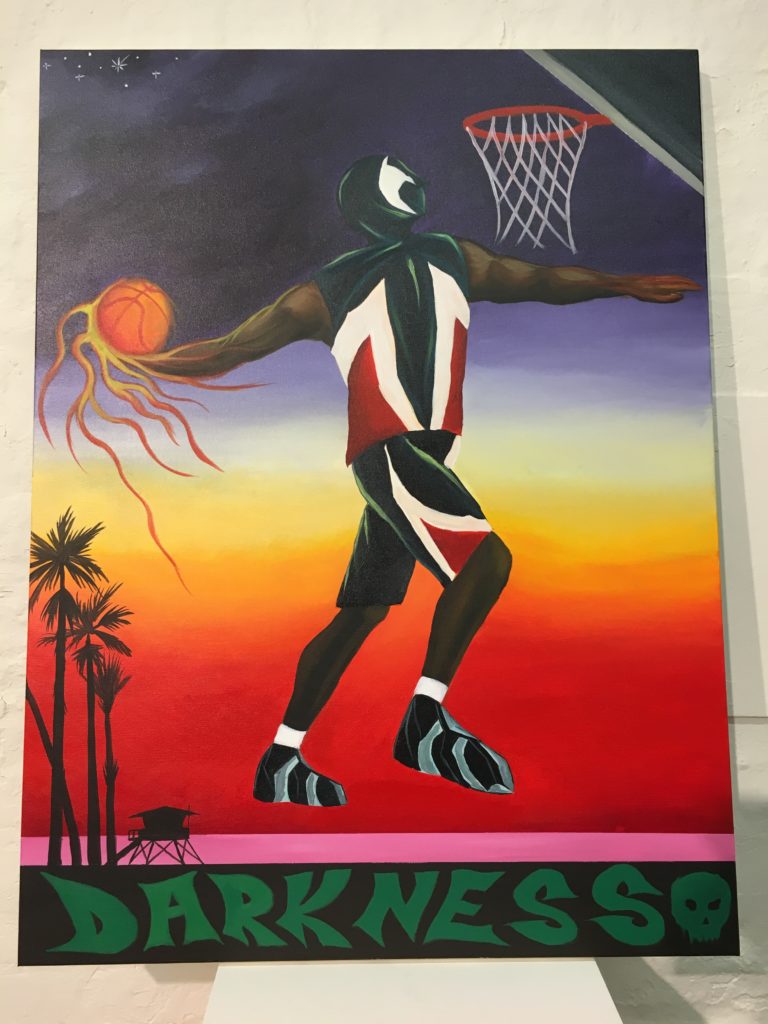 Do you have any advice for up and coming artists trying to make a living from their art?
Apart from the work hard and stay humble  I'd say, Never take it for granted. Enjoy the process,the journey. The ups and downs,The Benefit.  It doesn't get any better than making art for a living. Never worked a day in my life.
"Every Harper" opens this Friday at the RVCA Corner Gallery, 82 Stanley St, Collingwood.
Find more information on Daniel Octoriver here and here (for tattoos).
Follow @octoriverdaniel