Artist Jesse Wright has had a hell of a year.

After the success of his debut solo show, Piledriver, Wright has continued to take advantage of his rolling momentum by dabbling with curating, indie wrestling merchandise, illustration and painting even larger and more audacious murals.
For his latest show, BANGARANG, Wright aims his sights at even bigger game by creating a body of work that taps into the haunting and profound effects of nostalgia. With his signature bold lines and affection for pop culture imagery, Wright pays homage to the 90's/00's cartoons, comics, music, and movies from which he draws inspiration and infuses visual manifestations of his emotional and mental state during his childhood.
We caught up with the man himself to take a deep dive into all the good, the bad and the inspiring of Jesse Wright's past?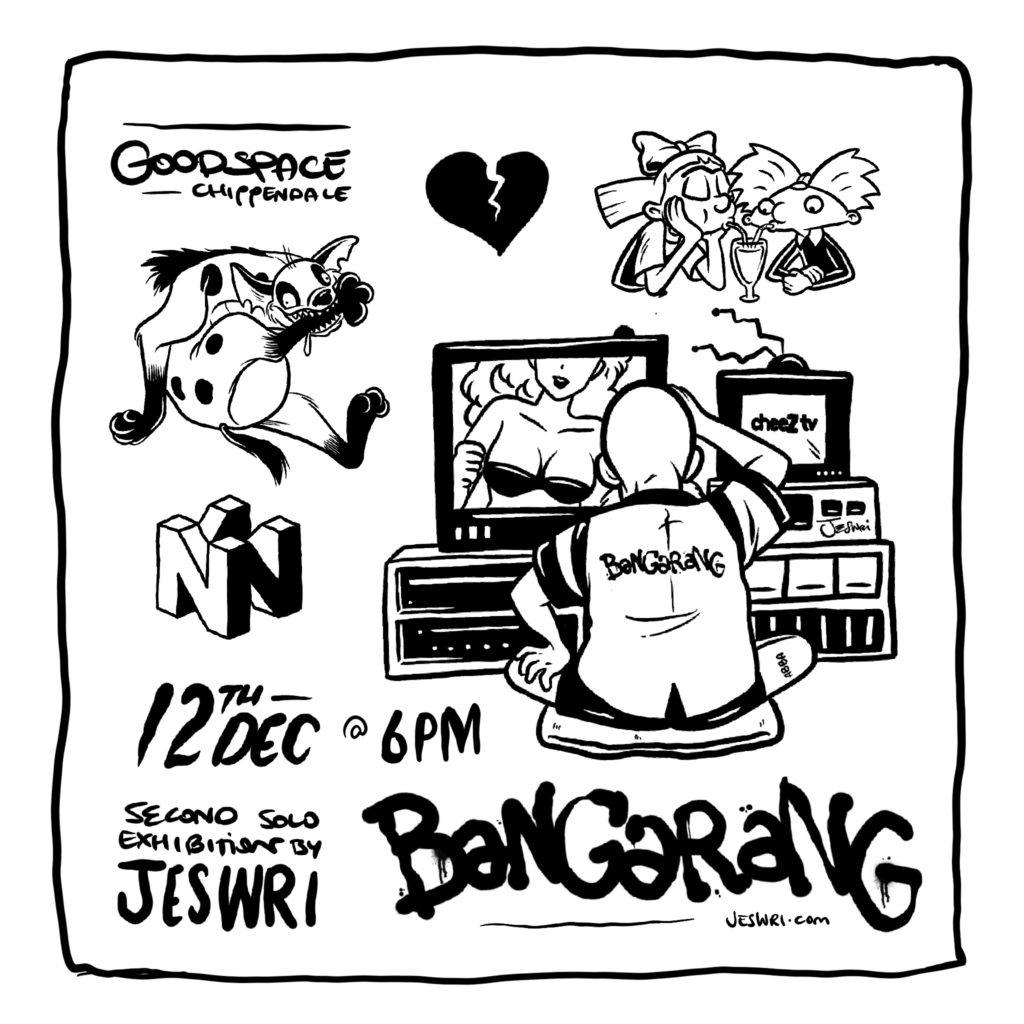 Rewind to March this year, you held your first ever solo exhibition Piledriver. What did you learn from that experience? How did it influence the shows you curated/ projects you took on from that point forward?
Piledriver was a mad learning experience. It was like being thrown into a pool not knowing how to swim with my hands and legs tied together. I legit had no idea what I was getting into, it was so hard. But it taught me super quick how to run a show, how to lose sleep but most importantly keep people entertained. My goal, honestly, wasn't to try and sell any art but to put on a rad show for people who like my shit. Things like the arcade machine, Wrestlemania XV on the big screen and free brewskes. It was a mad push in the right direction of being taken seriously as an artist. I think moving forward from that, I set the bar high for myself and hopefully anyone who wants to put on a solo show in Sydney. I legit want people to put on rad shows, put on maximum effort so we can all be taken seriously.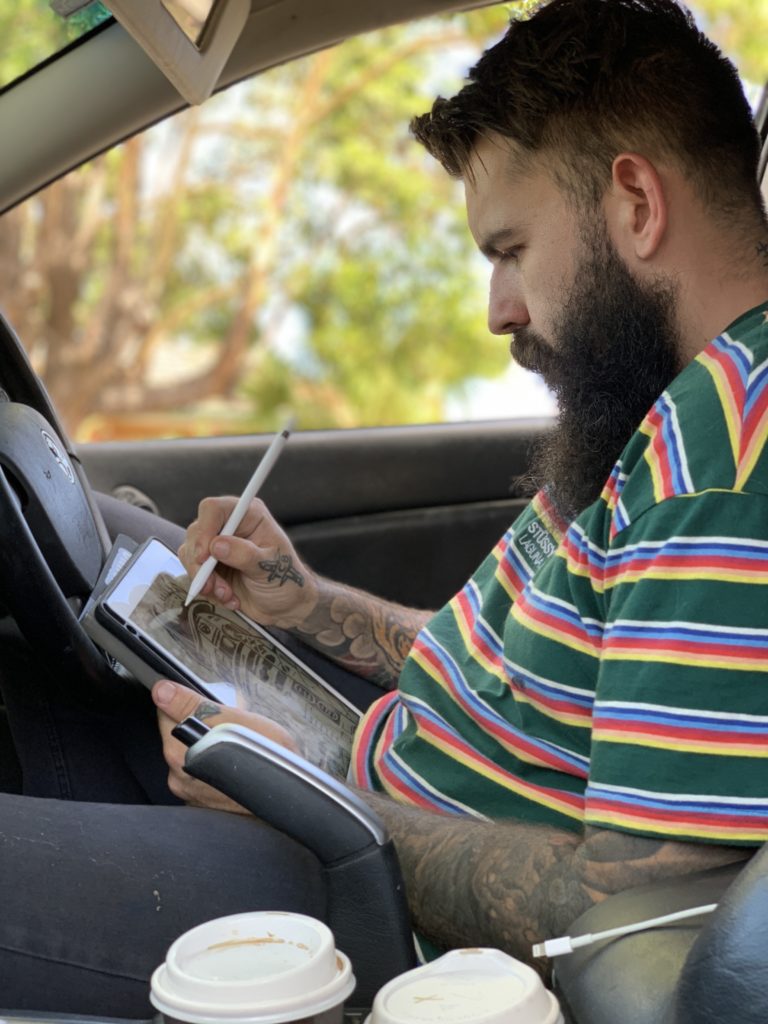 With BANGARANG you look to explore the idea of nostalgia and how the past can be both affirmative and tainted simultaneously. Why was this idea important to you?
That's the most important part, is the that tainted tarnished feel of my art. I want to bring nostalgic pop culture with a twist. I think it's important to look at things a little differently, question what's normal, dig deeper and look for hidden meaning. I love Easter eggs in movies, I drew inspiration from that and hid a lot of my story in these flash sheets. Super subjective obviously, but they're tainted and twisted because whilst I would think that I had a normal childhood growing up, looking back, it was kinda fucked. Things like witnessing death, drugs, violence and super frequent visits from police to my house, I feel, definitely shaped the way that I look at things. So I picked imagery that I feel was apart of my childhood and gave them a darker, more realistic side. I picked my nostalgic distractions and gave them consequences.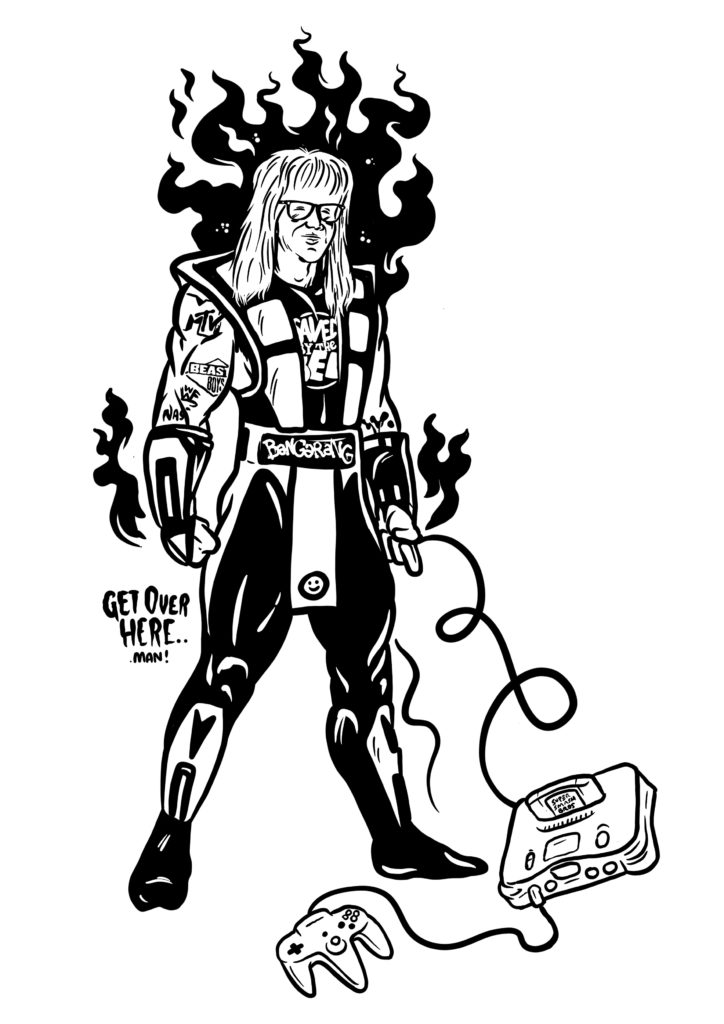 What type of wild imagery can people expect to see from you on the night?
I started with the word BANGARANG because Hook is my favourite movie of all time. Watching Rufio and The Lost Boys, I think as a kid, I wanted that. I wanted to be free. I wanted to loose all attachment to the outside world and be my own person with my own rule set. I've got BANGARANG tattooed on my leg. So I ran with that word, which in Jamaican means 'disturbance' so it definitely fits my approach. I used that as a backbone to frame black work, tattoo style flash sheets of disturbing pop culture references. I think the type of wild imagery would be things like what happened if Garth from Wayne's world wasn't so silent. What if there was another carebear called 'depression', what if Crash Bandicoot lost 'Ooga Booga' and found 'Booger Sugar'. It's the taint that makes these interesting to me. What if these characters were like everyone else?
I know it's an impossibly difficult task, but what is your favourite pop culture characters growing up and why?
Growing up, I was a massive wrestling fan, watching Stone Cold definitely shaped me. I was heavy into video games, so things like Conkers Bad Fur Day and Tony Hawks PS. Power Rangers was so dope, but the flamboyant moves grew old quick. I think honestly the things that I love the most are blockbuster movies and comic books. So things like Hook, Spider-Man, Toy Story and Star Wars is my all time favourite. Die hard Star Wars fan. Every morning, I'd park myself in front of Cheez Tv for DragonBall and Pokemon we're always a good escape before school. I never wanted to leave but you knew you had to because those shitty infomercials and Oprah would come on.
As this year closes out, how do you want to evolve as an artist in 2019?
Going into 2019, I think that I like the direction I'm heading. Im doing pretty murals and illustrations pretty much everyday and they're my stuff too. People are coming to me for my style which is so amazing coming from a graphic designers background. So over doing other people's shit. I think that heading into 2019 and onward to 2020 I'd like to do larger exhibitions and bigger murals. I'd like to become one of those artists who lives for exhibitions. That's what I feel is calling me now. Big build up. Big fight feel. See what happens I guess. Onward and upward.
BANGARANG opens Wednesday at Goodspace (115 Regent St, Chippendale), from 6pm.
Follow Jesse Wright @jeswri 
Find out more info here.