By Andrew Yee
With a wild, yet composed, beard, and tattoos that would make CM Punk blush, the Inner-West's own Jesse Wright (aka Jeswri) is steadily becoming one of Sydney's most prolific, dedicated and 'likely to hit you with a Singaporean cane from under the ring' artists.
Having been inspired by the likes of Mike Giant, Dondi and Skeme, Jesse has established himself off of a combination of clean line work and print design aesthetics, working with the likes of Young Henrys, Commune and Vilify, just to name a few.
On the eve of his debut solo show 'Piledriver' displaying this Wednesday at Goodspace Gallery, we caught up with Jesse and asked him a few questions about his new works, what inspires him, and his burning love for the great art of professional wrasslin'.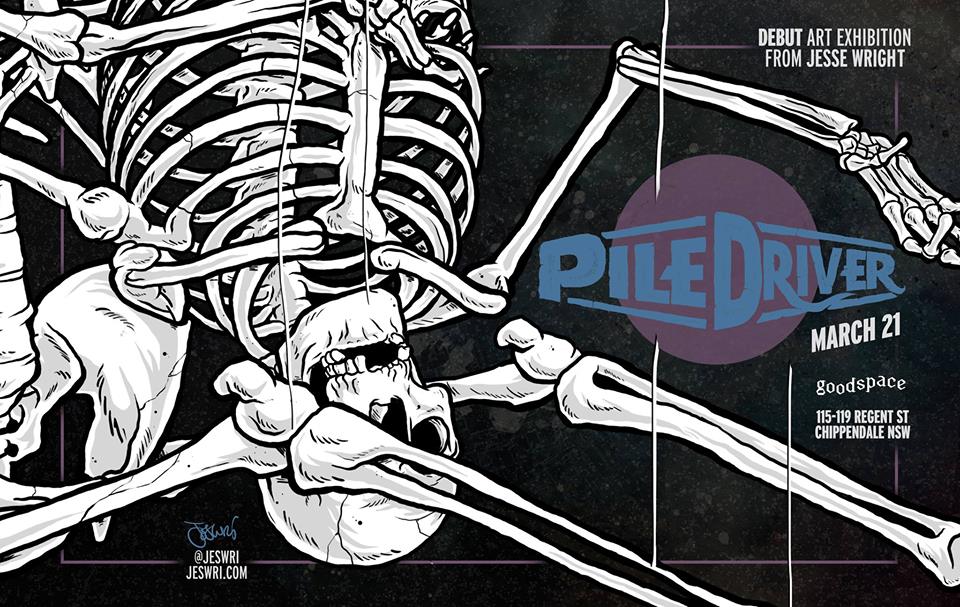 What are your studio essentials?
Just looking around, my space is filled with things that kinda promote my productivity. My home studio is filled with lots of plants, ranging from big and small. Something I've always gotta have is positive or upbeat/uplifting music. Depression is a hell of a drug and nothing transports me back to my happy place quicker than 80's love songs like Wham or Glen Campbell.
The windows are decked out with motivating words along with little post-it notes of quotes reminding me to push forward and grind. I've got the generic laptop, drawing tablet, pen and paper. But what helps me completely immerse into a space and is essential to any studio is my dog/life companion, Ace. He's my go to guy. The wisest lifeform on earth. Like a miniature Buddha, covered in fur.
What were some of your biggest artistic inspirations growing up?
Growing up, I was always inspired by cartoons and video games. When Pokemon Red & Blue came out when I was a kid, I would try and amalgamate or create my own Pokemon from scratch with their own stats; with dreams of someday showcasing my ideas to the creatives. I'd watch and draw inspo from everything like Dragon Ball Z, Digimon, Simpsons, reading comic books of X-Men and play super imaginative videogames like Mortal Kombat, trying to replicate these characters with amazing personality and superhuman strength in my drawing style.
So as a kid, I was very inspired by cartoons. My dad used to own a shop right next door to House Of Pain tattoo parlour, so I'd always go into the shop and check out the flash sheets, go home and draw my own tattoos of things I saw on the wall. I started getting older and heavily got into graffiti and drawing inspiration from writers from the 80s New York scene, like Dondi, Seen and Skeme. So my style kinda shifted from trying to draw cartoons, to creating colourful and complex typography but still keeping some cartoonish elements.
Why do you think everyone has a shared love for skulls?
Skulls have kind of become a fad recently, don't get me wrong. I've been a member of this weird perverted skull lovers fan club for a while, but it's definitely become a novelty and most often times it's run dry. I think it goes deeper than skulls being cool enough to make skull shaped glass bottles filled with vodka. For me, I have such an appreciation for artists who can crush a skull with no effort. Artists like Mike Giant, Dale Bigeni, Ben Brown (just off the top of my head) and even people outside the realm of pen/paper like Jack of the Dust with his 3D skull replicas.
I think the exterior love and appreciation comes from how hard they are to draw – not only to draw but to really hit a home run. For me – I think the love of skulls comes from two things, firstly how 'metal' skulls have always been and how much they're ingrained into rock & roll culture of being that rebellious, 'don't fuck with me' vibe. Secondly, I love how androgynous they can be. Skeletons and skulls don't necessarily have to have a gender, but they're raw, naked, real and ultimately human – capable of adopting any persona with or without flaws. The consumer becomes the author of what this skeleton is capable of doing.
How did your new show 'Piledriver' come about? And what does it mean to you?
Piledriver came about after living a lifetime of being a wrestling fan, who is also fascinated by skeletons and how 'metal' they can be. I mixed my love of wrestling with the realism of medical journals to create the look and feel of this radical study of the human anatomy. I wanted to create these non-binary characters who didn't necessarily resemble anyone in particular, but more so to drew attention on what they're doing and what analogies can be drawn from the moves. For example, the piledriver move can be represented as 'life' dropping you on your head.
The reason why I chose medical journals as my reference point was because I'm linking these professional wrestling manoeuvres with the parallels of mental health and how wrestling has in many ways saved my life. As a kid, I lived in a very chaotic and explosive household and I would use wrestling as my escape. There were times where I spent hours on hours creating wresters on WWF Smackdown, who were far extensions of myself and who I modelled with traits that I needed myself to stand up against my alcoholic dad. I used to have dozens of wrestling figures that I'd play with religiously as a distraction; when I had to call 000 on a weekly basis, to deal with the pandemonium that became more occurring than football training.
Wrestling has always been my escape. At the start of every WWE program they run the words, 'Please, do not try this at home' – and I've used this as a parallel to match what I had growing up as a child. So, in many ways; I've had life drop me on my head emotionally thousands of times and just like the larger-than-life wrestlers who tell their fans to 'never give up,' I continue to get up after getting knocked down and move forward. Piledriver, the exhibition, is a visual representation of running a wrestling program with life itself.
You've recently designed merch for some of the biggest wrestlers on the planet! Who are some of your favourites tearing it up in the squared circle?
So yeah, recently I've had the pleasure of working with, as you said, the biggest stars on the planet and none of them are under the WWE umbrella and that's motivating to me as a self-employed artist. Designing for names like Cody Rhodes, Switchblade Jay White, Marty Scurll and recently designing number one selling shirts for the 'best tag team in the world' The Young Bucks, who are all killing it internationally. Forming relationships with some of these dudes has been really humbling. When I was watching Wrestle Kingdom 12 in January, I never thought that I'd be swapping dog stories with Switchblade.
I've always looked up to names like Stone Cold, Chris Jericho and 'Taker, then later down the track, CM Punk. These days I'm hooked on the New Japan product and dudes like Switchblade, Kenny Omega and Tetsuya Naito are ticking all my boxes for their stories they're telling and outside the ring.
What was the last five star match you've seen and why?
The last 5 star match that I watched (even if Dave Meltzer only rated it 4 stars) was Velveteen Dream vs Aleister Black at NXT War Games. That match was so dope. The couple months of build up was incredible with Dream disrupting and attacking Black, begging for this guy to utter his name. One side you have a black metal, tattoo covered, satanic kickboxing machine wearing all black and on the other side of the ring you have a over-dramatised, super flamboyant, technical gift who clearly wants recognition and for the other guy to simply say his name.
Velveteen Dream came to the ring wearing tights with his own and Aleister Black's face airbrushed on to his tights. The entire match, he was outmatched but staying in the fight, begging him to say his name. The story alone was amazing, but the list of technical moves, mind games and delivery was out of this world. At first you thought, here is this rookie who can't 'bring it' against a 15 year seasoned vet in Black, but he kept persisting, selling and dropping bombs on Black.
At the end of the match, Black delivered a crazy roundhouse kick, he pinned Dream and sat their as his music played out. Whilst Dream kinda laid there beaten and done, crawling up the side of Aleister Black, he grabbed a microphone and said Velveteen Dream's name. It sounds stupid on paper, but I felt electricity through my television day. The buzz and atmosphere was incredible.
Do you remember a wrestling moment that shaped your child hood?
I remember watching Stone Cold Steve Austin as a kid with such magnetism. Every time he came out, it was to do and say whatever he wanted, whenever he wanted. Everything from giving Mike Tyson the finger, slapping his boss in the nuts, kidnapping Scott Hall or spraying the entire corporation with a beer hose. He would question everything with 'what?,' stomp mud-holes and ask questions later whilst drinking endless beers on the way out. He lived by the 'Don't Trust Anyone' attitude and that stuck with me. He was the ultimate rebel.
I think the best part about Stone Cold wasn't necessarily his five star matches, but the unforgettable moments he delivered. The moment that sticks out to me the most is when Austin gave McMahon his first stunner. It was a terrible sell on McMahon's part, but that footage sticks out to me amongst all of the others followed closely by CM Punk's notorious pipebomb. That particular Stunner stood out to me the most because it was an anti-hero who stood up for what he believed in, didn't take no for an answer and fought back against the powers that be. He stuck it to the man. The crowd was hot.
It was the start of a long feud that still exists today, about a rebel fighting back and taking no shit. The segment started with Austin taking on four cops and resisting, told the boss to kiss his ass and stunned him. He instantly got arrested but was talking so much shit on the way up the ramp, and that probably explains why I've never been able to work for anybody and why I'm out on my own. If someone annoyed me in the office, I'd look at them and visualise giving them a stunner, standing on the desk and clashing two cans together. Gimme a hell yeah!