When was your last house party?
Maybe it was back in high school when your mate Chad's parents went away for the weekend, leaving their homely Sutherland estate open to goon-drinking marathons. Or it might've been when you were a little older and your friend Zoey from art class turned her quaint Newtown terrace house into a cesspool of durries and cheap pinot. While these both sound like a good time (especially if you're in your early twenties, unlike this writer), they pale in comparison to how Aussie rapper Briggs and his record label, Bad Apples, turn a house party out!
All footage Courtesy of Bad Apples Music
For one night only, the Melbourne-based label and a slew of friends converted one of Australia's most iconic venues into a home for thundering beats and inspired bars. And while the night was ground-breaking as it positioned hip-hop on such a grand stage, the bigger victory was how the night fulfilled the need for more Indigenous and Torres Strait Islander representation in Australian music.
Being a pioneer is nothing new to MC Briggs who has been pushing and redefining what it means to be an Indigenous artist in contemporary Australia. Briggs has gained attention for music projects such as his acclaimed 2009 Homemade Bombs, has produced tracks that have amassed well over a million streams, boasts television appearances on shows likeCleverman and The Weekly with Charlie Pickering, has written for Matt Groening's Disenchantment, and was recently featured on Conan O'Brien's Conan Without Borders.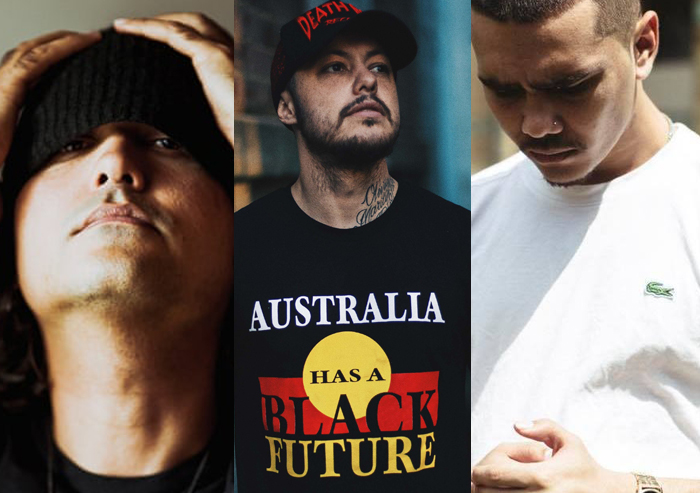 Birdz (Left), Nooky (Middle), Kobie Dee (Right), Photos Courtesy of Bad Apples Music
After smashing through the perceived glass ceiling set out for him, the next step for Briggs was to lift as many artists as possible with him and establish his music label, Bad Apples. The label now represents Aussie acts such as Birdz, Kobie Dee, Nooky, Philly, and many more. Bad Apples navigates uncharted territory by catapulting the music of Indigenous and Torres Strait Islander artists into a mainstream music industry, to tell stories of disenchantment, defiance and celebration with the fierce charisma of seasoned spitters.
Before the evening, Briggs summarised his excitement by saying, "I can't wait to move into the Opera House and sub-lease it out to my cousins." And being a man of his word, that's exactly what he did. Bad Apples was in a no mercy kind of mood and stormed the stage with an assemblage of local and international acts such as New Zealand hip-hop heavyweight David Dallas, Electric Fields, Rebecca Hatch, jayteehazard, and more. Blazing through a setlist that included highlights such as Briggs' Life Is Incredible, Kobie Dee's intense Jody, and Birdz's infectious Black Child, the talent from Bad Apples displayed their effortless abilities to interweave head-knocking bangers with important social and political commentary.
Parties don't last forever. Bad Apples House Party has come and gone. But the energy and bravado that filled the stage will reverberate for years to come. With fearless people like Briggs and powerful collectives like Bad Apples, the future of Aboriginal and Torres Strait Islander art and music doesn't just look bright – it looks incredible.
So shout outs to Briggs and everyone over at Bad Apples! BAO!
Find more info here.
Follow @badapplesau @senatorbriggs @misterbirdz @nookymusic @kobie_dee47