What's going on in the Steel City? We get an insider look from owner of The Falcon, Mike Galvin.
In the past 10 years, since the introduction of the controversial lockout laws, nightlife in Newcastle has been slowly transformed. After an initial pushback, many larger venues suffered without the extended trading hours, leading to the closure or sale of many long-standing Newcastle institutions and creating a deadzone in the city. Interestingly, and perhaps unexpectedly, over the past five or so years that has changed.
Small bars began to pop up from the ashes and thrive in an ecosystem that was stimulated in part by a push by the council to rejuvenate Newcastle City, but also the shifting of drinking habits from many revellers. Swapping out crowded dancefloors and cheap drinks for cozy catch ups and craft beers/cocktails is a notion that would have been laughed at 12 years ago when we were punching darts on the d-floor at Fanny's.
Little guys like The Falcon, Koutetsu and Coal & Cedar offer a curated alternative to the bustling pubs and clubs, focussing not only on quality food and tasty beverages, but also creating a unique experience that for many years had been non-existent in Newcastle venues (unless you count the alcoholic slushies from Crown & Anchor).
We caught up with The Falcon co-owner Mike to give us a virtual tour of his bar, and share his thoughts on why Newy is the place to be.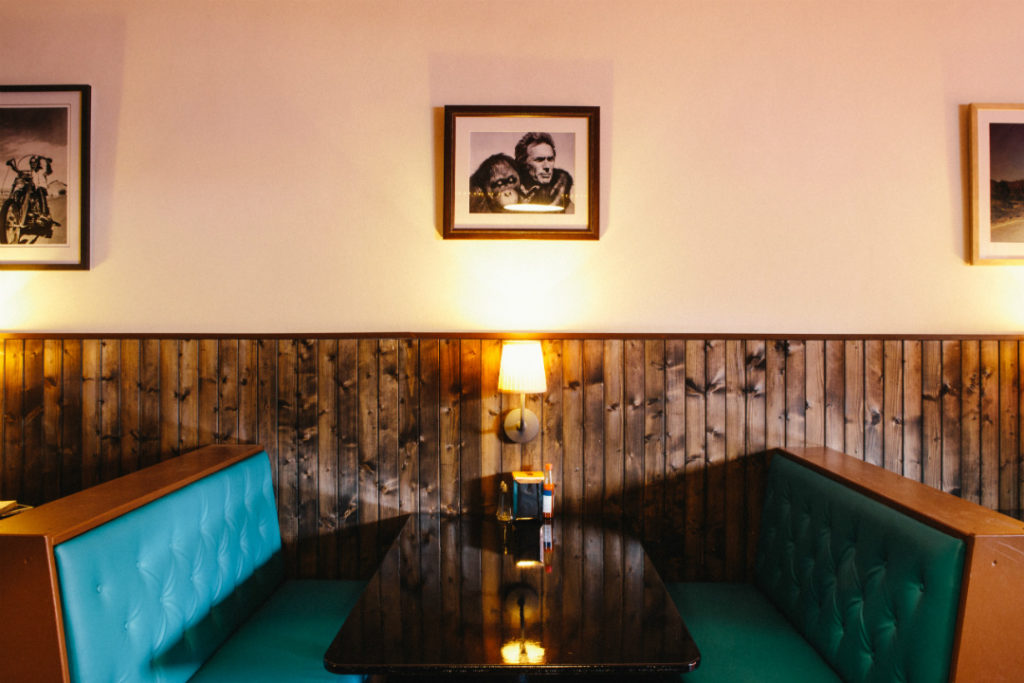 Tell us about the name 'The Falcon.' Is it homage to Newy's 90's NBL team? Or a sign of respect to the powerful hunting bird? Or a nod to the the most efficient burnout supplying vehicle known to man? Or all of the above/something else?
That's a great question. Well it's probably more of a shout out to the car. Our friend Stu came up with it – it's a classic Aussie car and also an American one as well – so we were like…'hmmm, ok!' The other ones were pretty wobbly. I mean, we nearly called it 'The Cruel Sea.' I just gave up really. As long as it's not too beige and strategically hip it works right?
The interior of the bar is looking lush, what was the space like before you guys got in there?
Well it was a bit of a mess, no direction. It'd been neglected for over a year and we transformed it. I'm proud of that.
There's some 70's flavours in the aesthetic all the way down to the menus. What was the inspiration behind this?
Good question, it was my intention to reference some of the good old times. I have spent a lot of time in the US looking at venues all over. I like the old ones I visit and the new ones as well. It's about soul and a little bit of a direction throughout. It helped that it's a great space to work with and our 70's vibe bleeds through in both mine and co-owner Brendhan Bennison's interests.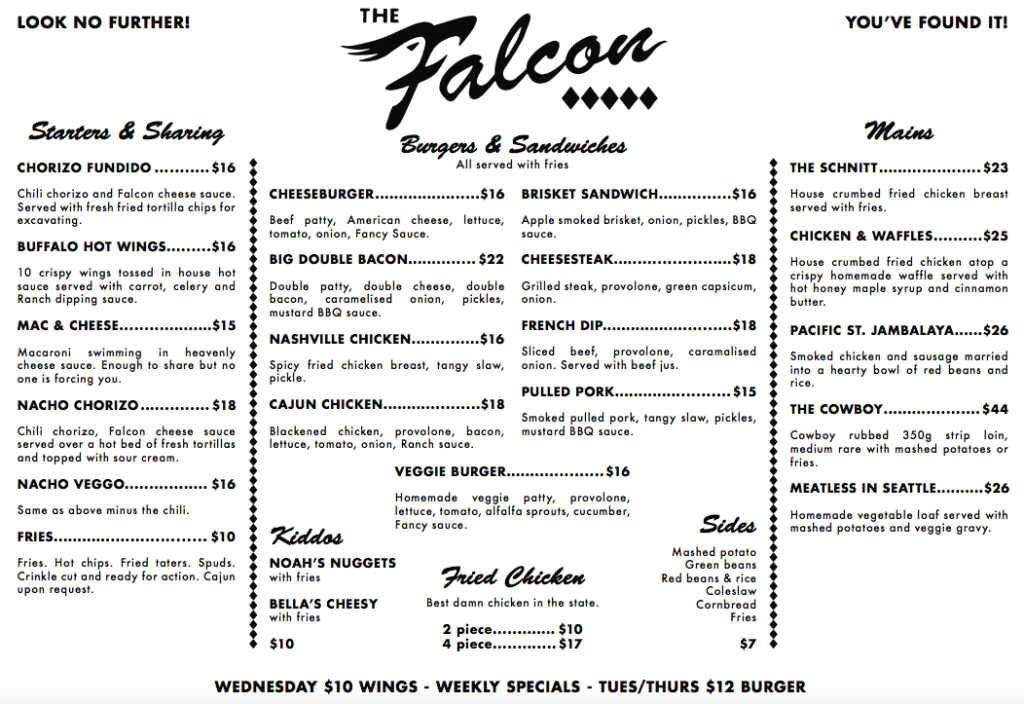 The menu looks like it takes influence from US states like Florida, Louisiana, Texas etc. Why do you think American food from the south is becoming such a hit over here?
People from Oz love American food. I think that the next logical step is to get stuck into the southern inspired foods. The amount of BBQ and "Southern" styled shows out there in TV land and on the internet is huge – so people feed (literally) into that. Social media has also allowed more authentic acts to spring up and emulate certain styles of food and really get the word out there. Bottom line, Aussies love new exciting stuff and American's are the best at exporting their culture as a whole.
What's your most popular meal, cocktail, wine and beer?
Pretty early, but so far, the nachos and the burgers. The french dip and jambalaya are the most exciting for us. They are pretty rare this deep in the south. Drinkwise it's margaritas, Grifter pales and a slew of natural wines.
What sort of tunes are you guys spinning of an evening?
The Clash, Neil Young, Justin Towne Earle, Lera Lynn, The Cramps, Creedence, Ty Segall,
Cruel Sea, Stray Cats, The Boss, Iggy Pop, QOTSA, Something For Kate, Tyler Childers, Nick Cave, Paul Dempsey, The Detroit Cobras, Mariachi El Bronx, Link Wray…all sorts of stuff.
You're set up in the original home of the lockout laws. What's the appeal of Newcastle to you guys as venue owners?
We could literally go on about how rad Newcastle is and you'd have a 30 page essay, but the crux of the attraction lies in the accessibility and authenticity of Newy. People have time for each other and are supportive. It's most likely because we don't have mass traffic congestion and people have more spare time to relax and focus on their actual lives. Got deep there.
It's also beautiful, resourceful and, even though it is a really bloody old city,I think we are starting to see that 'cosmopolitan' transition kickoff. It's an exciting time to live in Newy and we should be proud of this place. It's RAD!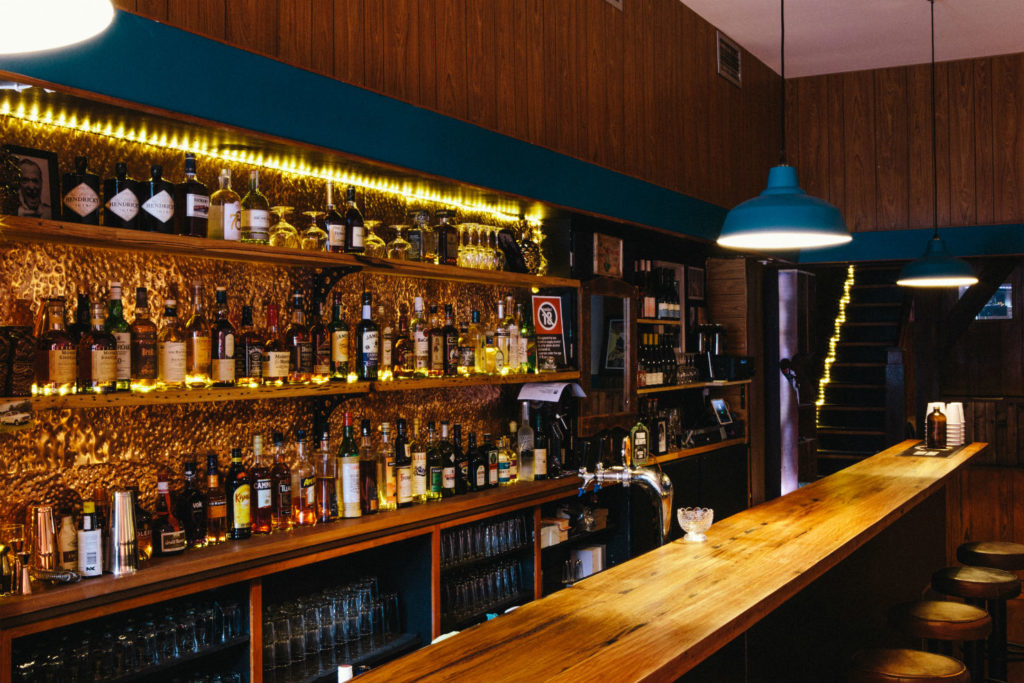 Newy has slowly been adopting the small bar culture over that past five years or so. Why do you think Novocastrians are enjoying the more chilled side of nightlife these days?
All sorts of reasons have allowed this maturation to happen. One of the big things is, there is a segment
of the market emerging that doesn't subscribe to 'getting wasted' or going to a massive pub or sports bar. They want more in Newy now. They've seen it when they travel, on Instagram or TV and they believe they can do it here.
It's really exciting to see places like Coal & Cedar, Koutetsu and The Edwards thrive because they are so directional and are originators in this local market. It certainly allowed us to believe we could 'have a go.' The future of this city has a lot to do with smaller bars and restaurants. Support them – they help elevate our cultural affluence.
What do you think The Falcon offers Newcastle East that it is missing?
A little authentic spot where you can come and talk turkey about the food, the weather, the beers or whatever, and enjoy some genuine old school hospitality with some carefully crafted grub and drinks. That's it. I mean no one does this menu like Brendhan does. It's on point! Come check it out.