Words by Christopher Kevin Au // Images by Billy Zammit //
When it comes to local artists, nobody can steal headlines like Sydney's own Scott Marsh.
Having gained worldwide attention (and in conservative circles, widespread condemnation) for his murals of Kanye West kissing Kanye West, Tony Abbott marrying Cardinal George Pell, and Casino Mike, Marsh's intricate works aren't just nice to look at, they're some of the most hotly-debated pieces of social commentary in recent times. And while he may be known for his large-scale pieces painted on walls, Marsh's latest collaboration downsizes things significantly.
Now, Marsh has teamed up with Australian watch company Bausele for a small collection of timepieces. Limited to 100 watches, the collection features floral art from his 'Bouquet' collection printed on the face, where he balances Mother Nature with his gritty city aesthetic. Moreover, the watches contain a small amount of crushed gravel from train yards, honouring his mischievous history in grafitti.
Ahead of the watch launch this Thursday, April 5 in Potts Point, we caught up with Marsh to chat through his latest collaboration, and how it feels to have his own watch under his belt:

How much more adult do you feel now that you have an 18 carat rose gold watch collaboration?
My mother is very proud, she finally has something more impressive than court attendance notices to show off to her friends, haha.
The watch honours your past by containing crushed gravel from the railway yards where you painted trains in your past. Any memorable stories from those days that you'd like to share?
I think every serious graffiti writer could write a novel or two from their experiences in graffiti; great nights painting, the chases, the rivalries and beefs. The rocks crushed and contained in the watches crown are from North Sydney tunnel on the North Shore line, where i grew up and started painting graffiti as a kid.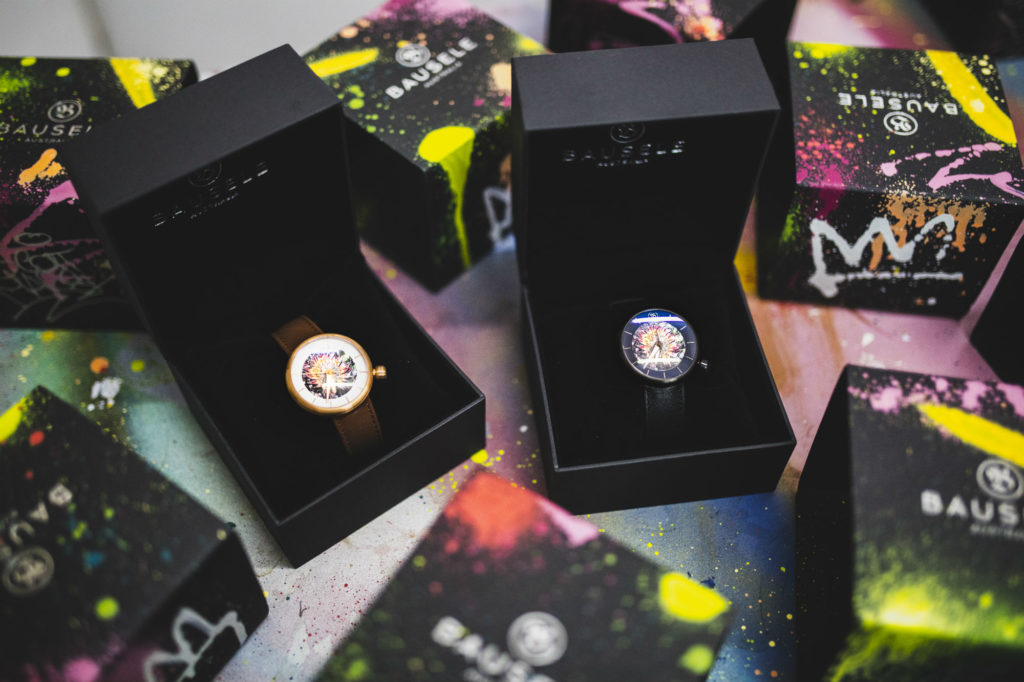 Obviously it's quite a journey from graffiti to making a fine watch. How do you inject that same youthful artistic energy into a refined product?
Graffiti has been such a huge part of my life since age 12, it really has shaped the person I am today, and in every aspect the way I approach my art and the way in which I paint. I think this watch captures that well, the image on the faces really pops and the rocks in the crown are a really nice touch, linking my past with my present. I have also hand spray-painted packaging for each individual watch which adds to the graffiti flavour.
The idea of having someone wear your art everyday is pretty cool. What considerations did you have in the design of this piece, seeing as it was made to be worn rather than displayed in a gallery or on a wall?
It is cool, I have been making t-shirts featuring my art for years so it's not a foreign concept to me. How to use the watch as a canvas was something myself and Bausele laboured over, I originally tried painting directly onto the face on the watch but the thickness of the paint was not compatible with the mechanics of the watch. Painting the band was something we also played with but it also had functional problems. I'm happy the way it has turned out, the image is 3D printed so the light catches it in areas and gives the image life.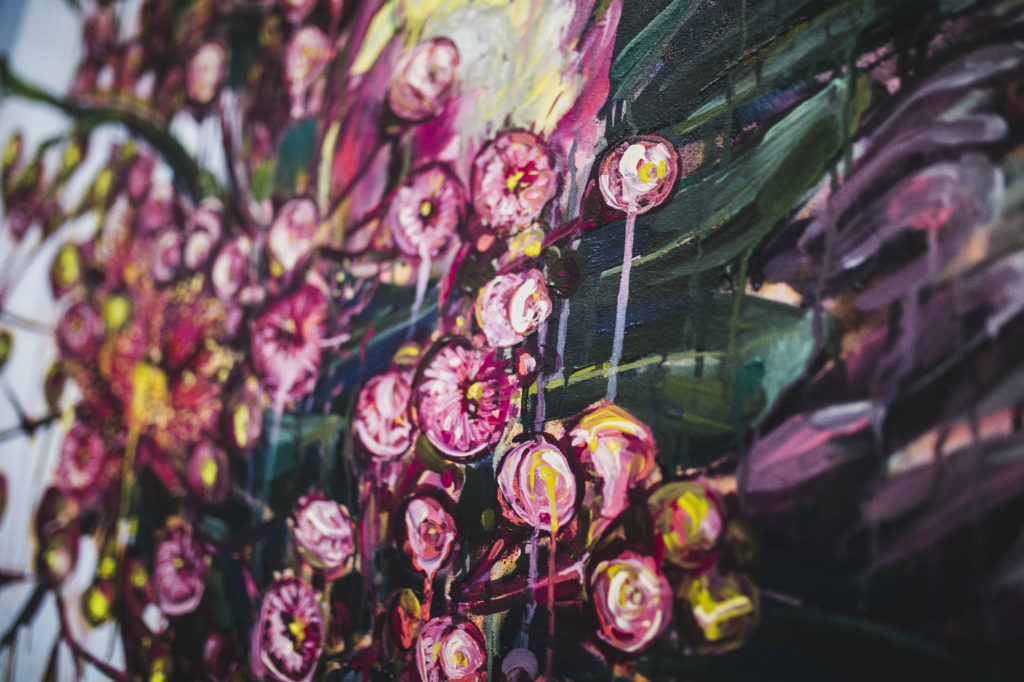 Tell us about the colourful design you've created. What's the story behind it?
The image featured on the face is a section of a large floral work, which is a part of a greater body of work titled 'Bouquet' which I will be exhibiting at the launch. The works are my interpretation of the traditional high art motif of a floral still life, pairing traditional notions & techniques with my story in graffiti. With the help of Dangerfork studios in Melbourne I have also created a beautiful 10 colour fine art screen print of the painting used for the watches design, which will be available on the night.
Now that you have a watch ticked off your list, what other items would you like to design in the near future? Wrestling ring? NFL helmet?
I would love Sydney transit to give me a train to paint, or a shiny new metro. Get at me Sydney Transit!