We had to get the inside word on Melbourne artist Rholtsu's work.
When we first caught a glimpse of the Lochlan Sutherland AKA Rholtsu's skateboard decks, we were more than intrigued. Incorporating gothic totems such as snake skeletons and barbed-wire, as well as dehydrated roses and hemp leaves, there's an inescapable juxtaposition that rings throughout his pieces. 
Here, beauty and decomposition, strength and death, all are bound by resin and shaped into a satisfyingly glossy final product. The decks are the kind of thing you could imagine hanging on the walls of a high-end art gallery, but also above the desk of a grimey inner-city skate shop. 
They've been attracting plenty of attention too, with Lochlan building a tidy Instagram following and praise from art critics and skateboarding fans around the globe over the past couple of years. We grilled him about his work below, check it out and head here to follow Rholtsu on Instagram: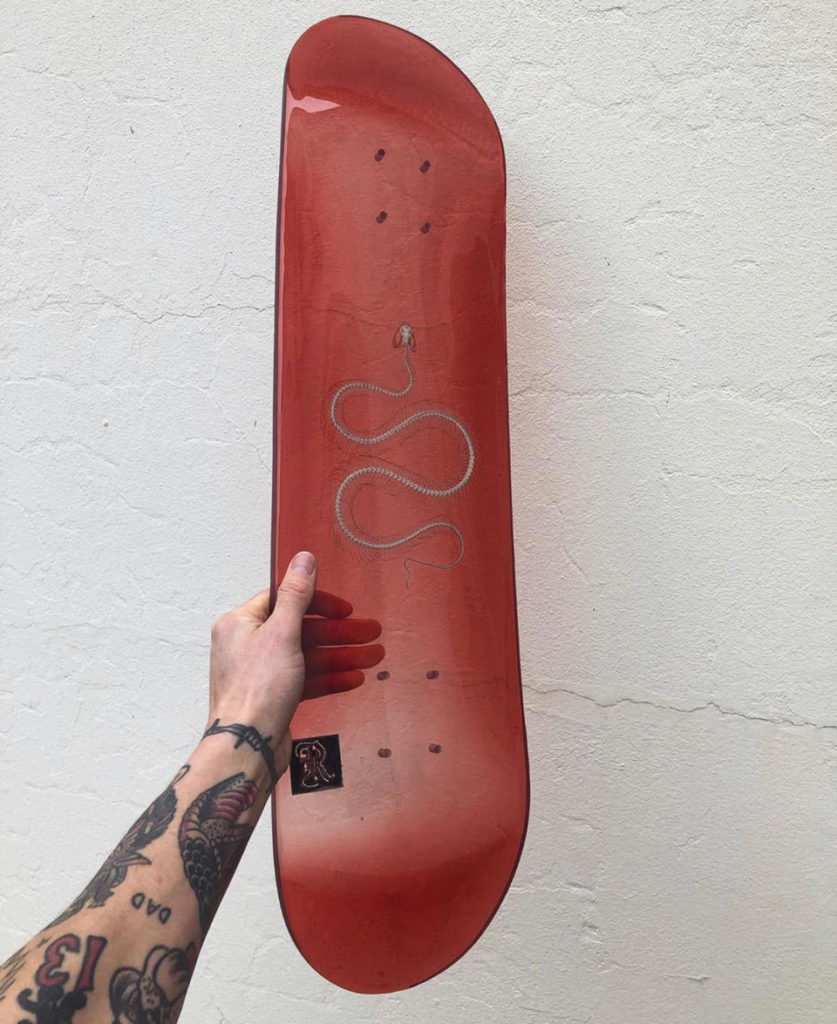 How long have you been doing this?
I started Rholtsu in the latter part of 2018.
Is Rholstu your main gig or side hustle?
Just a bit of fun for now. Still mastering the craft. Always trying new combinations for the boards.. 2020 is the year for me.
Where did you come up with concept? Were you a skater first or an artist?
I saw a video of someone working with silicone and resin and thought, what can I create? The skateboard was what came to mind. It all just clicked. I started skating at a very young age and always had a board with me. Still to this day I keep it by my side. I feel I've always had some creative juices running through my bones.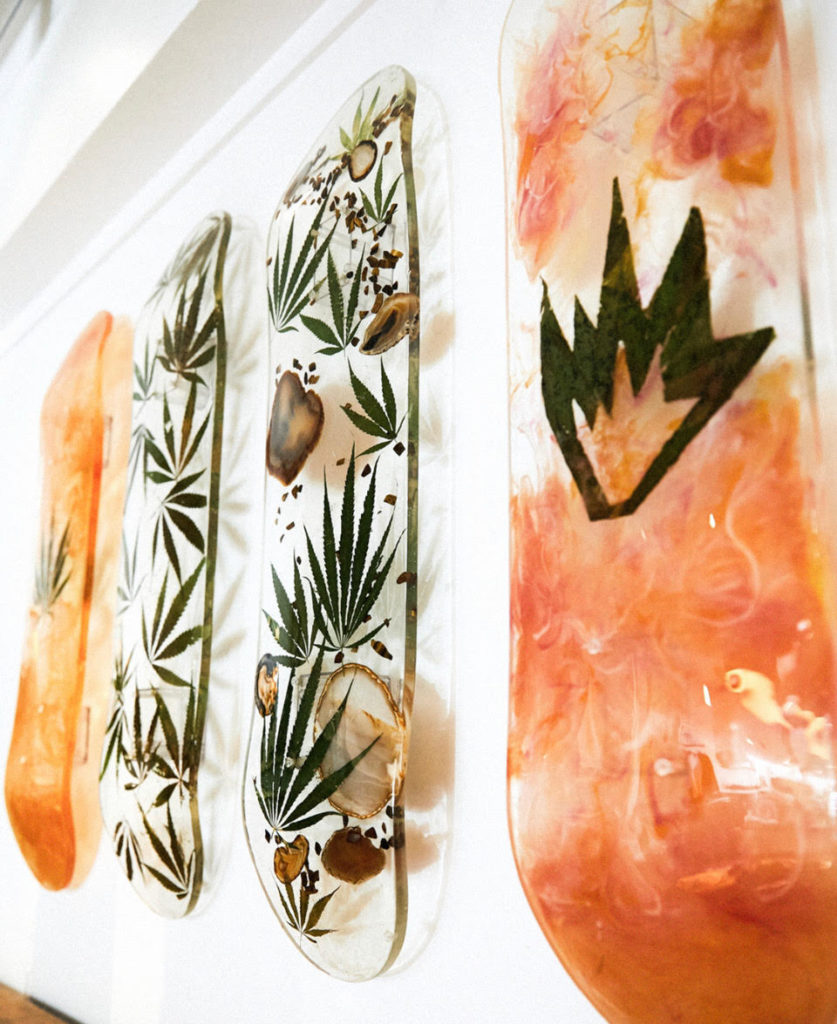 You name the boards after influential women in your life. How did this start? Why is this important to you?
I wasn't too sure what path I wanted to go down with the names so I showed my mum the butterfly board through clear resin and she said 'your grandma would have loved that'. That's how CELIE was born. The next board incorporating a flame design was for my mum, the strong, fiery redhead. DEB. She's been through a lot in her life so to name the boards after my loved ones is very special. It's really worked well for my collection.
Can the boards be used (as skateboards)?
Unfortunately not. Purely art for now. Never say never though for the future.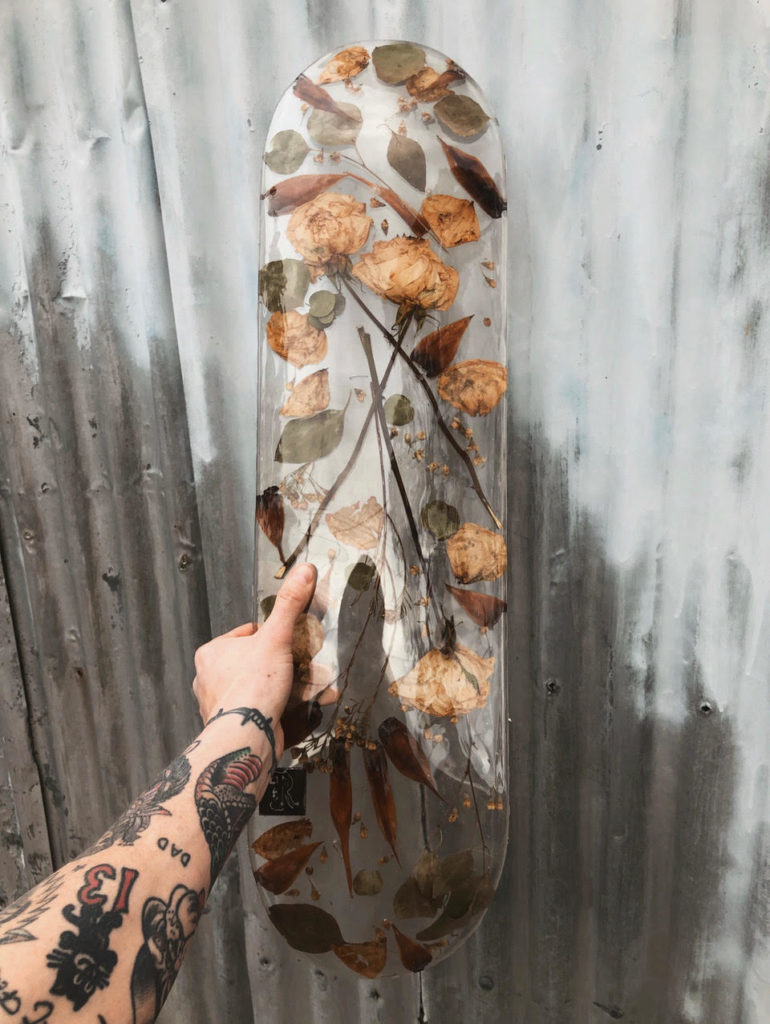 Who's the one skater you'd love to make a piece for?
Chad Muska was the boss when I first started skating. I had a Shorty's Muska deck first up so probably him. On an influencer/skater level absolutely Blondey. The dude is changing the game. I'm loving his latest Adidas superstars that are completely transparent. It's got the mind running wild about creating a board off them. Stay tuned.
Has there been anything you've tried to incorporate into the boards that hasn't worked?
Not yet. Scorpions and spiders are quite thick so they've been a challenge to keep that skateboard shape,but I got there. All a learning process, there's nothing I won't try.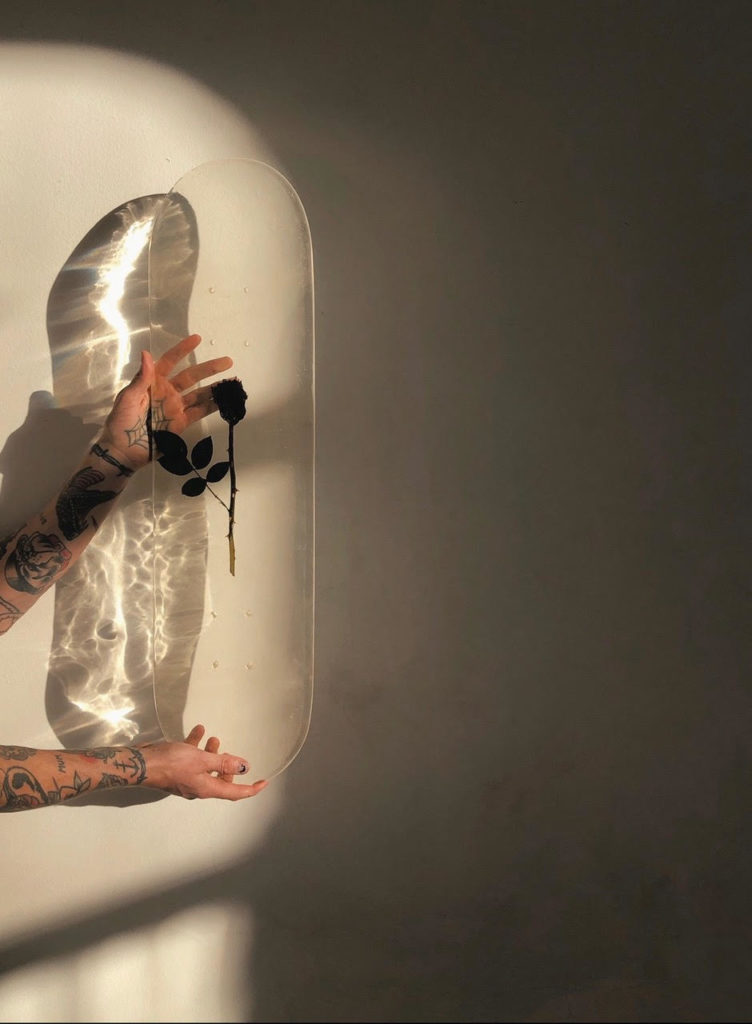 You've built up a strong social media following. Any people that you admire popped up on your follower list?
I've had a couple which has been surreal. Dr. Woo and I have had a chat about some designs. Love how he's changed the game with tattooing. Always thinking outside the box with his designs and where or when he can incorporate them into art or fashion, so that was cool.. Little more random but Vanessa Hudgens sent me a message about the boards. No idea how it's reaching them haha. Honestly, I appreciate everyone that enjoys my art. I've had so much love the past year from all over the world. Gives me motivation to constantly grow.
What's you ambitions for the Rholtsu project? Where would you like to see it go?
To keep improving. Constantly growing the art. I just want to enjoy it every day and push the boundaries. Create pieces that no one's ever seen or thought to create. The talking point of every room. Like I said earlier, 2020 is the year for Rholtsu. I have plenty more ideas in the mix.