Today we were lucky enough to get a private sneak peek of Oakley's creative hangout space and pop-up skate park, ahead of the opening party in LA tonight.
Part creative space, part skateboarding destination, Oakley in Residence: Los Angeles, is inspired by Eric Koston, manifesting connections to his personal place of obsession (Los Angeles), art, creativity and skate culture.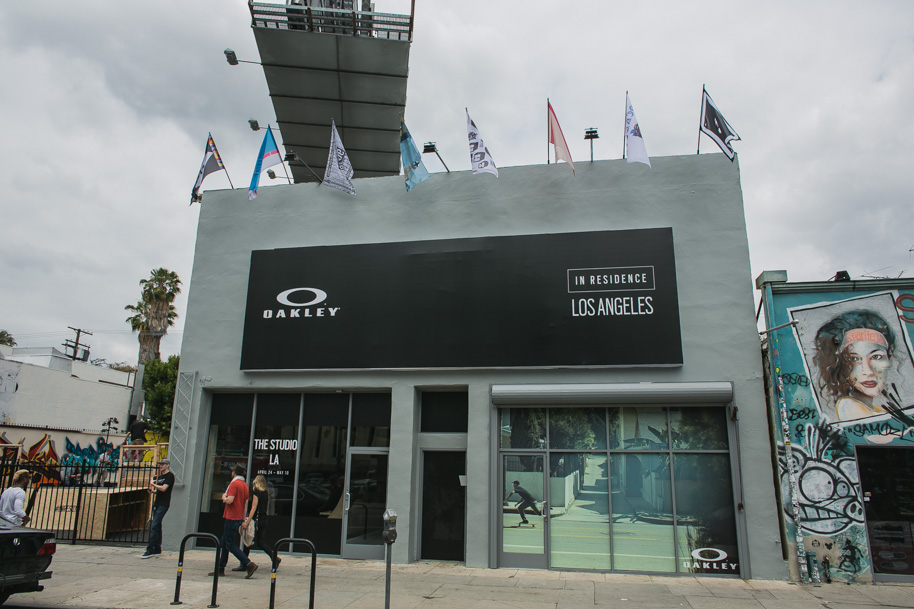 The space kicks off on April 24, with skate artist collective, The Art Dump, bringing to life eight legendary local skate spots. Eight artists were paired with each location to design a flag representing their skate spot. A dedicated fanzine will be created to help map each location. Featured Art Dumpers associated with the project include Andy Jenkins, Andy Mueller, Jeremy Carnahan, Eric Anthony, Chris Waycott, Carlos Gutierrez, Nate Hooper and Nick Zegel.
Beginning May 1, Los Angeles skate photographer, Atiba Jefferson, will take over by curating a week-long exhibition and series of activities in homage to the heritage of photography and places of obsession within skate culture.
Oakley In Residence: Los Angeles is free and open to the public. Located at 7763 Melrose Ave., Los Angeles, the venue will be open daily from 11am – 8pm offering a weekly schedule of workshops, exhibitions, athlete meet-ups, skate sessions and film screenings. Check the website for full schedule of events.