It's very common to hear about Australian traveling to Japan, but we're also huge fans of the country's very underrated East Asian neighbour: Korea.
Many people will recognise Korea for its painfully cute pop groups, expertly minimal fashion style and delicious BBQ joints – shouts to 678 – but as Jeff Livingstone shows in this week's edition of Frames, the country offers so much more. Jeff is a 26 year old shooter from the Gold Coast who decided to trek to Korea and take some snaps along the way – displaying the country's sprawling architecture and unique culture.
"It's only recently I've started to get to know what I enjoy shooting.  I'm currently in a phase of shooting as much as I can at night or dusk.  There's a lot of photographers I've started following lately who shoot these really amazing cinematic style photos at night.  They're usually lit really weird with strange neon lights and they have this spooky vibe which I dig.  So at the moment I'm just trying to have fun with stuff which keeps me motivated to try new shit with my photography," he says.
Step into Korea with his snaps below and see more of Jeff on Instagram: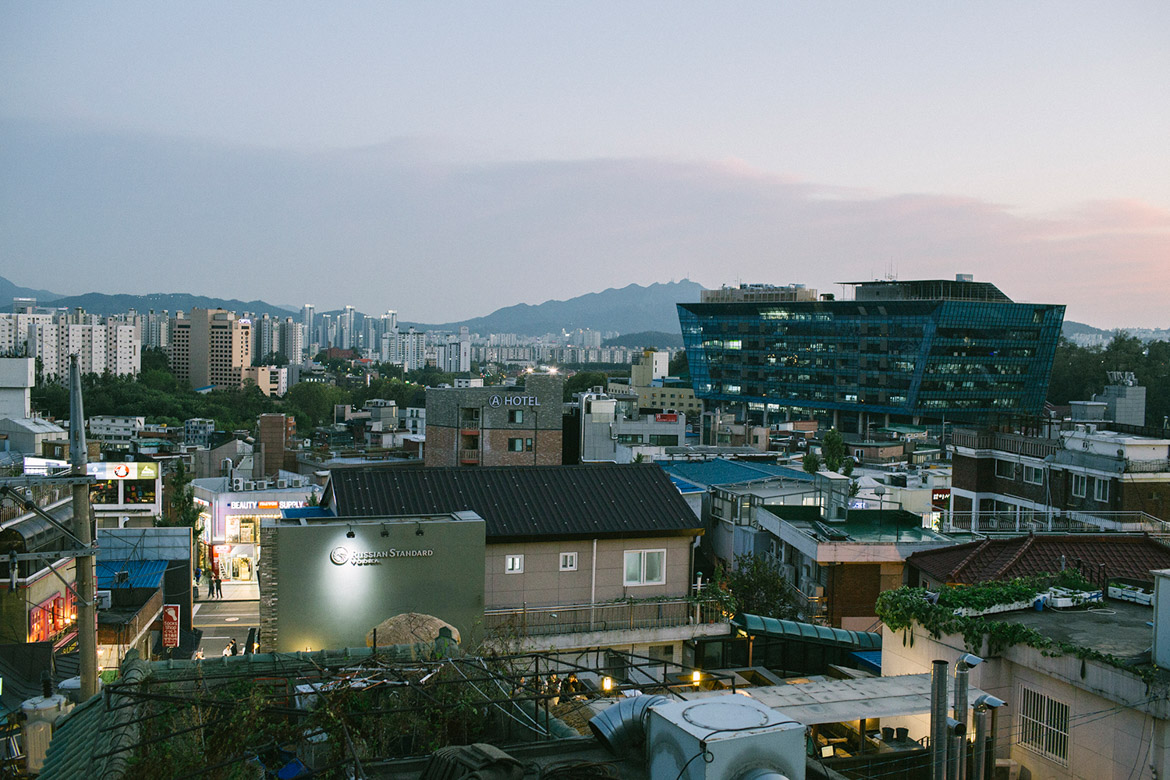 A mate and I had just been in Tokyo for 3 days and now we had arrived in Seoul.  I took this on our first night on the rooftop from the building we were staying.  We were keen to party but there wasn't a whole lot going on this night as it was a Monday.  Our best option was getting cheap corner store beers and drinking on the rooftop.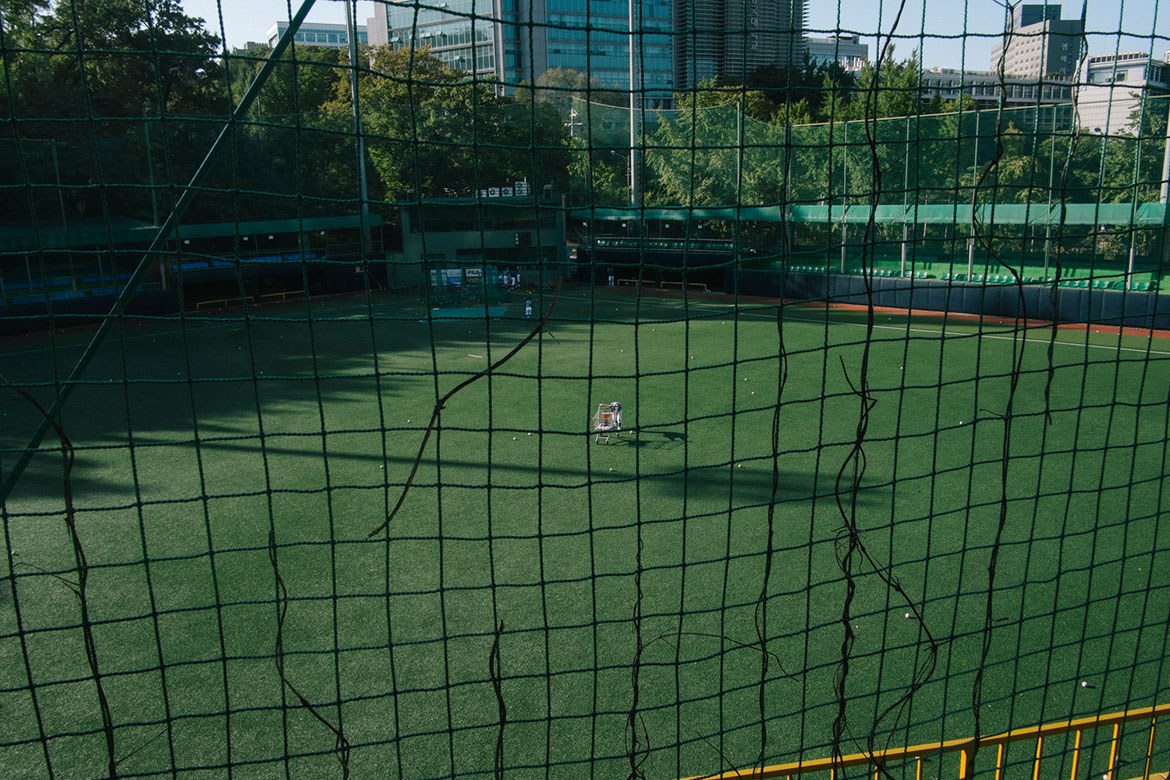 This was the first photo I took in Seoul.  We'd just put our bikes together and were on our way to this Design Plaza.  Riding was kinda nuts for us as we didn't realise they drive on the other side of the road.  My mate was first to encounter this after hooking left onto a main road only to be facing oncoming traffic. It was also way more hilly than I'd anticipated so riding became a little more interesting.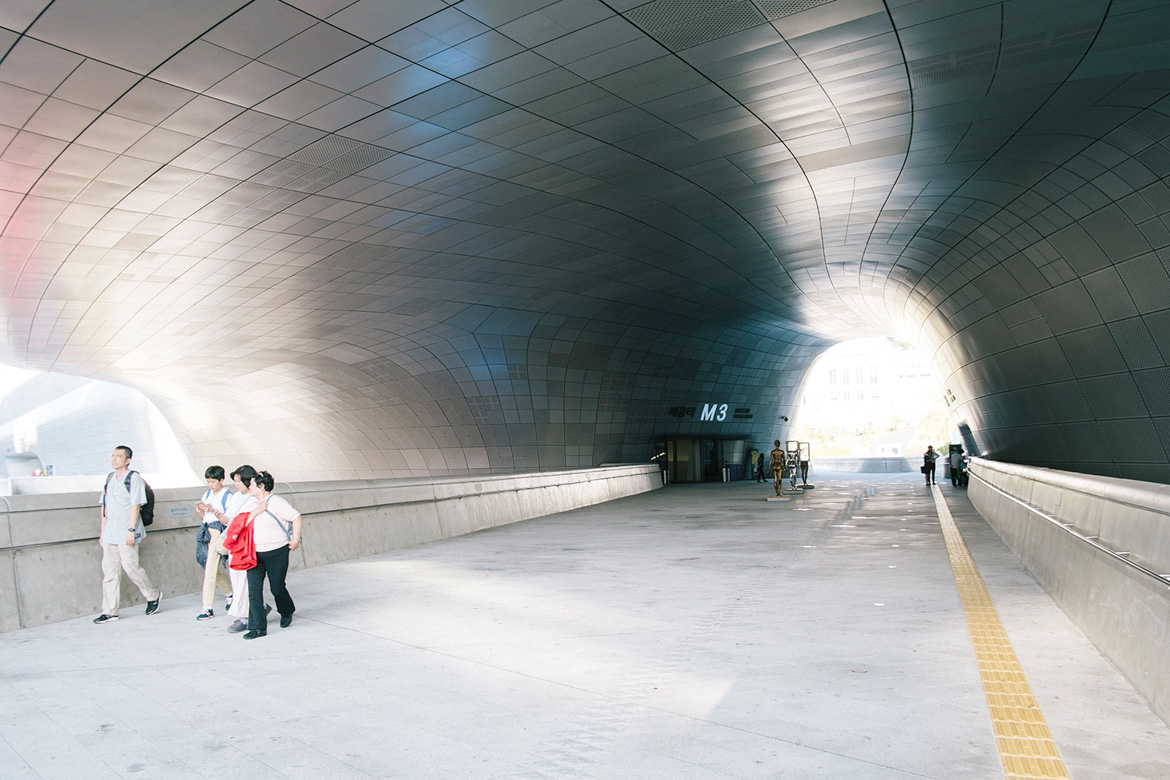 Dongdaemun Design Plaza has obviously been shot a heap but we still wanted to check it out.  I walked around for a good hour here in the stinking afternoon sun. Coming from the Gold Coast, architecture like this is rare so it was cool to see and appreciate how much work would have gone into it.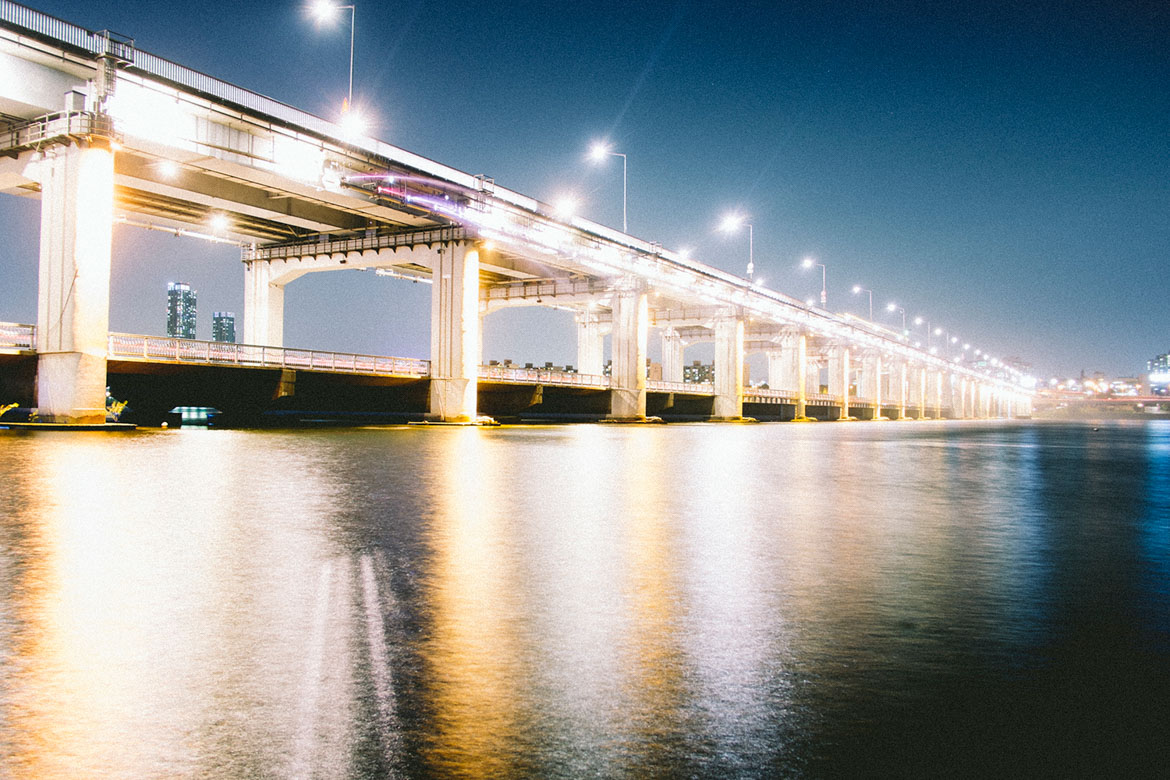 I'm usually not one for doing main tourist attractions but we were pretty hungover and decided to ride down to Banpo bridge. They have a fountain that is lit up by coloured led lights.  I think we were there around 9pm on a Tuesday and the place was packed full of locals, tourists and photography 101 classes.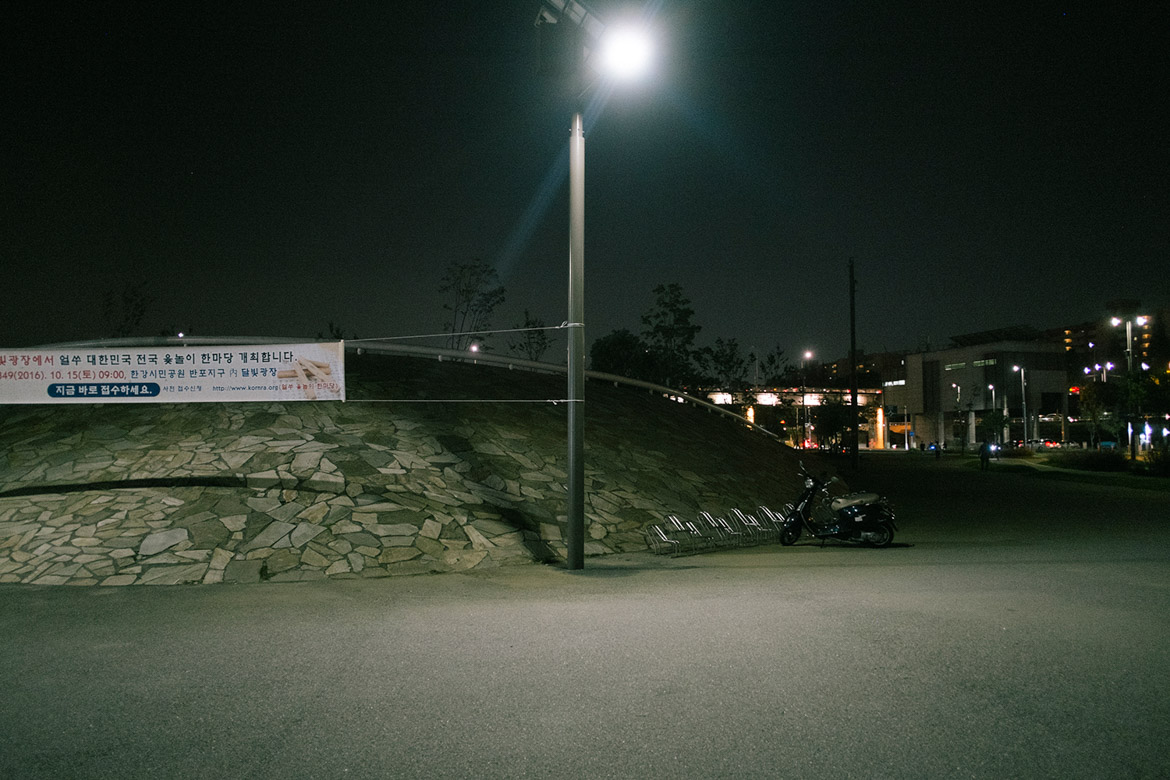 This is Hangang Park on a Tuesday night. There's speakers blasting music and plenty of locals out and about riding bikes, running or jogging along the bike track. I just managed to pick the right time to get this shot with no one it.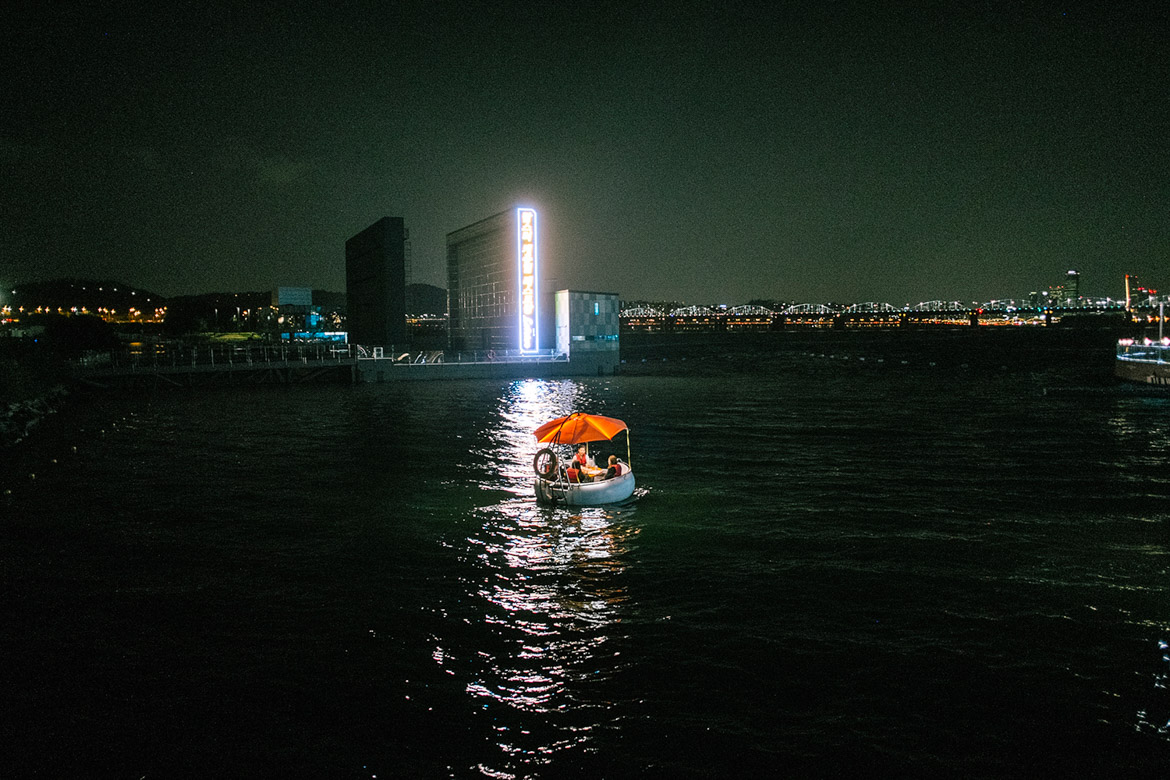 Just off Hangang Park were these little boats bobbing in the water, they reminded me of those red and white lures you used to use fishing when you were a kid.  The whole scene looked like something out of a cheesy rom-com.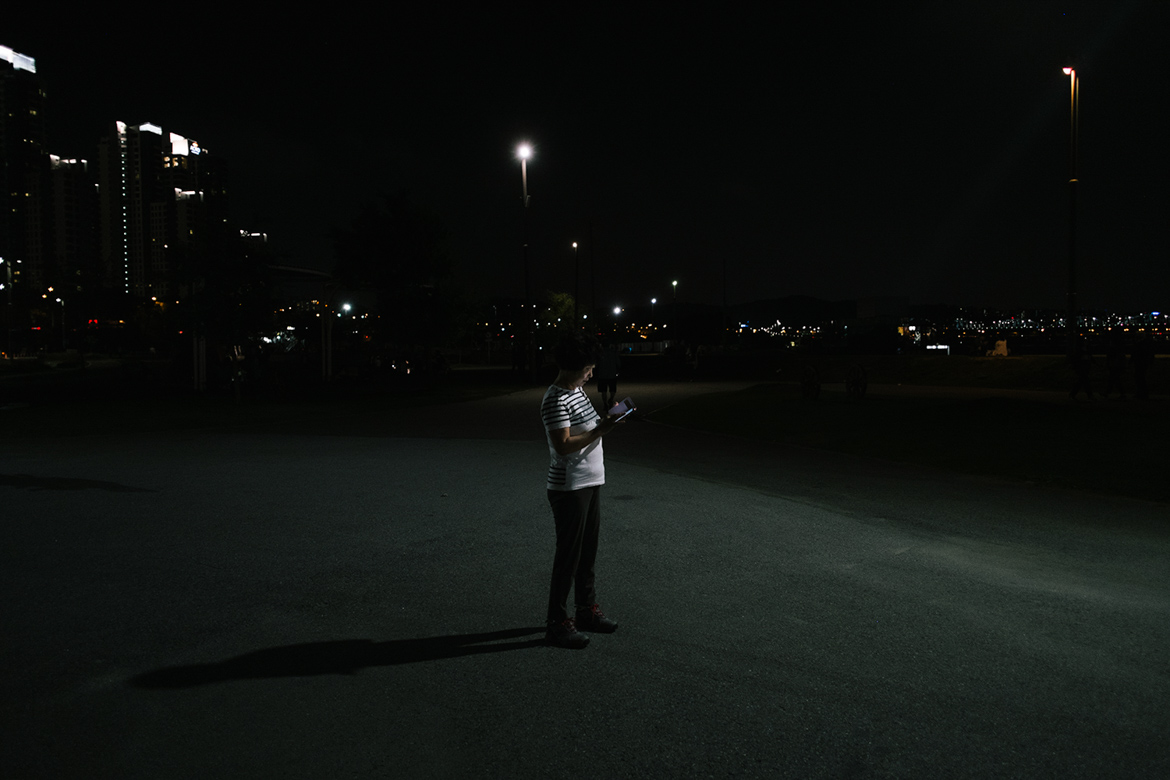 The street lights surrounding Hangang Park made for these creepy sections on the paths.  I stood in one spot waiting for people to walk under the lights so I could try get a couple of photos. This lady unknowingly paused and used her phone for a couple of minutes allowing me to snap away.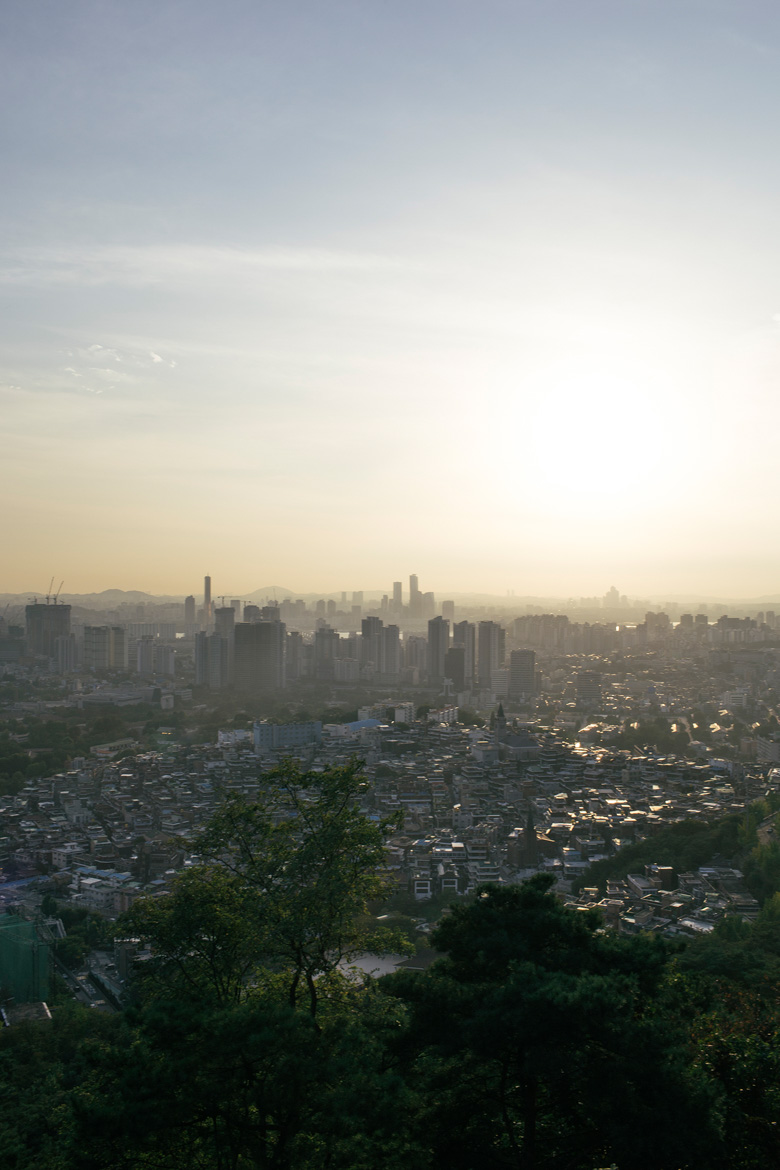 After meandering our way through the park at the bottom we got to this look out. One thing I really liked was how these hills and parks were so close to the city.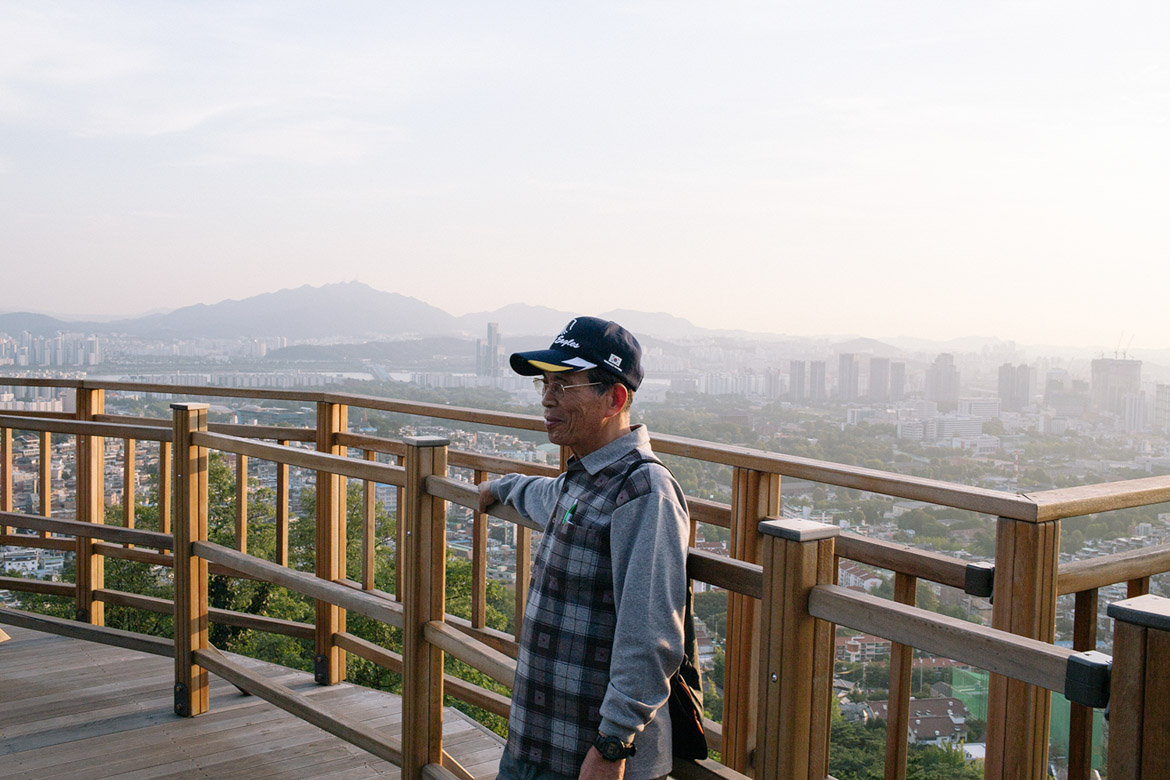 This guy was a polite tourist posing for a shot that my mate was taking of him.