Hold your horses!
Before you start  pulling out Christmas decorations and going through all of your atrociously gawdy NYE outfits, make sure to poke your head outside and experience some art. With a month full of iconic Japanese images of the supernatural, toys turned into wild art and collectives of young creatives coming into their own, there's literally no reason to stay inside this November!
1, Japan Supernatural (Sydney)
2nd November – 8th March, The Art Gallery of NSW, Art Gallery Rd, Domain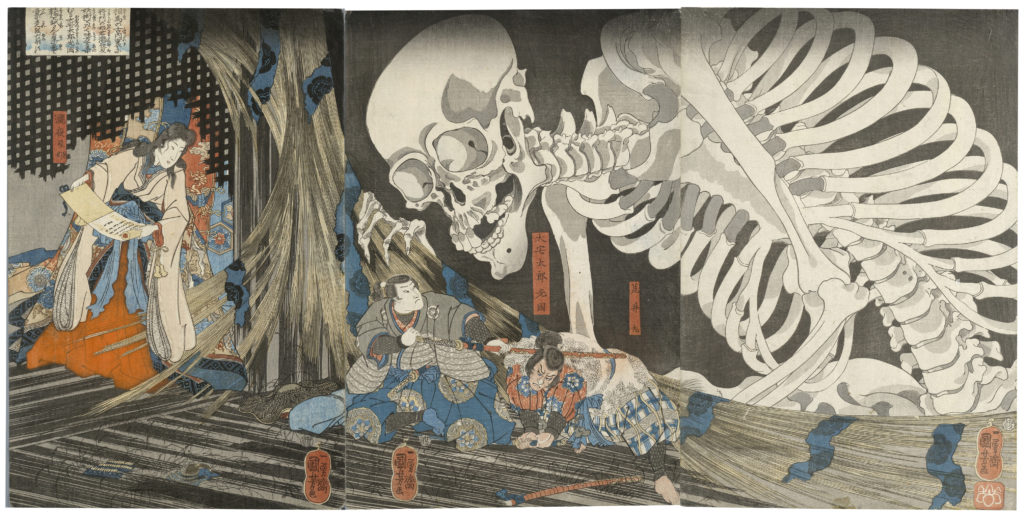 Utagawa Kuniyoshi Mitsukuni defies the skeleton spectre conjured up by Princess Takiyasha 1845–46 British Museum, Photo: © The Trustees of the British Museum
To kick off it's Summer season of shows, The Art Gallery of NSW presents one of its most breathtaking exhibitions yet with Japan Supernatural, a jaw dropping and awe inspiring collection of works celebrating centuries of spiritual and spine tingling artworks:
"Discover a fascinating world in an exhibition like no other, featuring over 180 wildly imaginative works by Japanese artists past and present.
Step into the shadows and come face-to-face with an astonishing array of phenomenal beings in Japan supernatural, where ghosts, goblins and mischievous shapeshifters inhabit a spirit realm. See Japan's folklore brought to life in magnificent paintings, large-scale installations, miniature carvings and humorous illustrations, and explore the vibrant ukiyo-e woodblock prints that define the tradition of the supernatural in Japanese art".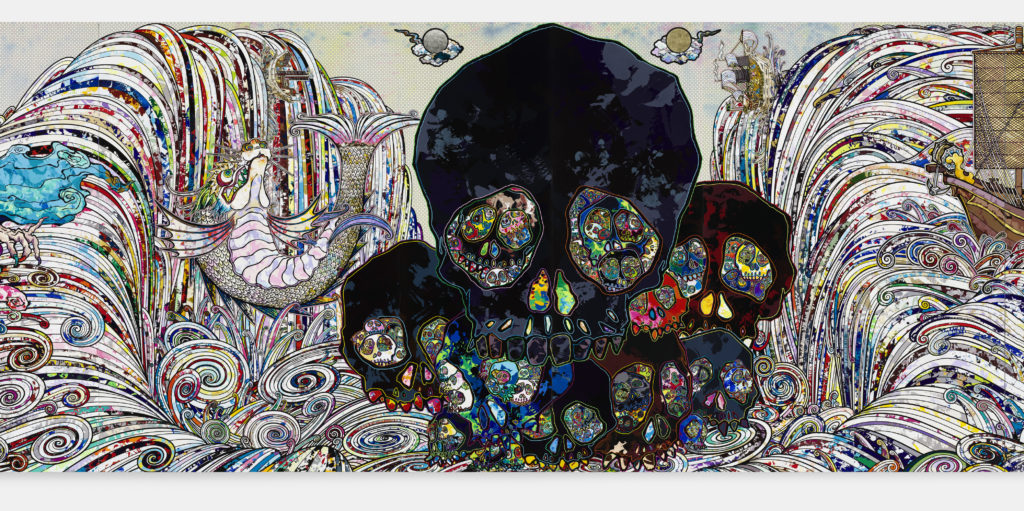 Takashi Murakami In the Land of the Dead, Stepping on the Tail of a Rainbow 2014 (detail) The Broad Art Foundation, Los Angeles © 2014 Takashi Murakami/Kaikai Kiki Co, Ltd. All Rights Reserved Photo: courtesy Kaikai Kiki
Japan Supernatural will also mark the acquisition and exhibition of an exclusive painting by world renowned contemporary artists Takashi Murakami titled 'Japan Supernatural'. Sprawling at over 10 metres in length, the painting unravels a mosaic of iconic macabre Japanese imagery, highlighted by Murakami's signature surrealist eye and patent for vibrancy:
"Inspired in part by the Art Gallery of New South Wales exhibition theme, Murakami's painting is emphatically of the 21st century while invoking history. Murakami has amplified the visual intensity of Kuniyoshi's prints, creating a field of action in which everything is mutating and moving. The eyes and mouths of the warriors have been violently distorted and flooded with synthetic colour, suggesting that the monstrousness of the yо̄kai is present in the human characters.
Among Murakami's reference points in creating the work were the samurai films of Akira Kurosawa. The painting also demonstrates a shift in the content of Murakami's work following the Tōhoku earthquake and tsunami of 2011, which prompted him to re-engage with traditional Japanese stories of spirits and the afterlife".
With workshops, talks, performances and shows spanning until March, Japan Supernatural is not be missed!
Find more info here.
2, New Age hosted/curated by Ms Thandi & Yawdoesitall (Sydney)
6thNovember, Freda's, 107- 109 Regent St, Chippendale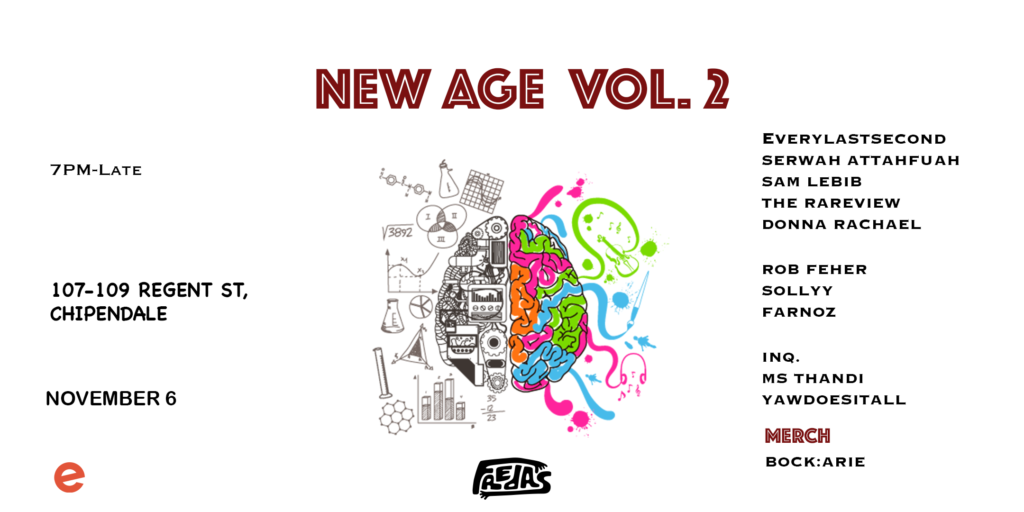 After a stellar debut last year, Sydney's most exciting showcase of promising creatives returns with New Age Vol 2. With a lineup of dynamic talents from a diverse range of disciplines, New Age Vol 2 looks to be a night filled with photography, music and exclusive merch!
Artists featured include: (Exhibition) Everylastsecond, Sam Lebib, Serwaa Attafuah, Donna Rachael ,The Rareviews , (Merch) Bock:aire (Music) INQ, Ms Thandi, Yawdoesitall (DJ) Rob, Sollyy, Farnoz
Find more info here.
3, This Is Not A Toy Scene Vol.3 Sydney Strikes Back (Sydney)
15th November, Mothership Studios, 18 – 22 Sydney St, Marrickville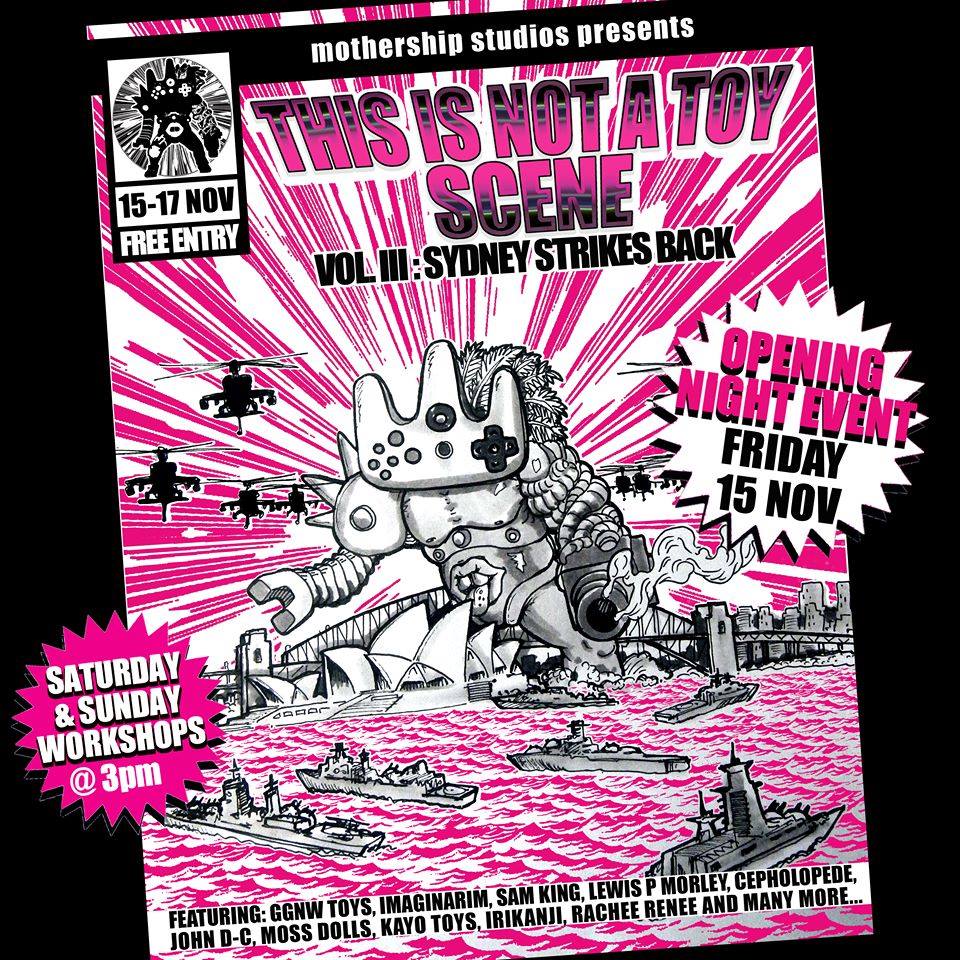 Australia's biggest toy artists' exhibition, This Is Not A Toy Scene, is coming to the heart of Sydney's Inner West after two successful shows in Melbourne. Using collectables, playthings, or anything you might've been warned not to put in your mouth when you were a kid as canvases; these artists have come up with a range of weird and wonderful works that will make you gasp in awe and shock in equal measure.
Featuring, GGNW, Cepholopede, Imaginarium, Irikanji, Sam King, Lewis P Morley, John D-C, Moss Dolls, Kayo Toys, Rachee Renee, Phillip Sabolta and many more.  Opening night will feature live music from Dweeb city, Yes/No/Maybe and more. Day 2 will feature toy making workshops from 1pm and a toy related movie at 6pm with Karaoke at 8pm.
Find more info here.
4, About A Day by Victoria Zschommler(Melbourne)
22nd – 29th November, At The Above, Level 1, 198 Gertrude Street, Fitzroy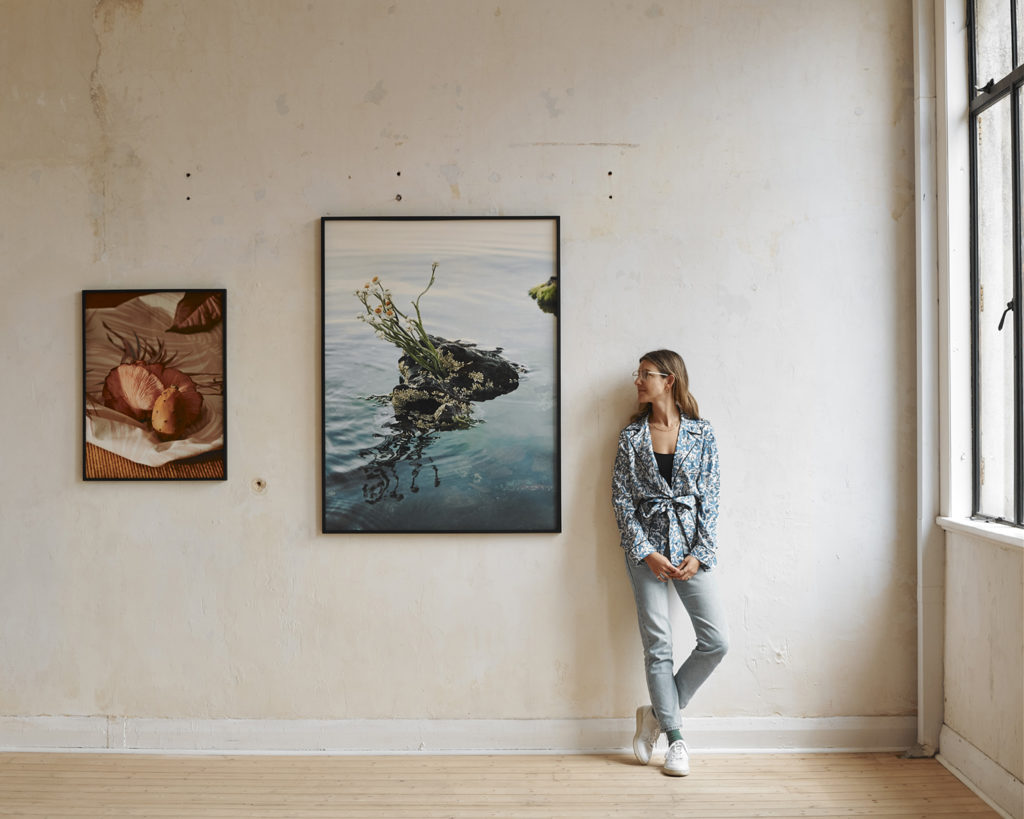 Aussie photographer Victoria Zschommler looks to further explore her fascination with images of still life with her second solo how About A Day. Having gained international success, Schommler has been recognised and collaborated with the likes of AnOther magazine, Vogue Australia & Italia, Vogue Living, IMPRINT, Russh, Oyster, Vanity Fair, Marie Claire and more, having also collaborated with Lucy Folk, Burberry, Swarovski and the NGV:
"Still life work with an inevitable inertia, About a Day (Diurnal Rhythms) is a transitioning; an eerie juxtaposition of the coolness of sunrise with the ripe heat of midday and desaturated, subdued twilight.
A time-lapsing triptych, with Zschommler's vivid, visceral works presented as documents tracking the journey of organic matter and moments, About a Day (Diurnal Rhythms) is created in partnership with Melbourne florist Lottie Phillips's minimal and hauntingly supernatural arrangements.
 The playful meditation on changing states, aesthetics and emotions opens 6–9pm November 22, running until November 29. 
In collaboration with At the above and Zschommler, Phillips will also evolve the subject matter beyond the frame, with glowing floral arrangements throughout the space".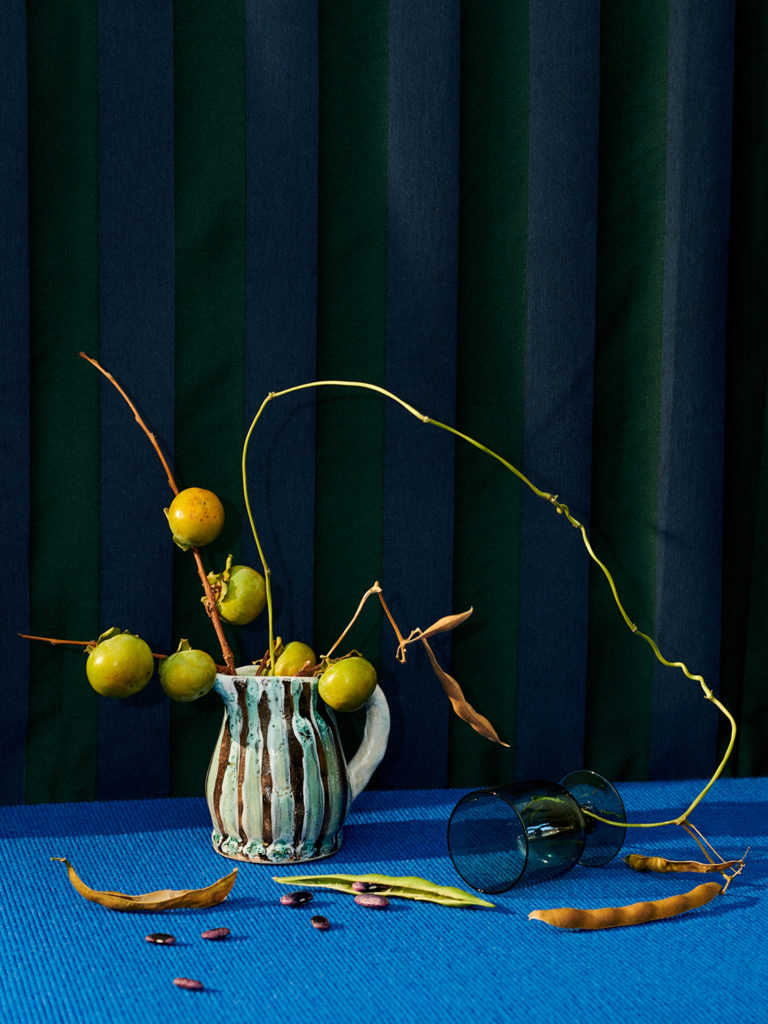 Find more info here, see more of Victoria Zschommler's works here, follow @victoriazschommler
5, Tom Blachford (TBA) (Melbourne)
22nd November – 8th December, Backwoods Gallery, 25 Easey St, Collingwood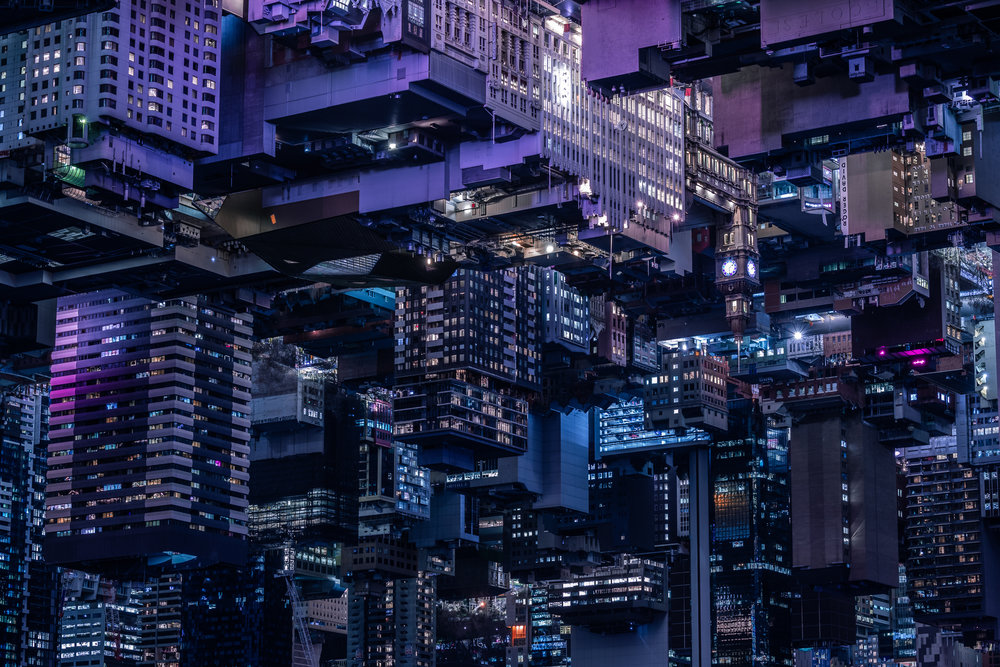 With a curated eye for capturing city-scapes and turning them into worlds existing between reality and dreams, fine art photographer Tom Blachford will be bringing his surrealist imagery to Melbourne's own Backwoods Gallery.
"Obsessed with capturing the moments of clarity, colour and mystery that exist just beyond the limits of our human perception Blachford explores the ability for his camera to bridge our worlds to dark worlds beyond our reach.
Captivated by architecture, not only for its sculptural forms, Blachford's images of homes, towns and suburbs act as the the stage for unwritten narratives that implore the viewer to script their own drama happening behind the walls of each scene.
Using only existing light sources – the moon (Midnight Modern), The neon Lights of Tokyo (Nihon Noir) or the harsh street lights of LA (Noct Angeles) Blachford hunts for the overlooked cinematic moments in the everyday and works to distil them with a sense of mystery, unease and wonder".
Find more info here. Follow @blachford