Winter is here.
As we brace for the cold winds and long nights to come, we look to the world of art for a reason to bust out our wool jumpers and oversized parka jackets in preparation for traversing the icy tundra which is anywhere outside our front door. Looking forward with a jam packed June full of art shows ahead, we picked 5 to get you started!
1. Meet Me In The Pit – Issue 3 Launch (Sydney)
5th June, GOODSPACE, 115 Regent St, Chippendale
One of the most acclaimed anthologies in Australian indie comics is back! Meet Me In The Pit looks to further explore diverse stories of music and the people that love it:
"Come celebrate the launch of the third, extra-sized issue of Meet Me In The Pit, a comic anthology that features some of Australia's best cartoonists creating works inspired by music! Suffer an existential crisis while on the dancefloor! Discover the magic of street music! And meet the Manus Metal Man!"
Featuring works by Allison Gallagher & Elizabeth Nagy, Bailey Sharp, Erin Sutherland, Jess Kitty Parker, JESWRI, KAZKOM, R. Moore, Rosie Di Wu, Safdar Ahmed, Samuel Luke Beatty, Tayla Colley, Thea Kable, Thomas Hamlyn-Harris.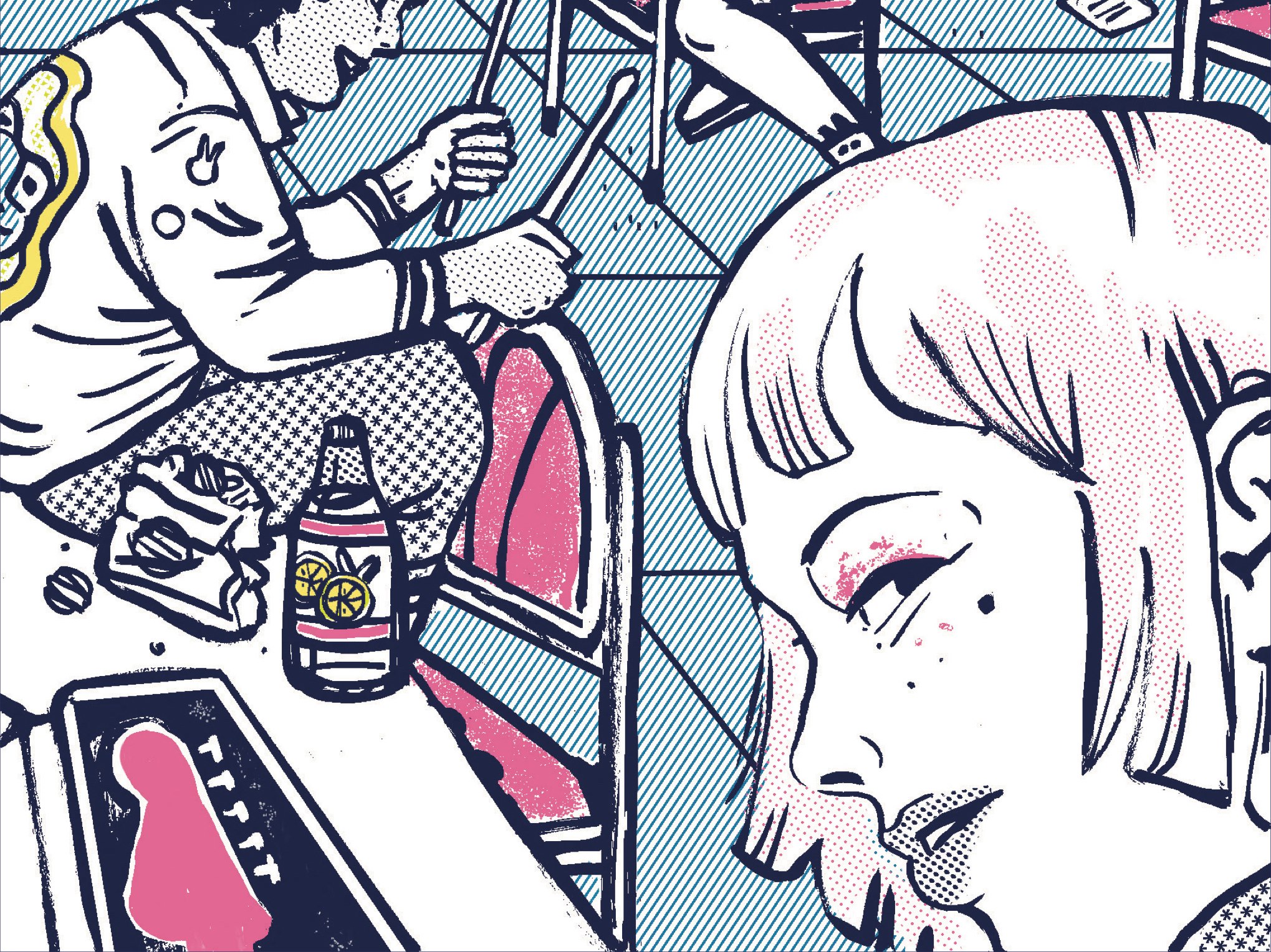 Find more info here. To read our previous interview with editor and all around cool guy Chris Neill, click here!
2. Army Of Me by Sweler (Melbourne)          
7th -16th  June, VS.Gallery, 1 Vere St, Richmond
After spending time in Europe and a brief hiatus, Melbourne based artist Sweler is back with his latest solo show Army Of Me, showing a body of work that further highlights his surreal and dreamy works:
Selling works in London and Europe mainly on commissions and by word of mouth. Having a small break from painting Sweler moved back to Melbourne where he is again developing his craft… Today his art is character and creature based. He paints characters that at first glance seen pleasant but theres a darker side beneath the surface. ARMY OF ME will be his first Melbourne solo show".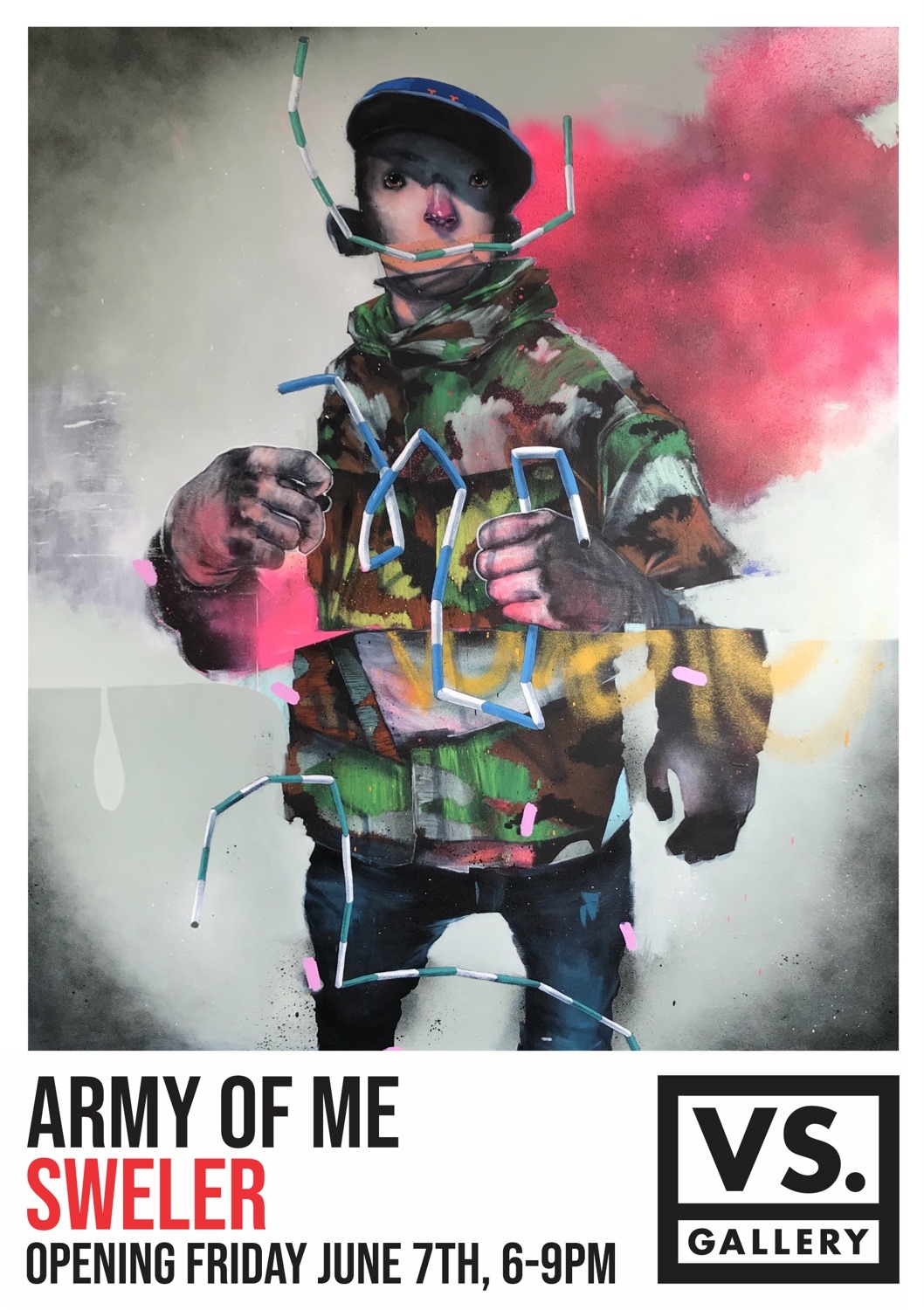 Find more info here!
3. A Measure Of All Things by Georgia Hill (Melbourne)
Until June 9, Backwoods Gallery, 25 East St, Collingwood
In Georgia Hill's already illustrious career it's crazy to think she has never had a solo show in Melbourne! But there's a first for everything and  There is no better place than the acclaimed Backwoods Gallery for Hill to make her Melbourne debut with her highly anticipated new body of work A Measure Of All Things.  
Hill continues her exploration of abstract compositions and monochromatic intricacies with a whole new body of work which looks to highlight her evolution and growths as an artist:
"Aspects of Hill's large scale mural practice are distilled and reframed through canvas artworks, installation and paper studies, where the parallels of physical spaces and everyday conversation are layered, abstracted and manipulated into new landscapes and fragments of reflection. These works shift between simplifying and overwhelming concepts of experience, showing moments of clarity in boundaries and simplified forms, juxtaposed against instances of tension or reflection in textures, repetition, and phrasing.  These works build to consider our varied experiences and memories, and what shapes the enduring significance of one place or point in time."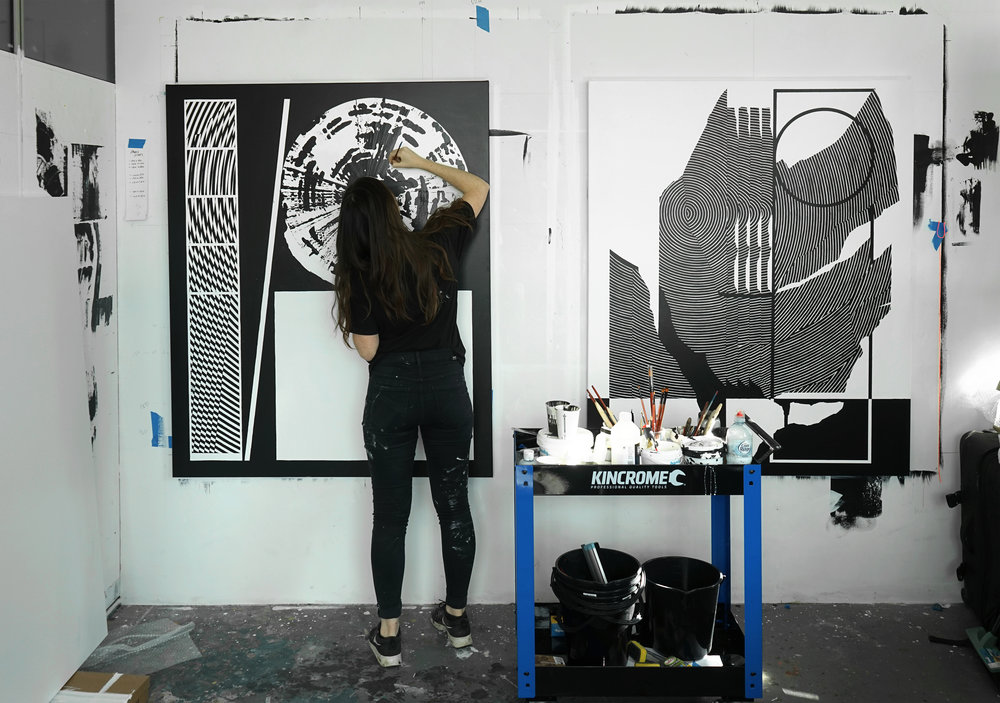 Find more details here.
4. Jim Jarmusch's Zombie Jam (Sydney)
14th June, The Hub, Townhall, 483 George St
The Sydney Film Festival is upon, bringing a slew of some of the most exciting, touching and experimental offerings from the world of film. Now it would be easy to just put the whole festival on this list (and you should definitely check out some films), But I thought it'd be more interesting to highlight just one of the many events happening, and if it's going to be anything why not Jim Jarmusch's Zombie Jam!
https://www.youtube.com/watch?v=AX4dwC2PUpM
The acclaimed auteur is back with The Dead Don't Die, his humorous and meandering take on the zombie film. The SFF thought there'd be no better way to celebrate than with a post screening night filled with the music from his expansive filmography. Expect everything from Tom Waits to The Wu Tang Clan, and everything in between.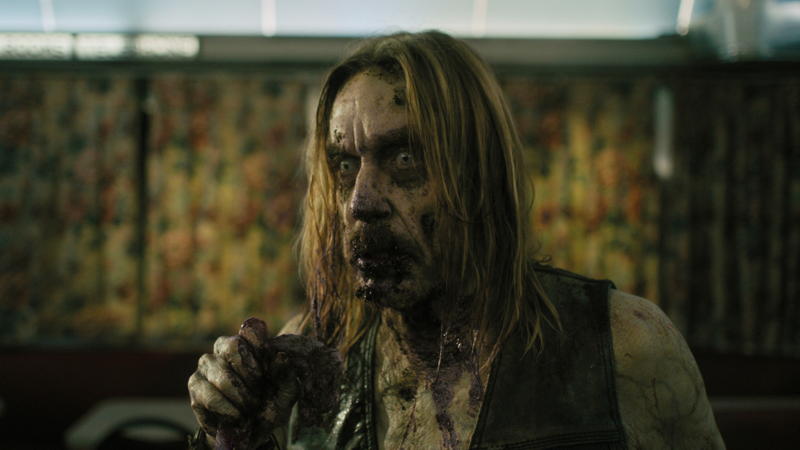 Find more info here.
5.Vivid (Sydney)
Until 15th June, Barangaroo, Chatswood, Circular Quay, Darling Harbour, Harbour Lights, Luna park, Royal Botanic Garden, Taronga Zoo, The Rocks
I know, I know, it seems like a bit of a cop out, but hear me out! Vivid only happens once a year, drawing out huge numbers to Sydney's beautiful, yet icy cold water sides in the winter. Besides being a dazzlingly display of light and sound art, Vivid has slowly become one of Australia's most innovative cultural and artistic events, show casing a slew of local and international artists, musicians, filmmakers etc. It's hard not to turn your head and not see an event in Sydney that's not Vivid related:
"If there's one place in the world where inspiration shines bright, it's Vivid Sydney. Returning for its eleventh year from 24 May – 15 June 2019. Vivid Sydney is Australia's most loved and awarded festival brings together light artists, music makers and brilliant minds to share their creativity with you. See the city transformed. Discover new artforms. Ride soundwaves. Spark new ideas and ignite conversations. Let your imagination take flight".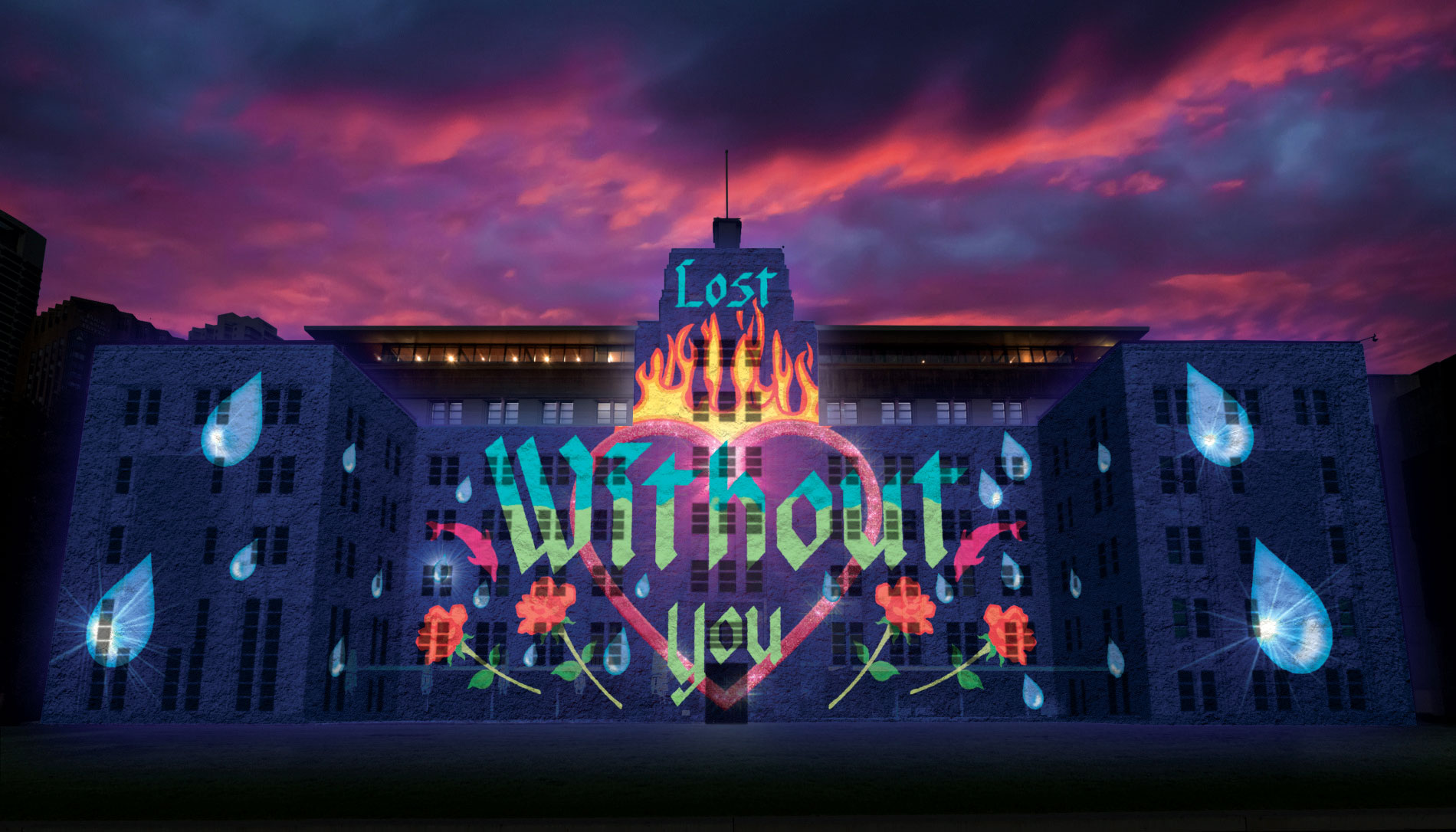 Just some of the things to see around Vivid in June includethe now iconic lighting of the Opera house,  the Samsung Electric Playground (the giant slide being a particular highlight), Claudia Nicholson's "Let Me Down" projecting on the MCA, and Rhoda Roberts's "Eora: Broken Spear" (Just to name a few). Make sure to catch the last two weeks of Vivid while you can!
Find more info here.