Art can stereo-typically be a selfish endeavor, but in reality it can be just as much about giving as it about taking.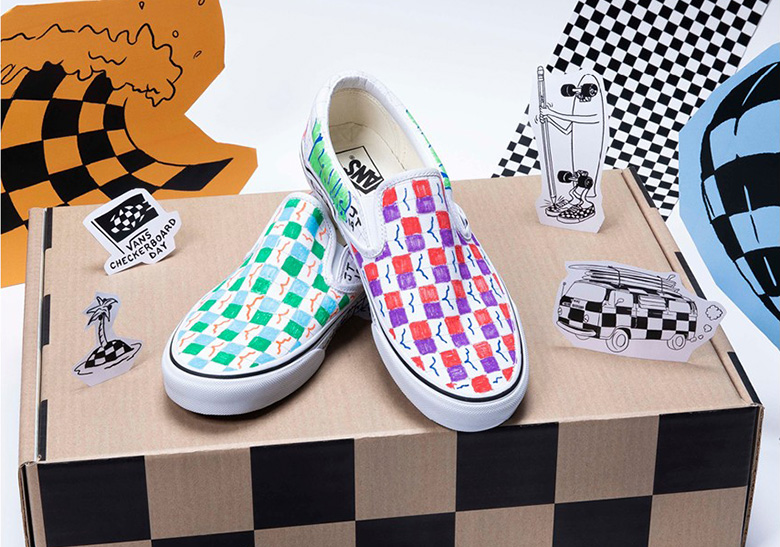 When the right opportunity present itself, creativity and charity can go hand in hand perfectly, such is the case with Van's Checkboard Day. The charity auction is a partnership with eBay For Charity to help encourage inspiration and raise money for Imagination.org, a non-profit organization whose goal is to foster creativity and entrepreneurship in youth around the world:
"Vans Checkerboard Day expands on Vans' "Off The Wall" ethos and the brand's purpose to enable creative expression through its founding pillars: action sports, art, music and street culture. On November 21, Vans will donate $1 million of global sales made through the brand's owned retail locations and Vans.com to Imagination.org, powered by Two Bit Circus Foundation, to champion and inspire creative expression globally and provide fans the opportunity to participate in creative activations, experience why creativity matters, and take part in Vans' reason for being".
To celebrate Checkboard Day, one of a kind Classic Slip-On's or Old Skool III Backpacks designed  by iconic Van's ambassadors Christian Hosoi, Geoff McFetridge, Kim Jaekyung, Brighton Zeuner, Steve Van Doren and much more will be available for auction.
#VansCheckerboardDay is November 21st and we are donating $1M USD to @Imagination.org. Help us celebrate creative expression! Put on your checkerboard and get out there and get creative. Visit a Vans store or vans.com/checkerboardday to find ways to get involved in your community.

Posted by Vans on Thursday, November 7, 2019
To get involved click here and find out more info about Imagination.org click here!