All images via Harley & J.
We spoke to Harley & J artist Jaz Meier about how and why she creates.
Forging a career in any creative industry can be difficult for even the most talented of artists. It takes a mixture of ability, style, ambition and luck to make a living in often competitive and gritty fields – even Vincent Van Gogh only ever sold one painting while he was alive – you're welcome for the fact of the day, btw.
Navigating this often tricky environment Jaz Meier, better known as Harley & J. Consistently designing and creating unique and visually enticing art for bands, brands and causes all over the world, she has made a name for herself as the go-to artist for psychedelic, 70s inspired pieces.
Having recently swapped Sydney for Byron Bay, we caught up with her to chat influences, environments and what she sees as arts role in social causes and awareness.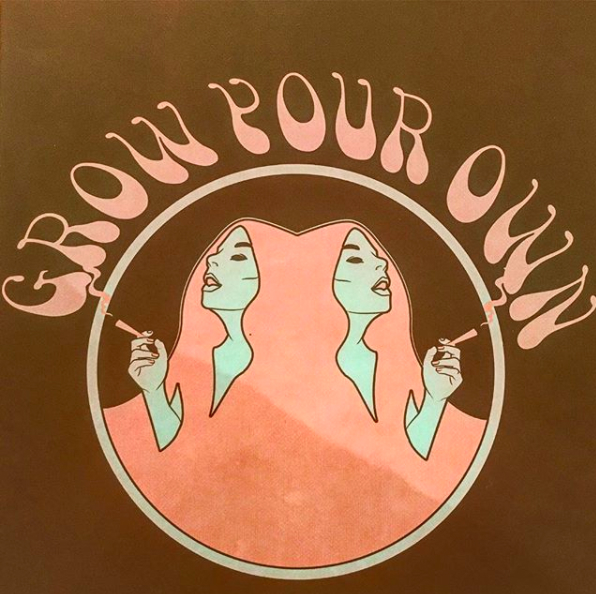 When did Harley & J begin?
I started Harley & J when I was still working at a company that had the license for Harley-Davidson in Australia. I loved that job but skulls, motor bikes and eagles gets very repetitive. Harley & J was an outlet for me to get my creative fix with a more feminine touch and what I loved to draw.
To be completely honest, I never really truly focused on Harley & J until I was having a hard time emotionally. A few things had come undone in my personal life and I found myself feeling and acting miserably. Harley & J became a perfect outlet for me to channel all this negative energy into something positive. I was just designing and drawing up anything that came to mind. Before too long I had people contacting me for commissions and from there it's just grown and grown, I never really planned for this to be my full-time gig, but it is and I'm very grateful for it.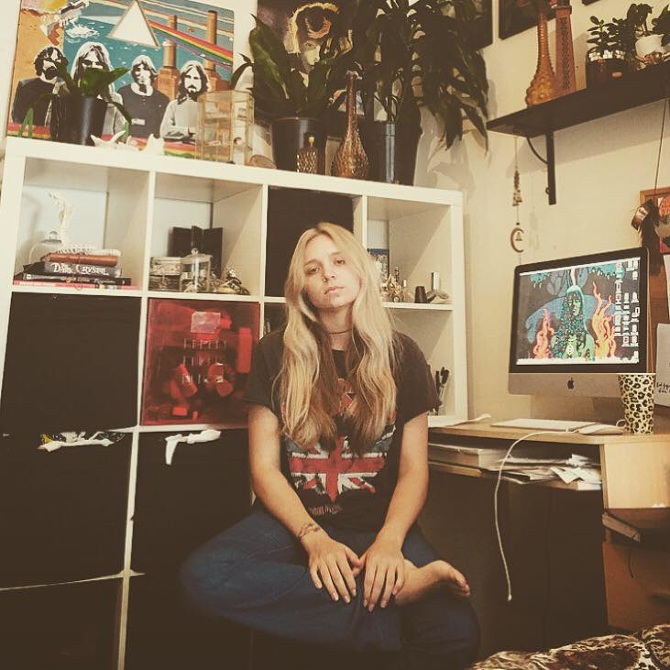 Jaz in her creative space. Possibly thinking about surfing…
Where do you create? What's your creative space like?
My partner and I have just moved out of the city up north, and we both work from home doing freelance design. My office and whole house is very reminiscent of my design. All earthy tones with a very strong 70s influence. I have posters and art all over the place. I think it's good to surround yourself visually with things that inspire you.
What artists influence your work?
Guys like Rick Griffin and Peter Max. Edward Mucha and Ertes are my two favourites of all time. I love how women and nature are their main subjects and celebrated for all their beauty. That seems to be the two things I'm drawn to most to draw. There's a whole lot of modern artists too that I love to – Robin Gnista is a wizard, Alan Forbes, Caitlin Mattison just to name a few. They all have their own take on an older style and I love seeing other peoples creativity come together. Instagram/social media honestly is the best platform for small time freelancers, there are so many wonderful artists out there who I would never see if it wasn't around.
What influences your work outside of art?
I guess all aspects of my personal life filter into my work, music, nature etc. For a small rural town of 9000, Byron Bay has a huge young creative population with art shows and music on every weekend to keep you busy and inspired.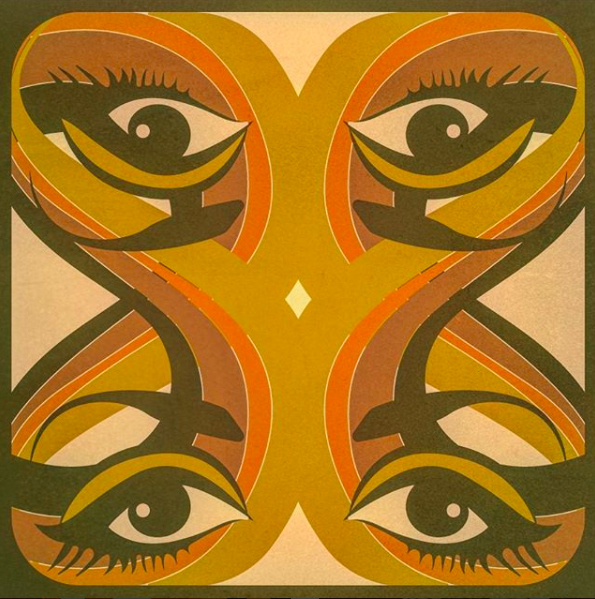 Does your lifestyle influence your art or vice/versa?
My art is really influenced by my lifestyle. I am obsessed with everything from the 70s, the music mainly, art, fashion, home interiors, the lifestyle, I love everything about it – actually, who doesn't? My parents were 70s surf babies and we were brought up listening to Pink Floyd and Bowie on repeat, that's probably where my fascination started. I love flicking through their photos with their long hair, panel vans and flares, it's seriously my dream era.
How has life been since leaving Sydney?
I loved Sydney for the decade I was there, but by god it is good to be out of there. Life is quieter, I'm a lot more focused. I'm up super early these days which is the best time for me to smash out my best work, especially because the majority of my clients are based n the US and I can catch them on the last few hours of their day.
I seem to taper off and slow down towards the end of the day. Honestly, for my work it's been one of the best decisions I've ever made. The only negative would be is that the weather is too distracting sometimes, and I cave and go for a surf when I really shouldn't.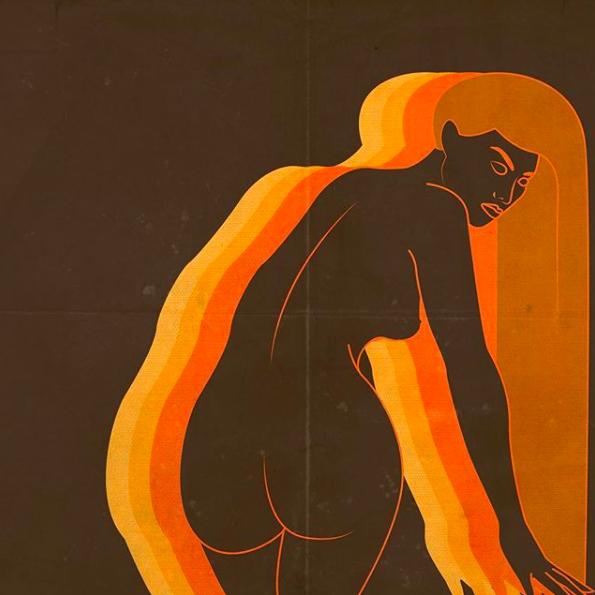 You've created some politically charged pieces in relation to feminism, marriage equality, standing rock etc, why do you think art is an important part of such causes?
I think an image can say a lot more and speak on a deeper level sometimes than words. You can capture a huge amount of emotion with imagery. Again with the internet, it has opened up this huge platform for people to have their voice heard, before that it was only what you would see on the news. Things like Standing Rock and even the latest Equality campaign would never have been heard in that volume if it wasn't for that platform.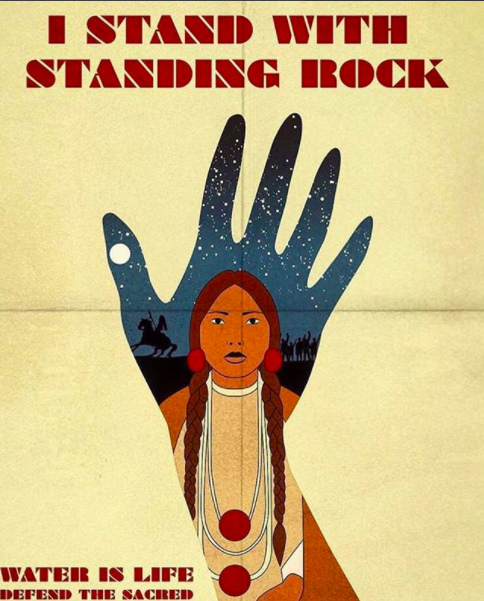 What's the best part about your job?
The flexibility of it, I can work when I'm at my best and not to somebody else's schedule. I do sometimes miss the stability of full time work and things like sick pay and holiday leave, but they are worth sacrificing because I get to focus on what I love.
Who are some of your fave people you've collaborated with/designed for?
I recently did a collaboration with Stance Socks & Disney to celebrate 80 years of Snow White, I have always been obsessed with fantasy and Disney so for me personally this was huge. It was also done in an Art Nouvea style, so it could not get better than that for me. I also loved the Standing Rock poster, although that was a shitty shitty situation with a shitty outcome, it was so refreshing to see people all over the world rally together to fight corporate power and say, 'Fuck you.'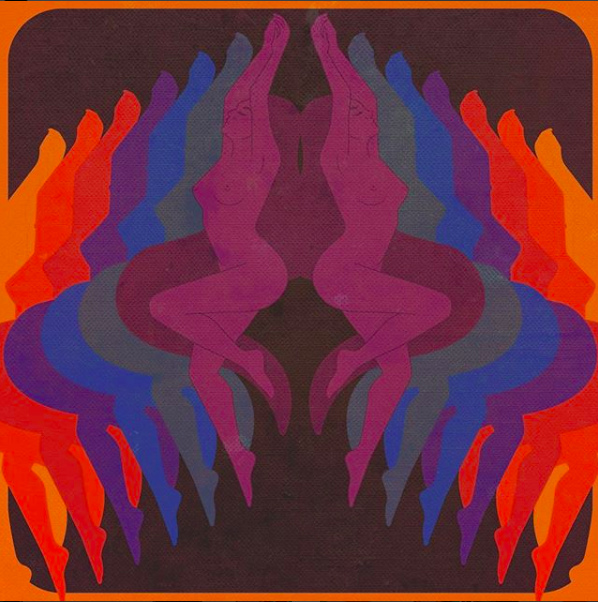 What advice would you give to up and coming artists?
Keep at it, its hard at the start and it can take a while. Put yourself out there too, if there's a gig you want, email them- bands, brands whatever it is. The worst that can happen is that they say no, and you have to give a little to get little.
Check out Harley & J's insta here and online store here.