TwentyFour, in partnership with Red Bull.
What were you doing when you were 17 years old? I was wearing wallet chains, experimenting with boxed wine, scribbling Slipknot lyrics in my school diary and generally being a fuckwit.
That's not the case for Joey Bada$$, who was exploding onto the rap scene back in 2012 with his impressive 1999 mixtape – a steady showcase of lyricism and New York's unmistakable swagger. Fast forward to 2015, and he's just released his debut album B4.DA.$$ on his 20th birthday – and it's nothing short of riveting.
Just two weeks ago, we spent a day with Joey while he took some time off on his Australian tour, which included appearances at Falls Festival. Here's how it went down: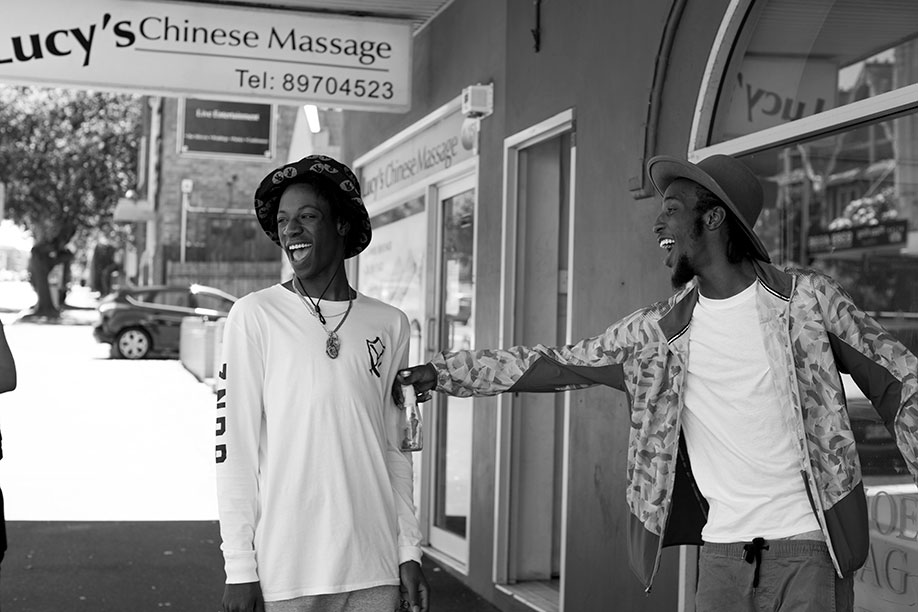 Bondi isn't only home to rich people with topknots, kale connoisseurs and Irish backpackers – it's also the spiritual birthplace of Life Without Andy. Joey and his crew meet us outside our office on Bondi Road. No, we don't work at Lucy's Chinese Massage – yet. Life Without Andy headquarters is actually upstairs, but next time you pay Lucy a visit, come say hello and distract us for the entire afternoon so we don't get any work done. Also, bring cookies.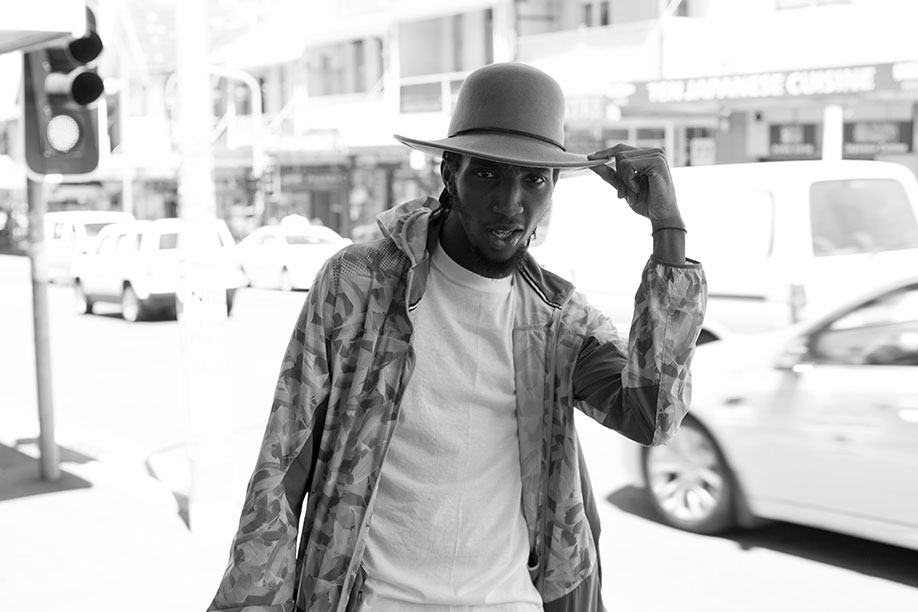 CJ Fly really lives up to his name in this portfolio shot we snapped of the charismatic rapper. We find this wide-brimmed Brixton hat in the office, and CJ immediately dons it with an aura of confidence that can only be compared to Pharrell Williams. Immediately, he looks like he could slide in seamlessly with the most of the indie chicks and bros at Splendour In The Grass. #FESTIVALFASHION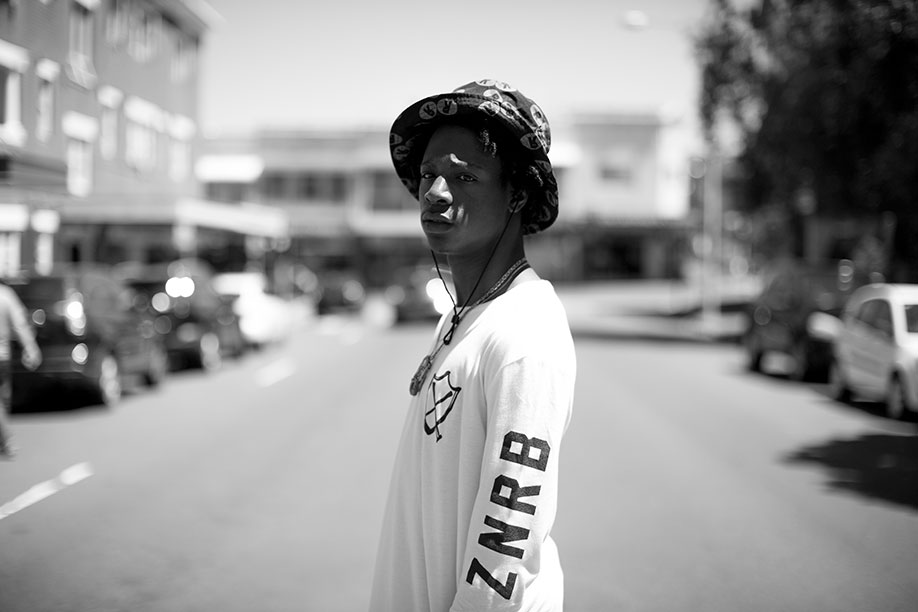 Mid-road photo? No fucks given.
We should probably check for traffic, though.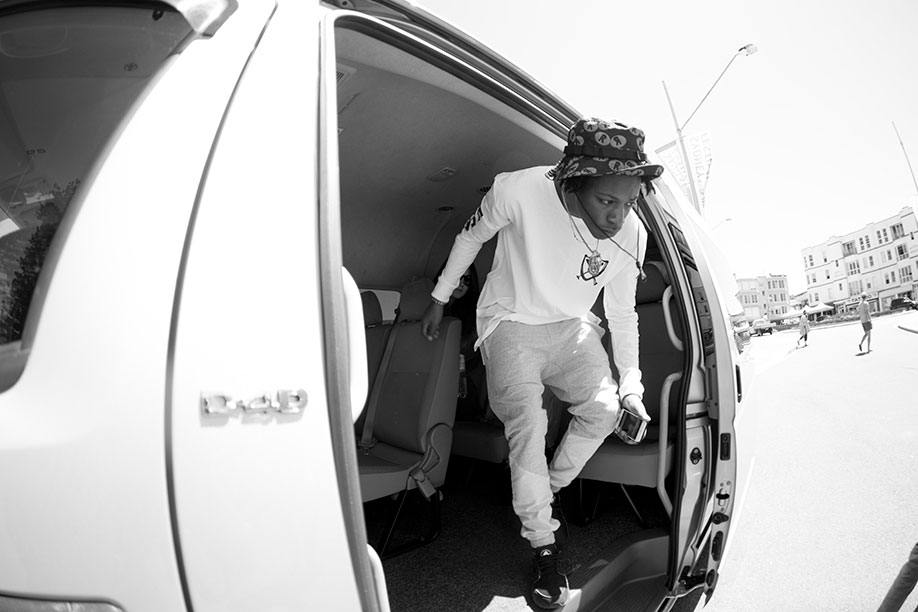 We jump in the whip for a short ride down to Bondi Beach. Thanks to our driver Alex, who put up with all the backseat shenanigans – which mainly consists of me talking about FUBU clothing at an irritatingly loud volume.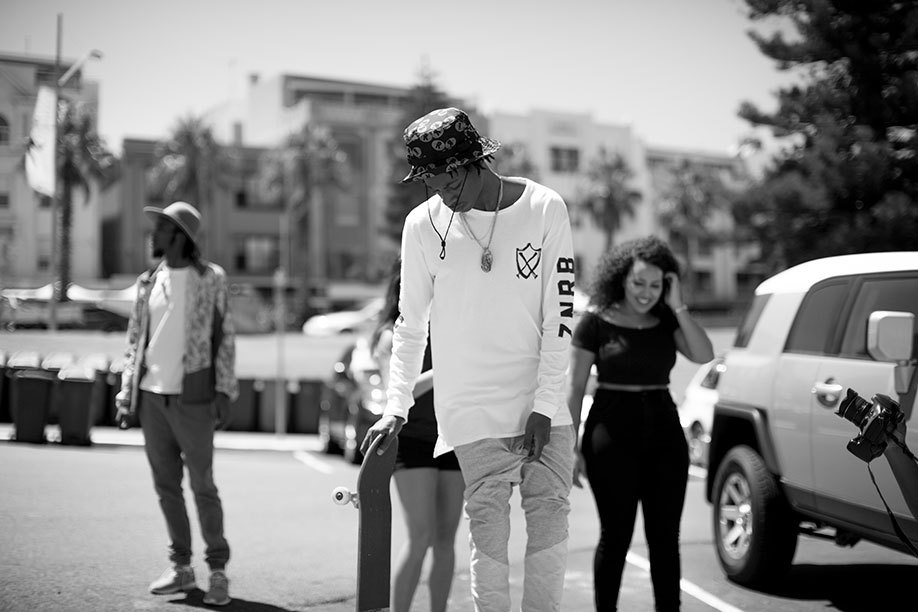 Joey dressed in threads by our pals at Zanerobe. He also manages to co-ordinate his bucket hat and socks with the Pro Era print – the same design that was worn in a leaked selfie of Barack Obama's daughter. Very strong accomplishment. #JOEYFORPRESIDENT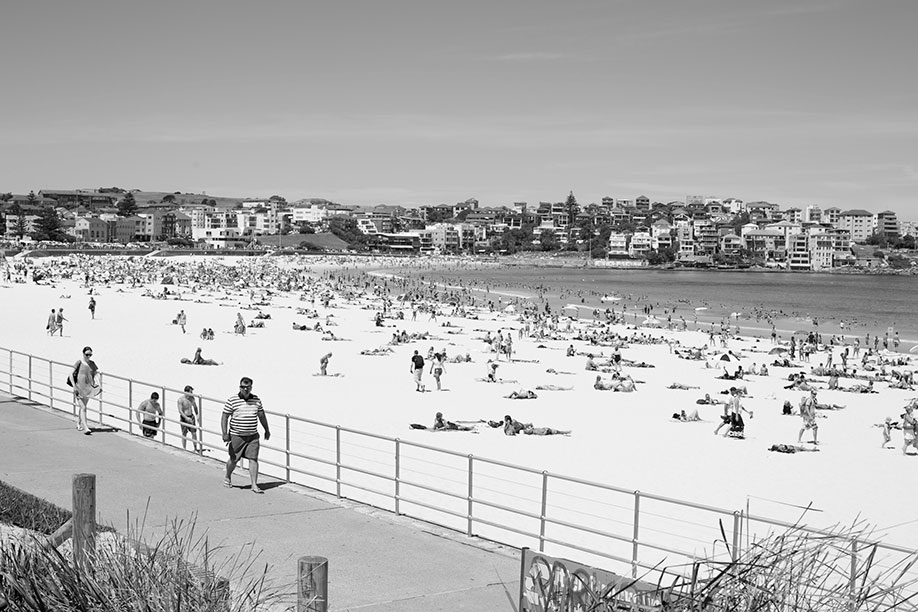 Our outdoor office for the day means that we're basking in Sydney's soaring temperatures. Popped a molly, I'm sweating.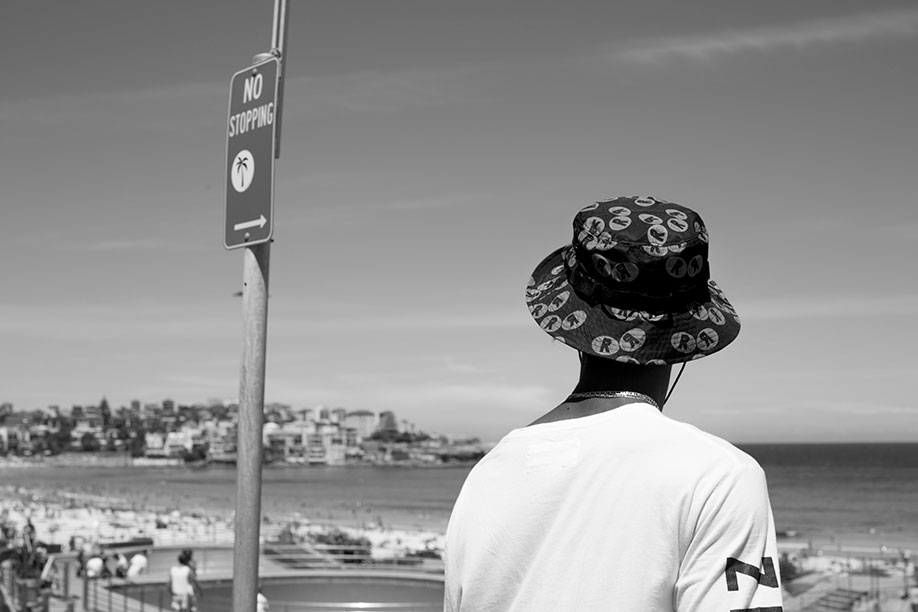 Joey absorbing Bondi's million-dollar view. I'm in the background throwing a double-shaka as I also gaze into the never-ending ocean. I imagine that it must be feel quite surreal to be on the other side of the world at just 19 years of age, playing sold-out shows and festivals to thousands of screaming fans. Here's a rare moment of serenity on what's been a whirlwind tour.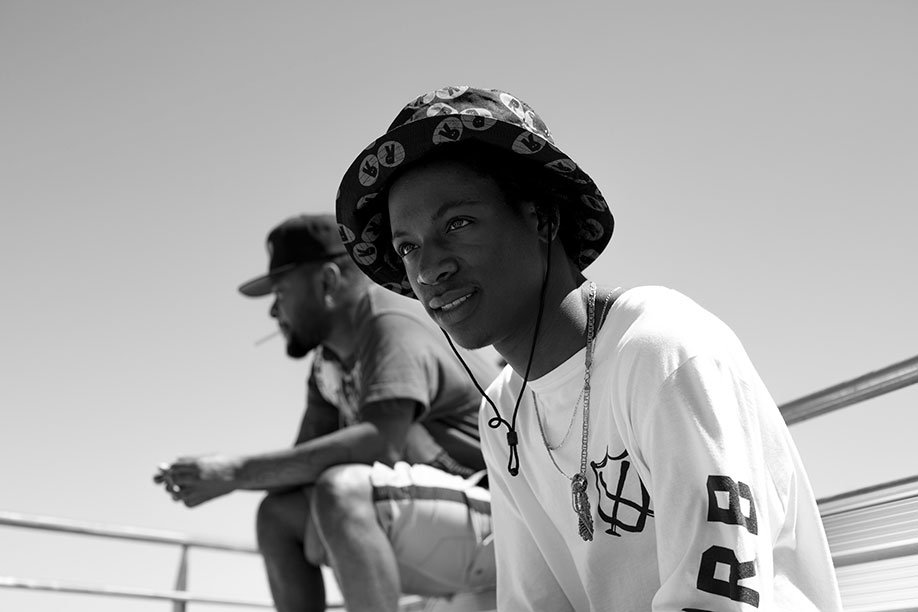 We get to discussing his debut album, B4.DA.$$. "I pretty much worked my whole life on this album… I know that the message and the music is going to spread in due time. I ain't got no sales pitch. It's hot shit," he says.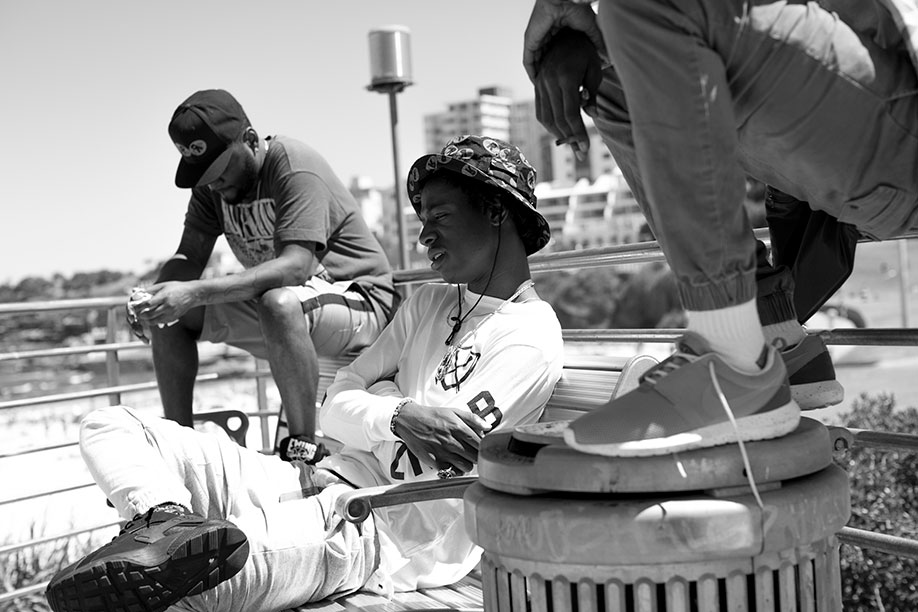 He's also learned a lot in his relatively short time in the spotlight. "Have no expectations. Eliminate all expectations, and just accept things. Don't take things too personally… They build you up to tear you down," he says.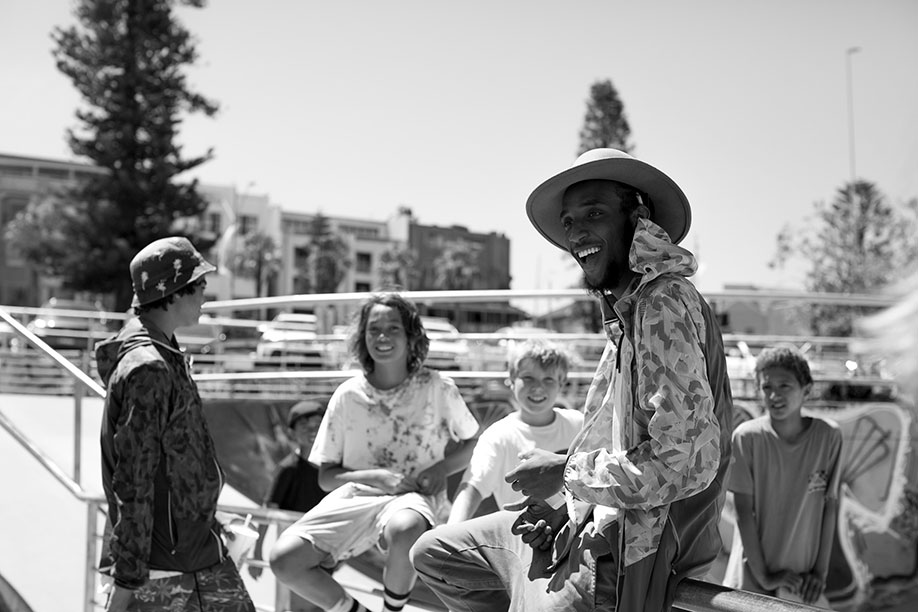 It's not long before a small crowd gathers around to see what the commotion is about. CJ Fly giving some invaluable life lessons to some of Bondi's younger skateboarding residents and swag lords.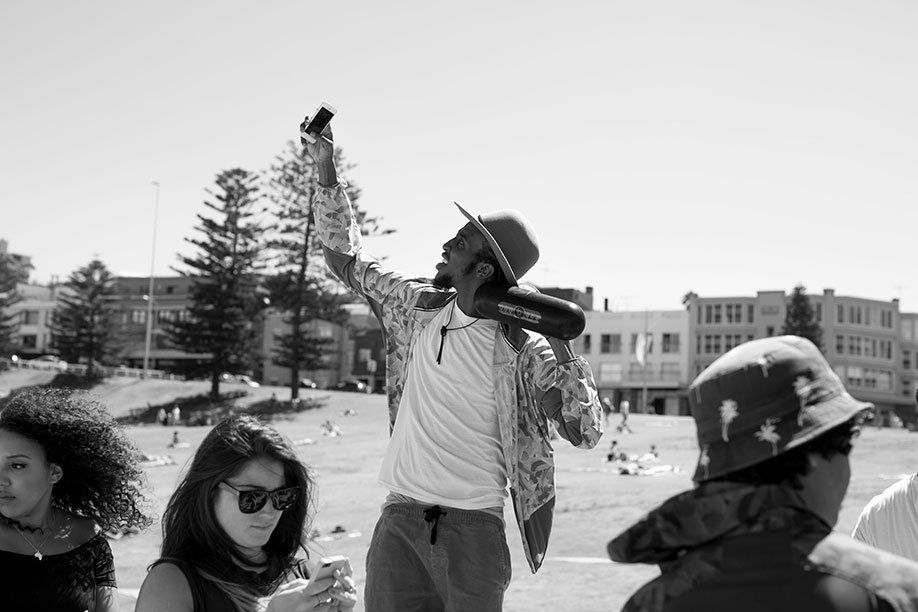 He still finds time to Snapchat those back home. "I don't know where the fuck I am, but I'm never coming home," he proclaims while blasting music from a modern day boombox. #BEATSPILLONFLEEK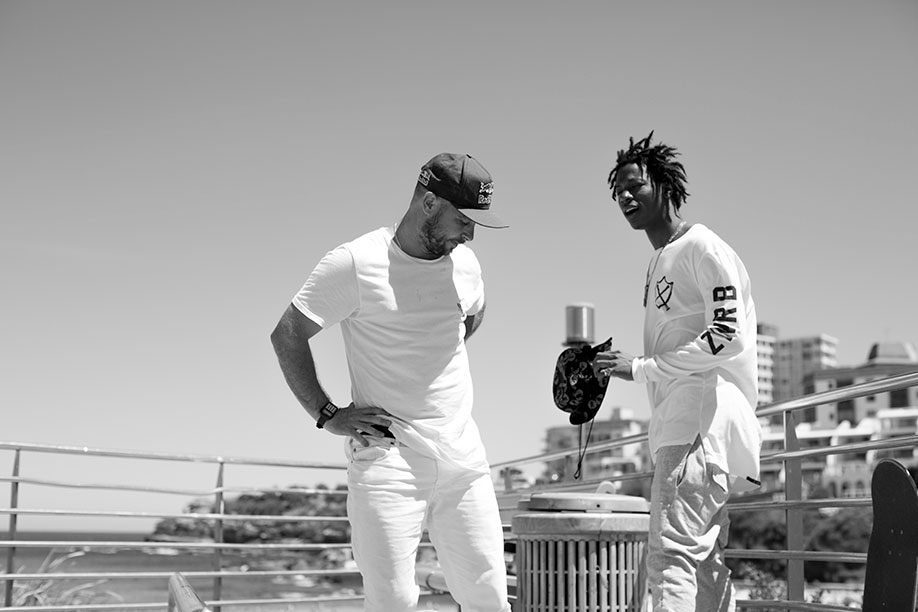 Australian skate icon and Red Bull's own,  Corbin Harris is in the area, so we give him a ring and he decides to stop by for a little session in the Bondi bowl. Cool story alert: He once skated through an empty Westfield mall. We thought this sort of shit only happened on Tony Hawk's Pro Skater 3 on Playstation, but it happened and we caught it all on camera right here.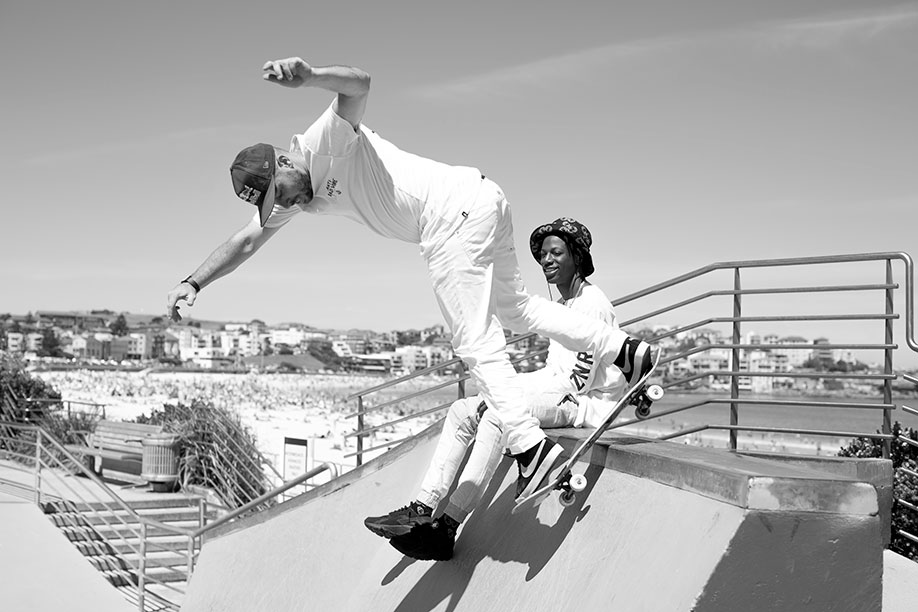 Joey's got front row seats as Corbin does his thing. Joey seems impressed by the tricks he's witnessing, or maybe it's the all-white outfit. #COKEBOYS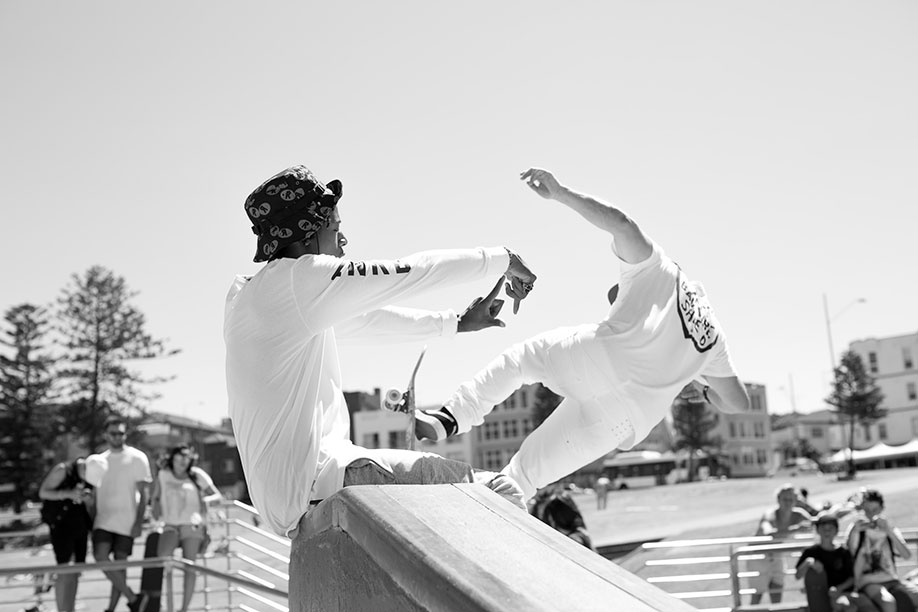 Picture perfect.
Now it's time for Joey aka Mr. Bada$$ to deliver some gems of wisdom to the kids. They listen in with their full attention before asking for a selfie. Shout out to the kid wearing a helmet, I've seen far too many skaters injuring themselves on Rob Dyrdeck's Ridiculousness and it makes me very concerned for the safety of our youths. Also, I love Chanel West Coast. #MARRYMECHANEL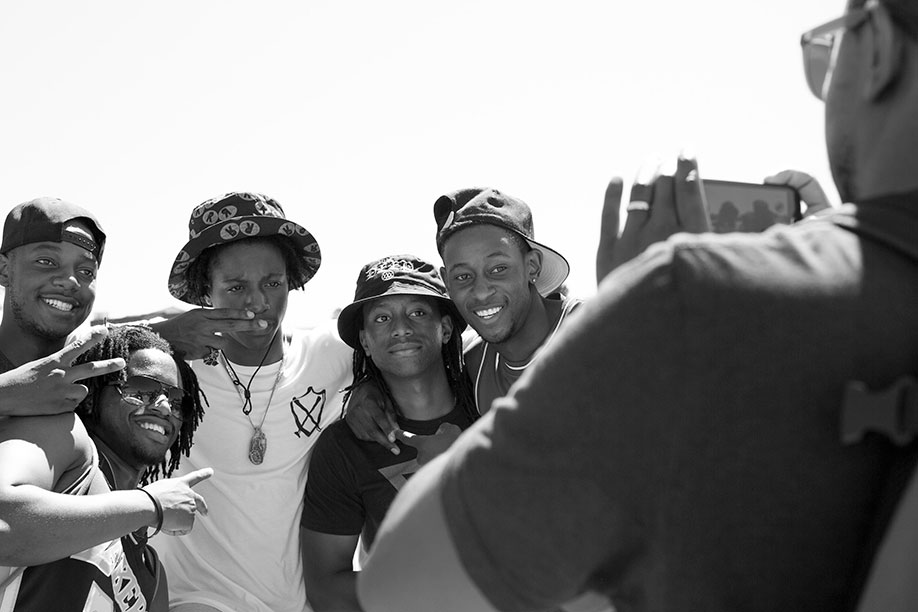 More fans pose for photos. I'm insanely jealous of the bro in the Lakers jersey, whose hair somewhat resembles that of Waka Flocka Flame.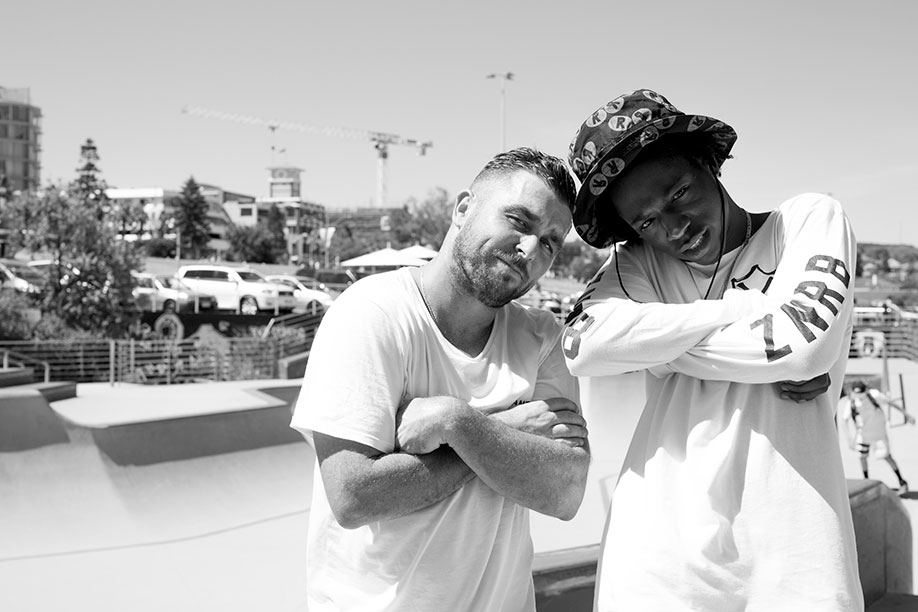 Bossin' up. Joey Bada$$ x Corbin Harris, a Bondi collaboration.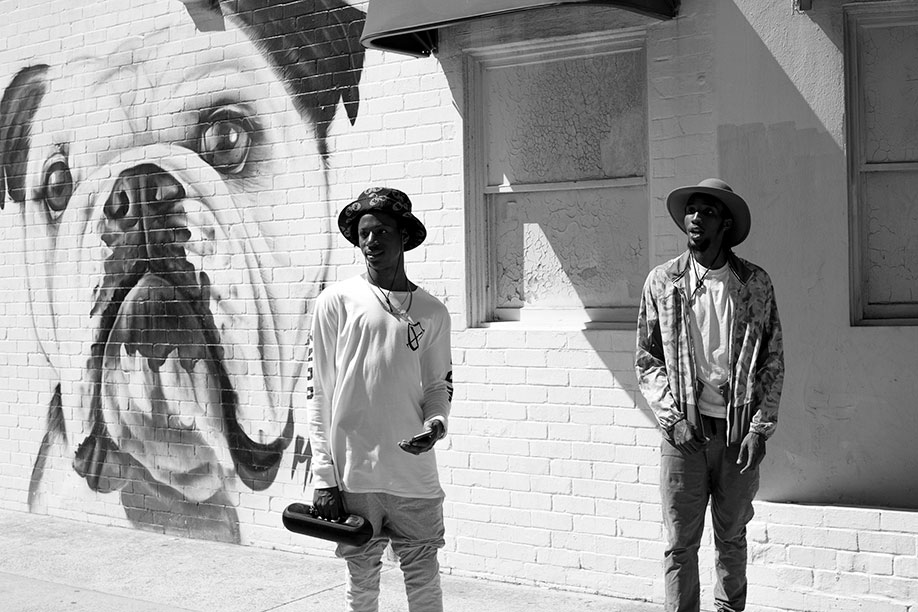 WHERE MY DOGS AT? *DMX VOICE* This mural of a puppy is better than the Mona Lisa. From now on, I'm not viewing any art unless it somehow involves puppies. Joey and CJ explore Campbell Parade like seasoned locals.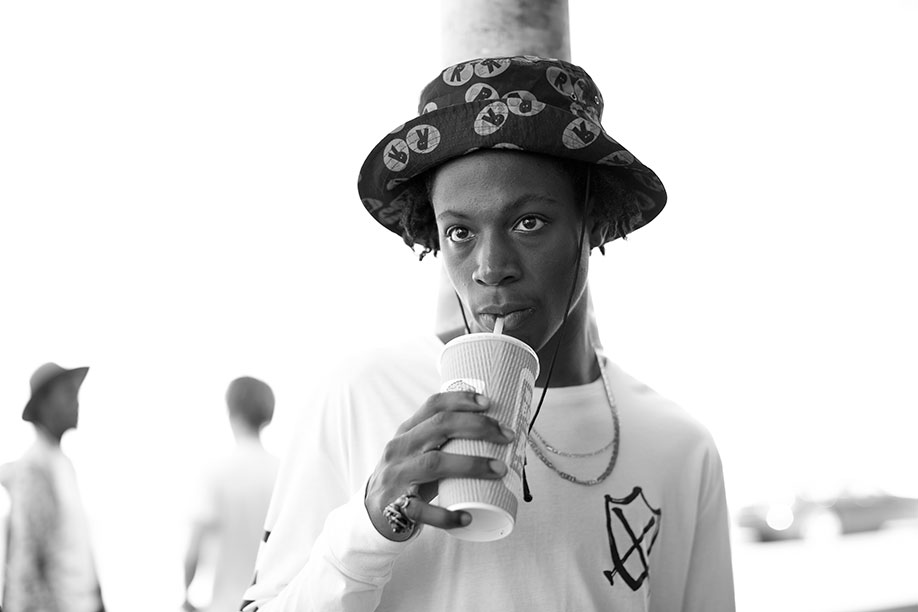 Time to cool off with a little Watermelon Crush from Boost Juice. I can't afford Boost Juice ever since they steadily inflated the prices, but luckily my friend Tara bought me one so I didn't feel left out. Shout out to Tara aka Mother Teresa in this bitch.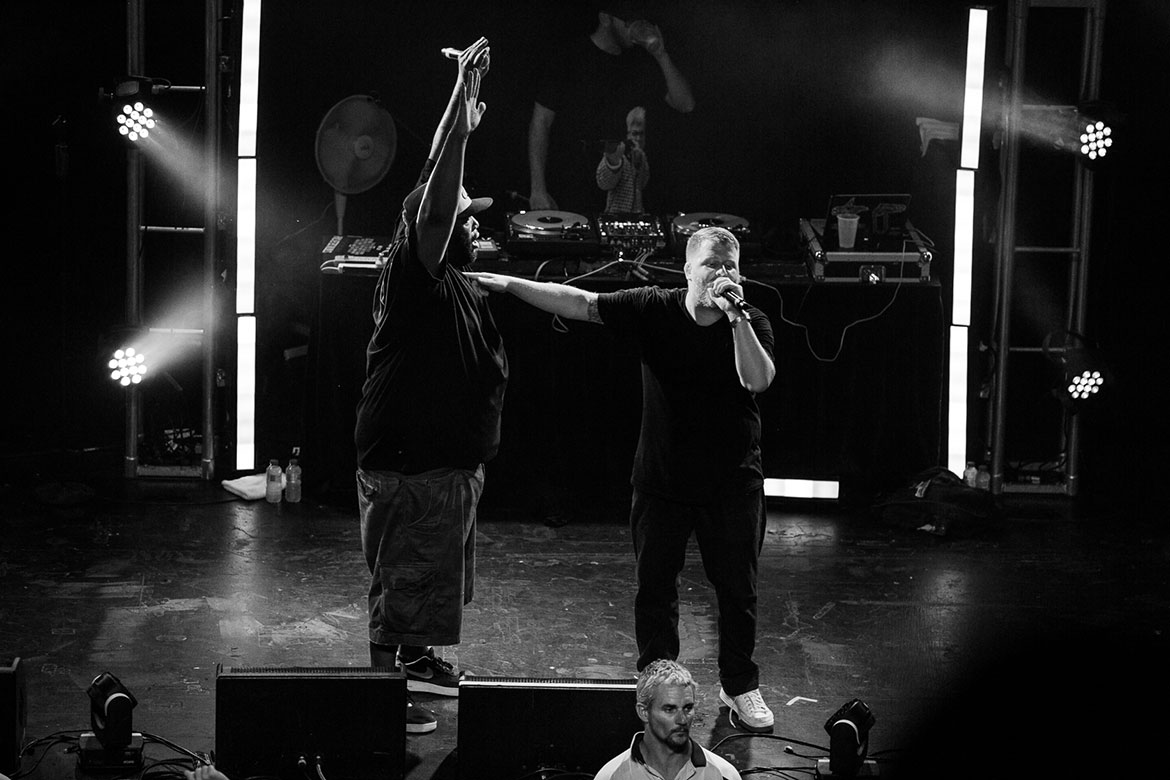 As the sun sets, it's showtime. Before Joey takes the stage, Run The Jewels get the crowd warmed up with a stream of songs from Run The Jewels 2 – one of the best rap albums of 2014. Killer Mike is one of the most humble people ever. El-P is quite lovely, too.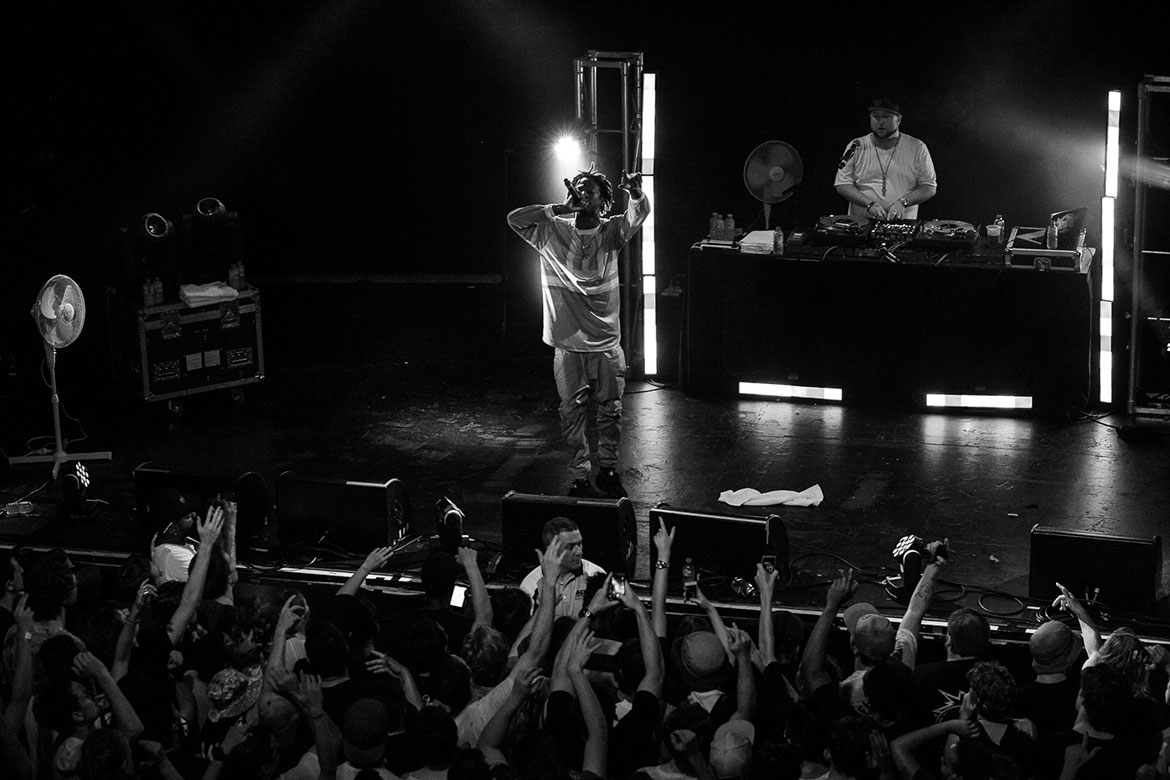 Joey takes the stage to a thunderous roar, playing cuts from B4.DA.A$$ and his selection of strong mixtapes. It's a sold-out, sweat-drenched party that requires not one, but two fans on stage.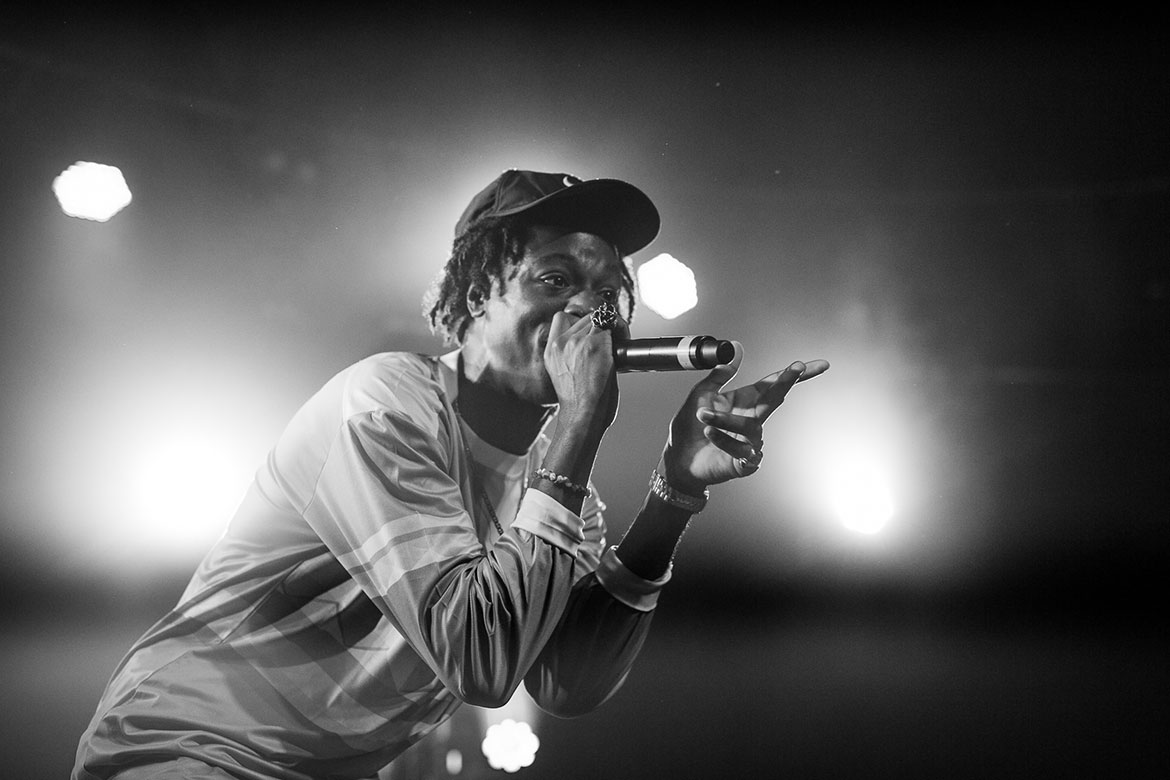 We're glad to have spent time with Joey Bada$$, one of rap's brightest future prospects. With the world still absorbing his debut album, we have no doubt that he'll continue to reinvigorate the rap game with each move that he makes.