Did you see a band? Catch a DJ? Pop in for a minute? did you hang for hours? Were you there? I was there the whole time.
I remember Benny greeting me with a smile and pulling open the back gate to the house so I could load in that obnoxious bass rig I'd borrowed from Jez. A message from Jack came through "the presales are looking.. fine."
I remember Tee Vee bursting in slinging a magical cardboard box full of 7inches around like Ace Ventura in that first film. He was 10 minutes early. Everything was going to be.. fine. Neerav was next door fine tuning the band's sound as Tee Vee's first servings started spinning. 50 minutes later, more than a handful of Jen's fans were now milling about, trading their newest tour tales from the states while wondering "what records will Jen spin?" And "what the hell did Tee Vee just play???!?!"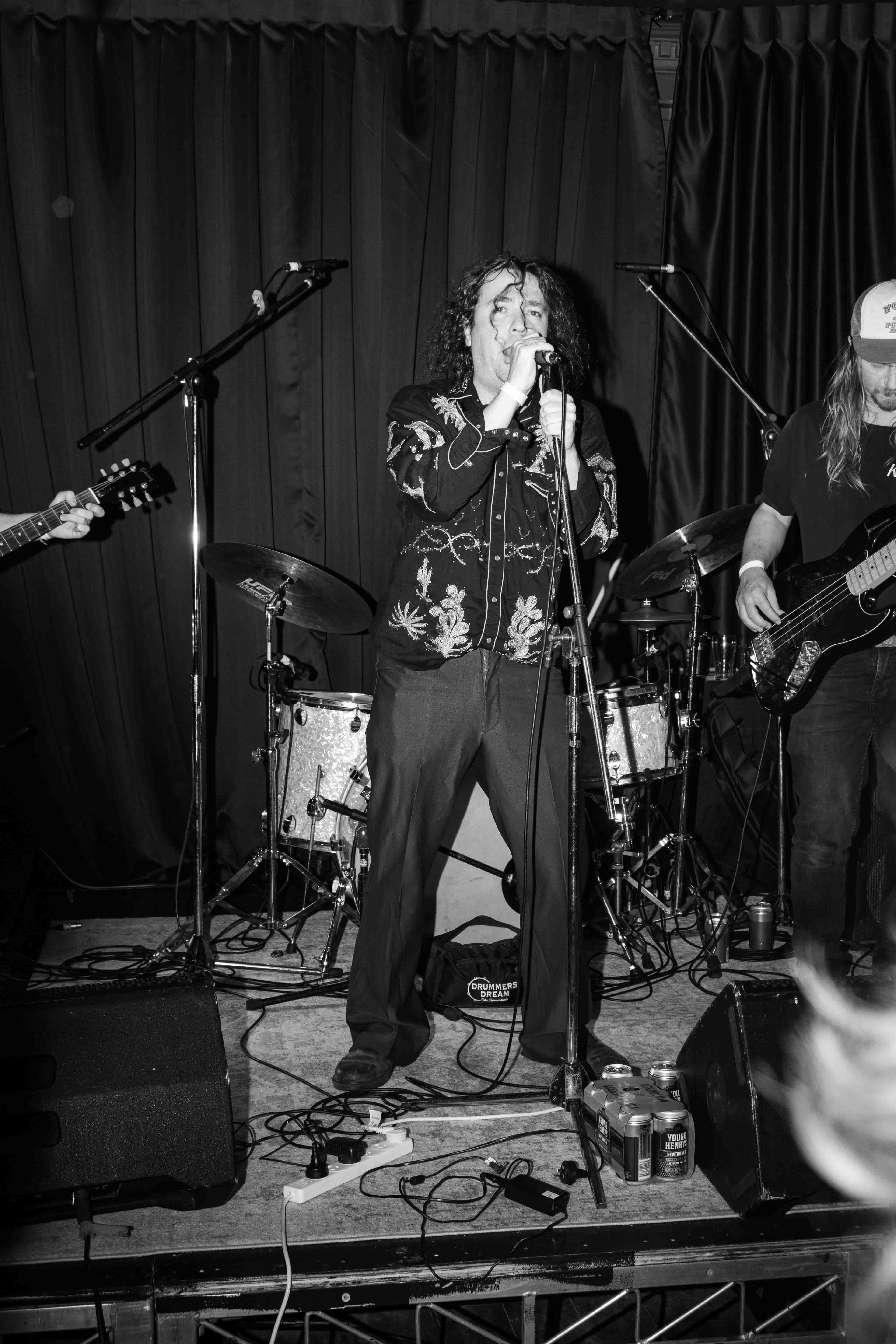 The sound is now tuned and Neerav has the speakers sizzling in anticipation of receiving the night's first emissions, completely unaware that first thing to reach it's cone would be a confused frequency that hovered almost near an E flat till the commanding guitarist turned a peg that let the frequency to land somewhere closer to an E.
Heavy Metal Country are primed to play. They take to the stage, hilariously, to entrance music that sounded like Newfoundland's national anthem, waving like the recently deceased queen and taking mock bows. It was their first ever show and they wanted to make sure we knew they were here purely for business. I remember Aislinn's beautiful vocals weaving over Patrick's assured guitar parts. I remember a short set. I remember four songs that each made your jaw hit the floor. I remember looking at the clock to confirm I was watching the first band of the evening. This has the intensity of a headline set. A track called 'Cannonball' ripped the crowd's collective heart out as Patrick's guitar final screams grated feedback on top of it like some sort of sick hors devour. Did Heavy Metal Country just deliver the best debut performance I had ever seen? I can't remember a better first show.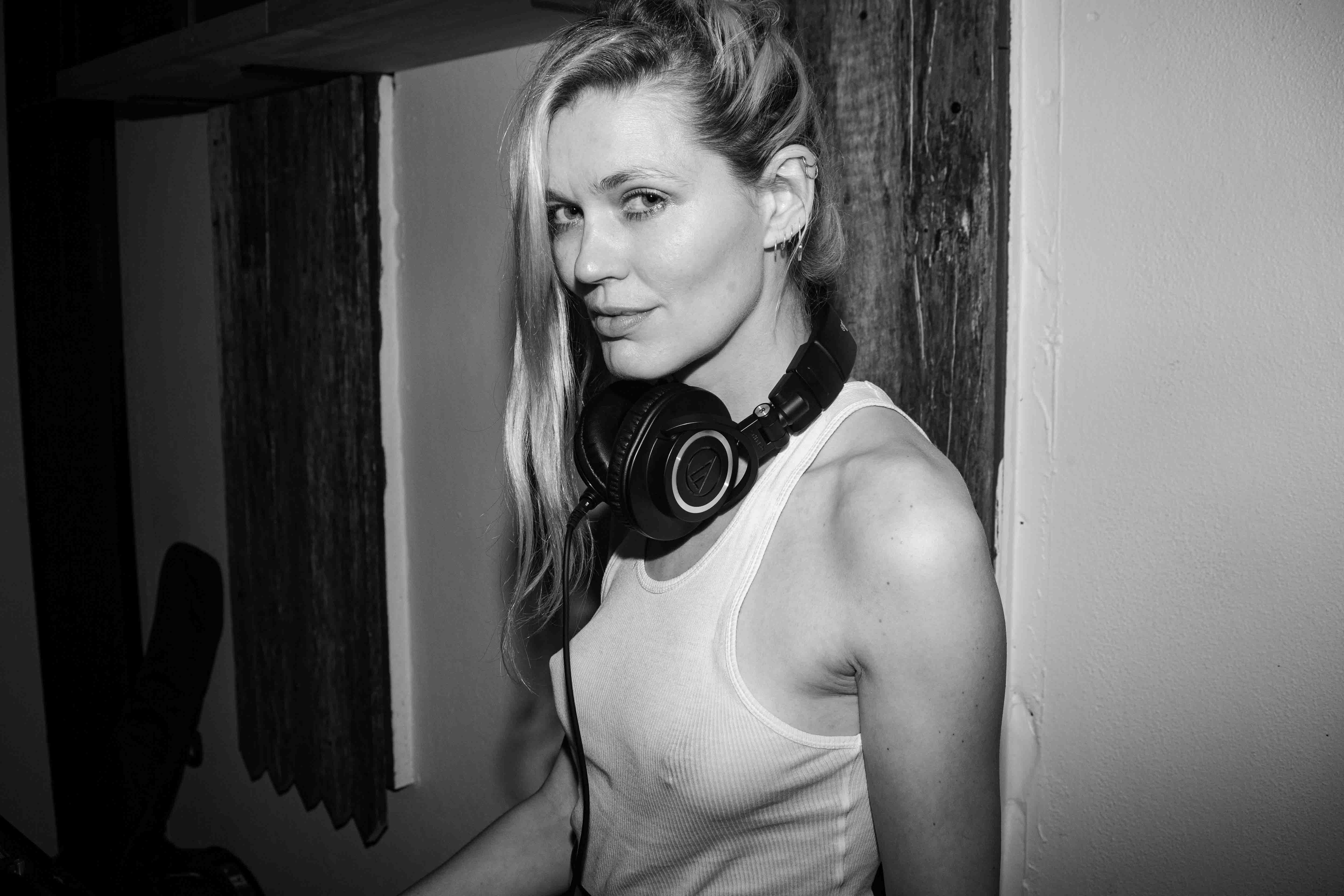 Out in the courtyard it was now Buz behind the turntables. Now the house was swelling in attendance. I remember the second half of Buz's selections. I remember having to ask what a particularly good number was only for Buz to hold up a Lou Reed LP sleeve with a sly smirk that said "you don't know this?". Embarrassed, I remember slinking to the bar to order another of Young Henry's Cloudy Cider.. It's good for my gut you see. Jez has Bad Jeep Country ready to take the stage just as King O.P.P. relieves Buz from DJ duties. Bad Jeep Country stalks the stage completely unfazed by the astonishing set that had just been delivered by the previous band. They're here to celebrate the release of their music video – 'Rodeo Dancer'. The saxophone tells me they mean business and one again the crowd is treated to a solid 40 minutes of music that has the intensity of a headliner's set. There's more of a groove to this set and the crowd sways accordingly. After a famous guest leaps on stage for the climax Brenton's final guitar chime rattles between my ears. How the fuck do you follow that?
"Jesus Christ you are tall" I remember saying to Mr Ladder as he offered his free hand for a greeting. "You Hungry?" Jack mutters as our feet carry us over to Slick Rick's Pizzeria. The bastard is out of dough and it's only 8pm. Wondering what to do I turned around to see King O.P.P. wildly gnashing the dirty bird he had obtained from across the road behind the decks while spraying grease everywhere. After degreasing the mixer Sad Girls Sex Club are ready to play their platters. I remember a short hello Alys before leaping on stage to sing for The Melodrones. I remember a half familiar audience, the other half strangers. The room felt almost full and to our amazement people were dancing to the most undanceable band in Sydney. I remember our newest songs going down the best. I remember seeing Dougal's shutter wink at me as he snaps the band. I remember receiving these photographs back and thinking "Dougal is a really bloody good photographer." I remember The Melodrones finishing off with a punkier number before the people absurdly yelled "encore!". I remember thinking "They must be joking" as Mel, Mody and Xav politely packed their gear quickly to allow headliners Straight Arrows room on the stage.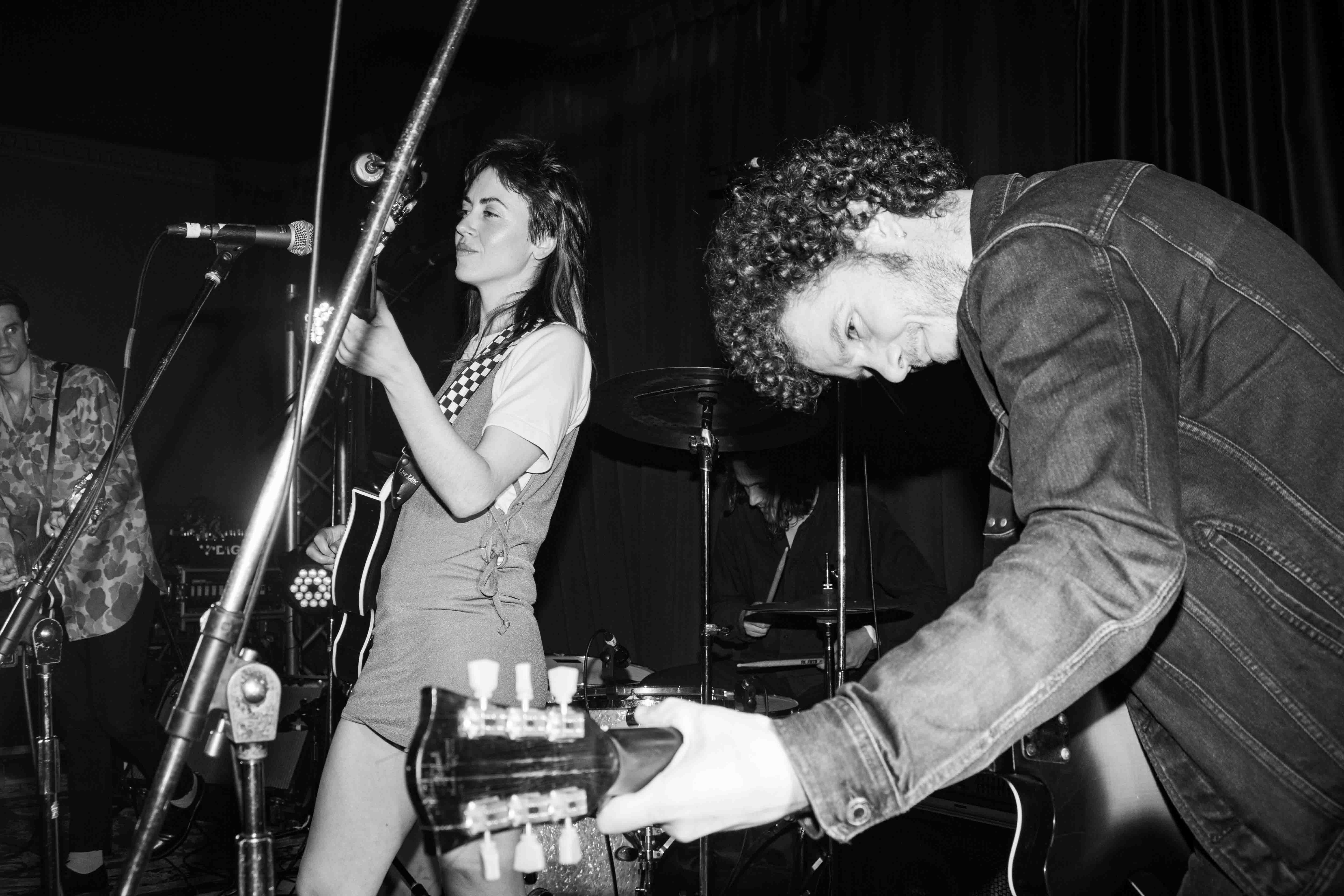 I remember Jack Ladder intensely listening to the Audio-Technica cuing headphones which connected him to the mixer as he lined up back to back Randy Newman tracks. Between 10PM-11PM I remember Straight Arrows delivering the last band performance of the evening. I remember the ferocity of their downstrokes instantly wiping the crowds memory of any band that played before as they launched into a brain melting set. I remember the warm glow of a crowd who were enthralled in another feet tapping performance. I remember Mick thwacking the snare as Owen fly kicked the air. I remember that something happens when Straight Arrows perform, something happens. I remembered a crowd mutually bopping on the two and the four and in doing so directly connecting themselves to the band. I remember the night peaking in ecstasy as Straight Arrows tore through their last three tracks. I remember the click of Al's amp turning to standby as I was left thinking "God Straight Arrows are good".
I remember Reenie's selections for the final hour. There was an original 7inch of "Wide Open Road" and a transient house number that illegally sampled "All You Need Is Love" in an esoterically tasteful way. As Benny slammed the doors to The House of Music and Booze I remembered a portion of the crowd milling about on the street wondering how they could keep the trajectory of their evening escalating up. I remember a horse throat as I decided a nip of Jamesons would be enough for me.
A week later and I remember George Gillies' beautiful poster design. I remember all the beautiful people who supported and played a part in the day. I remember the enthusiasm of a crowd who were having a good time. Thank you all who do remember and for those who don't I'll see you for Heavy Demo Volume Two.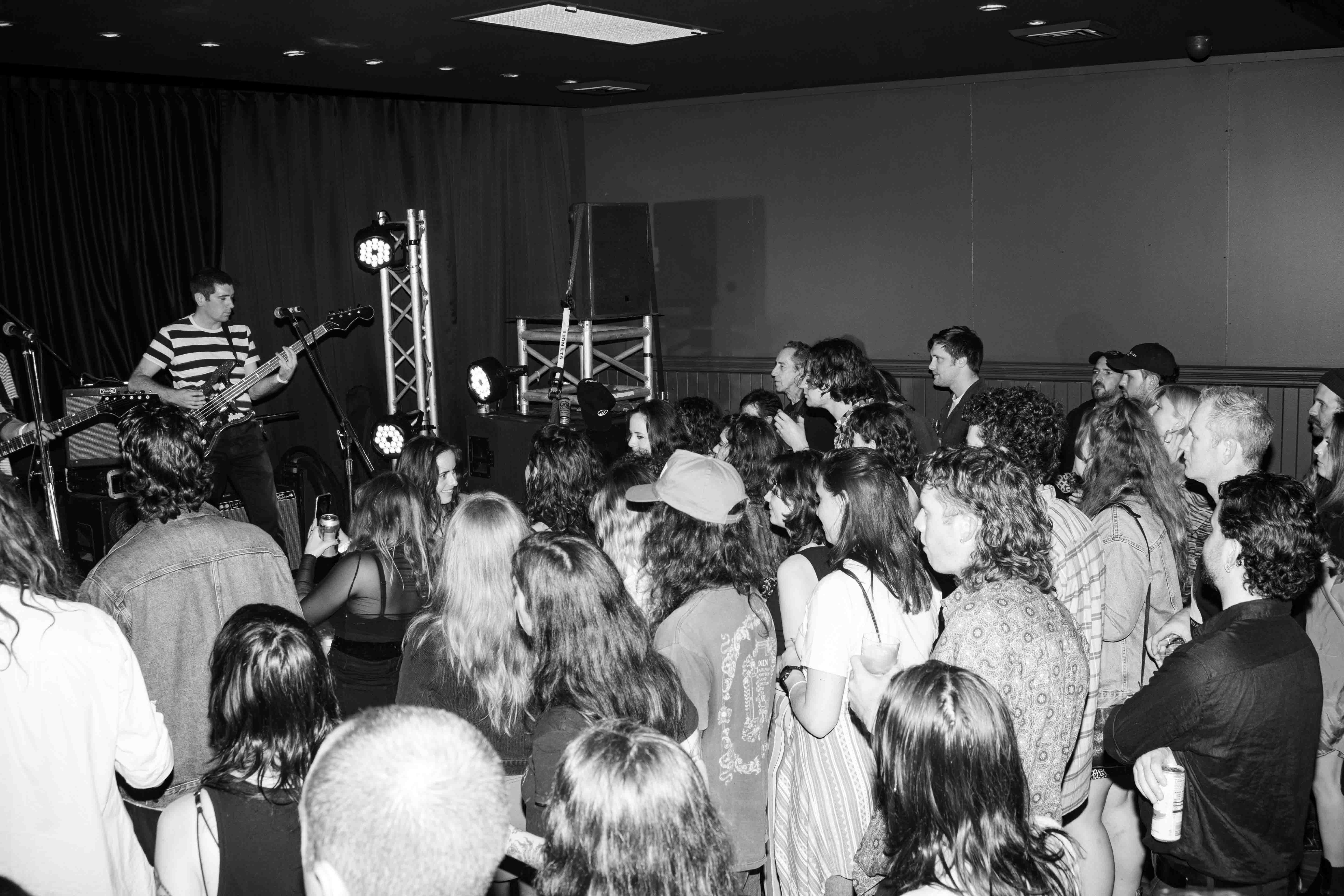 Event: Heavy Demo Vol. 1
Location: The House Of Music & Booze, Sydney
Photographer: Dougal Gorman