Debuting at a new venue, Laneway took over Sydney's Domain yesterday.
For better or worse, the impending rain had punters in two minds over the amount of body glitter to incorporate into their festival fits. When the heavens finally did open at #rainway2020, it was sweet relief from the day's stifling heat, and for the most part, punters were on board. Late-twenty/ early-thirty-somethings were quick to flaunt their high mileage rigs at the first hint of rain while the lower end of the 16+ crowd lapped up their first taste of festival action despite the wet weather.
On the music side, rising Kiwi popstar Benee had people bopping along early in the afternoon, with her lively performance easing headaches for those who had to make an impossible call on her set or Col3trane's. THANKFULLY the latter has a sideshow tomorrow night which made the decision a little easier. From there we hopped and skipped between stages, catching Omar Apollo get his rig out and remind us that "we ain't ever seen a brown boy like this" on 'Hijo De Su Madre', before seeing DMA's tease a couple of new plays as well as all of our old favourites. As the rain really set in and the light faded, Mahalia, J.I.D and Earl Sweatshirt all delivered with big performances on the Future Classic Stage. 
Other highlights of the day included bbno$ giving away a copy of 'The Great Australian BBQ' cookbook, Mahalia projecting big 2020 energy with a f**k my ex monologue before dropping her Killa Cam sampled heater 'What You Did' and 'I Wish I Missed My Ex', watching pissed idiots cop the ultimate end of night feed at Pist Idiots' very own Kebab truck, and seeing festival goers get creative with their 'stay dry' solutions. At one point I witnessed a train or friends walking in single file under repurposed/ reclaimed festival map and set times signage . . . Two or three to a sign. Less creative attempts included hiding under tables, one optimistic punter holding a single chair over his head, and the more traditional $5 poncho. 
Grateful for the rain, and hopeful that this week's wet weather falls in the parts of the country that need it the most, #rainway 2020 was a vibe. With another one in the bag, it's onwards and upwards for Laneway Festival. Peep the best of the action in the gallery above.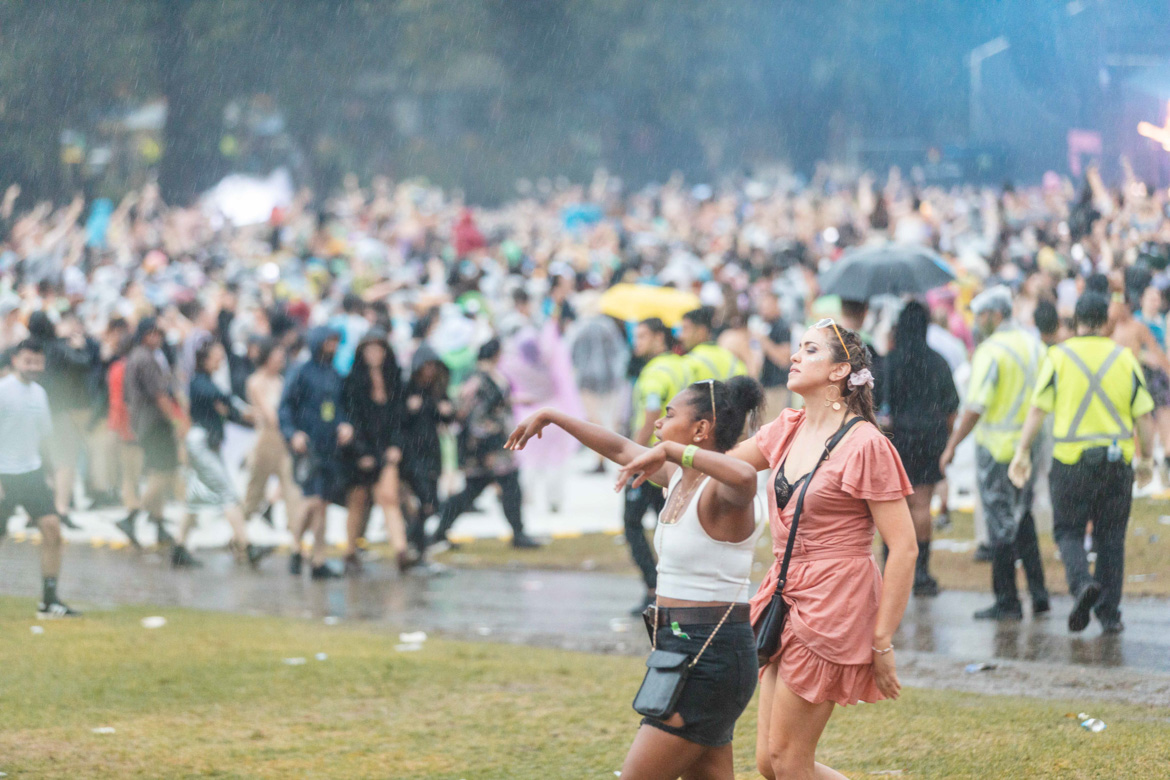 Event: Laneway 2020
Location: The Domain, Sydney
Date: 02/02/20
Photographer: Ned Simes